Ten years ago, Claire Handscombe didn't have much time for television. She was living in London, working long hours as a language tutor, very involved with her church.
Then Handscombe happened to watch a show in a friend's DVD collection—Aaron Sorkin's romantic American political drama The West Wing, which was a hit on NBC from 1999 to 2006. She fell in love with President Josiah "Jed" Bartlet and his staffers, who famously "walk-and-talked" around the White House offering an idealistic vision of liberal governance. Just as the show soothed Democrats in the United States during George W. Bush's presidency, it inspired this self-described "raging lefty" Brit who was disillusioned with Tony Blair's centrist New Labour. "The idealism of it reminded me of my own idealism and hopes for what politics could do," she says. "I had never really given much thought to the US and to its history and to the incredible ideals behind the country. The more I learned about it, the more I thought it was amazing."
In fact, this was just one of the ways The West Wing transformed Handscombe's life. Sorkin's storytelling—and especially his erudite, witty dialogue—helped inspire her to move to Washington and pursue an MFA in creative writing at American University, where she wrote about her experiences meeting many of his show's stars for the Washington Post before graduating in 2015. In 2016, she edited an anthology of essays written by fans, Walk With Us: How "The West Wing" Changed Our Lives. Yet all of this—even moving across the Atlantic as the direct result of a TV show—was merely the prologue to her greatest demonstration of fandom yet: helping to organize the first-ever West Wing Weekend fan convention, held late last month at a Marriott in North Bethesda. 
The three-day event came amid a kind of cult revival of the show: The West Wing Weekly podcast is a hit, and cast members continue to make news by opposing Trump. "A lot of people have been watching it as an antidote to Trump," Handscombe says. At the same time, this West Wing nostalgia arrives as the show has attracted a new crop of left-wing critics, who believe the show actually had a pernicious effect on American liberals for whom it was formative, particularly under President Obama. What should the show mean to Democrats in 2018?
West Wing Weekend wasn't much to look at visually, with attendees wearing yellow lanyards moving around the same kind of generic hotel meeting spaces used for breakout sessions at CPAC. There were a few makeshift Bartlet campaign posters, but no elaborate decorations in the hallways or the main presentation room, save, of course, the modified presidential seal adorning the lectern on the stage. This was the official logo of West Wing Weekend, which replaced an eagle clutching arrows and an olive branch with a big block of cheese. It's a reference to one of the show's most famous episodes, in which administration holds Big Block of Cheese Day—a tradition of inviting citizens into the White House to speak their minds, which dates back to Andrew Jackson putting a massive block of cheese in the White House foyer. (The Obama administration actually adopted this tradition, with the help of West Wing cast members, in one obvious demonstration of the show's effect on real-life politics.)
Over the course of three days, roughly 250 fans unironically described as "Wingnuts" were treated to panels with actors from the show, though its biggest starts like Martin Sheen, Bradley Whitford, Rob Lowe, and Allison Janney were not on hand. Secondary cast members like Melissa Fitzgerald, who played Carol, talked about the logistical challenges of their "walk-and-talks." They gushed about Sorkin's brilliance—how he'd changed television with the distinctive, musical quality of his words. "At the table reads, you would watch him, and he would actually be conducting," said William Duffy, who played Larry.
At one point, the Wingnut enthusiasm for the show's actual music prompted the entire crowd—including women wearing "Resist" and "Nevertheless, she persisted" shirts—to hum the West Wing theme song aloud in unison, with composer W. G. Snuffy Walden pretending to conduct from the stage. "That's impressive," Walden said when the humming finally died down.
In addition to an abundance of inside jokes—like when Kim Webster, who played Ginger, gave out popcorn—West Wing Weekend gave fans the chance to hear from real-life White House aides, who spoke to the show's influence on the Obama administration. Gautam Raghavan—Obama's former associate director of public engagement and editor of West Wingers: Stories from the Dream Chasers, Change Makers, and Hope Creators Inside the Obama White House—said there were obvious parallels between his old boss and a Nobel Laureate like Bartlet. "For many of us who campaigned for the president in 2008 and worked in the White House," he told a Sunday panel, "it felt like The West Wing was coming to life—this professor-in-chief who's brilliant and this cast of supporting characters."
All of this made sense to me. When I was an undergraduate at AU in 2008, discovering Sorkin's show was almost as formative for me as Obama's storybook campaign. A few of my friends even scheduled "West Wing Wednesdays," when we would take a break from classes and studying to watch an episode or two. On a campus now considered the most politically active in the country, it seemed like most of the School of Public Affairs wanted to be one of the characters—a press secretary like CJ, or a communications director like Toby, a chief of staff like Leo, or even a candidate like Jed. The sense of idealism and excitement about politics was real for us, at a time when it was particularly easy for young Democrats to be idealistic and excited about politics in Washington.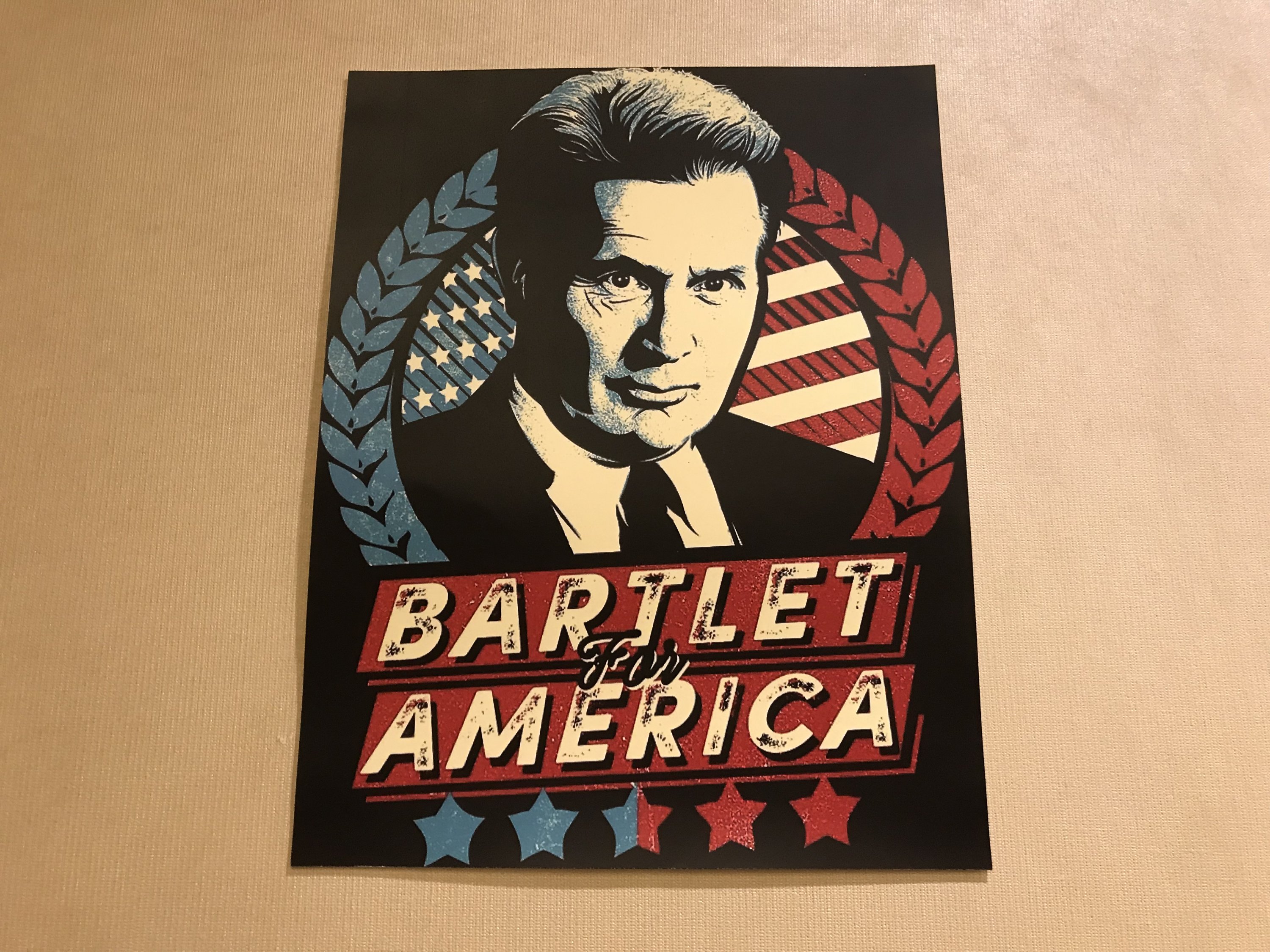 I'm sure the mood isn't the same at AU these days, but The West Wing clearly still inspires students there. Olivia Nhaisi, a current freshman from Las Vegas who dreams of being a political speechwriter, showed up to volunteer at the weekend's convention by herself. Her mother introduced her to the show a few years back, and it essentially convinced her to study politics in college. "I've found a surprising number of SPA students that have watched it," Nhaisi says. "The more I get my friends into it, the more they get their friends into it. There's a community of kids at AU who have watched The West Wing and that's why they're there."
This is exactly the kind of thing Raghavan thinks we need more of. "I so wish we had the show on TV right now," he said on his panel, "and not just as an antidote to all the horrible things that are actually happening. I think about the young person who is becoming engaged or politically active right now? What model do they have? What show is inspiring them to a career in public service? There's really not much out there."
As a superfan, Nhaisi described the experience of attending the convention as surreal. She undoubtedly spoke for many liberal Americans when she says the show demonstrates "what a president should be like and how government employees should act"—a welcome reprieve from the real-life occupant of the Oval Office. 
Yet this is an increasingly contested idea among progressives, especially with the rise of a more populist, adversarial, anti-institutionalist left in the Trump era. As television critic Telly Davidson recently wrote for The American Conservative, "the show has also become something of a social media meme for Millennial leftists who 'hate watch' it and practically make a drinking game out of its most offensive and dated moments." The popular leftist podcast Chapo Trap House devoted an entire episode to trashing the show. Luke Savage, a writer in Toronto, wrote his own takedown for Current Affairs, criticizing the The West Wing as "an essential part of the liberal cultural ecosystem" and a vision of "liberalism as liberalism understands itself" that nonetheless has "relatively thin ideological commitments."
Savage panned the show as smug celebration of the politics of compromise and centrist establishment consensus—"tinkering here and there, and looking stylish in the process by way of soaring oratory and white-collar chic." 
Lefty criticism of The West Wing isn't entirely a new phenomenon. In 2001, at the dawn of the Bush era, Chris Lehmann wrote in The Atlantic that the show "comes up considerably short of serving as a prescription for even a convincing imaginary liberal revival" and indeed "produces a civic emptiness far hollower than that resounding through either of our major parties." His critique stemmed in part from what he saw as an absence of the kind of bold liberal governance that characterized the best of the Democratic Party throughout its history.
"In lieu of the majority-forging certainties of the New Deal, the Fair Deal, and the Great Society (and their campaigns against 'economic royalists,' 'isolationists,' segregationists, and the like) we find anxious self-examination, second-guessing of the news cycle," Lehmann wrote. "In place of stirring crusades for equality and justice (about which there is plenty of rhetoric) we see careful chartings and recalibrations of marginal, provisional influence."
More than a decade later, Ian Millhiser of ThinkProgress went even further in his criticism, outright calling Bartlet a mediocre president in 2012. "While the ability to rhetorically shame conservatives made him an appealing fantasy," Millhiser wrote, "the substance of Bartlet's policies ranged from uninspired on issues like health care to downright destructive on Social Security and education. Bartlet had a lackluster economic record. He gave away a seat on the Supreme Court to the far right, and he consistently favored symbolic cultural victories over real opportunities to make life better for American families." Millhiser's post is really worth reading in full, including his devastating conclusion that Bartlet's presidency "advances a very small kind of liberalism that appeals mostly to people who've never worried if they could pay their medical bills or if their children can afford college."
The West Wing's conception of its own politics can be neatly summed up in a single phrase: "practical idealism." Bartlet delivers a speech under a banner bearing those words early in the show's first season and, incidentally, Franklin Roosevelt used the exact same language in real-world remarks describing the promise of American University in 1934. But in the show, this sentiment often meant Democrats compromising with Republicans, consciously keeping their left flank in check. This puts it decidedly at odds with the current political zeitgeist.
Part of the contrast comes from real-life Democrats moving left in recent years. "Yesterday's principle is today's compromise," said David Kusnet, a former chief speechwriter to Bill Clinton who spoke at the conference. "If Josiah Bartlet were to run today, he'd be on the right of the party." (Kusnet further argued that "though it had some success under Clinton, the legacy of what policy experts call neoliberalism is not a positive one.") But more than anything, Democrats have been radicalized by the rightward lurch of the Republican Party, especially under Trump. Against this contemporary opposition, centrism and compromise feel to many Democrats as neither practical nor idealistic.
"One of the great things about The West Wing is that the Republicans, by and large, are also people who love their country and want to do what's right," Handscombe tells me at the conference. Sorkin Republicans may not have the same values, she says, but they're "in it for the right reasons, mostly."
Some critics say this was always a pernicious idea. ("In reality, there is no such thing as a 'moderate' Republican, only a polite one," Savage wrote in his piece. "The upright and genial Paul Ryan, whom President Bartlet would have loved, is on a lifelong quest to dismantle every part of America's feeble social safety net.") But the GOP truly has transformed since the West Wing era. "I don't think Josh would meet with any of them," Handscombe said, in perhaps the harshest insult any true fan of the show could conjure. 
Toward the end of my conversation with Handscombe, conference emcee Tina Barro came running down the hallway with breaking news about the 2020 presidential race. "Guys! Guys! Guys! Guys! Elizabeth Warren just said she's probably going to run!" she gushed, explaining how the Massachusetts senator had just committed to "take a hard look" at seeking the White House after the midterms. Barro later made a public announcement about this development from the main stage, and the crowd burst into applause.
Enthusiasm for Warren, which was shared by Handscombe and Kusnet and plenty of other West Wing fans over the weekend, is a useful demonstration of how liberals are embracing the Democratic Party's shift to the left—and to a different style of politics. Handscombe observed that Michelle Obama's famous phrase on the campaign trail in 2016, "When they go low, we go high," was "actually quite West Wing-y" in its above-the-fray nobility, but Handscombe now thinks the sentiment is ruinous for Democrats. "I'm like, no, let's get down in the mud at this point, because we are never gonna win like that," she says. "I think it would be dangerous to use The West Wing as a playbook."
West Wing aficionados who didn't make it to the weekend's convention may get another chance next year, when organizers are considering repeating the event for the show's 20th anniversary. In the meantime, fans are focused on the midterms and gearing up for 2020, when the future of the Democratic Party will be decided. For all their nostalgia, the Wingnuts aren't pining for another Bartlet—or another Obama. Like most Democrats, they're looking for new political heroes in a new political moment, asking themselves that most West Wing of questions: What's next?