When DC's first standalone Chick-fil-A opened in Columbia Heights in 2015, it caused quite a tizzy amongst fans of the fast-food joint, who camped out for a chance at receiving a year's worth of free meals (one woman said she'd been "waiting for this moment forever"). Others were less enthused at the chain's arrival inside the District; former mayor Vincent Gray was vocal about not welcoming the controversial chain, citing the company's financial support of organizations that oppose same-sex marriage and LGBTQ rights.
Since then, the numbers have shown that many Washingtonians do love their Chick-fil-A: In a 2016 ranking by the chain, DC came in fifth for consumption of the original chicken sandwich (it did not, however, place in the top ten for nugget consumption). Here, dietitians Lisa Muras and Nadine Jakim Young of Virginia Hospital Center break down what to order, what to skip, and what "healthy" foods not to fall for.
Sandwiches
Best Option: Grilled Chicken Sandwich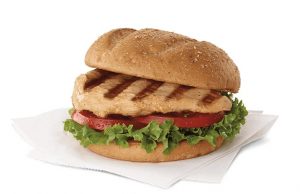 "At 320 calories, this hefty sandwich is a filling yet reasonable option for lunch or dinner," say Muras and Young. But they add that, like most fast-food items, it's high in sodium, at 800 milligrams. The grilled sandwich is low in fat (6 grams) and provides 30 grams of mostly lean protein. Diners can reduce calories by asking for a plain bun (no butter) and pair the sandwich with a side salad (80 calories, 3 grams of fiber, and 5 grams protein) with fat-free Honey Mustard Dressing (90 calories and 330 milligrams of sodium) or Light Balsamic Vinaigrette Dressing (80 calories and 360 milligrams of sodium) for a total of 480 to 500 total calories.
Skip It: Spicy Deluxe Sandwich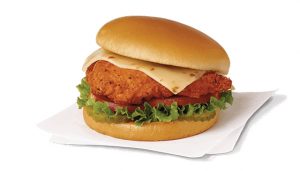 Muras and Young note that, compared to the grilled chicken sandwich, this whopper has far more calories (540), more fat (25 grams), and way more sodium (1,770 milligrams, almost 78 percent of the recommended daily value) "for a measly 4 grams more of protein."
Food Masquerading as Healthy: Grilled Chicken Club Sandwich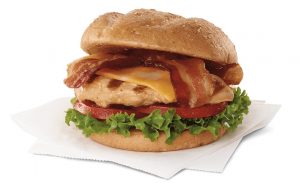 "Don't be fooled by the 'multigrain' bun." At 440 calories, 16 grams of fat, and 1,140 milligrams of sodium, this sandwich option adds 120 calories, 10 grams of fat, and 340 milligrams sodium to the regular grilled chicken sandwich (thanks, bacon).
Sauces
Best Option: Honey Mustard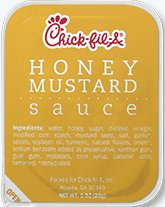 The Honey Mustard Sauce has just 45 calories. "Along with the Barbeque Sauce, this is a lower-calorie option. Remember, however, the nutritional information is per serving. Have more than one container, and it adds up."
Skip It: Chick-fil-A Sauce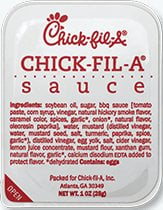 "The sauce alone has just as many calories as the grilled nuggets—140. Add it to the breaded nuggets and you've got a 400-calorie meal without any sides or drink yet."
Food Masquerading as Healthy: Polynesian Sauce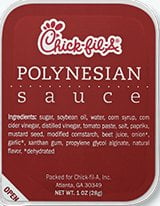 Muras and Young note that the second-most popular sauce at the chain is also the second-highest in calories, 110, with 6 grams of fat and 210 milligrams of sodium.
Salads
Best Option: Market Salad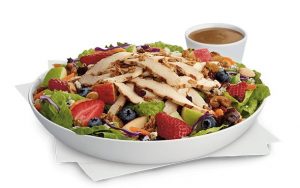 "Patrons can skip the granola topping and roasted nut blend—both of which have added sugar—to reduce calories," say Muras and Young. The Market Salad slides in at 330 calories, 15 grams of fat, 27 grams of protein, and 690 milligrams of sodium. Of the two recommended dressing options, the Light Balsamic Vinaigrette is the lower-calorie, lower-sodium choice for dressings, versus the Zesty Apple Cider Vinaigrette.
Skip It: Cobb Salad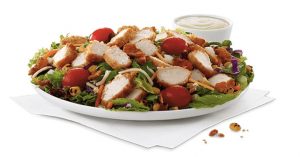 "Not all salads are a healthy choice. This one has breaded chicken pieces, bacon, and a Monterey Jack/Cheddar Cheese combination that add on calories, fat and salt. It also comes with the highest calorie option in dressings: Avocado Ranch, with 320 calories, 32 grams of fat, and 520 milligrams of sodium, although you can substitute a different dressing. Try Chili Lime instead for a fraction of the calories and fat."
Food Masquerading as Healthy: Superfood Side Salad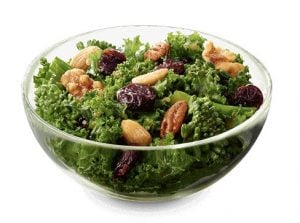 "With the trendy nomenclature, this side dish might seem like a better option than the original Side Salad, but it contains added sugar from the dried cherries, syrupy dressing, and roasted nut blend."
Breakfast
Best Option: Greek Yogurt Parfait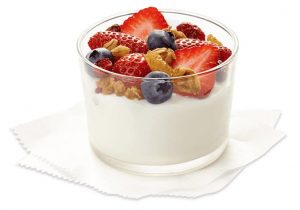 Even with sweetened vanilla yogurt, this is a low-calorie, low-sodium option to start your day, at 250 calories, 9 grams of fat, 12 grams of protein, and 90 milligrams of sodium. However, say Muras and Young, "If you really need that chick fix, the Egg White Grill is a decent choice at 300 calories, 7 grams of fat, 25 g of protein, and 980 milligrams of sodium. Leave off the American cheese to reduce calories, fat, and sodium."
Skip It: Hash Brown Scramble Burrito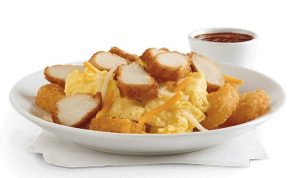 "One of the few menu items with trans fats listed, this combination of fried nuggets, fried potatoes, and salt, salt, salt, will leave you feeling scrambled yourself." It's got 690 calories, 38 grams of fat, 0.5 grams of trans-fat, and 1,600 milligrams sodium.
Food Masquerading as Healthy: Chicken, Egg & Cheese Bagel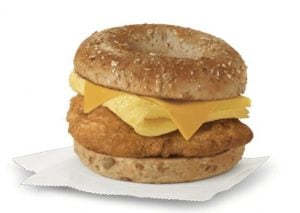 "Despite the description of 'multigrain' bread, this entrée contains enriched (read: white) flour, fried chicken and more than half of your daily recommended sodium." This breakfast sando comes in at 460 calories, 18 grams of fat, and 1,240 milligrams of sodium.
Treats
Best Option: Icedream Cone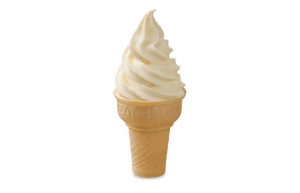 According to Muras and Young, this dessert "lets you indulge without sabotaging your health goals." It's got 170 calories, 3.5 grams of fat, and 30 grams of carbs.
Skip It: "Pretty much all of the milkshakes, but especially Strawberry."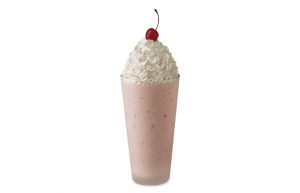 "There might be a trace amount of actual fruit in there, hiding behind corn syrup, cream, and FD&C Red #40, but you'd better off getting the fruit cup." This shake comes in at 610 calories, 22 grams of fat, 95 grams of carbs, and 420 milligrams sodium.
Food Masquerading as Healthy: Frosted Coffee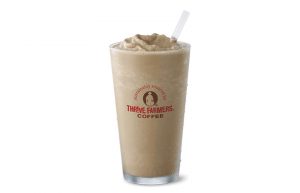 "Admittedly, this is a better option than the Strawberry or Cookies & Cream milkshake, but it is really just a coffee milkshake. Have a cup of the plain Thrive Farmers coffee for your caffeine fix instead."