The day before Outdoor Voices opens in Georgetown, in the sliver of a space on M Street that once housed American Apparel, twentysomething women carrying MacBook Airs and giant cups of coffee scurry about, possibly chatting about pastels and color-blocking, elements ubiquitous to the brand's leggings. Sports bras are being carefully steamed. I'm shown something called the Exercise Dress, and I very much want it. It's as if endorphins, a key ingredient of the brand, are being pumped into the air.
This is the ninth outpost for the company, which was founded in 2014 by Tyler Haney, who developed the brand after going on a run and realizing she was tired of wearing sporty bright neons that made her feel like she was supposed to be a track star. Several tours of textile mills and some $56.5 million in venture capital later, the 30-year-old has been dubbed the "queen of athleisure" by Outside, no small feat in an industry that hit $9.6 billion in sales last year (compared to traditional performance apparel, which fell to $7.4 billion). Investor Mickey Drexler, former CEO of J.Crew, joined the Outdoor Voices board as chairman in 2017.
Except don't call it athleisure. Outdoor Voices prefers to be called activewear, as Haney feels the word athleisure sounds "lethargic and lumpy," explains Melissa Rubenstein, a Bethesda native and spokesperson for the Austin-based company who leads me around the store (Haney is stuck back in Austin for a board meeting). These leggings dangling innocuously on hangers are not merely something you'd throw before you schlep to brunch. Rubenstein says the company's target customers are dog walkers and moms with strollers, or people who look like they're having fun while, well, doing things (many articles about the company cite Haney's morning walks with her dog). These activities might require leggings from the Textured Compression line, designed for less intense activities (I'm told that a pair of these leggings should last 116 hikes, which is apparently good). But there's also TechSweat, a sturdier line made for boxing and running, and FreeForm, a seamless line good for yoga. Also central to the brand is a color palette deeply steeped in neutrals and pastels. Peaches in various stages of ripening come to mind. I get a peek at the next line to launch and am told it was inspired by the sunset.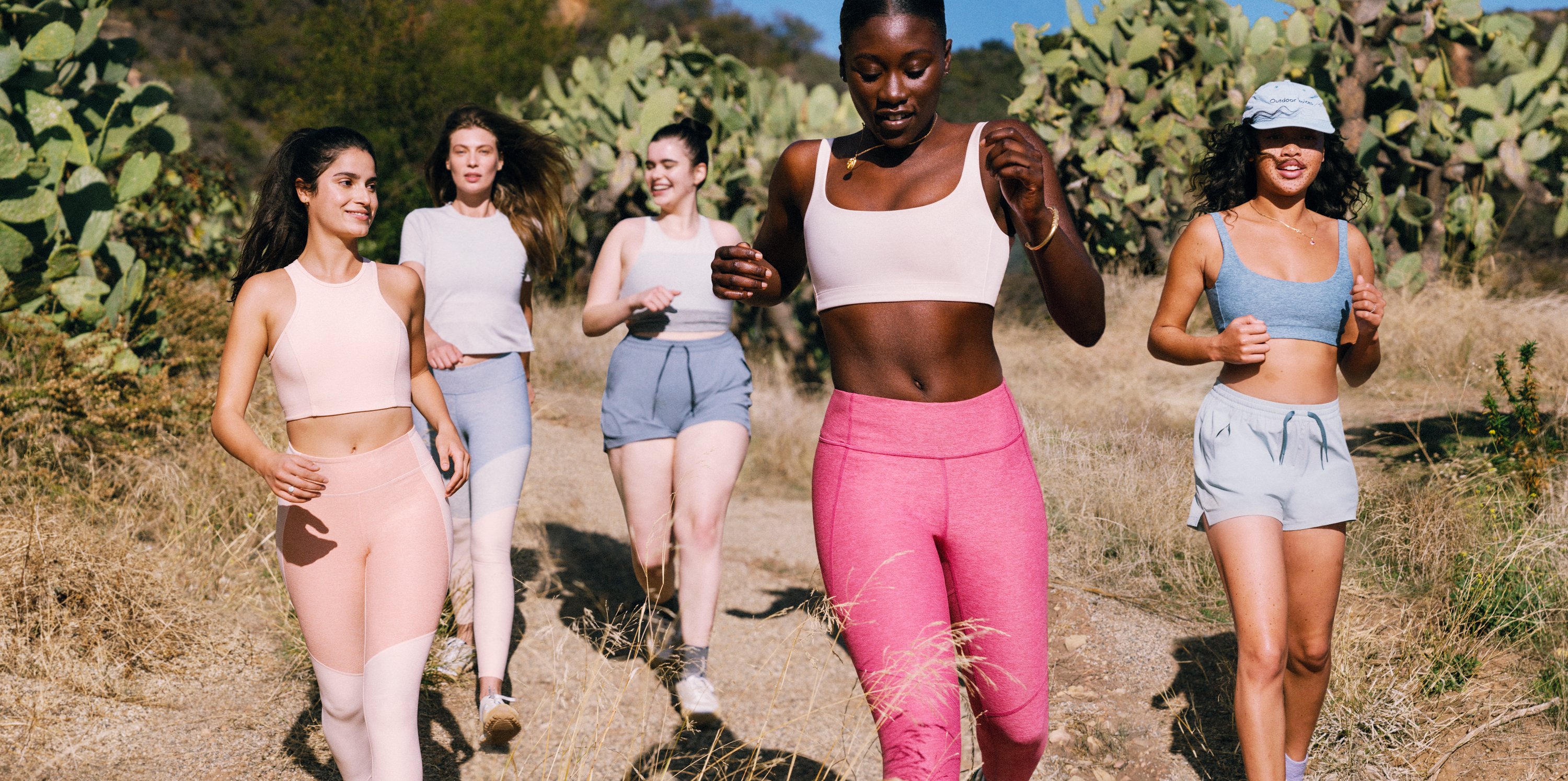 The highlight of the Georgetown location is the brand's first-ever Rec Room. The tiled nook in the back of the store is meant to feel like an old-school YMCA, says Rubenstein, and will allow anyone to borrow gear such as tennis rackets, soccer balls, basketballs, and roller skates—for free (this kind of access is important when getting people to do things). Anyone can walk in off the street, borrow some skates, lock their keys in a pink locker, fill up their water bottle, and scoot off to navigate the maze of students and tourists on M Street. Haney chose Georgetown because of just this kind of "inherent energy," she writes in an email. "From the students down the street at Georgetown University browsing shops in between classes to the rowing clubs on the Potomac River practicing in the evenings, Georgetown brings people together, just like us."
While the building's exterior has been painted the store's familiar powder blue, the interior has been overhauled to include elements of DC. A signature design is the translucent yellow arches inspired by Metro's vaulted ceilings, says architect Will Fox, the director of store design. The upstairs houses the men's section and will have an old television playing clips of Washington figures engaged in sports activities, such as George W. Bush throwing out the first pitch at the 2001 World Series.
When asked if people will actually roller skate on M, Rubenstein says, "I mean, we're gonna start it. DC people really like to let their hair down. They have such demanding jobs. If it works here, it'll work everywhere."
Fans of the brand can meet for its first free weekly event on Saturday, October 27, at 9 AM, a "Dog Jog," followed by free cryofacials courtesy of DistrictCryo. RSVP here. If it rains, there will be indoor meditation. Outdoor Voices is located at 3025 M St., NW.