When Mr. Yogato owner Steve Davis offered to sell his quirky Dupont Circle frozen yogurt shop for one dollar in August, more than 250 people offered to buy it. Some, trying to get an edge, upped the bid to a whopping $1.25.
Davis, an engineer and aerospace expert for Elon Musk's SpaceX, has operated Mr. Yogato for 10 years. The rocket scientist with a deep love of games and the movie Pitch Perfect was an early pioneer of DC's once-booming fro-yo trend and built a loyal following by offering discounts for answering trivia questions or accepting goofy challenges like reenacting the entire 47-second Michael Jackson "Thriller" dance. But lately, Davis has been traveling a lot and not had time to devote to the shop. With the lease coming to an end this year, he wanted to pass the reins to someone else who would carry on the spirit of the shop. As an incentive to the right person, he offered the business for only a buck.
From the initial inquiries, Davis narrowed the pool down to 16 and invited them to an open house. He showed the group how to make the yogurt (the shop doesn't use pre-made mixes like the chains) and opened up his books (yes, he says, the business is profitable).
"Half the people got scared off by the amount of work," Davis says. "I also wanted to make sure the people would be fun, because the thing I'm getting out of this—the business is worth, hopefully, more than a dollar—is the continuation of the store."
At last, Davis has picked his successor: Justin Featherstone, a music producer from Baltimore whose claims to fame include the theme song for The Fate of the Furious, the eighth in the Fast and Furious franchise. He says he's also worked with Chris Brown, Trey Songz, and Nicki Minaj. He'll officially take ownership of Mr. Yogato on Nov. 1 with a new lease in place.
Featherstone is no stranger to the fro-yo game, though. Inspired by his own childhood memories of going out for sweet treats, he opened his own shop called Berry Cup in Rockville this past April. In addition to yogurt, Berry Cup sells Taiwanese-style snow cream, Hawaiian shaved ice, bubble tea, and cheesecake. Featherstone and his brother Matthew Featherstone also operate a cheesecake wholesale business called Hiatus, serving offbeat flavors like ginger-lemon-wasabi and bourbon-poached peach.
Featherstone had never previously been to Mr. Yogato. But being in the biz himself, he Googled "frozen yogurt news" (as one does) and landed on an article about Davis's $1 offer. His initial thought: "This can't be real.'" His second thought: "Hey, why not?"
Davis says Featherstone's email stood out from the crowd because of its correct grammar usage and sense of humor. (He signed it "Top Level Yogurt Enthusiast.") At the open house, Featherstone made a strong impression as the only person wearing a suit.
The biggest changes to Mr. Yogato will be the addition of mini cheesecakes and bubble tea. (Patrons will be able to order full-size cakes online in advance for pick-up.) Next spring, Featherstone may introduce snow cream too.
"I want Mr. Yogato to not just be a frozen yogurt place. I want it to be a dessert place," he says.
The recipes for the frozen yogurt will remain the same, but Featherstone says they'll start making some of their own toppings, including brownie bits and fried cheesecake balls. He'll keep some of the random add-ons like olive oil and Old Bay too.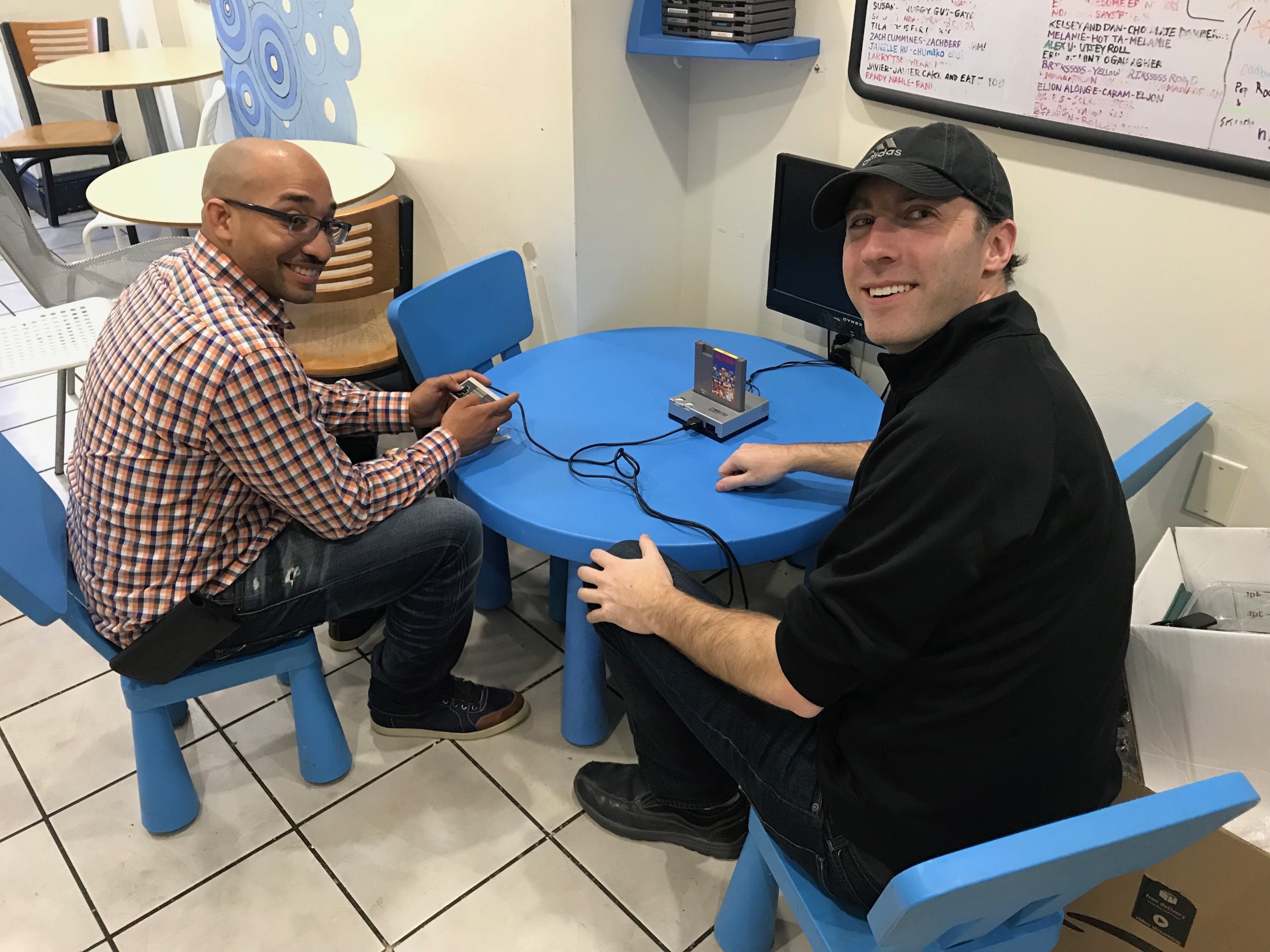 Expect the place to eventually get a new paint job, likely some kind of colorful mural. The board games and Nintendo will remain, but Featherstone says he may add a new Playstation, or maybe even a karaoke machine.
Most importantly, Featherstone hopes to stay true to Mr. Yogato's spirit. And in many ways, he's contractually obligated to do so, thanks to a few strings that Davis attached to the deal. For starters, the contract states that the new owner must continue offering trivia, including the "Allen Davis game," where customers try to connect their names to that of Davis's dad. (Davis, who invests in other restaurants around DC, has made naming dishes after his dad a condition of some of his investments.)
The contract also stipulates that at least one SpaceX sign will remain, and Featherstone will allow Davis to continue to host his scavenger hunt on his birthday, "my favorite day of the year."  Plus, Davis will receive one free bubble tea per week. In fact, that was somewhat of a deal-clincher.
"I don't think I can express how excited I am to come in on like Nov. 5 and get a bubble tea," says Davis says, who plans to remain a regular customer. "I drink bubble tea about five times a week."