UPDATE Sunday, December 2, at 9 PM: Facebook tells Washingtonian it has restored Spencer's posts, which Spencer confirms. (You can see his posts here and here.) A spokesperson for the company tells Washingtonian: "The meme does violate our Community Standards for content that targets victims of serious physical or emotional harm but at times we will allow content that might otherwise violate our standards if it's shared to raise awareness. We've restored the two posts after determining that in this context, they do not violate our standards."
Original post:
Three months before he allegedly plowed his car into a crowd in Charlottesville, killing Heather Heyer and injuring dozens of others, the neo-Nazi James Alex Fields Jr. shared a meme on Instagram that showed a car striking a crowd of protesters. "You have the right to protest but I'm late for work," it read.
On Thursday a judge allowed the meme, which prosecutors contend shows premeditation, to be entered into evidence. "Like every journalist in the press room at that moment, I thought that was a pretty big deal," says Hawes Spencer, who is covering Fields's trial, which began last Monday. On Thursday evening, he filed a brief report for NPR on the judge's decision.
Spencer, who founded and edited the now-shuttered Charlottesville alt-weekly The Hook, has this particular joint cased. He reported on the deadly rally for the New York Times and wrote a well-reviewed book about it. On Friday he noticed that the Charlottesville city court clerk had posted the meme online as part of a prosecutor's motion.
He reported a short story about the judge's decision for Charlottesville public radio on Friday and also shared an image of the meme on his personal Facebook. While Spencer doesn't remember the exact words he shared with the post, he says it was informational, something to the effect that this was what Fields posted on Instagram three months before the rally.  "Naturally, every journalist would try to bring this forward," he says. "It was shocking."
Later that evening, though, his personal post had vanished from his page, and Spencer noticed he'd been logged out of his Facebook account on his desktop computer at home as well. He signed back in and saw a note saying his post violated community standards. He reposted Fields's meme, this time alongside Ryan Kelly's Pulitzer Prize-winning photo of the incident. "Today, in my capacity as a journalist, I posted the objectionable meme that James Alex Fields Jr. posted to Instagram three months before he killed Heather Heyer and injured 35 others," he wrote in the post. "Tonight, Facebook censors deleted the post because it broke community standards. No shit, Zuckerberg. Sometimes the news is not pretty."
Overnight Spencer's post, which was public and thus could conceivably be seen by anyone in the world, received more action than much of what he posts: 80-plus likes and over 30 shares. "That's a lot more engagement than I'm accustomed to," Spencer says. But around 10:30 AM on Saturday morning, as he bounced between his Facebook page and other tabs, his second post vanished, and this time Facebook showed him a note saying he'd been blocked from posting for 24 hours. Try it again, Facebook warned, and he'd earn longer suspensions.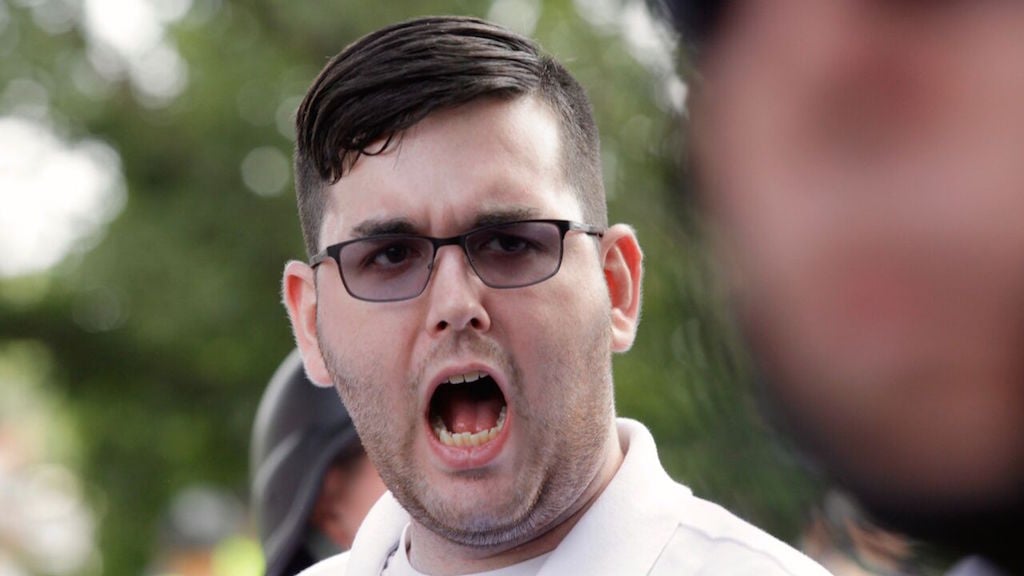 Spencer says he often road-tests stories on his Facebook page, gauging his friends and followers' reactions to see whether something is worth turning into a full-blown report. "In this case I got the very strong sense this did resonate with people," he says. He doesn't know who, if anyone, reported it, but he thought the context he'd added would keep him off Facebook's bad side. "I was really trying to make sure that a machine or a 19-year-old Russian or whoever Mark Zuckerberg pays could see what any thinking person could see: that this is legitimate news," he says. "I've done reporting for major news outlets. I teach journalism at James Madison University. I'm far from the best journalist in the world, but I'm not a novice."
Spencer could not find any way to appeal his temporary block.
Even before it earned widespread criticism for its effects information shared on its platform may have had on the campaigns for Brexit, the 2016 US presidential election, and ethnic cleansing in Myanmar, Facebook has nurtured an uneasy relationship with journalism. It has had to balance moderation and community standards with freedom of expression and the fact that despite its best efforts otherwise, it remains an excellent delivery system for both "real" and "fake" news. (One irony here is that Facebook owns Instagram, where Fields posted the meme in the first place.)
Still, Facebook steadily resists the idea that it is a publisher and tends to view questions of information as engineering problems. A nuanced problem such as Spencer's posts presented requires a type of judgment that doesn't easily "scale." The company has admitted it struggles to address offensive content: "artificial intelligence isn't good enough yet to determine whether someone is pushing hate or describing something that happened to them so they can raise awareness of the issue," Facebook VP Guy Rosen wrote in a blog post in May.
In the meantime, Spencer has posted screenshots of his deleted post and Facebook's warning on his Twitter account without triggering a similar crackdown.
Despite having written a book about #A12 and produced several @NPR and @WCVE stories, I apparently can't post news about James Alex Field's Jr.'s Charlottesville murder trial on Facebook. @sivavaid @RyanMKellyPhoto @uvapress @coybarefoot @mikeallen @waldojaquith pic.twitter.com/vdxXnEVgmM

— Hawes Spencer (@HawesSpencer) December 1, 2018
"Nobody with half a brain could think I was endorsing driving cars into people, or violence, or any of the negative things that Facebook attempts to protect the public from," Spencer says. Facebook has not yet replied to a request for comment from Washingtonian; I'll of course update this post if I hear back.