For decades, go-go music has been the District's most powerful homegrown cultural creation. But lately, its unique pulse has served as a flashpoint as much as a soundtrack. After a neighbor in a luxury building complained about go-go recordings playing outside a Shaw cell-phone store, the #DontMuteDC movement was born—an effort to save not only the beat of black Washington but also the people and places at the heart of it. As the DC Council considers a bill to make go-go the city's official music, here's a brief, non-comprehensive look at some of the music and moments that have shaped the genre over its nearly 50-year history.
1. Essential Recordings
The live experience is the heart of go-go, but there are plenty of great recordings, too. We asked a couple of experts for their picks. Nico "the GoGo-Ologist" Hobson, who runs Go-Go Radio Live, shared his favorite PA tapes, which are the live recordings that have long chronicled the scene. Kevin "Kato" Hammond, who founded Take Me Out to the Go-Go magazine and has played guitar in several go-go bands, lists his picks for studio tracks.
Nico the GoGo-Ologist's PA Picks (in chronological order)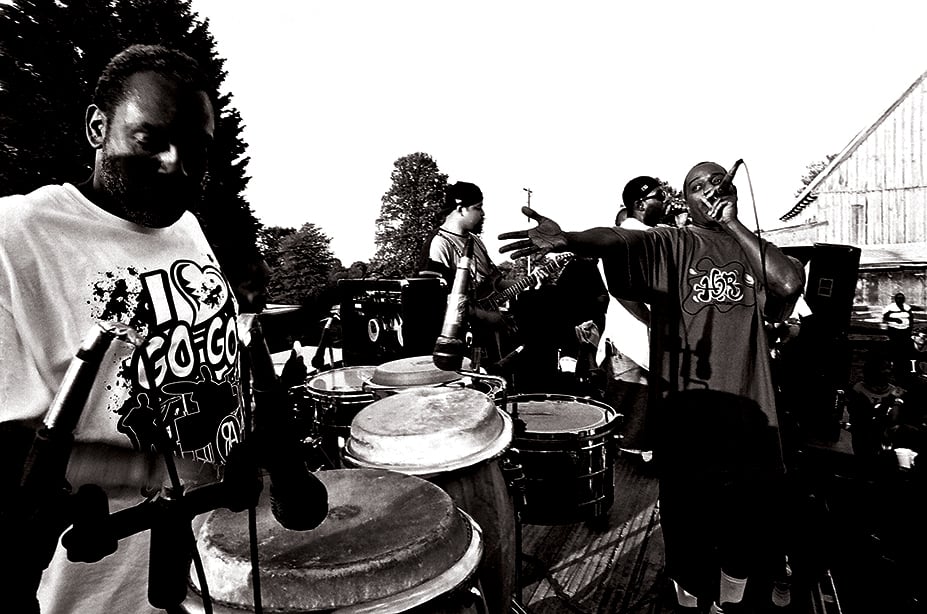 Trouble Funk, 1981, Duval High School
"Trouble was the first band I fell in love with—the heavy drums were perfect for a kid to jump around and bounce to."
Rare Essence, 1983, Live at Anacostia Park
"This is my favorite tape—it en­compasses every aspect of go-go you need to know to understand it. This is a boom-box recording, so you can really feel the crowd—the most important aspect of go-go."
Northeast Groovers, 5/30/93, Wilmer's Park
"The band [arrived onstage in] a helicopter—it was revolutionary. They were saying, 'We're here to stay.' And they cranked out!"
TCB, 8/2/2002, Hot Shoppes
"They are the band to change go-go, to put go-go where it's at now. Not that this particular show did that, but this put them on the map. They influenced all of the younger bands of today."
Junkyard Band, 2/22/19, Nipsey's
"This is the crankingest I've heard in a minute. Junkyard is just pure go-go. They're older now, but they still play like they played when they were young."
Kevin "Kato" Hammond's Classic Singles (in chronological order)
"E Flat Boogie" by Trouble Funk (1980)
"It's almost like a book—the beginning, a rise in action, the climax, the fall in action, an end."
"Knock Him Out, Sugar Ray" by E.U. (1980)
This bass-heavy track packs a punch—which makes sense given that it's about the superstar Washington-area boxer.
"Body Moves" by Rare Essence (1981)
Hammond is still wowed by everything from "the beat to the breakdown, even the harmonies."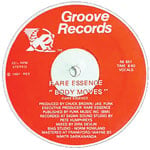 "Mer-Sa-Dees" by Little Benny & the Masters (1988)
"This was before I was playing [guitar] for Benny. The singing is phenomenal."
"The Water" by Northeast Groovers (1993)
"The flow of that song and the beat really had an underwater feel."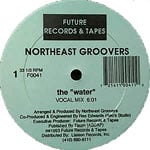 ---
Back to Top
2. Essential Venues
Four of the most legendary (now-shuttered) places to see go-go bands.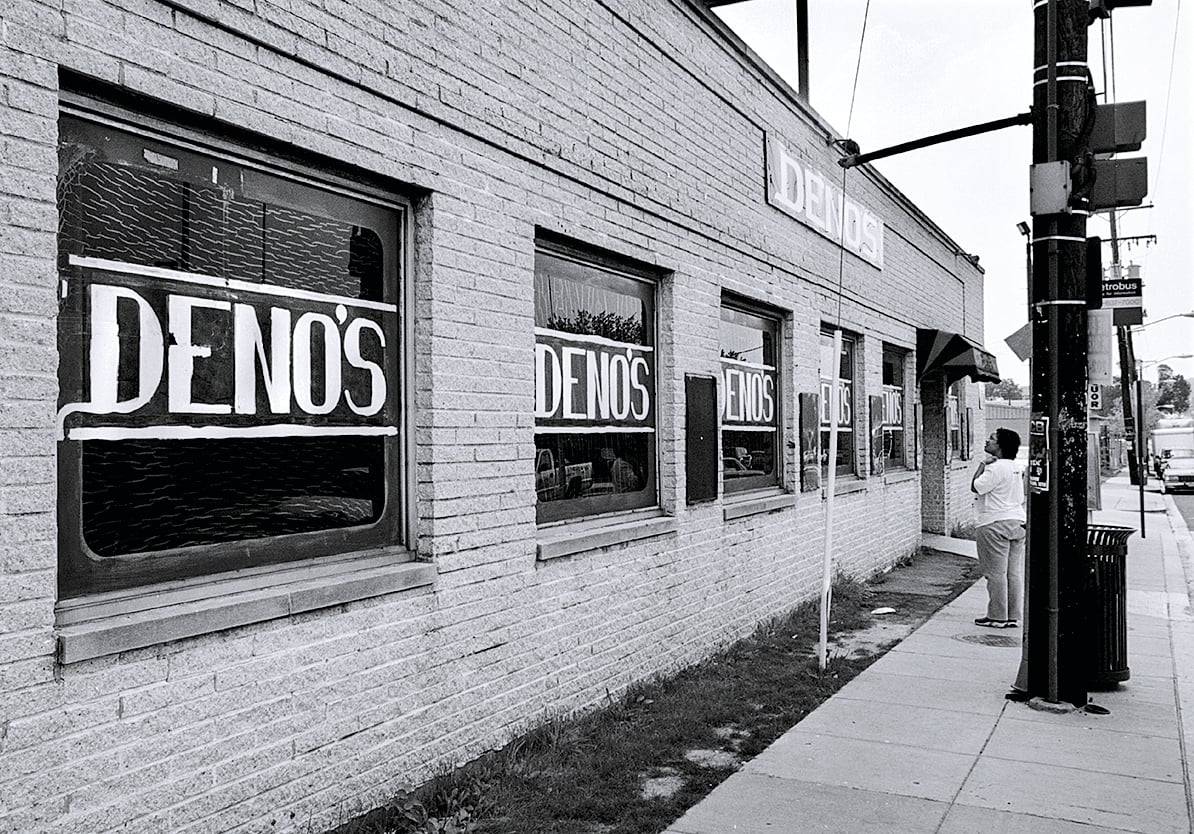 1. Metro Club
2335 Bladensburg Rd., NE
Also operated as Deno's and as Breeze's-Deno's Metro Club. Owner Daniel "Hollywood Breeze" Clayton hosted still-talked-about shows by Rare Essence, Backyard Band, and others.
2. Classics
4591 Allentown Rd., Suitland
The Maryland nightclub was also a popular venue for male strip shows, so it makes sense that it helped usher in the ultra-smooth, R&B-heavy "grown and sexy" style of go-go in the late '90s and early '00s.
3. East Side
1824 Half St., SW
Before Nationals Park came along, the East Side was one of this area's main attractions, especially with its high-end sound system and spacious dance floor.
4. Club U
Frank D. Reeves Municipal Center, 14th and U sts., NW
Cultural scholar and activist Natalie Hopkinson devotes an entire chapter of her book Go-Go Live to this DC-government cafeteria by day, concert venue by night.
---
Back to Top
3. Go-Go's Backbone
Need more proof that go-go cannot be erased? Check out the incredible runs of these stalwarts. Some have seen their lineups change or gone on hiatus, but these seven groups have long kept go-go going.

Chuck Brown: Early '70s (after previously playing other types of music) to 2012
Rare Essence: Late '70s to present
Experience Unlimited: Late '70s to present
Trouble Funk: Late '70s to present
Junkyard Band: 1980 to present
Northeast Groovers, Late '80s to present
Backyard Band, early '90s to present
---
Back to Top
4. Further Reading
The DC Public Library held a go-go book club this summer, with these titles. (Also try the novel Love-n-GoGo by Michelle Blackwell.)
---
Back to Top
5. These Used to Be Everywhere
From the '80s through the '90s, brightly colored posters advertising go-go shows were stapled to telephone poles all across the region. Made by a Baltimore outfit called the Globe Poster Printing Corporation, they now fetch hundreds of dollars online and have hung in museums. We asked Rare Essence founding member Andre Johnson to walk us through one of its classic signs.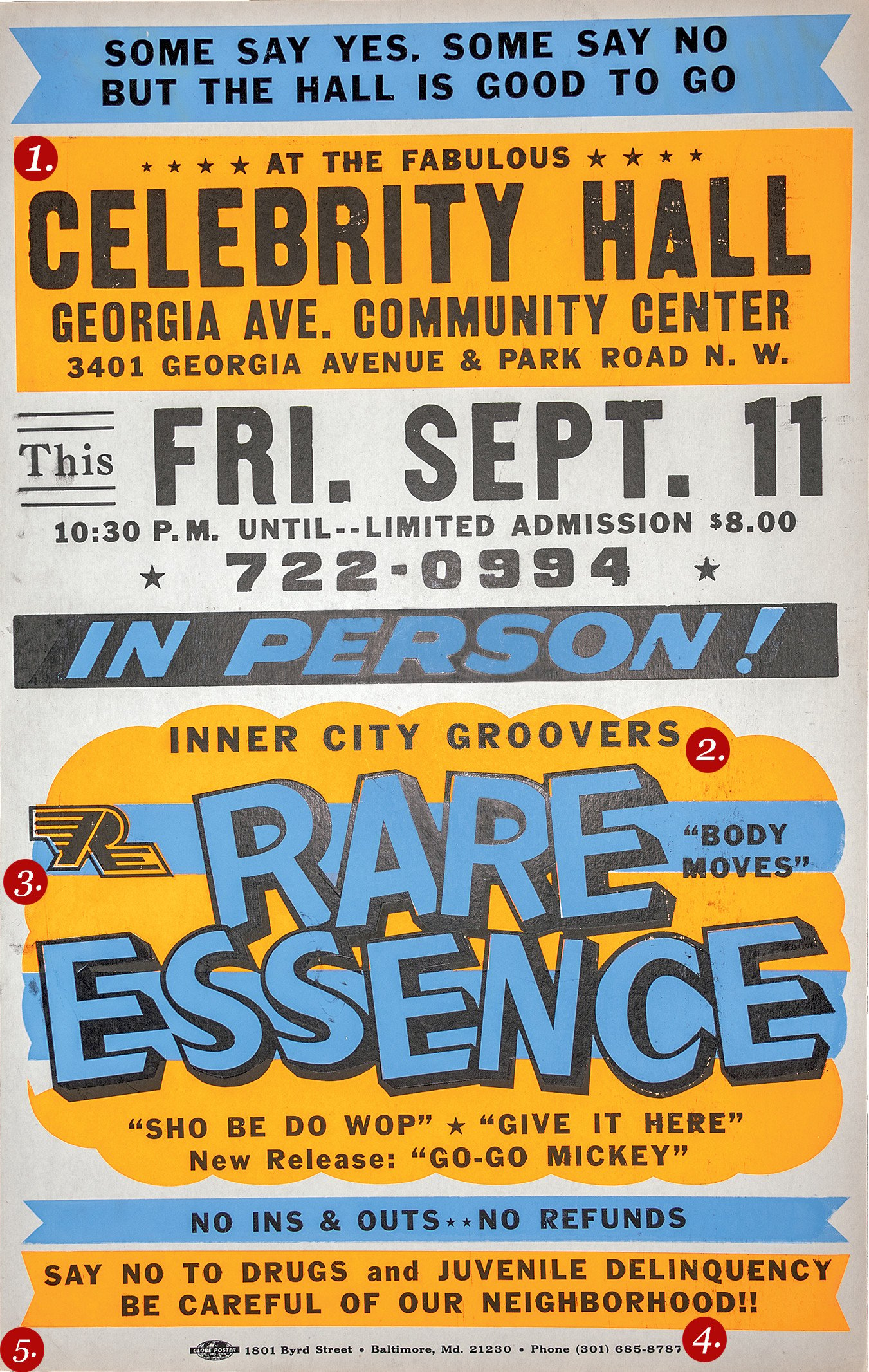 1. Celebrity Hall (also called the Black Hole at a different point in its life) was a big destination in the late '80s.
2. The Inner City Groovers was one of the band's many nicknames, along with RE, Essence, and the Wickedest Band Alive.
3. "We've been fortunate enough that people know us just by the logo—they don't even need to see a name," says Johnson. "One guy told us that our logo was like the Nike swoosh: As soon as you see it, you know what it is."
4. Globe closed in 2010, but its archive and printing press were acquired by the Maryland Institute College of Art, which still uses the equipment to make new posters.
5. Intact vintage Globe posters are relatively rare, especially because promoters often cut them into pieces after posting them. "They were sliced so people wouldn't take them down" before the event, says Johnson.
---
Back to Top
6. Through the Decades
1974-ish

A few years into their career, Chuck Brown and the Soul Searchers invent go-go with percussion-heavy shows in which the band plays through song breaks.

1976

Local music impresario Max Kidd founds T.T.E.D. Records, which becomes the premier go-go label in the 1980s.

1979

Chuck Brown and the Soul Searchers' "Bustin' Loose" is released and hits the Billboard charts.

1982

Trouble Funk releases Drop the Bomb—which includes the single of the same name and the often-sampled track "Pump Me Up"—on Sugar Hill Records.

1986

Fresh off appearances in the movies DC Cab and Tougher Than Leather, Junkyard Band releases "Sardines" and "The Word" on Def Jam.

1986

Island Pictures releases the go-go movie Good to Go, starring . . . . Art Garfunkel. Despite energetic music footage, the movie flops at the box office.

1987

Go-Go Live at the Capital Centre features a packed bill of go-go artists in a huge venue usually reserved for national acts.

1988

E.U.'s "Da Butt" appears on the soundtrack for Spike Lee's School Daze and becomes the genre's breakout moment. It remains the best-known go-go song outside of DC.

1995

Public-school budget cuts lead to reduced music education—a serious blow to go-go, according to activist Ronald Moten.

1996

Northeast Groovers and Backyard Band rule the scene; NEG's "Goosebumps" and BYB's "Kill 'Em All" blare from car speakers around the region.

March 1997

The Ibex nightclub closes after a DC police officer is shot and killed by an ejected club patron, sparking a crackdown on go-go that many people think unfairly blames the music scene for broader issues affecting the city.

Early 2000s

Maiesha and the Hip Huggers, Donnell Floyd's Familiar Faces, Lissen Band, and others usher in the era of R&B-heavy "grown and sexy" go-go.

2003

Reggie "Polo" Burwell and TCB debut a new go-go sound that will come to be called bounce beat, adopted by TOB, CCB, New Impressionz, and other acts.

2005

Two prominent clubs close as DC's Alcoholic Beverage Regulation Administration starts an aggressive campaign of revoking liquor licenses of go-go clubs anytime street violence spills inside their doors.

2007

The all-female band Be'la Dona forms, with longtime Chuck Brown keyboardist Sweet Cherie.

2007

Mambo Sauce releases "Welcome to DC," which becomes a city anthem and gains national attention when played at Washington Wizards games.

May 2010

Anthony "Little Benny" Harley, a member of Rare Essence and frontman of Little Benny and the Masters, dies. In August, DC names a street in his honor—Little Benny Way.

May 16, 2012

Chuck Brown passes away. Go-go will never be the same.

2016

Backyard Band's cover of Adele's "Hello" is the latest hit go-go cover to give the original version a run for its money.

April 2019

The #DontMuteDC movement is born after someone in the neighborhood complains about the go-go music that has been playing from Don Campbell's Metro PCS store in Shaw for nearly 25 years.

May 2019

A large concert/protest, dubbed Moechella, takes place at 14th and U.

June 2019

#DontMuteDC goes national with a BET Awards performance in which DC natives Taraji P. Henson and Regina Hall dance onstage as go-go luminaries perform.
---
Timeline credits: Photograph of Chuck Brown and the Soul Searchers by Michael Ochs Archives/Getty; Kidd Courtesy of Corie Kidd; School Daze by Everett Collection/Alamy; Be'La Dona by Memories are Worth Keeping Photography; Little Benny by Thomas Sayers Ellis; Chuck Brown by Afro Newspaper/Gado/Getty; Moechella by Jada Imani M; Henson and Hall by Chris Pizzello/AP Images.
This article appears in the September 2019 issue of Washingtonian.