One afternoon earlier this month, a hulking black Cadillac SUV rolled down a Kalorama sidestreet, slowed to a crawl, and hung a left into the enormous residence at 2320 S Street. The sidewalk had been transformed into a staging area that resembled a Red Cross relief zone, where a dozen men and women labored in the valet driveway from behind a barricade, pacing with clipboards, directing idling box trucks, and inspecting piles of newly arrived packages—deliveries from Amazon.
The frenzy had quickened pace, and for good reason: Today, the owner was paying a visit. Jeff Bezos had already emerged from the SUV, appearing hale in a silver-gray suit and aviator sunglasses. He lingered at the end of the estate's tunneled archway with two well-heeled associates perched at each elbow, foregrounded against a lush courtyard at their back.
It was the first sighting of the Amazon mogul while on the premises of his soon-to-be Washington homestead, a renovation project of mammoth proportions that has been underway since 2016, when Bezos purchased the former Textile Museum under an anonymous trust. Bezos has made the journey to this address at least four times this year to inspect the progress, according to people who have seen him in the house. Today, presumably, he liked what he saw: Someone cracked wise, and suddenly Bezos' honking laugh resounded through the ample tunnel. Then the group quietly slipped inside.
Bezos, according to his friends, is assembling more than just a mansion here, launching a seminal chapter in which the tech mogul will erect a new presence as a doyen of Washington intelligentsia: an Amazon Embassy to go along with an East Coast headquarters. Even in a neighborhood whose residents are well accustomed to sharing fences with boldface names, the  project has managed to cause a stir. And small wonder: The design plans call for marrying two enormous edifices—the historic Pope and Wood buildings—between them installing 25 bathrooms, five lounges, two elevators, and a sizable ballroom.
But the initial plan also included something else: An end date.
The firm leading the project, BarnesVanze, initially informed city regulators that Bezos' home would reach completion by August 2019. In the duration, neighbors have seen the mansion transform considerably, now unrecognizable from the hollow mausoleum once bedecked by plywood boards. But they have little sense of its progress. A procession of vans and contractors that gather at the front curb have offered a bellwether to curious onlookers, evolving from traffic vests and hard hats, to landscapers bearing rakes, to home entertainment specialists.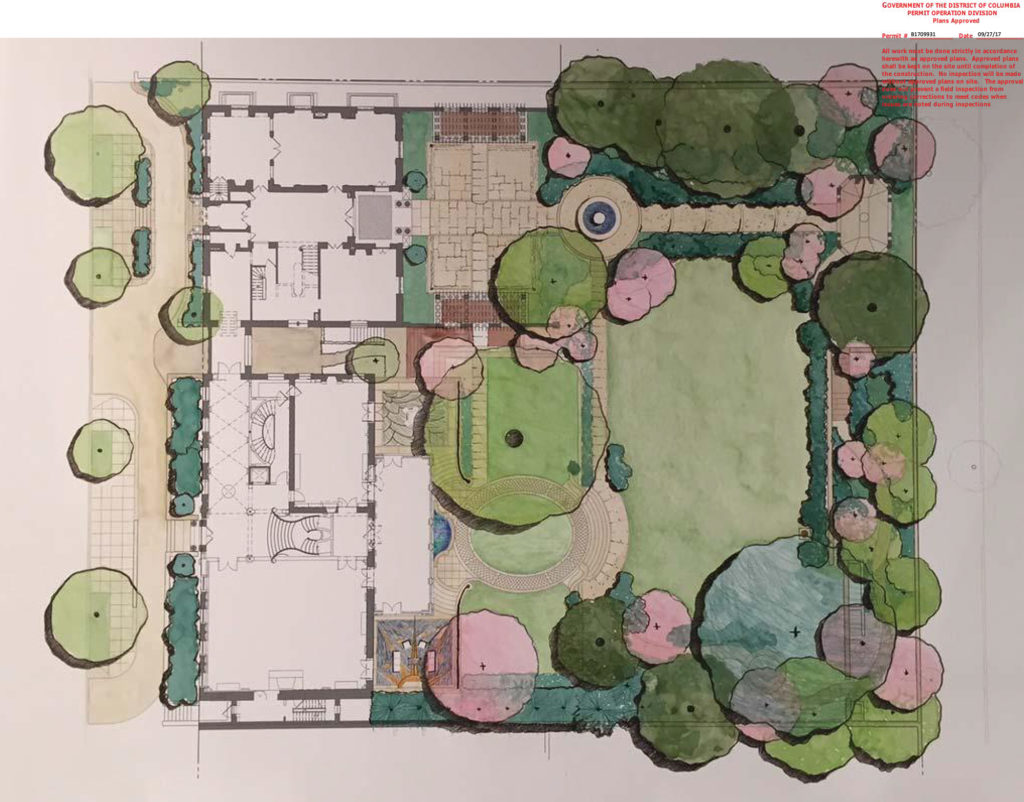 Then August came and went. Not even the surrounding embassies (there are five, plus two ambassadors' residences) have been told when the restoration will be finished. Perhaps the world's richest man is spared no less from the plebeian miseries of building delays than the typical Chevy Chase family redoing their kitchen.
Adding to the puzzle is that the home, for those who have seen it, presents flawlessly to the naked eye—a degree of burnish that suggests finishing touches. "Big flower beds—beautiful, just astonishing," says one person, describing the backyard landscaping.
"It's gorgeous," says another, adding that the Wood House—the larger of the two buildings repurposed for convening gatherings and social events—"is absolutely amazing." Such polish can introduce its own challenges. Tarp is sometimes laid to protect the floor's original marble, and plans call for preserving the buildings' historic fabrics. As one person described it, only half-jokingly, "We have to make sure not to knock over a $12,000 dollar vase."
The consensus is that the project has entered a final phase, but may require several months more of work, including final inspections. "This one is starting to kind of wind down," says a person familiar with the project, but quickly cautioned that "they have a long way to go," and that the prospect of finishing before year's end seemed unlikely.

That timeline was largely confirmed by the updated design plans of the house, obtained through a FOIA request, which document the work on the house in 2019. In the past year, the plans detail a transition from construction work to domestic amenities. In April, permits were granted for electrical installation: 1,006 light fixtures, six dishwashers, and 48 smoke detectors. The next month began the installation of plumbing and gas fixtures: Four gas fireplaces, five bath tubs, five refrigerators, 31 bathroom basins, 12 kitchen sinks, ten showers (and two urinals). June saw the beginning of A/C installation, and the next month, two elevators—with gate finishes of painted bronze steel and unlacquered brass.
"If you're installing bathroom fixtures, faucets, countertops, all the rest, you are rounding third base," said Bill Millholland, a project specialist with the CASE design firm, who reviewed the plans for Washingtonian. If the project managers are using a phased approach to permits—"tackling 'this' piece while developing 'that' piece"—then, he surmised, "the project is in the home stretch."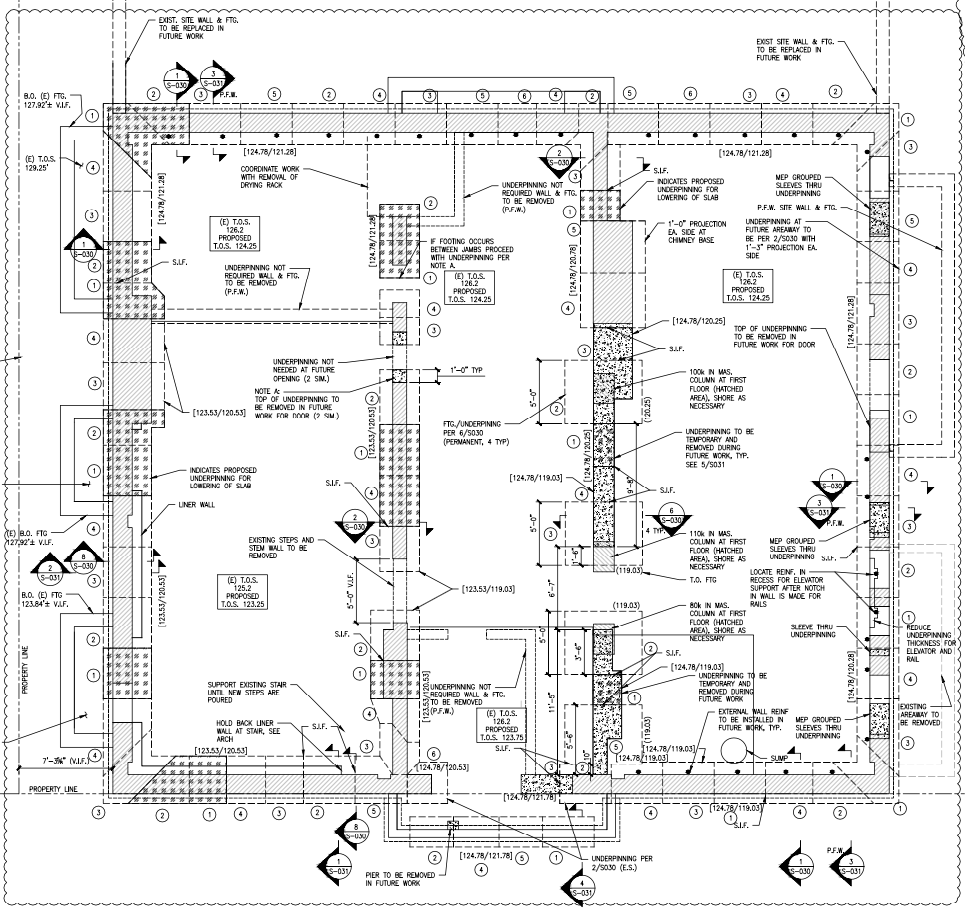 Millholland also spotted a potential reason why the renovations have been delayed past August. The updated plans included "substantial" work on the foundations of both buildings, including underpinning the walls and resetting the basement slab for the entire Pope House—a likely necessity, Mulholland surmised, if one is to transform a century-old cellar to accommodate such minor tweaks as an entertainment kitchen, full-scale lounge and whiskey and wine cellars. (The Wood's slab was reset in the northwest corner, directly below a "Media Room" that calls for tiered seating, implying a movie theater.)
So when is move-in day? Bezos isn't saying. (A spokesperson for Amazon declined to comment, as well as architect Ankie Barnes, who cited a "wish to respect our clients' privacy") By all accounts, though, he is anxious to make landfall. One person described how they understood the timeline for installations over the summer. "Jeff wanted that done immediately—I mean immediately. Like, 'Fast, fast fast!'" they said.
"You know—like Amazon," the person continued, laughing. "He wants Prime service in his own house."