Ruby Corado*
Founder, Casa Ruby, 49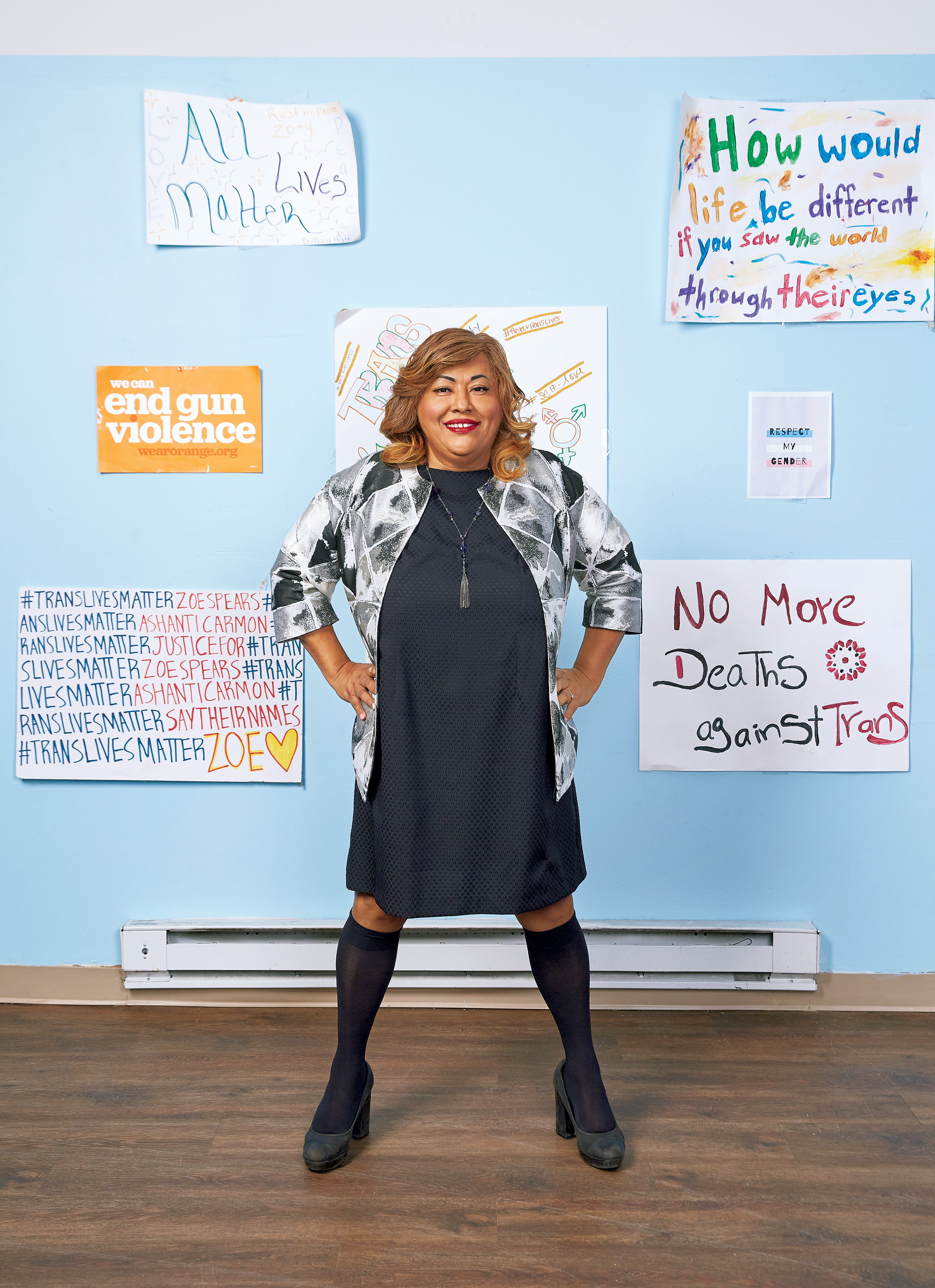 *Since we honored Ruby Corado in 2019, serious allegations of mismanagement and improper use of grants and charitable donations have come to light. The organization, Casa Ruby, shuttered in July 2022, and Corado has allegedly fled the country amidst ongoing investigations.
A Safe Place for LGBTQ People
Ruby Corado keeps a photo from 2012 on her phone. It seems unremarkable: an empty white room brightened by sunlight from a single window and a cracked door. But this first snapshot of what Casa Ruby would become—a thriving social-services and community center for homeless and struggling LGBTQ individuals—is a hopeful reminder she looks at often. "I see the possibility of one day being everything that people ask," Corado says of the group's formerly vacant Shepherd Park space. "They ask for food, and we give it to them. They ask for shelter, and we give it to them. They ask for respect, embracement, and we give it to them every day."
The picture wasn't always so bright. Corado—then an 18-year-old named Vladimir—fled the Salvadoran civil war in the '80s, only to encounter more violence in DC as a transgender, homeless, and eventually HIV-positive youth. She pulled herself up, working in outreach at Whitman-Walker Clinic, only to be knocked down, barely surviving a sexual and physical assault from a male partner. A year before founding Casa Ruby, around the anniversary of the attack, she attempted suicide. "It was like an exorcism," Corado says, to wake up in the hospital surrounded by "the kids" she'd helped on the streets over the years. "I thought, 'What are they going to do without me?' I wasn't healthy physically, but emotionally I was on fire."
It's spread. When Corado opened the Georgia Avenue space with the help of a Social Security check eight years ago, Casa Ruby's sign-in book had 223 signatures. In late 2019, it boasted more than 44,000.Besides shelter and food, housing and health services, and counseling for sexual-violence victims, the center has a program to assist Latinx immigrants and refugees, gay and straight. Corado says it could only happen in DC: "I don't know anyplace in the world where a homeless, HIV-positive, undocumented trans woman of color can have a dream of serving people in her community and be able to live that dream."
"I am very pleased to honor Ruby Corado as a fellow Washingtonian of the Year. Casa Ruby, under her leadership, has grown to become such an important and critical part of the landscape of services for homeless youth, especially those who are LGBTQ and bilingual. She is both a wonderful provider of services and such a strong advocate for her clients and for all homeless youth."
Back to Top
Matt Kelly
CEO, JBG Smith, 47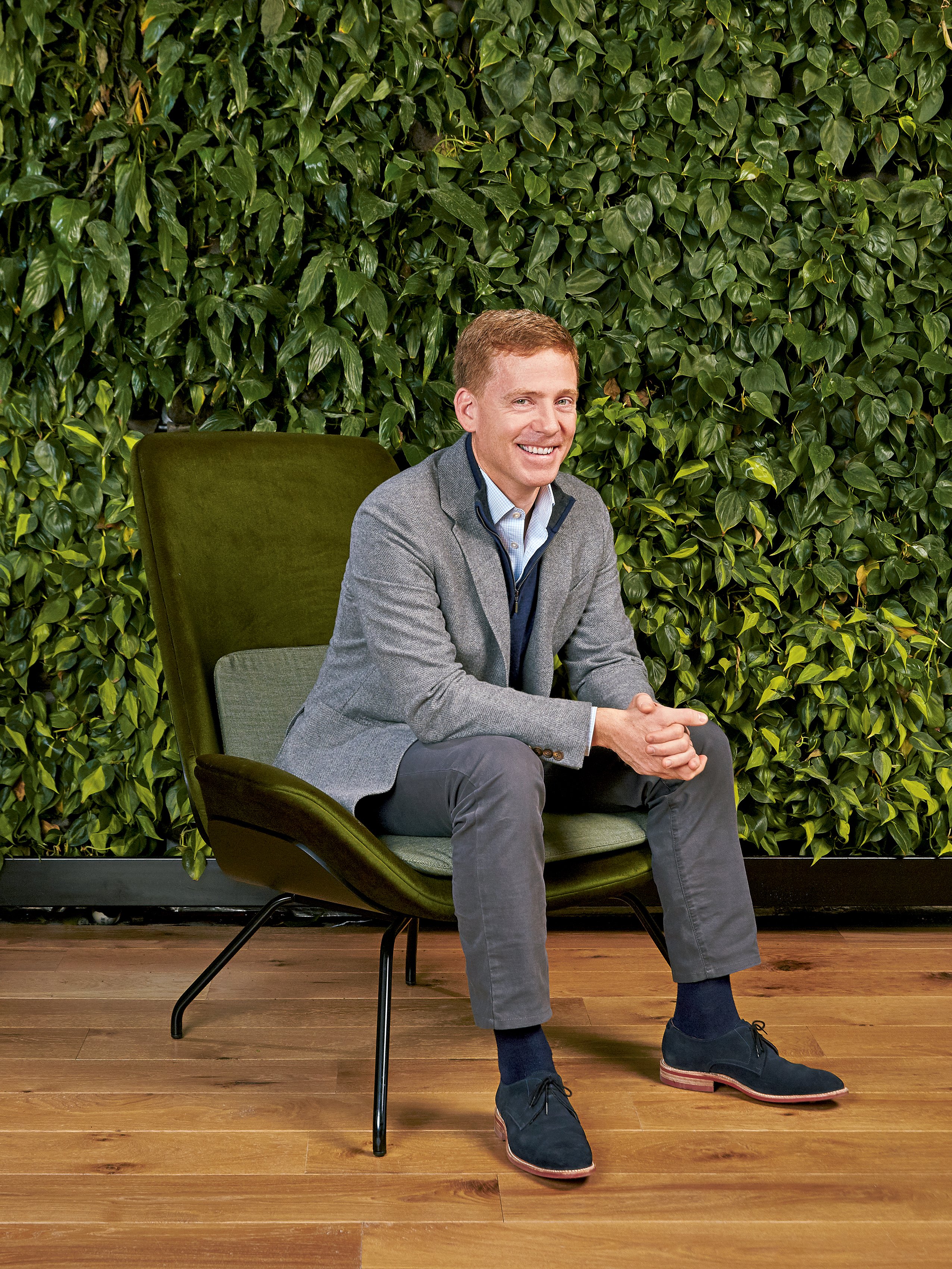 Landing HQ2—and Building a Neighborhood
Crystal City was becoming a ghost town when Amazon announced it was seeking a location for a second headquarters. Major Defense Department tenants had departed; the US Patent and Trademark Office was gone, too. Upon hearing Amazon's news, state and local officials began working on a bid. Enter Matt Kelly, CEO of JBG Smith, the biggest landowner in the area and the cornerstone of the Northern Virginia proposal.
After Amazon's announcement, the Seattle team told the Virginians they wanted to talk only to JBG Smith. Kelly lost ten pounds and a lot of sleep, he says. But "it was the most fun I've ever had because of our team's dynamic. We were all chasing this big thing together."
HQ2 is expected to bring more than 37,000 jobs, 6 million square feet of new office space, 5,000 new apartments, easier access to Reagan National Airport, a Virginia Tech innovation campus with a curriculum geared to Amazon's needs, lots of green space, plus shops and restaurants. Virginia's win, of course, owes itself to a lot of factors—the state's economic climate, the region's education levels, various pols and bureaucrats and private-sector champions. For Kelly's firm, though, the hiring notices and new real-estate demands are just the beginning of the process. As developer, he now faces the task of delivering something a bit less tangible: an actual neighborhood, where those offices, apartments, and retail spaces become something that feels like home.
That's a feeling that will last well after the novelty of Amazon's arrival has worn off.
"Bringing HQ2 to Northern Virginia required everybody to work collaboratively towards that goal, and Matt Kelly was instrumental. A bunch of things had to come together, and under Matt's leadership, JBG Smith was creative, flexible, and aggressive in making sure Virginia's bid to host HQ2 was as appealing as possible in terms of meeting Amazon's real-estate needs. Matt's leadership is essential to this region, and he'll be a positive force in the community for years to come."
Back to Top
Carla Hayden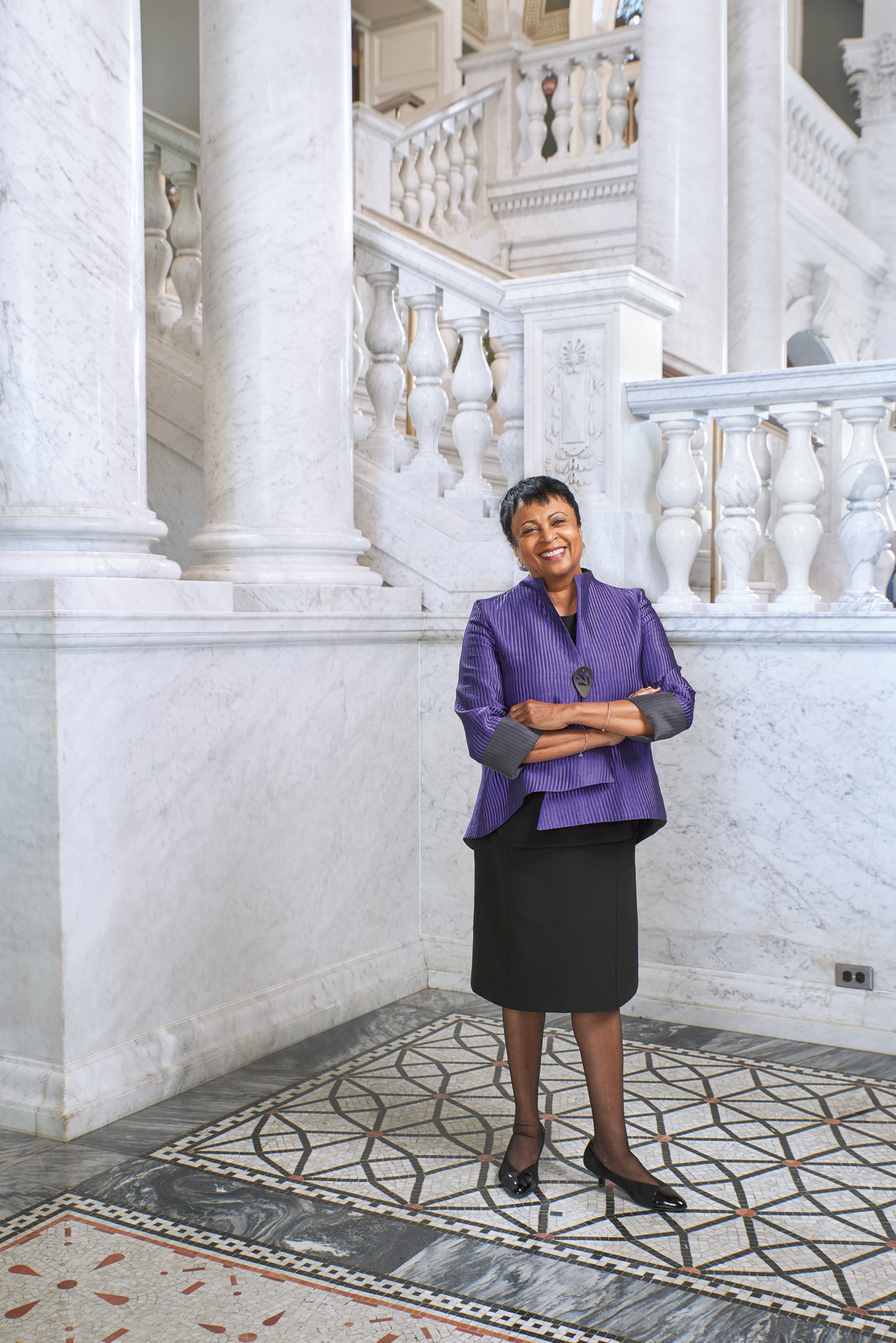 The People's Librarian
The Library of Congress is a temple to serious scholarship. It's also intimidating. Carla Hayden, who's run the institution since 2016, wants regular constituents to feel at home there, too.
Access is the core of what Hayden thinks libraries are about. While heading Baltimore's libraries, she kept buildings open during the riots that followed Freddie Gray's death. Most of downtown had shut its doors. Access was a different challenge when she moved to the Library of Congress. Still, she was surprised at how few people were aware of everything it offered. Yes, there's a draft of the Declaration of Independence, complete with suggested edits by Ben Franklin. But Rent composer Jonathan Larsen's drafts are there, too, including his mathematical calculations for the song "Seasons of Love" ("525,600 minutes . . ."). Lecturers have included Dav Pilkey, author of the Captain Underpants and Dog Man kids' books.
One Hayden-era venture: special exhibitions, such as the Rosa Parks collection that opened in December. It includes Parks's account of "keeping vigil" with her grandfather to protect their home from Klansmen, and a handmade blue dress from her wardrobe is on loan from the National Museum of African American History & Culture. All of this amounts to a shift in the institution's self-conception. "We want to be part of the cultural and educational life of the city," Hayden says. "We're opening up this treasure chest."
"Carla has transformed the Library of Congress from an institution that was a home to scholars to a site of engagement for the entire Washington area. Her combination of joy, political savvy, and vision makes her a special and important contributor to the life of this city."
Back to Top
Dr. Francis Collins and Diane Baker
Director, National Institutes of Health, 69; board member, Children's Inn at NIH, 68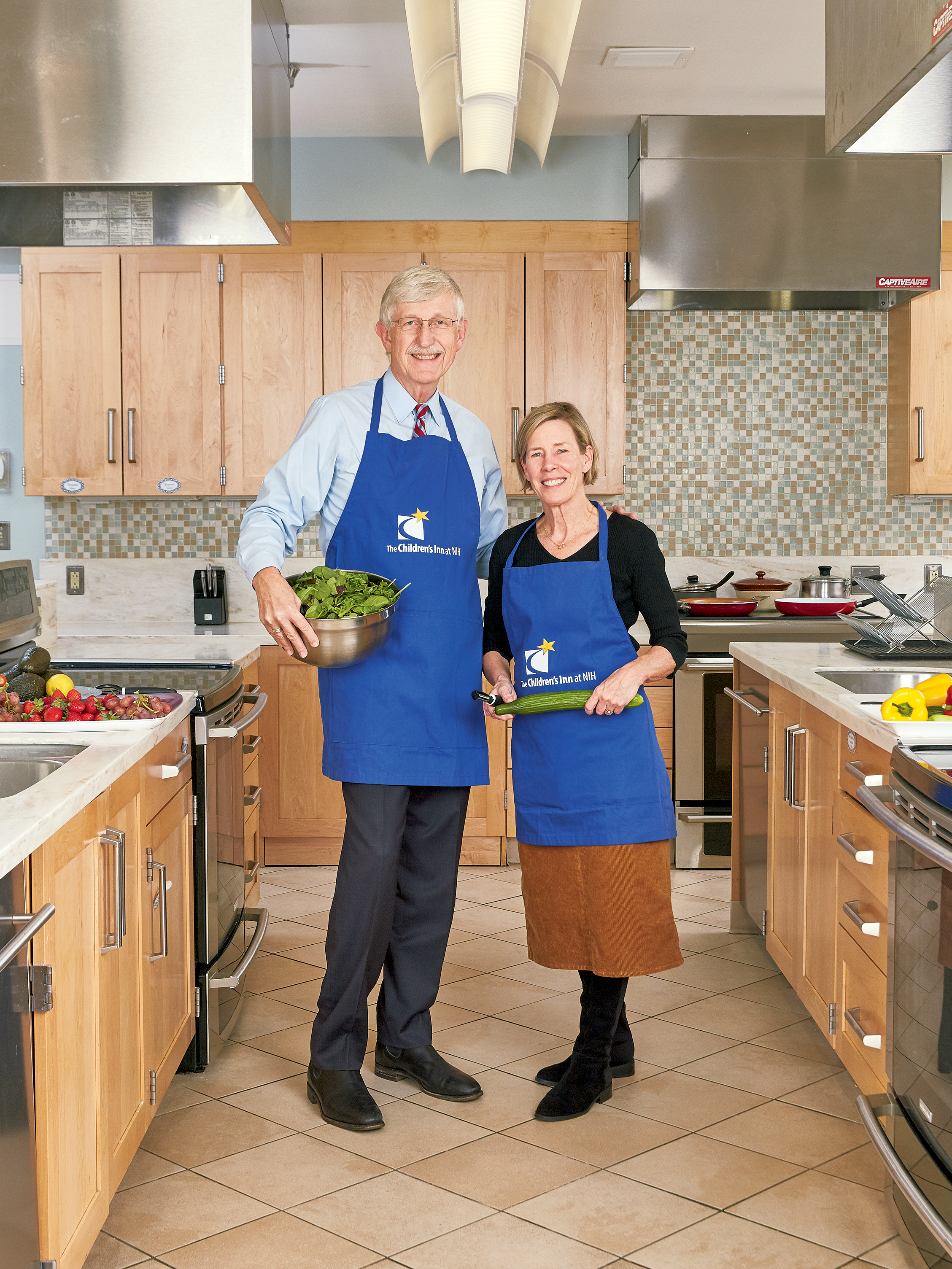 Partners in Health
Most people know Dr. Francis Collins for leading the Human Genome Project. But for many patients who come to NIH, it's what Collins and his wife, Diane Baker, contribute together that betters the world. Baker, a genetic counselor, cooks for sick kids at the Children's Inn, where families stay during clinical trials. Collins plays guitar. Every summer, they entertain children at Camp Fantastic, a respite for about 100 youngsters with cancer. Baker also supports Friends of Patients at the NIH, which provides assistance to families.
Their partnership wasn't formed from running the world's largest public funder of biomedical research. When President Obama asked Collins to be director in 2009, Collins says, "we had a serious conversation around the kitchen table—whether we'd say yes and, if so, how we were going to do this. It would only work if we did it together."
Collins is now the long­est-acting NIH head. He's also recruited a record 16 leaders to NIH's 27 institutes, ten of them women. Baker welcomes recruits and their partners with homemade meals."We want people to know they're seen and respected," says Baker of NIH's 40,000 staff members. "It's hard for those away from NIH to understand what happens here, but we see it and we know how much the country benefits from it."
"Diane and Francis are the shining example of servant leadership. having dedicated their professional lives to the pursuit of new therapeutic interventions for the benefit of those impacted by disease. However, for them that's not enough. Together they also know that healing is about listening, empathy, stewardship, and building community. We are all the beneficiaries of their vision, leadership, and kindness."
Back to Top
Nancy Richardson
Volunteer, CaringMatters, 59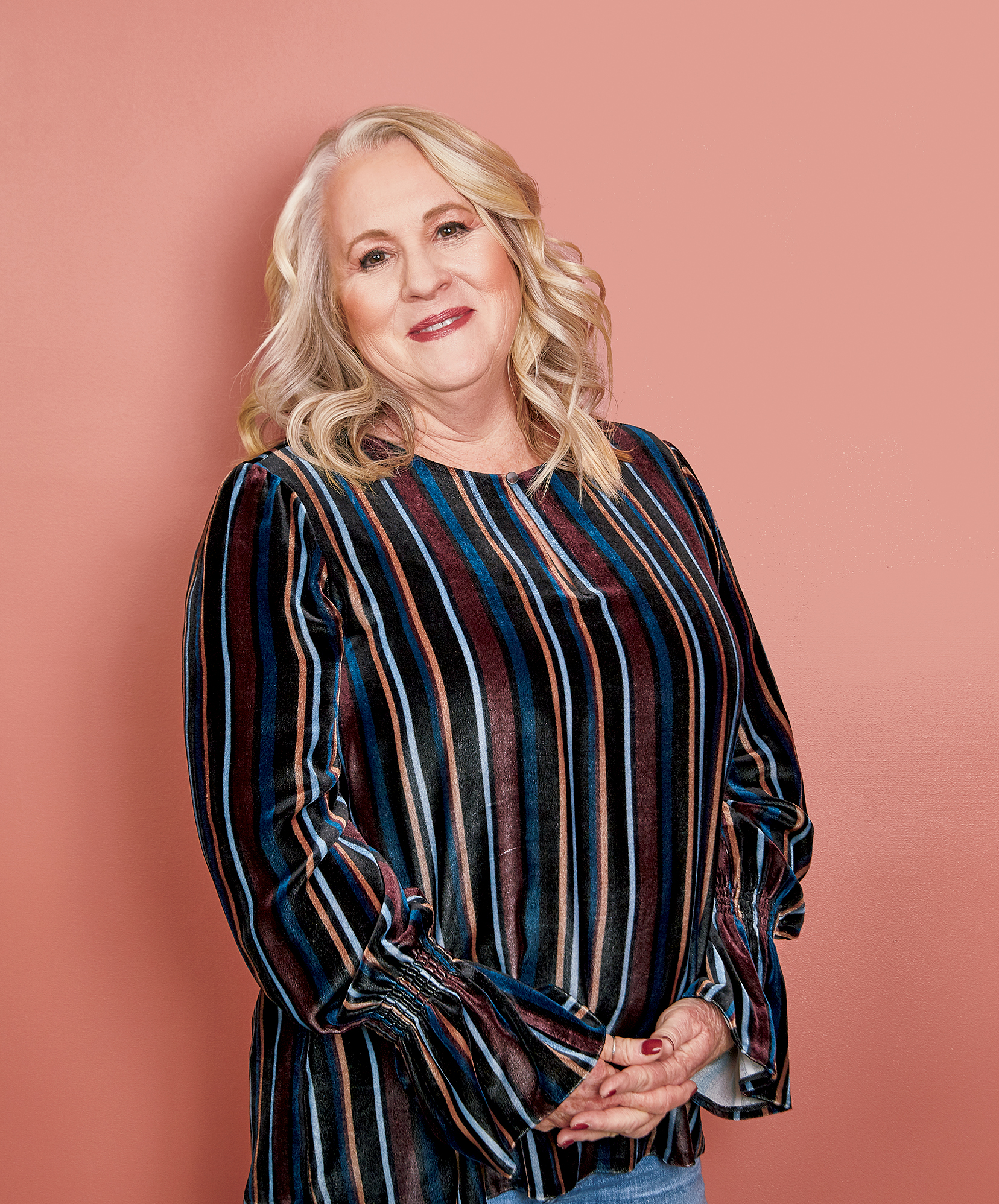 Nobody Should Have to Grieve Alone
Some 50 children at a time attend the Camp Erin bereavement camp; 80 percent have lost a parent or sibling. And for more than a decade, Nancy Richardson has been volunteer in chief with Caring­Matters, which runs the place. Because her family owns the campground, Richardson provides the venue, transportation, and supplies. But she's no mere landlord—she's at the camp working with the children. "Some have never met another kid who lost a [loved one]," Richardson says. "We give them permission to be sad."
"Nancy is a magnet," says Caring­Matters executive director Allison Stearns. The organization now has a cadre of volunteers leading "Good Grief" clubs for young people. When not working with youngsters, Richardson is a volunteer for CaringMatters' hospice work as well as an educator who teaches people to plan for the end of life. Still, Camp Erin is closest to her heart.
The first night, kids place pictures on a memory wall. She remembers one child who had three pictures: An accident had taken her mother and two siblings. At school, people had been afraid to say anything. At camp, she could share her sorrow. Another camper wanted to find four-leaf clovers. "We met her where she was," Richardson says. The girl went home with four of them.
"I feel like my most authentic self when I'm with these children," Richardson says. "It's not a burden—it's a privilege."
"Nancy's steadfast and unswerving passion for the mission of CaringMatters inspires everyone around her. Thanks to Nancy, we can serve more grieving children, and families' heart-wrenching stories gradually evolve into heartwarming stories."
Back to Top
Dr. Allison Jackson
Division chief, Child and Adolescent Protection Center, Children's National Hospital, 50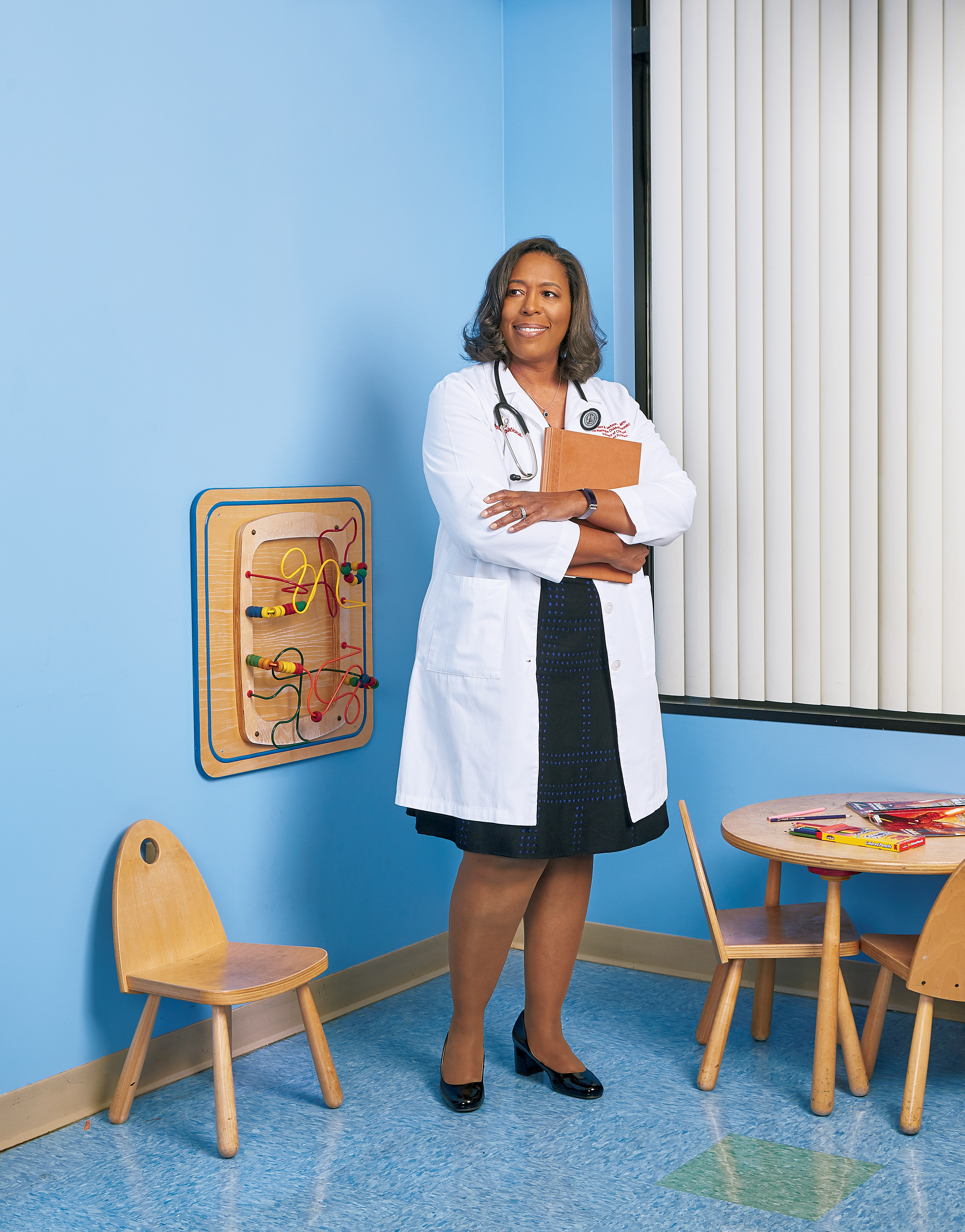 Healing Kids—and Believing Them
Children arrive, maybe, because they've told someone "something happened." Or perhaps an adult—a doctor, teacher, or social worker—has noticed a suspicious injury. The Child and Adolescent Protection Center at Children's National sees 800 to 1,000 children a year—just the tip of the iceberg, according to physician Allison Jackson. At the center, they'll not only be treated for their injuries; they'll receive hope. Most important, they'll be believed.
"We talk more to children and families than most pediatricians," Jackson says. "Children do tell the truth. It's very hard for them to maintain a lie."
Jackson, who has worked at Children's since 2000, was one of the first board-certified child-abuse pediatricians. She mentors and trains the next generation of child-abuse pediatricians as an associate professor at George Washington University Medical Center. She has advocated for kids on policy matters. And within the medical community, she's working to have child abuse included in every med-school curriculum.
The work can be devastating. Jackson has visited the bedsides of kids who are critically injured and subsequently die. "I have plenty of tears soaked into my white coat," she says.
These terrible times inspire her to concentrate even more on what she can control: "We get more than our share of hugs and thank-yous from our patients."
"Dr. Allison Jackson is the kind of pediatrician and advocate every loving parent wants for their child and that adults should want for all kids if our world is ever to heal: brilliant in her medical knowledge; of unquestionable integrity; gentle yet confident in manner; resolutely focused on and unfailingly dedicated to the safety, health, and wholeness of every child."
Back to Top
Corinne Cannon
Founder, Greater DC Diaper Bank, 41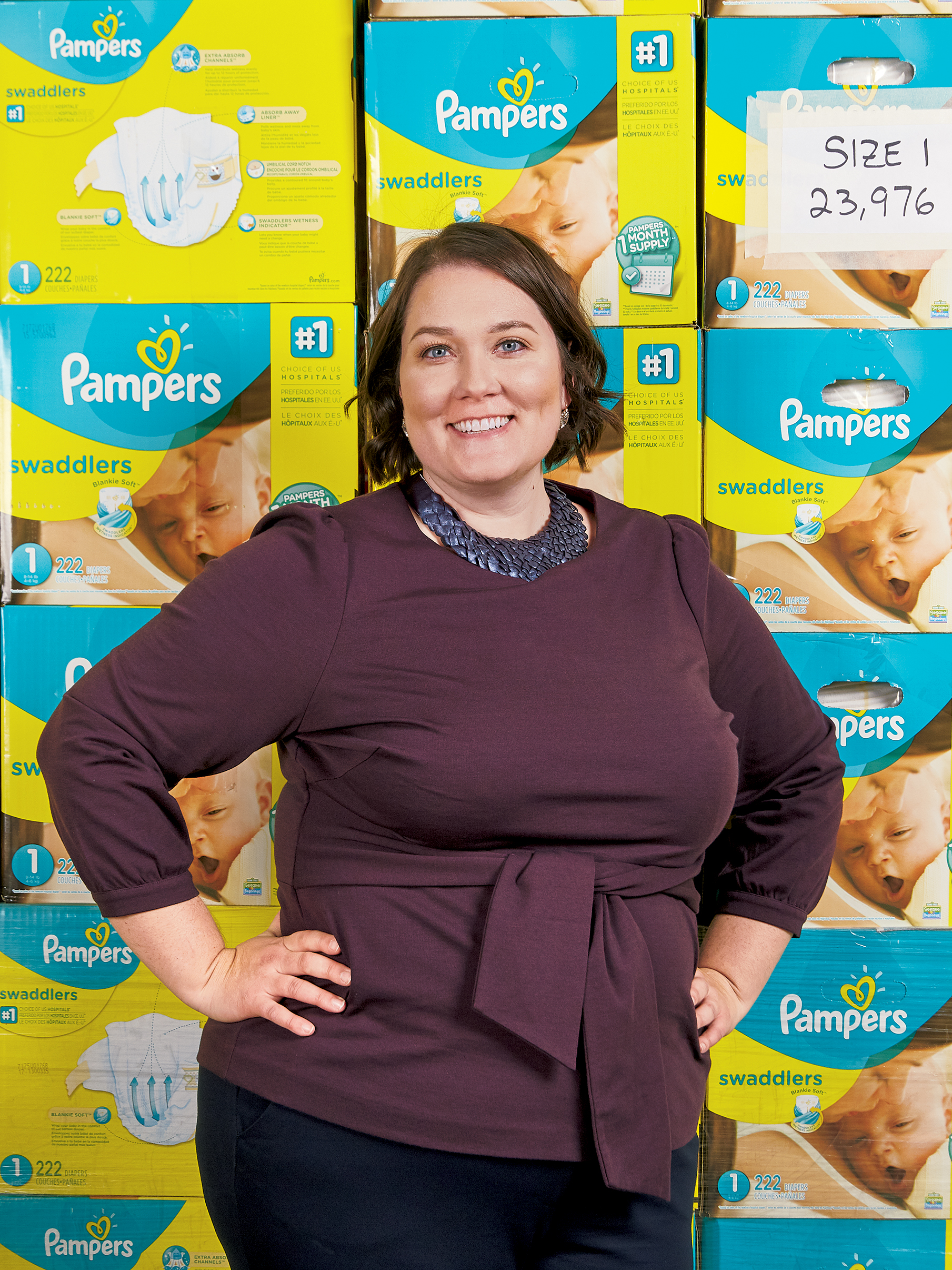 Diapers Are More Than Diapers
Where most people see diapers, Corinne Cannon sees "silver bullets"—surefire weapons to battle the problems of parenting in poverty. "They do an incredible amount beyond the diaper," says Cannon, whose nonprofit works with more than 50 area organizations to provide 11,000 families with items such as baby food, car seats, and 2 million diapers a year. "If a social worker knocks on the door of an economically vulnerable mom and says, 'I want to see how you're doing,' that's a scary door to open. If the social worker brings diapers and formula, the mom feels seen. It opens up a line of dialogue."
Cannon, a former health communications specialist and a mother of three, came to this calling in her own moment of crisis. Her first son was colicky, and one night she felt an urge to hurt him. Instead, frightened and exhausted, she lay in bed and cried. "I began thinking about someone who didn't plan on having a baby, who doesn't have the resources, what happens to the family when pressure is applied."
The difference between the Corinne Cannons of the world and others: A flash of self-pity pivoted outward and, within a year, manifested in a crucial resource for others. She founded the diaper bank in 2010 out of her home and now operates a Silver Spring warehouse stuffed floor to ceiling with family products. And the operation is only getting bigger. "Parenting is universal in many ways," she says. "If you have a lot of money or none, you're still trying to find your two-year-old's shoe."
"Thanks to Ms. Cannon's unique vision to provide parents with indispensable yet hard-to-afford baby basics such as diapers, 3,000 of our hardworking families at Mary's Center benefit every year from her altruism and deep commitment to care for the well-being of our least resourced community members. Her partnership with Mary's Center is essential to our programmatic success."
Back to Top
Andy Shallal
Founder, Busboys and Poets, 64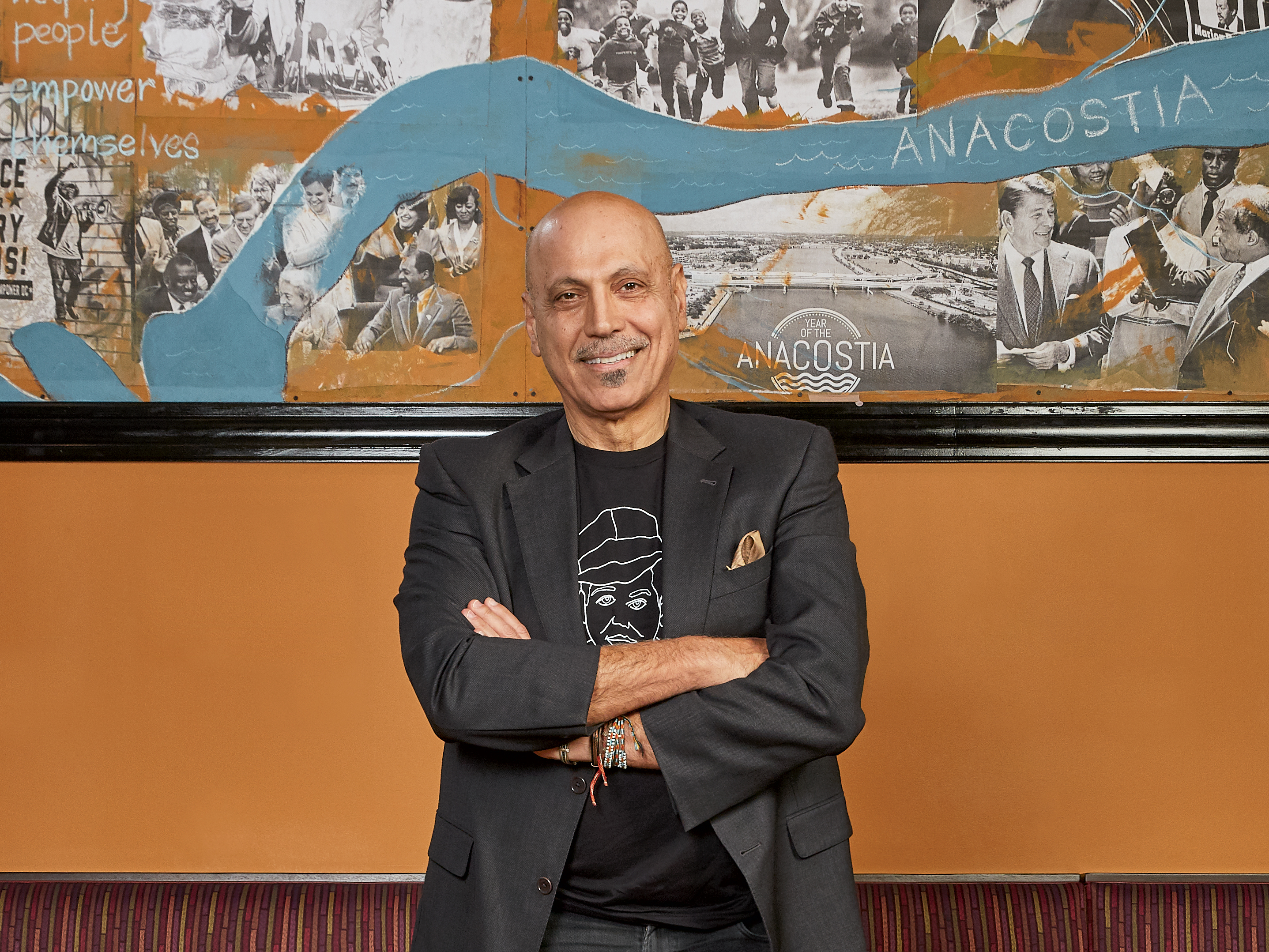 Bringing Race and Politics to the Table
Andy Shallal knows what it's like to feel alone. Growing up in Arlington as an Iraqi immigrant, he often sat solo in the school cafeteria, fitting in as neither white nor black. "It was scary," he says."I knew whatever I picked, I'd never be on the right team." Decades later, he left a career in health to follow his passion for art, food, and activism. But after 9/11, he again found himself isolated as a Muslim: "I needed to be around people who felt similarly, who felt there was a better way."
Shallal opened the first Busboys and Poets in 2005, envisioning "a place where art, culture, and politics intentionally collide." The concept persists today. All seven restaurants boast bookstores, regular events, and all-day healthy and comfort fare. Shallal's favorite job is gathering new employees—he now has about 650—to discuss race and bias and how it affects the workplace.
Today, Shallal's tables are full. When he opened a Busboys in Anacostia last March, it became one of the few full-service restaurants in DC's Ward 8, staffed entirely by neighborhood employees. It's the only place that serves what those across the river consider basics—say, an entrée salad—and where discussions of race are part of the job. No matter the location, Shallal never wants to separate political and dinner talk: "Politics affects us all. It engages us, or we engage it."
"Andy Shallal has accomplished in Washington what few others thought possible. He has consistently managed to bring diverse communities together in his restaurants. His managers, waitstaff, and customers; the conversations hosted in his restaurants; and the artists and writers presented at Busboys and Poets are all part of a conscious effort to make Washington a desirable place to live for people of all races and cultures. Yeah, he's a true Washingtonian."
Back to Top
Nick Sundberg
Redskins player and founder, Loads of Love, 32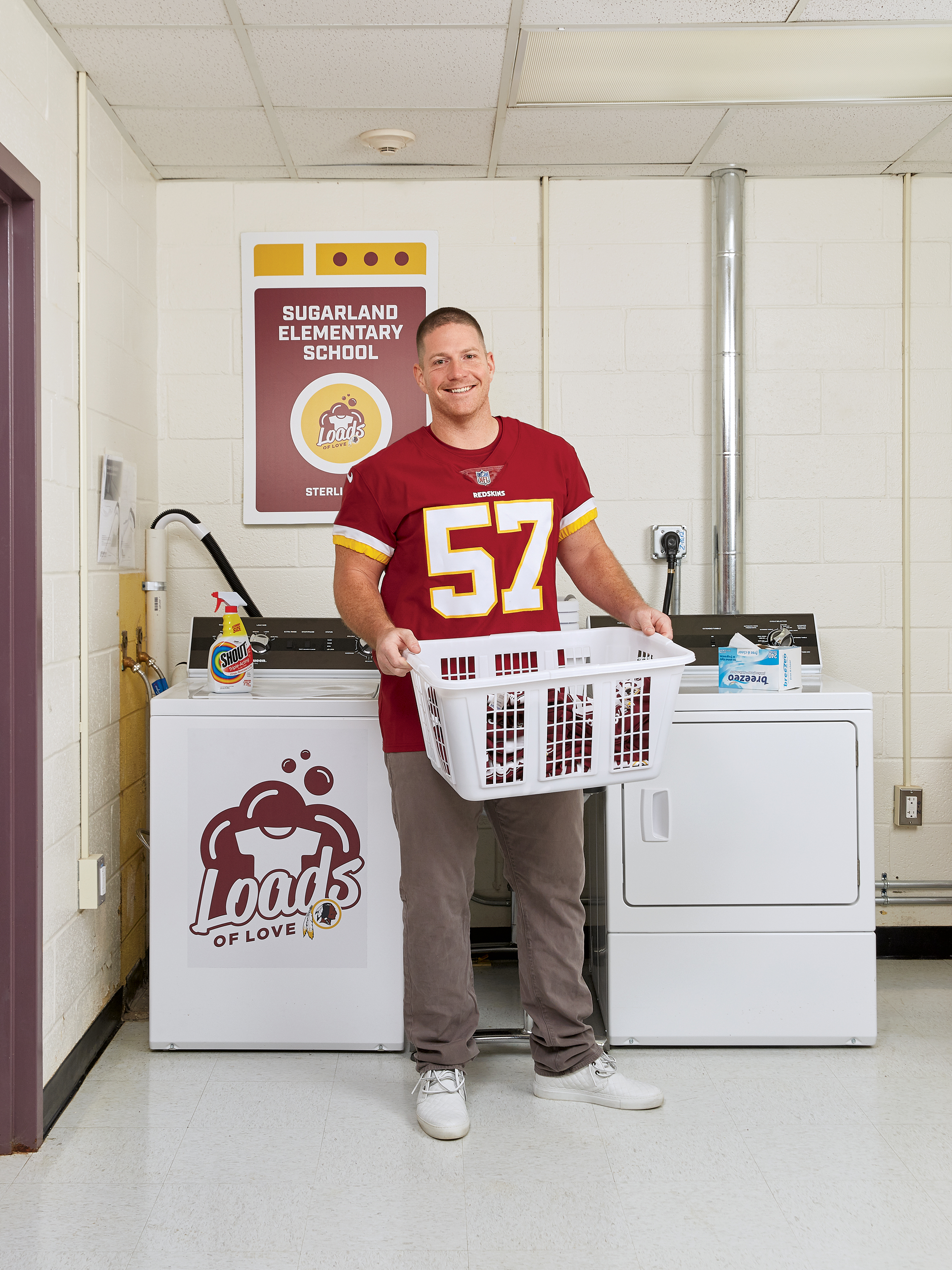 Washing With Love
Outside the Redskins weight-training facility is a calendar filled with community programs that team members can sign up for. Nick Sundberg's name is a regular on the list. The long-snapper, a ten-year team veteran, is known to spend his one in-season day off a week volunteering. But his biggest contribution is Loads of Love, a program he founded in 2017 with the Redskins Charitable Foundation that installs laundry facilities in area Title I schools and community centers. So far, it has equipped 91 locations.
The idea came from a similar program in Los Angeles. "Their numbers were just outrageous—rise in attendance rates, participation, grades," says Sundberg. "The confidence in these kids was through the roof." The biggest difficulty: logistics. "I was naive to think, hey, it's a washer and dryer. I forgot about plumbing, electric, and schools that may not have room for laundry." Sundberg helped launch the program in three Prince George's County schools with $25,000 of his own money. Today institutions can apply for up to $10,000 in grant funding, which can cover anything from machines to construction.
"I never thought I'd be passionate about washers and dryers," says Sundberg, whose goal is to expand to a thousand local Title I schools. "We have a platform, and we need to use it for good. This was something I knew could help every kid, everywhere."
"If there's anyone who deserves to be Washingtonian of the Year for what he's done over the last couple years, he certainly is that guy. I tell him every chance I get that he has done some things that I wish all athletes would do. My hat is off to Nick."
Back to Top
Deborah Rutter
Kennedy Center president, 63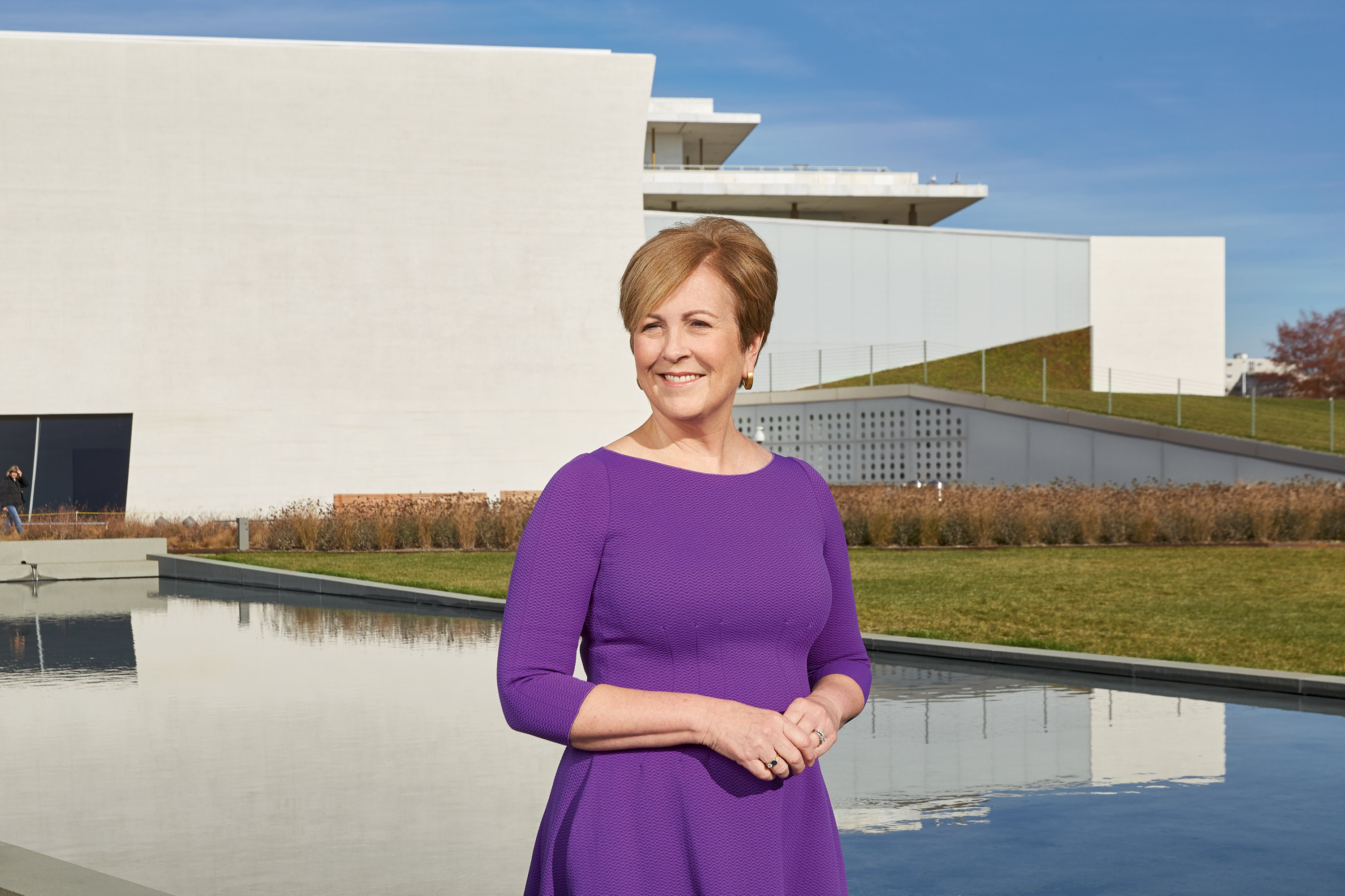 Reaching Out to Washington
Deborah Rutter watches a boisterous group of kids in the Reach's lobby. An NSO bassoonist heads out for a run. It's busy at the Kennedy Center's luminous art and cultural center, which opened in September after six years and $250 million. On any day, there are dance classes, hip-hop karaoke, or rehearsals for performances in "the big building." Rutter's beaming. "People are using these spaces in all the ways we want them to," she says. "A creative collision is exactly what we're looking for."
Rutter inherited the project when she became the center's first woman president in 2014.But she swiftly put her stamp on it, transforming what was originally private classroom and rehearsal space into a flexible, interactive destination that's like an office water cooler for the art world—a place to rub elbows, exchange ideas, mingle with audiences.
Though Rutter is a champion of the polished product—she used to ban noisy iced drinks in classical concerts—she's tapped into the current obsession with transparency and process. How the sausage—or in this case, the symphony—gets made.
The Reach has been called Rutter's mark on the Kennedy Center, but she argues that it's "a physical manifestation" of her work toward a more inclusive and participatory Kennedy Center. Next year marks the 50th anniversary of JFK's living memorial, and she plans on making it more active than ever: "People tend to think of art as a reverent word. I want people to feel like art is in their lives every day."
"Deborah Rutter is truly deserving of being a Washingtonian of the Year. Her leadership at the Kennedy Center is bringing this venerable institution into the next century. Although it's a huge organization, she is ambitious, creative, and collaborative. This is difficult to do with a performing-arts center of this size, but she does so with ease. I look forward to seeing what she creates next."
This article appears in the January 2020 issue of Washingtonian.