On August 18, 2019, Tiffany Ariana Trump Instagrammed a portrait of herself standing before a bedazzled five-by-seven-foot portrait, also of herself. Of her 1 million followers, more than 50,000 have liked it, including @MrBlingColombia, who posed beside her.
Mr. Bling is the preferred appellation of Mauricio Benitez, a Colombian artist who has made portraits of Lady Gaga, Mariah Carey, and several of the Kardashians and whose preferred medium is Swarovski crystals. Mr. Bling says Tiffany commissioned the artwork, which features Tiffany in a black motorcycle jacket against a shimmering cerulean backdrop, hair taken on a breeze. It took Mr. Bling and his team just over a month to fully realize the piece, manually affixing 150,000 crystals onto a plain black canvas, one by one. The piece was then flown from Medellín to Miami, where South Beach framers fitted it with an ornate, gilt surround.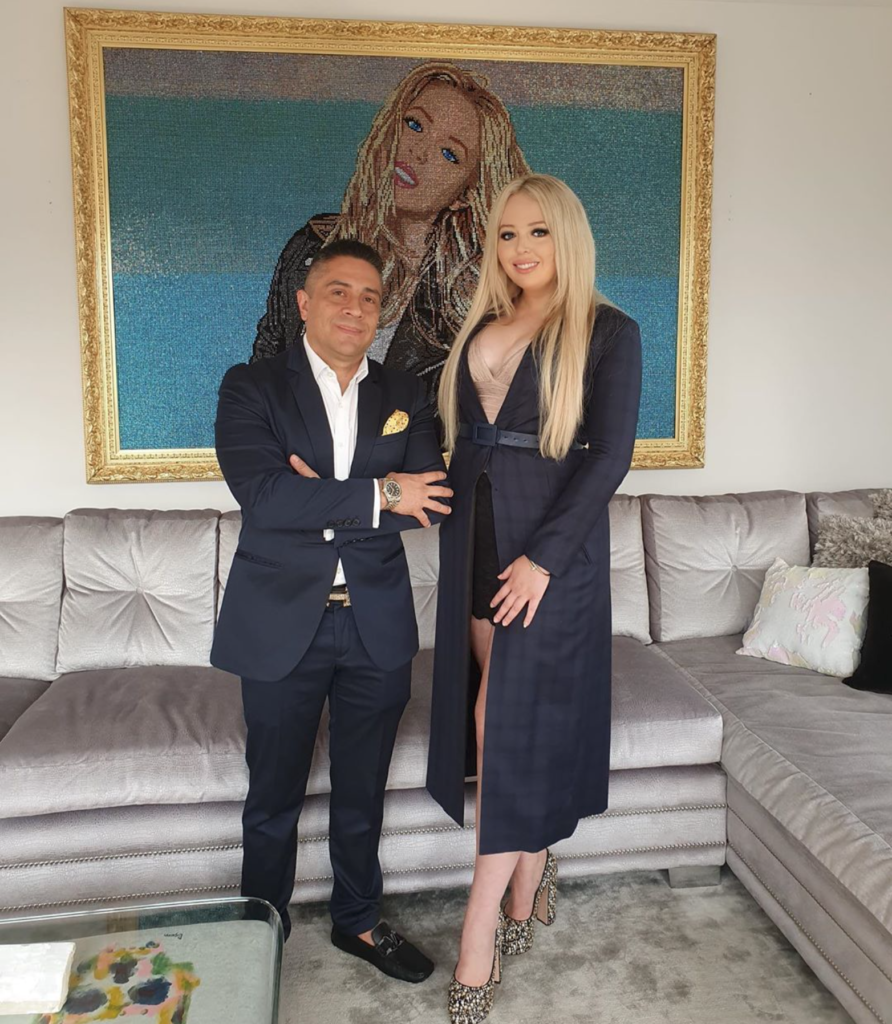 The blingy cameo, which now hangs in Tiffany's Manhattan apartment, helps illuminate what's so intriguing about the President's second First Daughter, the one who has largely eluded the spotlight. Throughout Donald Trump's candidacy and presidency, Tiffany has mostly made headlines for getting snubbed. She was barely mentioned in Greta Van Susteren's hourlong special with the Trumps from the campaign trail in 2016 and missing entirely from a family video that ran during the Republican convention. There were stories of her spending Inauguration Night at the Trump Hotel while her siblings slept at the White House. More recently, Donald Trump's personal assistant was forced out after telling reporters that the President doesn't like to take photos with Tiffany because he thinks she's overweight. Trump disputed the characterization but then didn't send her a public birthday message on the same day he wished the US Navy a happy 244th. You'd be forgiven for thinking Tiffany a Trump in Name Only.
But then . . . there's this portrait, bigger than a queen-size bed, the very essence of Trumpian opulence, 35 square feet of shining, shimmering Tiffany. Tiffany, who looks excited—genuinely—at the political events at which she has been present. Tiffany, who always remembers to post to social media on family holidays. Tiffany, whose every public gesture seems to plead: Don't forget about me!
For the past two-plus years, as a student at Georgetown Law, the President's daughter has existed in a sort of political holding pen: too young, perhaps, to be scrutinized seriously, not young enough, at 26, to be spared unkind comparisons to Jan Brady. Now Tiffany is about to graduate. While a running tally of perceived slights might suggest she isn't poised to become a full-fledged Trump, with all the attendant fame and ire, there are nonetheless subtle signs she wants in. What will Tiffany Trump do?
---
Of all the very likely apocryphal tales that students trade about Tiffany, this is the story in widest circulation: One time in class, when Tiffany was cold-called by a professor and didn't know the answer, a member of her security detail piped up in her place. His answer was right, the class laughed, and the professor told the agent he couldn't do that anymore. ("They're always old guys in caps," says a 1L. "You can tell.")
I heard the story from three different people, one of whom said he'd heard it from ten different people. There were no tales of Tiffany being a prima donna or falling-down drunk. Just this—the mild humiliation of a student who didn't know the answer at the hands of someone meant to protect her. As a story, it's positively boring. As an allegory, though, it sings.
"I mean, she walked into my apartment and instantly I was like, this is her apartment."
Since moving here in 2017, Tiffany Trump has lived a relatively normal life—gone to class, gone to parties. People see her in the cafeteria, in the bowels of McDonough Hall. But among the two dozen students I spoke to while reporting this story, the consensus is that she likes to keep a low profile. When you want to know if she's on Georgetown's cramped law-school campus, you're better off checking the First Street lot where her detail's SUV idles than waiting for her to announce herself. If she has a Washington reputation, it's for seeming as un-Trump-like as possible.
Which is why, on a sunny day in September, a group of 1Ls were excitedly trading stories of an of-the-minute sighting. Tiffany had been at the Dupont Circle club Decades for a weekly law-school social hosted off campus. She doesn't always go. No one could recall seeing her at Johnny Pistolas, for example, earlier in the semester. When a student mentioned he was standing next to her at the bar, his friends couldn't believe he hadn't introduced himself. "I was drunk and afraid to embarrass myself," he said. Then he asked me not to print that, even though we'd already struck a deal in which I wouldn't use his name.
If Tiffany was pursuing grad school for the privacy it afforded, she couldn't have chosen a better milieu than law. Even people who have had class with her and say she's "so nice" answer my questions cautiously, a preview of the legal practitioners they're becoming. One 3L who apparently consumes very little media told me she has purposely avoided learning what Tiffany looks like so that, if she ever meets her, she won't realize who it is. (In case she's reading this: Tiffany has a face the shape of a Bratz doll, with butter-blond extensions and a nose as narrow as a pencil. She loves glittery things head to toe, from her sunglasses to her sneakers.)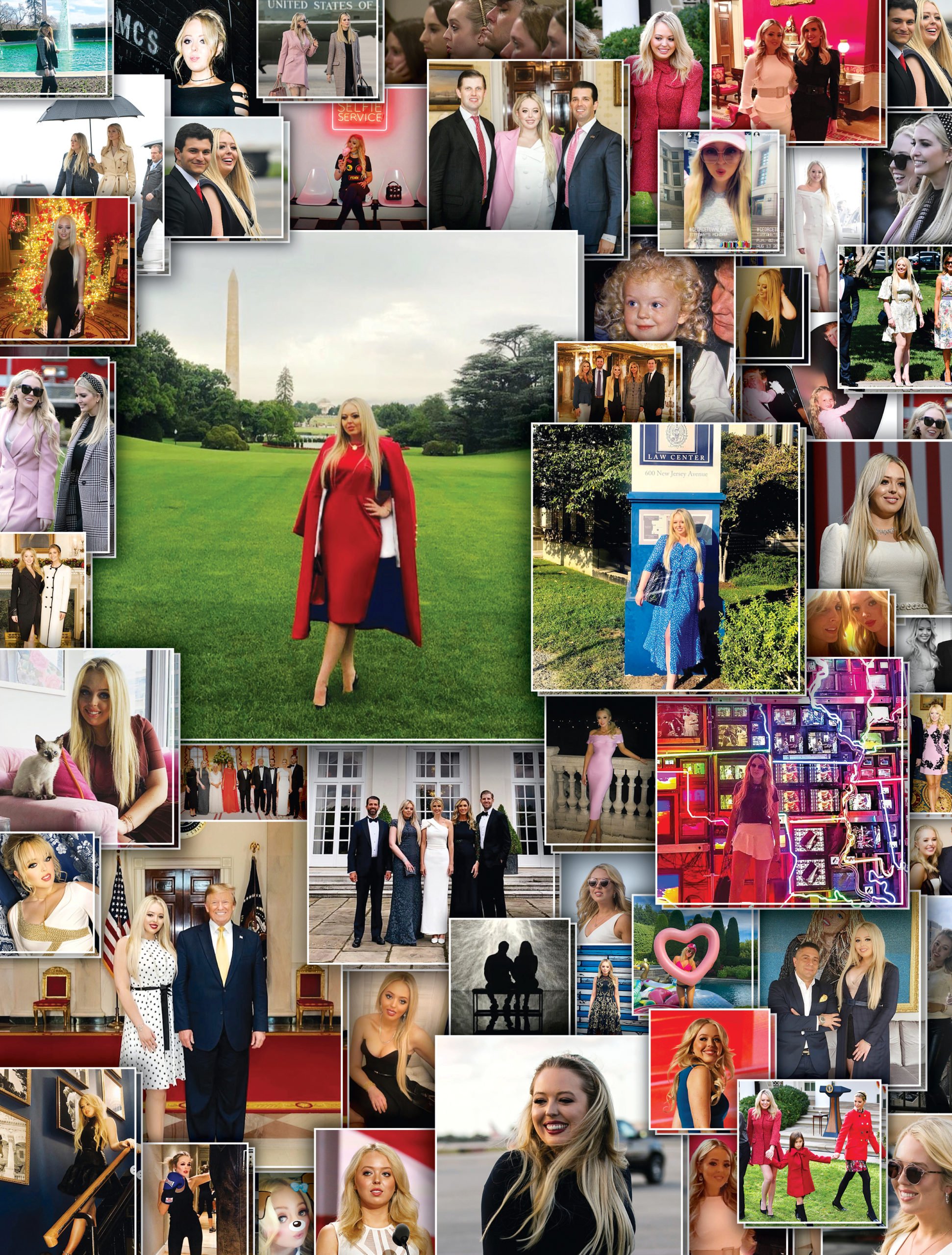 Off campus, it's easier to find people willing to recount their brushes with Tiffany, such as a young consultant who hosted her at his Northwest DC apartment when she came as the guest of a mutual friend. It was a small party, people just sitting around the living room pre-gaming. Tiffany entered with a single Secret Service agent behind her (another loitered in the hall) and politely introduced herself. "She's honestly nice enough as a person," the host says, but when you're the President's daughter, there's no such thing as nice enough for blending in. Just by virtue of who she is, her presence reoriented the room. "I mean, she walked into my apartment and instantly I was like, this is her apartment." To be clear, it wasn't as if Tiffany were the shiny object of everyone's attention—more as if people weren't quite sure how to be normal around her. Rather than clamor to introduce themselves, no one outside the law-school crew Tiffany came with talked to her. "She was probably there for an hour, and then we went to go out," the host says. "We were going to a dive bar in Adams Morgan. She decided not to go there, which was the right decision. I think she just went and did whatever Tiffany Trump does."
Unlike Ivanka and Jared, Tiffany does not stage see-and-be-seen sorties to Cafe Milano. Sure, you might have glimpsed her at the Trump Hotel on her birthday in 2018, but her spotteds in Playbook are scant, and her habits skew younger than most Reliable Source tipsters. She has dined at Bresca on 14th Street, checked out Artechouse, and posed for a pic in front of Nam June Paik's "Electronic Superhighway" at the Smithsonian American Art Museum. She's often photographed in baseball caps, and those baseball caps are often pink.
When Tiffany came in to look at cats, there was no clearing of the customers from "Kitty City," not even a call ahead to warn the organization that the President's daughter was on her way.
At Wiseguy, the Massachusetts Avenue pizza joint that's a staple of the Georgetown Law diet, Tiffany is just another student grabbing a slice. A guy who works there says she orders the New York Supreme (pepperoni, sausage, green pepper, mushrooms, red onions), but his smile says he actually has no clue. Like others I contacted, Tiffany's pizza guy is also confused by how much I care. Would it matter if she ordered the Sicilian Pepperoni or one of those square pizzas that take 30 minutes to bake? How to explain that I really don't care what kind of pizza it is unless it's interesting . . . which any answer about someone who swims in such proximity to the White House inherently is, so please just tell me.
As school started this year, Tiffany was seen tabling—recruiting new members—for the Cyberlaw Society, of which she's co-president. In 2017, she was captured by C-SPAN cameras attending remarks given by Ruth Bader Ginsburg and spied by students attending the reception that followed.
At the same time, her participation has happened on her terms. For instance, students typically vie for summer-associate jobs at law firms, gigs as famous for their perks as for their paychecks. The events (trips to Iceland and New Orleans, tickets to Beyoncé and Ariana Grande) and how "summers" behave at them (drunkenness, skinny-dipping) become gossipy fodder for legal blogs such as Above the Law. Tiffany has opted out, spending her breaks traveling while doing research for a professor.
According to her mother, Marla Maples, Tiffany has always been a private person, even if her genetics should suggest otherwise: "She understands the life she was born into and is grateful." When it comes to straddling worlds, Tiffany Trump has a lifetime of practice.
---
It was Donald Trump himself who cut the umbilical cord, a notable act for a man who missed the births of his three eldest children. He named his new daughter for the $5-million Manhattan air rights he purchased from the Fifth Avenue jeweler, the rights that made Trump Tower possible. "But I've also always loved the name," Trump told the New York Times on October 13, 1993, 20 minutes after Tiffany's birth.
What happened next was less Gray Lady than tabloid fodder: Trump married aspiring actress Maples just before Christmas that year. (You can probably guess where the bride registered.) They would split up in '97, finalizing their divorce before Tiffany's sixth birthday, and Tiffany would grow up mostly in Calabasas, California, just like several of the Kardashians. According to a leaked prenuptial agreement, Maples received $1 million in the divorce and another million to buy a house, a pittance compared with Ivana, Trump's first ex-wife, who got $14 million in their split. Trump also agreed to make child-support payments of $100,000 for Tiffany until she turned 21, while attesting he was worth more than $1 billion.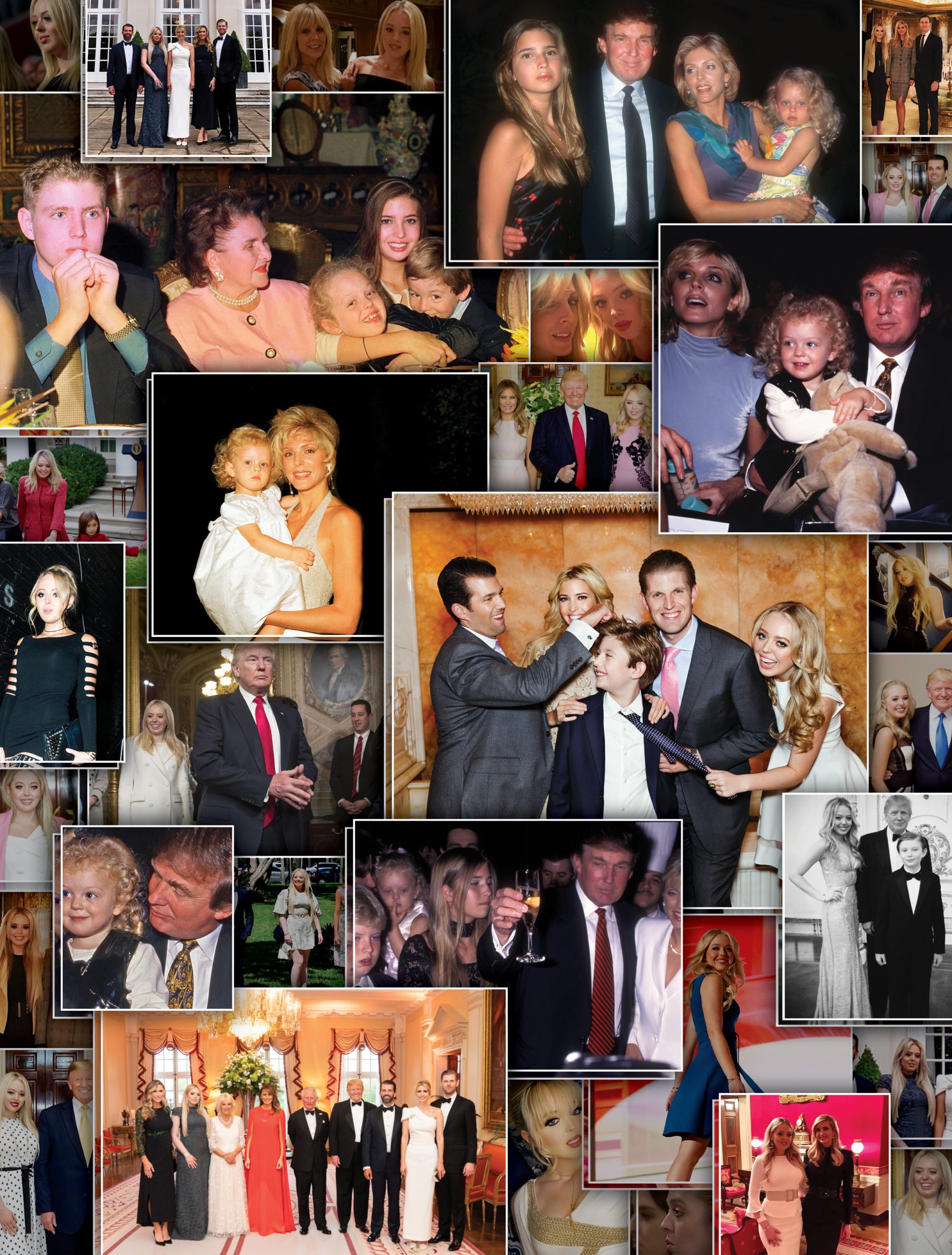 It would make perfect sense for Tiffany to have only the loosest hold on the family name, as she said on The Oprah Winfrey Show when she was 17. "I like being Tiffany, not just necessarily, like, Tiffany Trump." She would see her father in Los Angeles, New York, and Mar-a-Lago, but Tiffany was raised by Maples, a single mother. They played tennis in the California sunshine and wore matching outfits.
Tiffany came east for college, though, to attend the University of Pennsylvania—the alma mater of her father, eldest brother Don Jr., and Ivanka. Trump has said Tiffany earned straight A's. After the election, she toured Harvard, Columbia, and NYU law schools before choosing Washington, the new Trump family headquarters.
Maples, who now lives in New York, tries to get down to visit Tiffany "as often as possible," she says. She zips over to the Georgetown campus by scooter and has even sat in on a few of her daughter's classes. When she visited for Tiffany's birthday, she and her daughter's boyfriend, Michael Boulos—the son of a prominent Lebanese family with business interests all over West Africa—picked up balloons and red and pink roses for her from Safeway. When they posed for a family portrait, it was in the lobby of Tiffany's I Street apartment building in Mount Vernon Square. If you ignore the modified Chevy Suburban parked on the corner, Tiffany could be anyone. When she's not playing an official member of the First Family, that's how she approaches the world.
According to Dani Rizzo, a director at the Humane Rescue Alliance in DC, no fuss was made when Tiffany came in this past fall to look at cats. No clearing of the other customers from "Kitty City," not even a call ahead to warn the organization that the President's daughter was on her way. Rizzo says the staff recognized her immediately and that Tiffany was very friendly with everyone. She and Boulos were seeking a friend for Petals, whom they'd adopted in June.
Tiffany stayed about an hour before leaving with her new orange tabby, Simba. She likes to post photos of the cats tangled together on her blush tufted sofa, with its sparkly buttons. The Trumps generally aren't pet people. But until recently, Tiffany wasn't much of a Trump.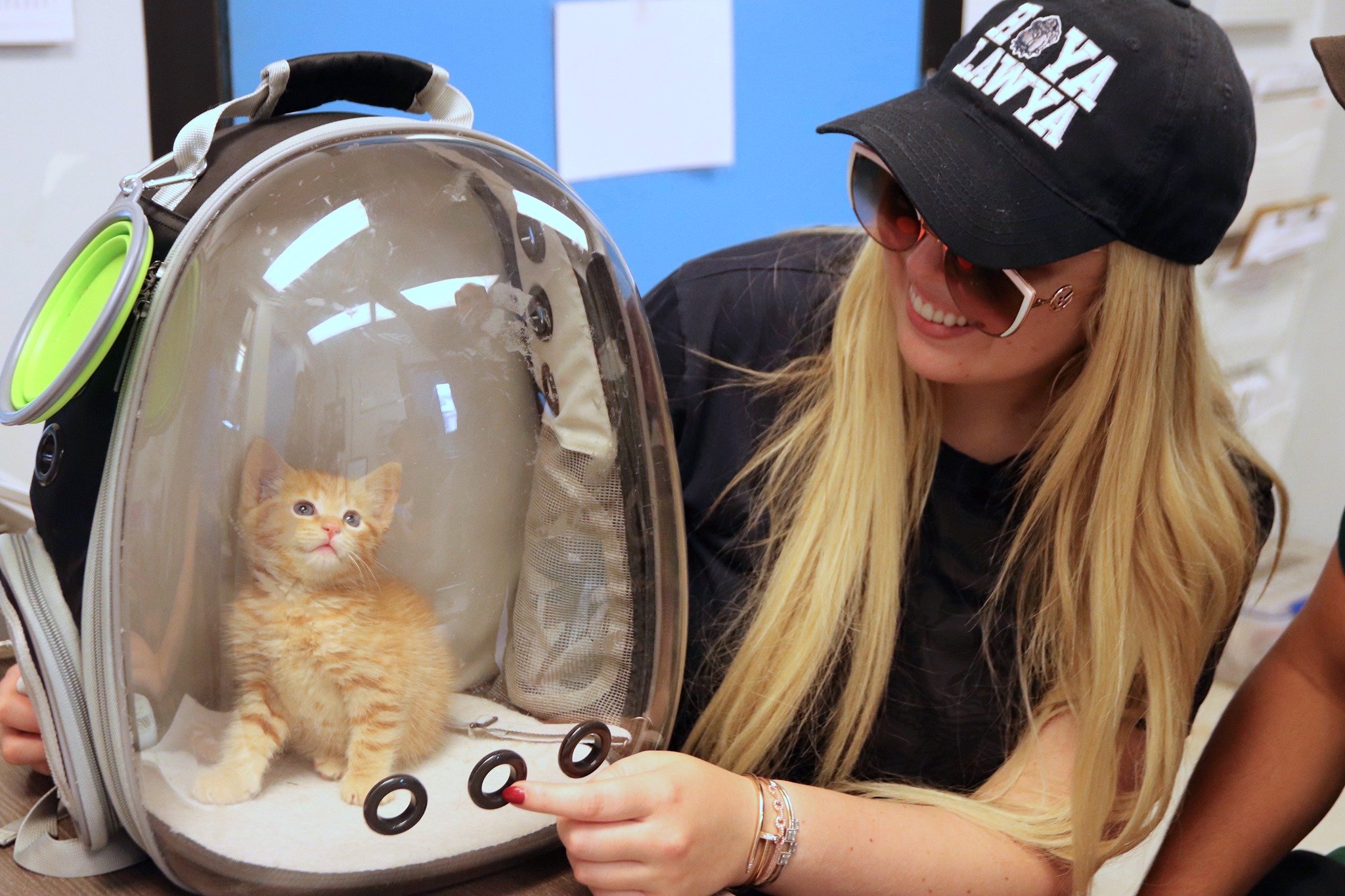 ---
In October 2016, Donald Trump sat down for a Good Morning America interview with George Stephanopoulos, along with Melania and his four adult children. Tiffany, who had graduated from college five months earlier, spoke just once, when Stephanopoulos asked her about the family business. "Of course I'm interested," Tiffany answered. "I'm applying to law school, though, so I'd like to bring a different kind of skill set to the company."
Blended families are so complicated. Ronald Reagan, the only other divorced President, had a downright dysfunctional one. His daughter with Nancy didn't learn about her half siblings, Maureen and Michael, until she was seven years old. Yet intriguingly, Maureen remembered their father's presidency as a time when the Reagans were closest. Maybe Tiffany knows the feeling. America has always demanded the appearance of old-fashioned family values from its President, and although she seems sidelined at times, she's still more included than before. Ever since the Trump Tower campaign kickoff, Tiffany has had a place alongside her brothers and sister in public moments that mattered—a speech at the convention, a seat at the State of the Union, the image of a family broken no more. At November's Kuwait-America gala, which Melania Trump has keynoted in the past, Tiffany was in attendance, posing with the scions of other prominent families: the Al-Sabahs, the Pompeos, even a Kennedy. In this sense, her father's presidency may be the best thing ever to happen to her. After all, no one was keeping score back when the Trumps were private citizens, when her only role at her father's third wedding was to hand out the programs.
"Tiffany really was so persuasive in saying, 'Dad, it just shows that you understand this whole area.'"
But suddenly, unlike for much of her life perhaps, Tiffany hasn't been content just to be included. By the end of the 2016 campaign, she was eager to play a bigger role. Buoyed by a successful outing with Ivanka in Cobb County, Georgia, it was her idea, according to a source with knowledge of the planning, to join the team's final days of stumping in Pennsylvania. And after Trump delivered a speech in King of Prussia, it was Tiffany who urged him not to skip the Wawa pit stop next on the schedule. "Tiffany really was so persuasive in saying, 'Dad, it just shows that you understand this whole area,' " says the source.
These past few years are the first since Tiffany was five that she's lived in the same city as so many Trumps. Over that time, she has transformed her Instagram account from a place with little evidence of her father's side to a stream of First Family bonding: group trips to the United Nations, a state visit to London, Christmas portraits at the White House. She's used social media to intimate a connection to her father's political agenda as well. It's not common law-school practice for students to use their Instagram bio like a LinkedIn highlights reel, but Tiffany's has long boasted of her serving as a research assistant to Shon Hopwood, the same law professor who successfully lobbied Dad on criminal-justice reform.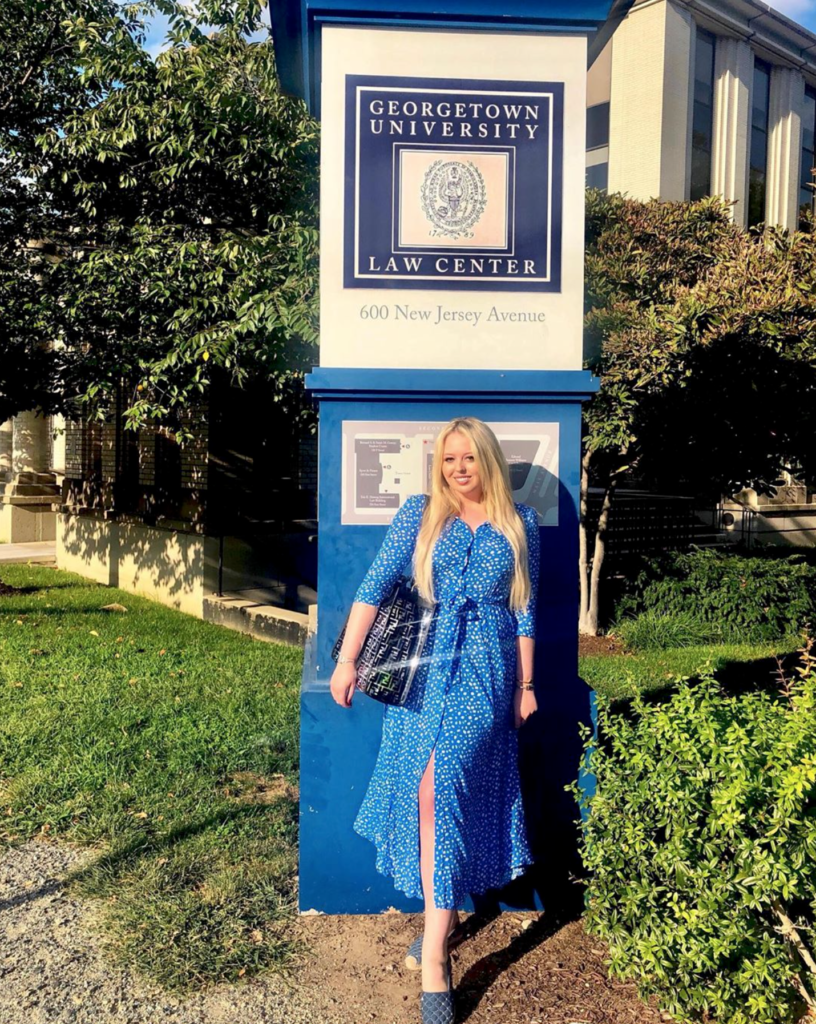 Just as her siblings use social media to further a personal narrative—Ivanka, the consummate working mom; Don, the lib-owning populist—so does Tiffany. On the same day news broke that Trump's personal assistant had been fired for dissing Tiffany, for example, the First Daughter posted this cryptic quote about the slipperiness of assumptions: "Study me as much as you like, you will never know me. For i differ a hundred ways from what you see me to be."
A few days after that, to mark the start of her last year of grad school, she posed in front of the Georgetown Law School sign, her Fendi logo tote gleaming in the sunlight. Tiffany may not yet have an official role in the dynasty, but what she wishes her audience to see is assuredly a Trump.
---
I wanted to ask Tiffany what she hoped would come next for her after graduation, but I couldn't. She hasn't granted a magazine interview since her father moved into the White House, and a rep from the Trump Organization told me her school schedule is "quite hectic," a claim backed up by Maples, who frets over her daughter's penchant for all-nighters.
Even getting Tiffany's family to talk about her was difficult. In early October, she posted a birthday wish on Instagram for her sister-in-law, Lara, who responded with a row of kissy faces. I reached Lara by phone a week later, and she told me her relationship with Tiffany was something she really didn't feel like commenting on: "It's just, like, a gut feeling."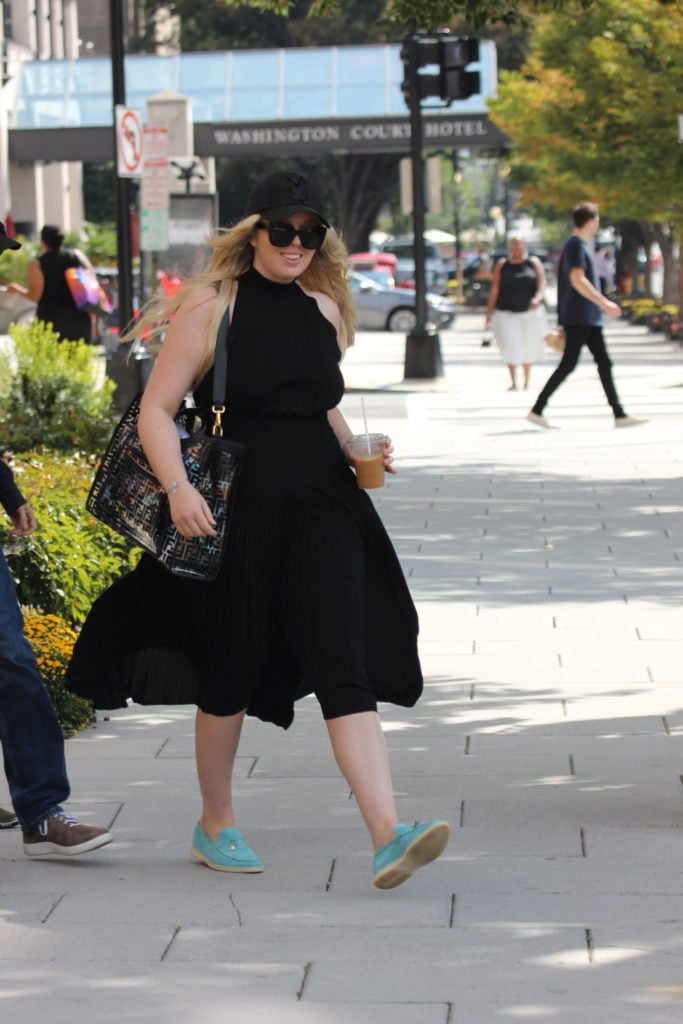 Lara's husband, Eric, also didn't want to respond to pointed questions about his half sister, at least with specifics. "Tiffany is an amazing person," he wrote me in an e-mail. "She has an incredible work ethic and we share a Georgetown bond. I personally see how hard she is working and that is one of the things I admire most about her—she has tremendous dedication and commitment to her education." He went on to say he was proud of her during her convention speech: an "amazing moment as a family."
Still—besides family vacations and one another's weddings, the 45th presidency is one of the few things the Trump siblings all have in common. And in the face of vitriol, politics has made them closer. Tiffany visits the White House nearly every week and watches her half brother Barron play soccer on the lawn, says a new book by conservative pundit Doug Wead. According to a source, Ivanka has brought Tiffany to the Simchat Torah celebration at her Kalorama synagogue. Tiffany spent Easter playing aunt at Mar-a-Lago, tossing Don Jr.'s kids around the pool. "All of our lives have changed a great deal since we got into politics," says Don, who tells me he's impressed with how Tiffany has handled growing up Trump in the time of #MAGA.
Don is responsible for setting off the public conversation about his youngest sister joining the Trump Organization. His unguarded remarks at a 2017 hotel ribbon-cutting included a warm welcome for Tiffany, whom he described then as "soon to be within the organization." The official line today, given to me by Don, is that they look forward to Tiffany joining the family business, if she chooses.
It can be hard to see why she would. Among her siblings, Tiffany is closest to Ivanka, who is 12 years older. Ivanka made Tiffany a bridesmaid at her 2009 wedding, helped her land a summer internship at Vogue, and was even the one to convince their dad to give her little sister a credit card to cover, as Ivanka put it in her book The Trump Card, Tiffany's "relatively simple" money needs in high school. Tiffany looks up to Ivanka—Ivanka, who has seen her reputation curdle during her stint in DC.
And yet. Tiffany is interested in her father's agenda. Brad Parscale, Trump's 2020 campaign manager, says Tiffany called him during the summer to insist they fight the liberal bias in Google's search results. Multiple sources confirm she was involved in the First Step Act, the prison-and-sentencing-reform bill championed by Hopwood and signed into law by her father in 2018. Tiffany also worked on clemency for Hopwood's client Matthew Charles, a nonviolent offender who was the first person released under the law. Charles then featured prominently in her dad's 2019 State of the Union, which he also attended.
"She doesn't do things for the glory of the accolades," says a source familiar with Tiffany's work, when asked why her contribution wasn't made public before now. "It was enough for her to know that her father did the right thing."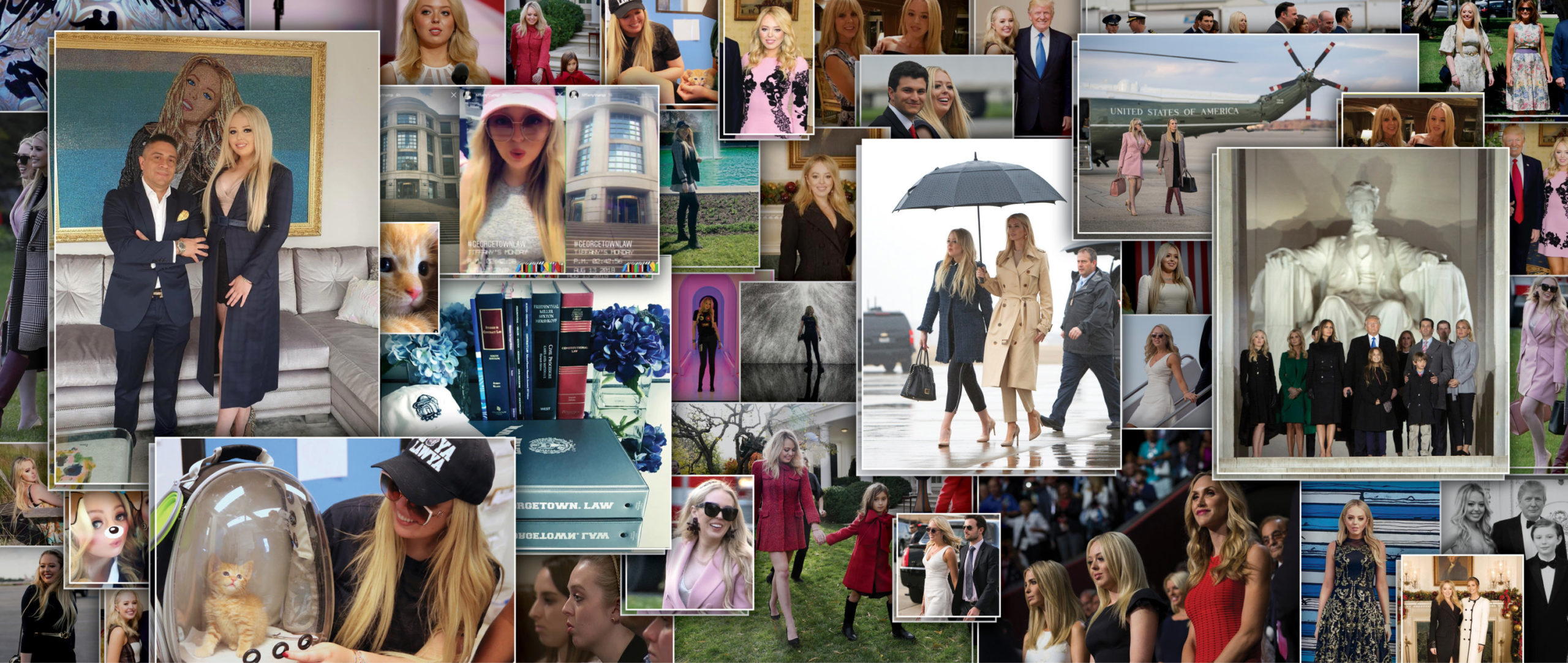 Tiffany won't be entitled to her privacy forever, though. First Kids grow up, and their choices become as publicly scrutinized as their bedazzled Instagrams.
What will Tiffany choose? Back when she first expressed interest, ascending in the family biz was the apotheosis of a young Trump's life. But the market has shifted between the eve of her father's win in 2016 and now, the age of impeachment. The upsides of going to work alongside her siblings are no longer so apparent. By asserting herself deeper into the family fold, she'd stand to inherit all the pros and cons attached to the name that divides the city she lives in. Sure, validation of one's place in the dynasty might be worth something (millions of somethings, even). But it also opens you up to all the liabilities and fraught bargains that come with being a true Trump.
This article appears in the January 2020 issue of Washingtonian.