Change of plans: Britt McHenry is canceling her morning tennis lesson.
Not just this tennis lesson but every tennis lesson she ever thought she might one day take. Tennis is dead to her. At some point between 5 pm yesterday when we confirmed our meeting place (the Arlington Y) and 7:45 am, she and her boyfriend—a professional tennis player whose actual first name is Tennys—broke up. It happened over the phone: McHenry in her apartment in Pentagon City, Tennys in China for a tournament. She's been crying. She's tired. So screw tenn(i/y)s.
"My parents have been married, like, 32, going on 33 years. I want that. It's just hard."
Yesterday, it seemed like the hard yards were finally behind McHenry. She'd caught the train home from Manhattan, where she filmed a promo for her brand-new show on Fox News's brand-new network, Fox Nation. She was showing off her pool skills on set with Sean Hannity, whom she loves, for a promo that will air to millions. The 32-year-old has photo shoots and screen tests and magazine interviews on her schedule. Yesterday, on top of all that spectacular professional success, McHenry was blissing out on a whirlwind romance with TennYs Sandgren, a professional tennIs player from TennEssee. Advantage: Britt.
Now it's back to hoping first dates don't Google her before dinner. Because, at least in Washington, a 2015 viral video of Britt McHenry abusing a cashier at a local towing company is paradoxically more famous than actual Britt McHenry. "I'm in the news, sweetheart. I will f—ing sue this place," she sneered at the cashier. The woman warned McHenry, an ESPN reporter at the time, that a camera was rolling, kind of like television. McHenry kept at her: "Do you feel good about your job? So I could be a college dropout and do the same thing? Why—'cause I have a brain and you don't? Maybe if I was missing some teeth, they would hire me, huh? . . . I'm on television, and you're in a f—ing trailer, honey." And: "Lose some weight, baby girl."
ESPN suspended her. On blogs and in newspapers, she was called a brat, a bitch, Cruella de Vil, "rude as hell," "a nasty piece of work," and a real-life Regina George. (See: Mean Girls.) When she was laid off by ESPN two years later, the tow-truck story recycled itself. When she started writing conservative takes on Twitter, the story recycled itself. It's recycling itself right here right this second, which McHenry will not be happy about. Does it really need to come up in every interview she gives?
The thing is, the tow-truck tape is the difference between Never heard of her and Her again? She survived one of the meanest, most viral cases of the Don't-You-Know-Who-I-Ams since Reese Witherspoon's car was pulled over; bounded to right-wing media, an arena where open brawling is pro forma; and is ascendant anew.
"She has this way of eliciting reactions from people," says John Finley, the Fox News development executive who hired her. "Maybe it's because she's blunt, maybe it's because she has unusual takes on topics. You know, it's hard to tell."
Unusual takes may not have been a selling point on SportsCenter, but for a brand whose audience thrills to trigger the libs, McHenry is catnip. Her fame—trashy, mean, pandemically viral—is tailor-made for post-2016 Fox News. This is the moment for the resurgence of a Mean Girl of Cable TV.
But what about her future? I ask Finley: How would he finish the sentence Britt McHenry could be the next X? "Oh, gosh, that's a tough one," he says.
McHenry doesn't have the answer yet, either. She looks up to female Fox personalities such as Dana Perino and Trish Regan. She admires Shannon Bream: "She has a law degree and looks the way she does, you know?" McHenry doesn't have a law degree or a White House pedigree like Perino or even much professional experience talking about politics. What she has is 59 seconds of grainy, over-the-shoulder footage of her on her worst behavior. So she gets why I ask about it; she's just frustrated that—despite more than a decade on camera—it remains what she's most famous for. The new show is her shot at finally changing that. To demonstrate to the top brass at Fox News that when her lightning-rod notoriety and the raucous partisanship of this moment wear off, Britt McHenry can be, will be the next X—you know, whoever that is.
---
Britt McHenry is tall and athletic, with big brown eyes, cascading blond hair, and impeccably arched eyebrows. If you didn't already know she worked in TV, you wouldn't be surprised to find out. The first day I met her, we ended up at a bowling alley instead of the tennis courts, McHenry in a royal-blue sleeveless jumpsuit and carrying two overstuffed handbags, large enough to be pet carriers.
After she was fired from ESPN during a company-wide layoff, she made headlines for suggesting to her followers that the network had an ulterior motive. "I mean I've been openly Conservative . . . look how that ended up . . ." she tweeted and deleted. Another day on Twitter, she opined that the Washington Redskins cheerleaders who earlier this year alleged they were forced to pose topless had it coming—"If you don't want to be treated like a 'sex object,' perhaps don't be one for $."
If you Google "Britt McHenry + feud," you'll find skirmishes with former ESPN colleagues Jemele Hill, Sarah Spain, and Jim Trotter; NBC's Michael Jenkins; the daughter of sports reporter Craig Sager; even Kevin Durant. This is a partial list. She scores herself airtime in one blistering news cycle after the next with an arsenal of offensive moves: persistent replies, personal attacks, and, sometimes, baiting blue check marks into engaging with her. A spat with golfer Paige Spiranac—McHenry mocked her for being among the athletes who posed nude in Sports Illustrated's 2018 swimsuit issue—landed on the websites of the New York Post, Breitbart, Golf Monthly, and Maxim. This is also a partial list.
At another time, the move from sports reporter to political pundit might have seemed less natural. But McHenry's unemployment, in 2017, coincided with the moment America's favorite pastimes were all careening toward the political. There was Colin Kaepernick kneeling for the National Anthem. Superstars like Steph Curry were refusing to visit the White House. And, crucially, the President was sniping back.
McHenry's sports fluency suddenly had currency in right-wing politics. She started pitching columns to Ben Domenech, publisher of the Federalist. Soon she was getting booked on Fox & Friends. When she got her first hit on Tucker Carlson Tonight, she called her mom. "It was life telling me: Yes, this is the direction you want to go," McHenry says.
This March she started hosting Like It or Not, an evening talk show about politics and pop culture, on Washington's Fox affiliate. Finley, the Fox News senior VP, saw the show. There was no "aha moment," he says, just example after example of McHenry "getting people talking. On a fundamental level, that's what it was. We saw it with the segments she was doing on Fox News, on her social media, columns she was writing for us." Only three weeks into Like It or Not's run, he phoned with a national offer. (She's now working on both channels.)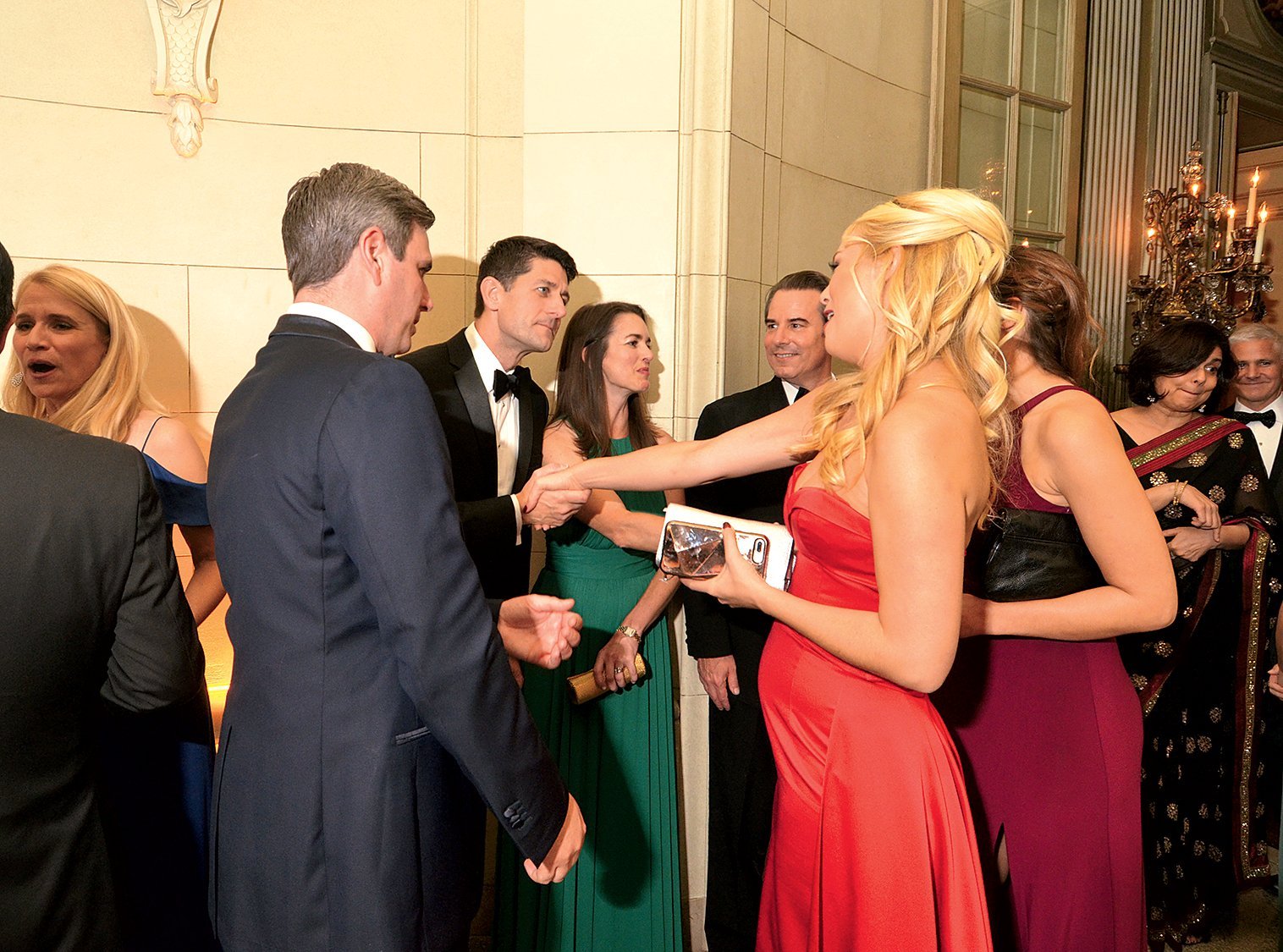 Fox Nation is a streaming platform, an app that's like a hybrid between Netflix and Facebook Live. Imagine Fox News with none of the limitations of its linear broadcast: no time slots, no commercial breaks, no actual news. (Pundit Tomi Lahren, who has fashioned a career out of slamming down the liberal snowflakes, is the channel's avatar.) McHenry's talk show, which she cohosts twice a week with another exile from sports—pro wrestler turned political commentator George "Tyrus" Murdoch—is called Un-PC.
On TV, just like across a high-top at happy hour, McHenry is funny, open, easy company. She can modulate her voice when she's on the teleprompter and pepper the script with pop-culture asides about Cardi B and the Thor movies. She also comes to the set prepared, rattling off the price of Ben Shapiro's UCLA security detail and the percentage of millennial likely voters.
But for all her years of TV experience, McHenry doesn't articulate her politics with the depth of a Dana Perino. When I ask what issues are most important to her, she thinks for a bit, then tells me she's "certainly pro-life" and "definitely pro–Second Amendment. I want to be able to protect myself."
"Do you own a gun?" I ask.
"I do not."
When I ask about her conservative heroes, she stalls again. "I'm not thinking because I don't have an answer," she tells me. "I'm trying to, like, consolidate it because there's a lot of people that I look up to." She then names Jeb Bush, Ronald Reagan—and Bret Baier­­­.
---
McHenry grew up on the barrier islands of eastern Florida in what was destined to become Trump country. Her family lived in Indian Harbour Beach, a town too small to warrant its own high school. After class, McHenry and her friends would grab a soccer ball and run across the street to the beach. Her dad was in the Air Force, and Santa Claus would visit base on a Cessna T-37, says her mother, Margie. "It was really just a regular, small life."
There were some early indicators that McHenry would end up on TV: She was editor of the school paper, she read the announcements on the PA in junior high, her mom says she loved having her photo taken—but young Britt was mostly obsessed with soccer, including playing Division I at Stetson University near Orlando.
When she came home after freshman year, however, priorities started shifting. Her dad told her to get a job, so she took all that height and cascading hair to an open call at Wilhelmina Models. Margie thought it was a lark, but she remembers they said, "Yeah, she's extremely commercial." In the heyday of reality-TV competition shows, McHenry was this close to a slot on I Wanna Be a Soapstar.
In the heyday of reality-TV competition shows, McHenry was this close to a slot on I Wanna Be a Soapstar.
After college came grad school in journalism at Northwestern and a coffee-fetching internship at Fox News. When she graduated, she says, she "expected to go to Waco, Texas, or to a much smaller market and sort of climb my way up." Instead, she got a gig in Washington at NewsChannel 8, WJLA's sister station.
The market was prestigious, but the assignment wasn't—the station hired her to be a backpack reporter, reporting and filming local stories without the help of a cameraman. Eventually, she convinced managers to let her try sports. It was 2010, and Nats spring training was happening half an hour from McHenry's parents' house. She proposed covering it on her own dime. It clicked.
In 2014, McHenry left the station (by this time, she had been doing work for WJLA's Channel 7 as well) to go to cable—"the promised land," she calls it. As ESPN's Washington-bureau reporter, she appeared on SportsCenter and NFL Live. She set her Twitter location to "on a plane" and watched her Marriott points add up.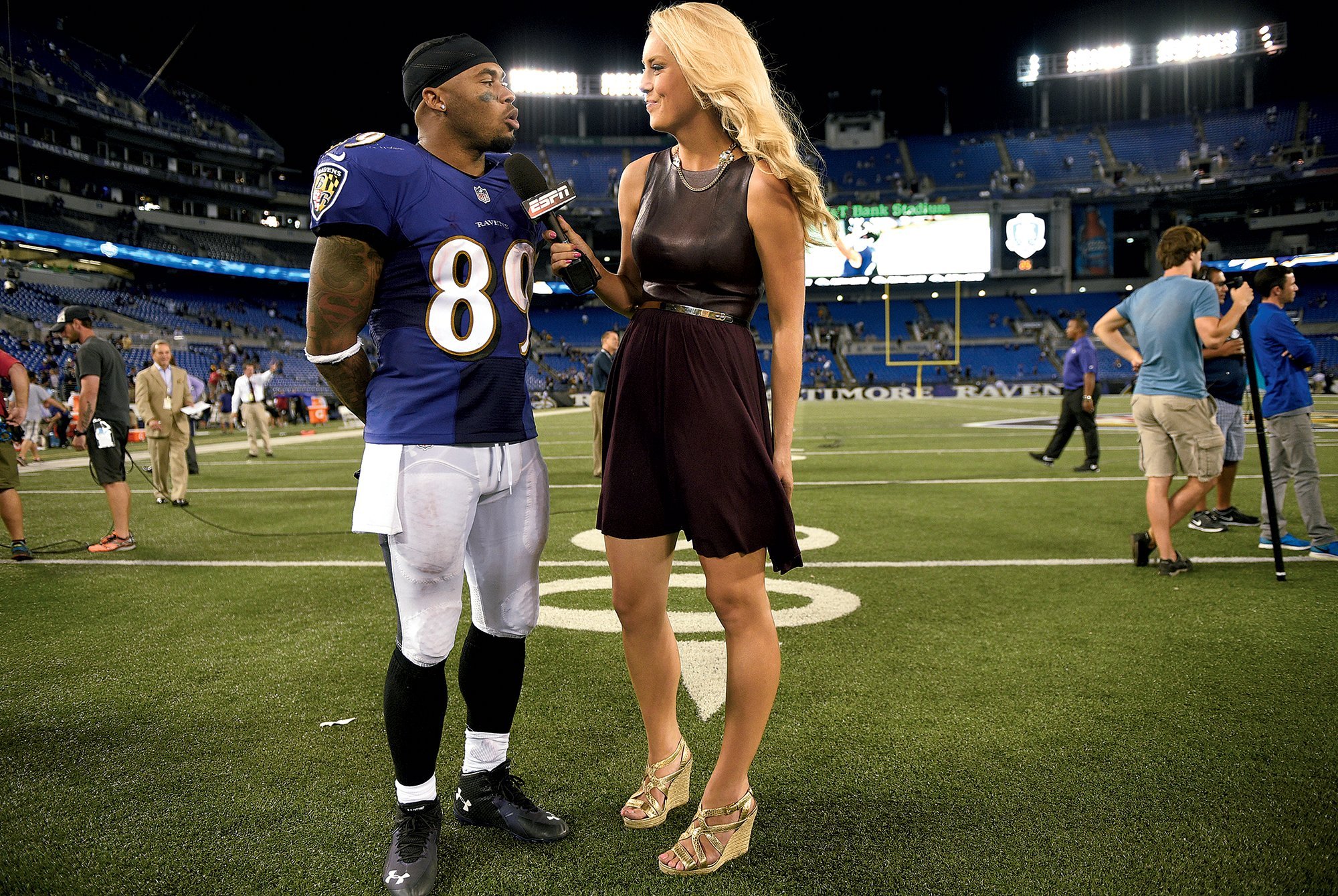 Then her car got towed.
She was out with friends in Clarendon and parked in a lot near the Chinese place where they ate dinner. Afterward, McHenry went to a different bar but left her car in the same lot. It was 10 pm on Easter Sunday.
As for what happened next, she should probably leave it at that: "I think if I was to go into too much detail, I wouldn't be taking responsibility for myself." But basically, she says, the awful things she said to the tow-truck attendant had been "provoked." Plus the video the towing company released was edited only to reveal McHenry's side of the argument. "But all I had to do in that moment was pay and just leave."
The tape was released ten days later. It's excruciating to watch, to hear her so casually say, one after another, some of the worst things you could think to say to someone who was just doing her job, such as "I wouldn't work at a scumbag place like this. Makes my skin crawl even being here."
McHenry wasn't prepared for the backlash. She hadn't even been someone who got recognized at the airport; now ESPN was hiring security to escort her home. When her mom called to check in, McHenry couldn't face it. "Mom, just turn it off," Margie remembers her daughter saying before hanging up on her.
McHenry was suspended from ESPN for a week, but the news stories kept rolling in, even after she apologized on Twitter. She didn't leave her apartment. A month later, watching Netflix at home, McHenry realized her right eye was closed, that she'd closed it to see the screen better. A specialist diagnosed her with central serous retinopathy, a stress-induced condition that causes diminished and distorted vision. She had to go to the doctor every month to get injections in her eye while she was wide awake and watching. "I remember a couple times in the office, I just started crying," she says. "Because it's a physical reminder of this screwup."
Does McHenry know she was wrong, that she fed the Mean Girls stereotype that the prettiest girl in school is also the cruelest? Absolutely. But does she think she deserved everything that happened after? Not really. "There was an article that compared me to Regina George because we look alike, which I was kind of like, 'Oh, I look like Rachel McAdams. Thanks!' "
I've talked to plenty of people who know her—teachers and coaches and bosses and colleagues and friends—who assure me that they've never seen that side of McHenry. But I also reached colleagues who've un-friended her on Facebook, blocked her on Twitter, and didn't want to associate with her in a magazine story, either.
"I remember a couple times in the office, I just started crying because it's a physical reminder of this screwup."
"Why do you think it was so big?" McHenry eventually asks me about the tow-truck tape.
I tell her that even though the tape went viral because she was on TV, people didn't really know she was on TV before it went viral. In time, we'll probably forget the whole episode, just as we've forgotten about the one-off peccadillos of so many people in the public eye. The backlash said as much about our online culture as it did about her. I don't think it will be part of her story forever, I say.
Later I realized I was probably wrong. Back when McHenry was doing status reports on Ben Roethlisberger's knee, the tow-truck tape was a single moment magnified by the cycle of social-media shaming. Now that she's in the opinion business, though, it blossoms with fresh relevance. She's paying her bills by being Britt McHenry and telling people just what Britt McHenry is thinking. And what she thinks can be insensitive. After Brett Kavanaugh's Senate testimony blasting Christine Blasey Ford's sexual-assault allegations against him, McHenry posted a picture of a guy holding an I LIKE BEER sign to Instagram. The tow-truck tape no longer feels like a one-off but like a data point in this bolder, brasher Britt she's selling. If everyone quit talking about it, or whomever she's beefing with on Twitter, it would mean we've quit talking about her.
On a cellular level, Britt McHenry probably gets that. At Fox Nation rehearsals one day in New York, she and Murdoch, her cohost, were discussing anti-conservative bias at universities when the banter got personal.
"Don't say words don't hurt," Murdoch warned her. "Seriously, can we roll her Twitter? If somebody says the wrong thing to Britt McHenry, it's game on."
She cut in, laughing. "Or, you know, meet me in the parking lot."
---
We never end up bowling. We sit in the bar of the bowling alley in the middle of the day for hours, listening to other people bowl. Still, it's a testament to how seriously McHenry is taking the next phase of her career that she doesn't just cancel on me, hours after she and Tennys broke up. I tell her he has a mean face, which is something my husband who watches tennis told me that morning. She halfheartedly agrees but adds, "He has really pretty blue eyes."
She actually met Tennys through Twitter. He followed her and she followed him back last January, when some ugly tweets of his came to light. It seemed Tennys was perhaps a believer in the Pizzagate conspiracy theory. They started DM'ing a few months later, and McHenry flew to the French Open for their first date. Now it was over.
The difference between how we want to be seen and how we think we're seen can be approximated by what gets under our skin. McHenry doesn't close down when I ask personal questions about her love life. It's only when I ask about a report saying she bought fake Twitter followers that I sense I've trespassed into that tender margin.
She wants to be liked; she's famously hated. It bothers her, but Her again? beats Never heard of her.
The issue was a purge Twitter did to remove bot accounts: It lopped off 38 percent of McHenry's followers, who now number 223,000. McHenry's first response was categorical—"If I had to buy them, then why have there consistently been articles about my opinions and stuff like that?"—and later became less so. You see, after the tow-truck tape, she had a friend managing her account. "I don't know what happened," she finishes, the sentence uncomfortably staccato. Final.
"I'm not saying you need to," I tell her. "I feel like you're getting defensive, but . . . ."
"It's not you," she says, cutting me off. "It's just this topic bothers me."
I get why it would. Her livelihood is staked on the idea that she's popular, and my questions are suggesting that her popularity is fake and that she knows it's fake. So I'm surprised when, 30 minutes later, she brings it up again: "I'm sorry I freaked out about the follower thing."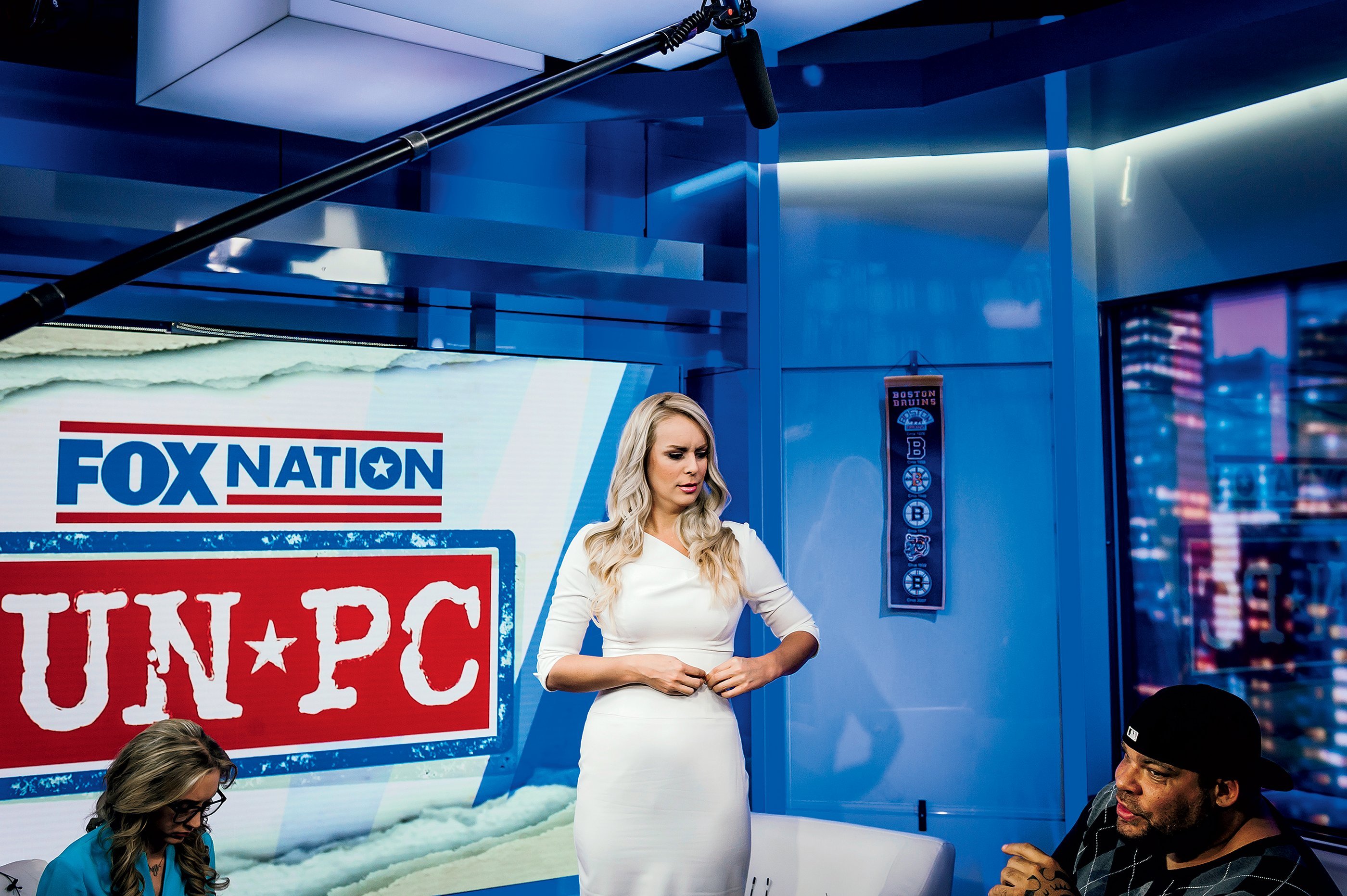 McHenry's Fox contracts will need to be renewed, and the floor of cable news is already littered with the fading chyrons of conservative flamethrowers who couldn't outlive the moment. Does the name Scottie Nell Hughes ring a bell? Where's Stacey Dash now?
When we talk about where McHenry sees her career heading, she never mentions Laura Ingraham or Ann Coulter, the strident partisans her public persona so far calls to mind. "You have to keep in mind, and I try to tell myself when I get antsy, that I went from a sports network, the biggest one in the country a year and a half ago, to now being here at Fox News," she says. She's already nervous to be pigeonholed as "the sports girl" or the comic relief. "How do you find that balance of sports but this political stuff, too? I don't know. How many people have really done that successfully other than Michael Strahan?" She's still searching for how to fill in the blank of Britt McHenry will be the next X, whoever that is, and it's not clear how much help she'll have. ("Never heard of her!" Ann Coulter told me.)
Sitting with her at the bowling alley, it does feel like both Britts—the right-wing firebrand she's becoming and the tomboy next door she's wary of—are wrestling with each other. She wants to be liked; she's famously hated. It bothers her, but Her again? beats Never heard of her.
She has to leave now. Her call time is in less than an hour, and it's time to be the blustery Britt, the jocular Britt, the Britt that sells. She finishes her glass of Pinot Grigio and looks back at the bowling lanes: "Maybe swinging something, after a day like today, could have been good."
This article appears in the January 2019 issue of Washingtonian.