Maria Manuela Goyanes was six weeks into her job as the new artistic director of Woolly Mammoth Theatre Company last year when one of her board members cursed her out and resigned. Why? It had to do with he/she/they.
The company had decided to add preferred pronouns to Woolly's website and dispatched an employee to collect everyone's information. The trustee sent back a sarcastic joke instead. As it happened, one of the employees on the receiving end was transgender. "Super not cool," Goyanes says. She stepped in, saying the note was hurtful and asking the trustee to remember the power that came with the perch. After hitting send, she hopped on a train to New York for dinner and a show.
That night, from a table at the Mermaid Inn in the East Village, Goyanes checked her e-mail. Inside was the trustee's two-sentence reply. "F— off, I quit," it said. "While you're in New York, go shopping for a sense of humor." (Goyanes declined to identify the trustee. Woolly's board president, Linette Hwu, confirmed the incident.)
"I was like, whoa. It's the first time I've ever reported to a board—I'm new, I'm a woman, I'm Latina, I was like, uh, am I doing the right thing?" Goyanes says, adding, "Should I have just shut up?"
More than a year later, her answer is a clear hell, no. All the same, the incident was troubling, a cautionary tale about the traditionalism of Washington's theater scene—even in one of its most progressive companies—and the kind of change she wants to force.
The first woman of color to run a major DC theater, Goyanes, 40, was born the same year Woolly landed here. She's only the second person to lead the company. Recruited from Manhattan's Public Theater, the off-Broadway venue renowned for inclusive storytelling, she was a statement hire for Woolly—appointed to expand its reputation as Washington's edgiest mainstage, but especially to position it as a cultural shepherd for the #MeToo, hate-has-no-home-here, anti-racist age.
"I feel urgency in this moment to wear my values outwardly and openly, and I feel lucky and really proud to be at a theater company that's doing that, too," she says. "How can we push that envelope more?"
In one sense, the shift is a business imperative. While stories built around people of color are notching mainstream success across the culture, theater patrons still tend to be wealthy, older, and white. To survive long-term, companies such as Woolly need to convince social-justice-minded, cash-challenged millennials to buy tickets. The crucial challenge: Can they do this without alienating a crowd who, liberal as they may be, might also be slower to get with the times? Or do you have to, in effect, fire one audience to lure the other?
"It's entirely likely that as we continue the work we're doing, we're going to lose more people," says Hwu, "and I think we're all okay with that."
Maria Goyanes is definitely okay with that.
---
Goyanes is the daughter of immigrants, born in Queens to a Spanish bus mechanic and a Dominican teacher. She says she caught the theater bug on a high-school field trip, an outing meant to expose "urban" kids to high art. At Brown, she studied under a trailblazer—the DC-born Jewish lesbian playwright Paula Vogel. After college, Goyanes climbed to the top ranks of the Public, helping produce the world premiere of Hamilton. "She has her own momentum," says Thomas Kail, the Alexandria native who directed the show. "There's a can-do feel to Maria, a determined kineticism."
Hamilton was a career high for everyone involved—and a leap for theater, with the musical's hip-hop score and its black and brown Founding Fathers. Yet its crazy success underscored how badly the industry still sidelines disenfranchised populations. That's not just a Broadway thing. Though Washington's scene has evolved from one that presents mostly classics and New York imports to one that stages significant original work, the lack of diversity is pronounced. Over the past seven seasons, according to data covering more than 50 Washington theaters, an average 82 percent of the plays were written by white people, 70 percent of whom were male. Since 2013, only 16 percent were directed by people of color.
Woolly's founding director, Howard Shalwitz, built its reputation as one of the city's more inclusive theaters, but according to an internal survey from 2013 to 2017, audiences still hovered around 75 percent white and averaged 49 years old. The company has to do better, Goyanes says: "If it's not happening in other places in DC, Woolly's got to lead. Woolly's meant to be the trailblazer for the form."
Her inaugural season, which kicked off in September, clearly telegraphs what Woolly will champion: The majority of the directors are female, and all the playwrights are female or people of color. "She's playing chess," says Gwydion Suilebhan, a local playwright who collects the programming data from area theaters, "and everyone else is playing checkers."
Goyanes is staging a world premiere by and starring a queer Latinx playwright (There's Always the Hudson by Paola Lázaro). There's a reimagined Shakespearean classic in which Richard III is a teenager with cerebral palsy (Teenage Dick by Mike Lew, who is Asian American). And the season opener—Fairview—was a Pulitzer winner that directly challenges the white gaze.
That play starts with an African American family preparing for a birthday dinner. But soon the audience begins to hear recordings of white actors making racist comments about the characters onstage. Example: "Well, if you want to be a real black person, then you have to be a poor black person." Eventually, the white actors materialize and play members of the family, their stereotypical renderings getting more and more sinister—almost performative blackface. The evening devolves until (spoiler alert) an actress breaks the fourth wall and asks the white audience members to come onstage. Typically, that means the theater suddenly feels empty while the lights shine on the race dominating the room. "Every time I get to that part, I weep," Goyanes says, adding, "It just feels so alone."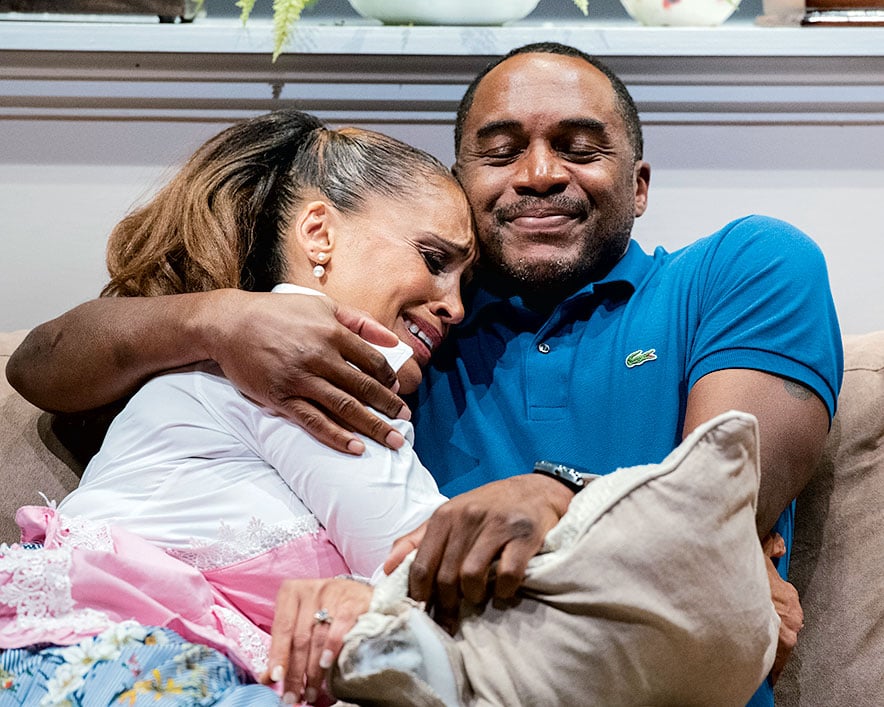 The work is trademark Goyanes—exposing uncomfortable truths and simultaneously goading viewers to investigate themselves. It's not easy entertainment, and that's the point.
"When I watched Fairview, I felt like someone thought about my black body in that space," says Nicole Brewer, a former Howard professor who leads anti-racism workshops in theaters. "It was the first time that somebody valued me enough to think about me in the space—they didn't just think about getting me into the space."
But not everyone connects with the show. Jeffrey Banks, an African American who departed Woolly's board right before Goyanes arrived, says he's grown frustrated by the scripts local troupes seem to favor. "All of the theaters have the same portrayal of African Americans, recycling the same slavery, lynching, downtrodden, woe-is-me," says Banks, an executive at United Bank. "I just remember one week of going to four theaters—it was all on the same subject matter: slavery. And I think there was a lynching in every piece." The high-concept Fairview didn't resonate with him, either. He laughs: "I got a call from three people who attended, and they asked me, 'What the hell did I just see?' "
---
Offstage, Goyanes is pushing just as hard. When Woolly recently unveiled its renovated lobby, she held a land-acknowledgment ceremony to honor the Nacotchtank who were indigenous to DC and the enslaved Africans who built swaths of the city. "Radically inclusive" and "anti-racist," meanwhile, are now inscribed on a mural in the new space as a mission statement.
To incorporate multiple points of view, Goyanes began asking her executive staff and some actors to read the plays she was mulling, a change from the past when a much smaller group would weigh in on a possible slate. "Many theaters don't necessarily do it this way," says Kristen Jackson, who runs Woolly's community engagement, adding, "Everyone is reading the plays very early in the process, from myself to our director of finance and administration."
Goyanes also started nudging her overwhelmingly white board to examine their biases, handing out the 2018 bestseller White Fragility: Why It's So Hard for White People to Talk About Racism. She wasn't confrontational about it, but it was a power move all the same and caused a buzz. "She's fearless," says Hwu, a lawyer. "I could not be more flabbergasted by her strength." Before long, a group convened at a trustee's Dupont Circle home for a book-club-style talk.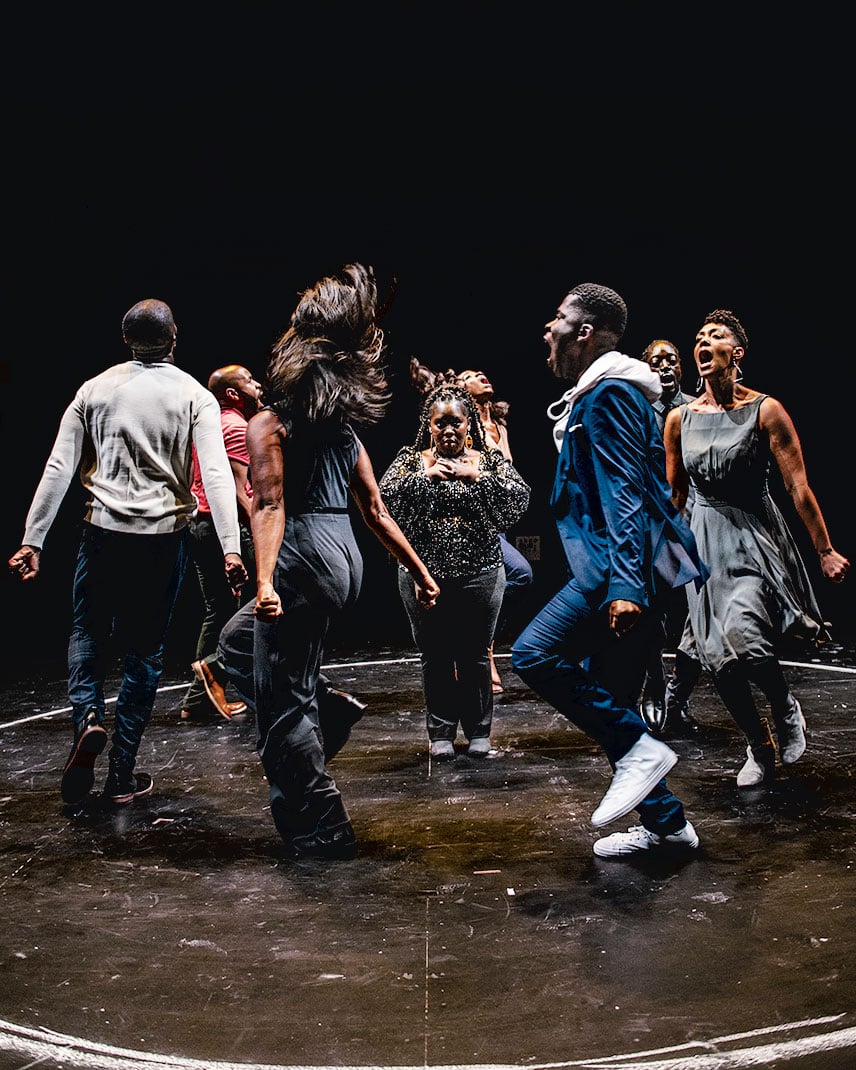 Goyanes offered to facilitate. But as everyone settled in, she suddenly felt a little apprehensive about discussing racism in this particular company. It got personal pretty quickly. One woman had a common reaction: The book dedicates a chapter to white women's tears as a defense mechanism, and this trustee began crying and wanted to apologize to the three people of color in the room. Says Goyanes: "I was like, 'Okay, hold the phone. Let's not do that in a group.' "
It's a lot of emotional labor being The Person of Color in a workplace. On the flip side, Goyanes does have a cohort to lean on—a handful of other artistic directors of color helming regional theaters around the country. And unlike, say, Ari Roth, who lost his job at DC's Theater J after fighting with his bosses over choices they viewed as critical of Israel, Goyanes's board—intact but for the casualty of the Gender-Pronouns Incident—seems eager for her to keep challenging them.
The book club "was sort of my first peek into an experience of self-reflection about [racism], and I have to credit Maria—she opened my eyes," says PR consultant Wendy Hagen, one of the trustees who attended. "I might have read it as a passive person . . . but she really pulled us right into it. That was so powerful, and she guided us there. We got there on our own. But she made sure we got there."
---
It's too soon, of course, to know whether Goyanes's approach will fill seats. So far, her version of Woolly is a hot ticket. Fairview was nearly sold out for its run, making it one of the most successful Woolly shows in the past five years. The second play, What to Send Up When It Goes Down, also did well—and was equally provocative. "This ritual is first and foremost for black people," an actor declares before the curtain goes up. The play was written specifically to respond to anti-black violence, and in the early moments, viewers are prompted to interact—for example, stepping forward if they've had a gun pointed at them by a police officer. At the end, the non-black patrons are asked to leave: The last few minutes aren't for them. (Goyanes hasn't even seen the finale herself.)
Goyanes took the play into the city for part of its four-week run, staging it at Howard University, Duke Ellington high school, and THEARC, a neighborhood organization in Southeast DC. Theaters have long done community outreach, exporting culture in a way that can often feel transactional or, worse, perpetuate tokenism. But Goyanes says she wants to make external programming more central to Woolly's mission. "I'm not interested in helicoptering in, doing a show, and then leaving," she says. "I'm interested in creating really deep relationships."
This article appears in the January 2020 issue of Washingtonian.