Di Dang was cruising up the elevator with more than a million dollars in his backpack. He was in Macau, and the rich Chinese guys wanted to play poker. Obviously, he'd dropped everything.
The game was on the top floor of the Grand Lisboa, a ridiculous, glittering pile of a casino shaped like a lotus flower. (Seriously, Google it.) A host had to escort him up, and security guards had to okay his access to the private room. Di, a 27-year-old kid from Virginia suburbia, strode in with a backpack full of poker plaques and $100,000 bricks of cash.
The whales were already playing, surrounded by, uh, "masseuses" with long hair and short dresses. Cigarette smoke filled the air. Servers swirled with trays of dragon fruit. And holy crap, that view. Di liked to dress down when he played, especially in hot, humid Macau, where matches could go on for 24 hours or more. But tonight, in this room full of gajllionaires, he stuck out in his T-shirt and shorts.
Whatever.
"Part of you is nervous, but part of you is like, Oh, man, I am printing money here in the long term," he says. "If I got my fair share of luck, then I thought I could win, like, $1 million, $2 million, $3 million in one night really easily."
The year was 2010. Twentysomethings across America were living with their parents, bouncing between internships and side hustles as the country limped out of a recession. Di (pronounced "zee") and his younger brother Hac were also living in their parents' basement, only they were making stupid money playing online poker.
And they were legends. According to the tracking site High Stakes Database, Di and Hac rank fifth and seventh, respectively, among the biggest all-time winners online, with combined profits of nearly $14 million. They filled virtual stadiums and turned up on ESPN. During summers in Vegas, they took over a penthouse at the Palms Place Hotel and Spa—3,000 square feet, with a 58th-floor balcony Jacuzzi. Poker junkies would stop them on the street and ask for photos.
So yeah, Di—screen name "urindanger"—walked into the Grand Lisboa like a boss.
But sometimes he could be blind to . . . certain details.
Until tonight, Di had been getting into Macau games for up to $200,000. The buy-in for this Texas Hold 'Em table was more than half a million. "I was like, Oh, crap—this is really big," Di says. "That's when it hit me: I'm playing in the biggest game ever in the whole world, by far."
They were amateurs, though, and he figured if he entertained them, they'd invite him back—a treasure trove. So while everyone else was playing tight and waiting for better hands, Di played aggressive and loose, the hotshot: "It was politics and looking at the scene and trying to make them like me."
Nearly eight hours in, his backpack was empty. The biggest game of his life blown, more than a million dollars gone.
Ten years on, the penthouses of Macau are awfully distant. These days, Di serves build-your-own spring rolls at a restaurant called Roll Play and crawfish at one called Chasin' Tails, two of the six midpriced suburban eateries he and Hac started. They count pennies, not bricks, worry about customer service instead of room service, and stress over clogged toilets rather than royal flushes.
And yet the memory of a life when he could lose a mil in an instant is not entirely nostalgia as the Dang brothers make their way in the restaurant business. The story of all those high highs and low lows might also explain why the duo is facing the pandemic and this moment of immense industry peril without sweating. But first you have to understand how they got here.
---
Poker is a game of skill masquerading as a game of luck. You could play a hand against the Dang brothers and win because, yeah, there's some luck involved. Ultimately, though, they understand the game's strategy, math, and psychology better than you do. Over hundreds of hands, they're going to kill you.
The brothers started playing online in the early 2000s, when they were both studying mechanical engineering at the University of Virginia. The game was a sort of Wild West at the time, full of amateurs thinking they were Matt Damon in Rounders. But Di, whom friends call the Human Calculator, was a former middle-school mathlete who liked to take SAT tests for fun. Hac, a year younger, was into whatever Di was into—especially if he could crush him at it. When they weren't playing each other in basketball or chess, the Dangs partnered in get-rich-quick schemes (hawking Pokémon cards on eBay, reselling hot Christmas toys). In elementary school, in what might have been their very first hustle, they'd scrounge the trash bin at Shoppers Food Warehouse, hunting mistakenly discarded scratch-off winners while their mom bought groceries.
While other people treated online poker like just another spin through Grand Theft Auto, the brothers studied books and videos for technique and strategy. They'd try to one-up each other as they climbed the stakes, their sibling rivalry fueling their rise. As No Limit Hold 'Em became more lucrative, they ditched their jobs at Ruby Tuesdays and Uno Pizzeria. When they scored $35,000 while holed up in their hotel room during spring break in the Bahamas, they considered ditching engineering, too. Meanwhile, Hac's GPA sank to 2.1. Di managed to flunk a pass/fail nutrition elective.
"I was so scared and sad and mad at the same time," their father, Hoang Dang, says. He was a petroleum engineer reviewing patents for the federal government. His wife, Binh, a Vietnamese writer, looked after their five kids. Neither approved of turning cards into a living. "Gambling," Hoang's parents always said, "is the uncle of poverty."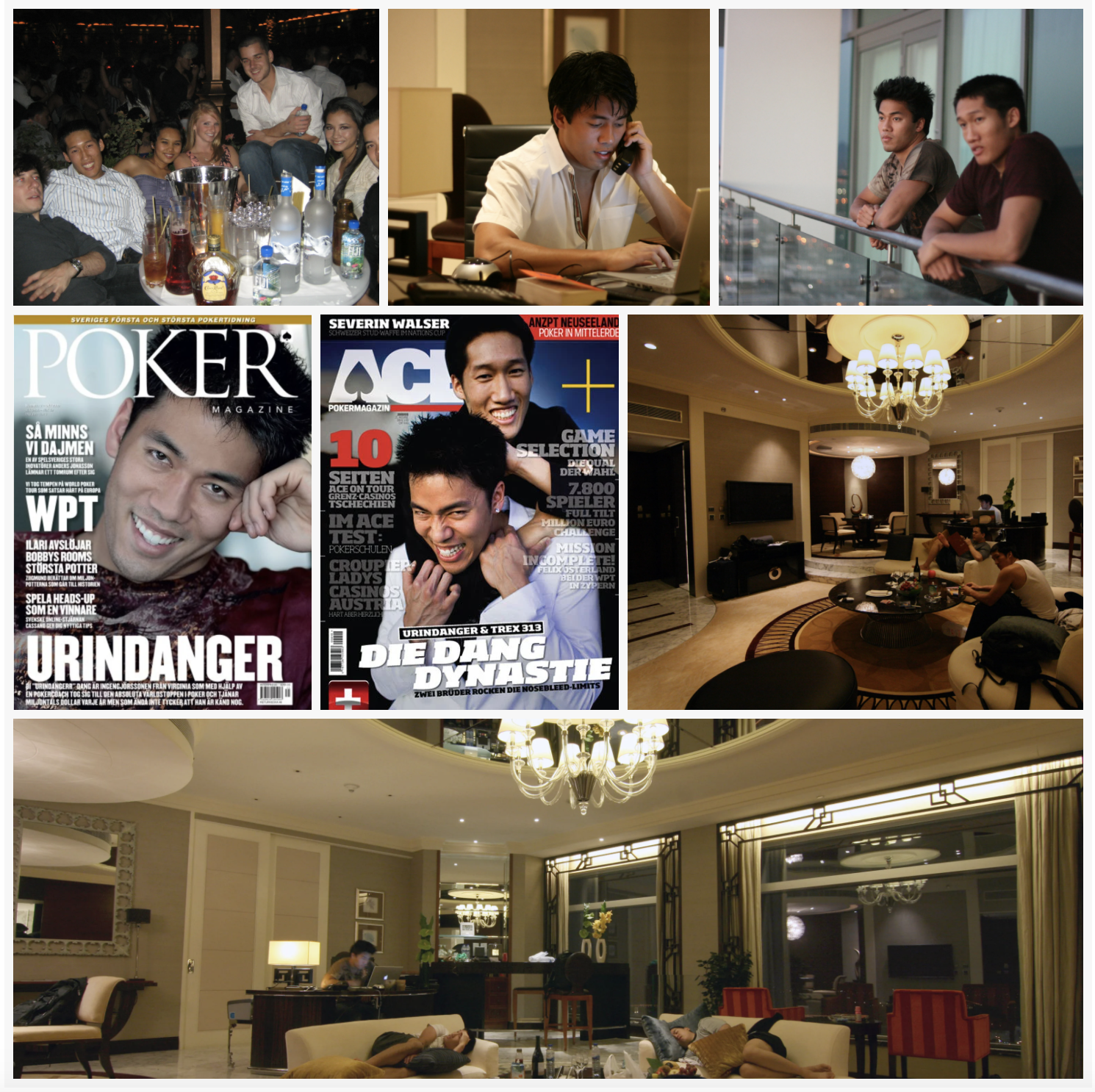 Hoang banned the boys from playing poker at home. He took the internet router with him when he went to work. Di and Hac would head to a PC cafe in Fairfax, paying a few bucks an hour to log on there instead.
Ultimately, the best Dad could do was insist that if they were going to go pro, they would at least graduate from college. They did. And the following year, for his 50th birthday, the brothers surprised him with a BMW M5 adorned with a giant bow. Mom got a Lexus. Di and Hac paid off their own student loans, and their three siblings' college tuitions, too.
The Dangs also traded up the family home, where Dad had once worried about long showers wrecking their water bills. Di and Hac bought their parents a 7,585-square-foot compound in Fairfax Station for $1.35 million in cash. The brothers continued to live there, along with their siblings, into their thirties, "like an Asian Full House situation," Hac says. By then, Dad had come around. His sons had made it, just not in the way he'd imagined.
"In the past, I wanted them to be a doctor or a scientist," Hoang says. "It's probably not bad in the end."
---
The Dang Bros, as they were known, were buying into games for as much as $100,000. Hundreds of spectators would tune in, with entire online forums devoted to commenting on their hands. "If you're an online player, you know who the Dang Bros were," their friend and fellow player Tom Hu says. "They're like the Brad Pitt of online poker."
Di, a flashy dresser with a Johnny Bravo pompadour, would Google his name after big sessions: "I wanted to get as famous as possible." He traveled from Shanghai to London for the kind of games where you had to know a guy who knows a guy. On high-roller trips to Macau, he'd stay with friends in penthouses with theater rooms, massive saunas, and Hermès shampoo. He'd order the $600 hairy crab just because it was the most expensive dish on the menu. "The crabmeat literally tasted like cardboard," says Hu.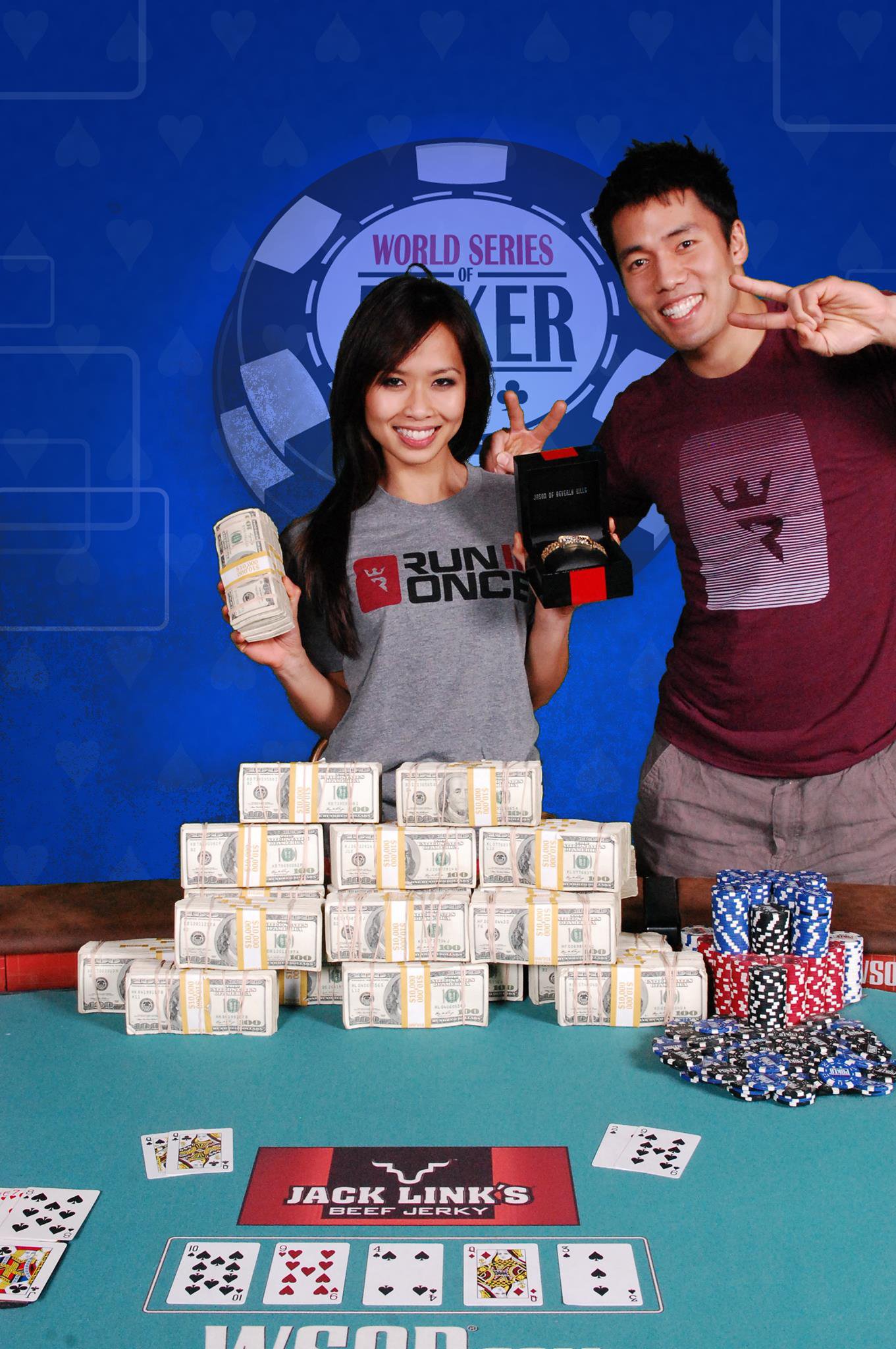 Some top-tier players lose big by getting into "ego battles" with rivals. The Dang Bros' thing was picking games in which they knew they could clean up. They stalked whales, and one in particular: Guy Laliberté. The Cirque du Soleil billionaire was considered the Moby Dick of online poker.
"I told him I bet my hat that his restaurant will fail."
In theory, Laliberté was anonymous. But insiders attributed multiple accounts to him because of his recognizable style and the size of his losses. "Whenever Guy logged in, the table would fill up in less than five minutes," says Hac, known online as Trex313. "One of us needed to get a seat."
They adapted their entire lives around their virtual rival. "We'd be like, 'Oh, yeah, Guy just logged off and he played an eight-hour session, so he'll probably be back in eight hours," Hac says. They hired a personal assistant to bring them KFC or pick their siblings up from school.
Di remembers one time he and a friend were driving his dad's BMW to the gym when he got a text that Laliberté had logged on. He pulled over and made his friend drive so he could get on his laptop from the passenger seat. The only problem: His friend couldn't drive a stick shift. "He stalled about 12 times," Di says. "I think I remember winning $16,000 during those ten minutes, so I was like, 'Don't worry, man, you paid for all those stalls.' "
As much as he played poker rock star online, Di was determined to live it in real life, too—which meant shaking his inner math nerd. "Everyone calls me book smart but very socially inept," he says. He enrolled in pickup-artist boot camps. And even as a 26-year-old millionaire, he got a summer job for $7.25 an hour at the Tysons Abercrombie & Fitch to work on his social skills and "practice talking to girls, practice eye contact." Maybe he'd improve his charisma at the poker table, too, and snag more invites to live games. Plus, he says, "I liked the clothing."
---
The Dang Bros had a rep for "tilt control," or emotional restraint. Good thing, when they could be up or down six figures on any given day. When Hac lost a million, "it definitely hurt," he says. "But the next morning when I woke up, the mentality more so was: I'm 23 and I lost a million dollars and I didn't kill myself, so I'm probably doing okay." He wasn't as attached to the high-roller lifestyle. Even when he was making a million dollars a year, he still drove a shitty 1997 Toyota Camry—until his mom secretly sold it when he was in Vegas one time. "She was like, 'Yo, this car makes you look poor.' And I'm like, 'Yeah, but I'm not, so it doesn't matter.' "
Di, on the other hand, had a harder time detaching but knew how to motivate himself. The year he crashed and burned at the Grand Lisboa, he was down $2 million. He decided if he could get back to even, he'd treat himself to an Audi R8—the same car Tony Stark drove in Iron Man. Boom. The following Christmas, he and his girlfriend, Tuyet Nhi Le (now a restaurant partner and competitive bikini bodybuilder), were parking his new R8 at Tysons for a holiday shopping spree.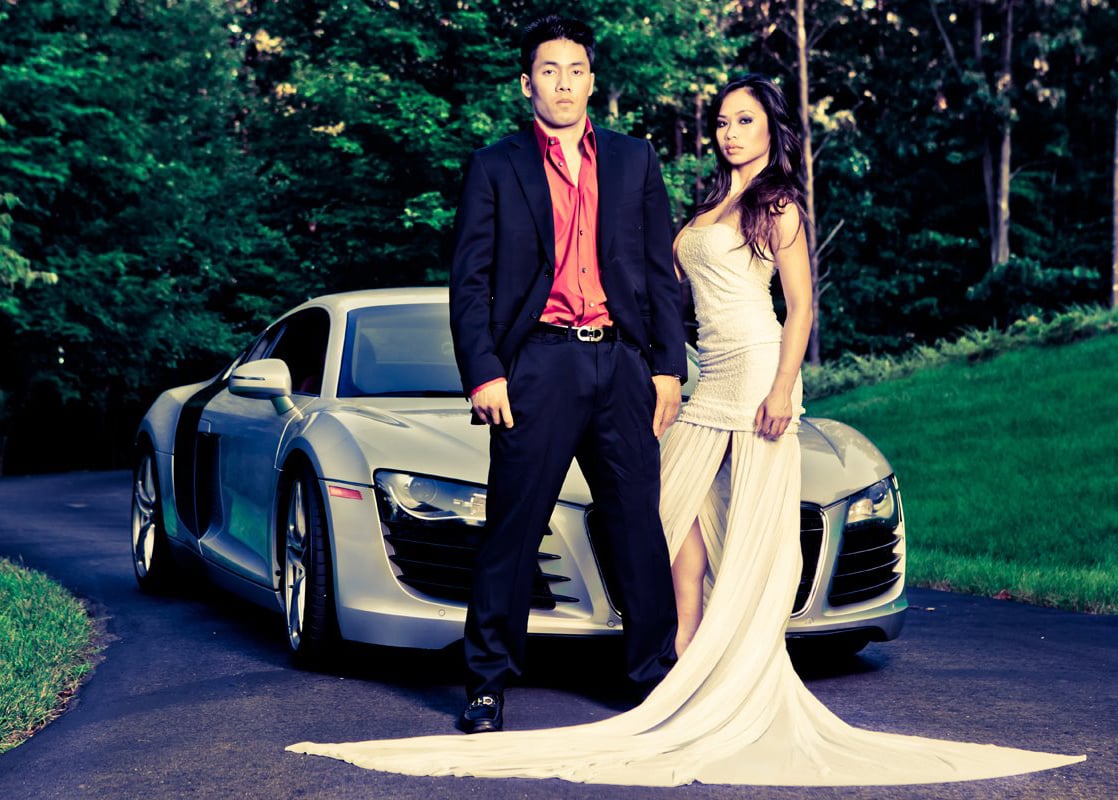 A few hours later, they walked out with at least half a dozen bags of gifts and decorations. But none of it would fit. "The whole trunk is designed to fit one set of golf clubs, because only rich people end up buying that car," Di says. He called his dad, who had never succumbed to the allure of showoff cars. "He drove the minivan out to get us."
---
Eventually, the luck ran out. In 2011, the federal government shut down the three largest US poker sites and indicted them on fraud and money-laundering charges—Black Friday, as the poker world dubbed it. The crackdown effectively outlawed online cash games in the States.
Hac wanted to move to Canada to continue playing. Di, though, had another idea. He wanted to open a restaurant. "I thought it would be very easy money," he says. "We'd be the owners, so we'd get, like, some status. You get a lot of girls if you're a restaurant owner."
"You get a lot of girls if you're a restaurant owner."
Visiting family in Louisiana, they'd experienced the magic of a big seafood boil. Di figured a Viet-Cajun crawfish restaurant would kill in Northern Virginia: "Seafood's not that hard to make. Just put it in the boil—we'd seen our uncles do it. And we had my uncles to help us, if we needed, with some gumbo or jambalaya recipes. And so it's so easy, obviously." He'd open four restaurants in six months, he figured, then sell them at a big profit. "It was all about the money, retiring, sipping piña coladas, playing golf on an island somewhere."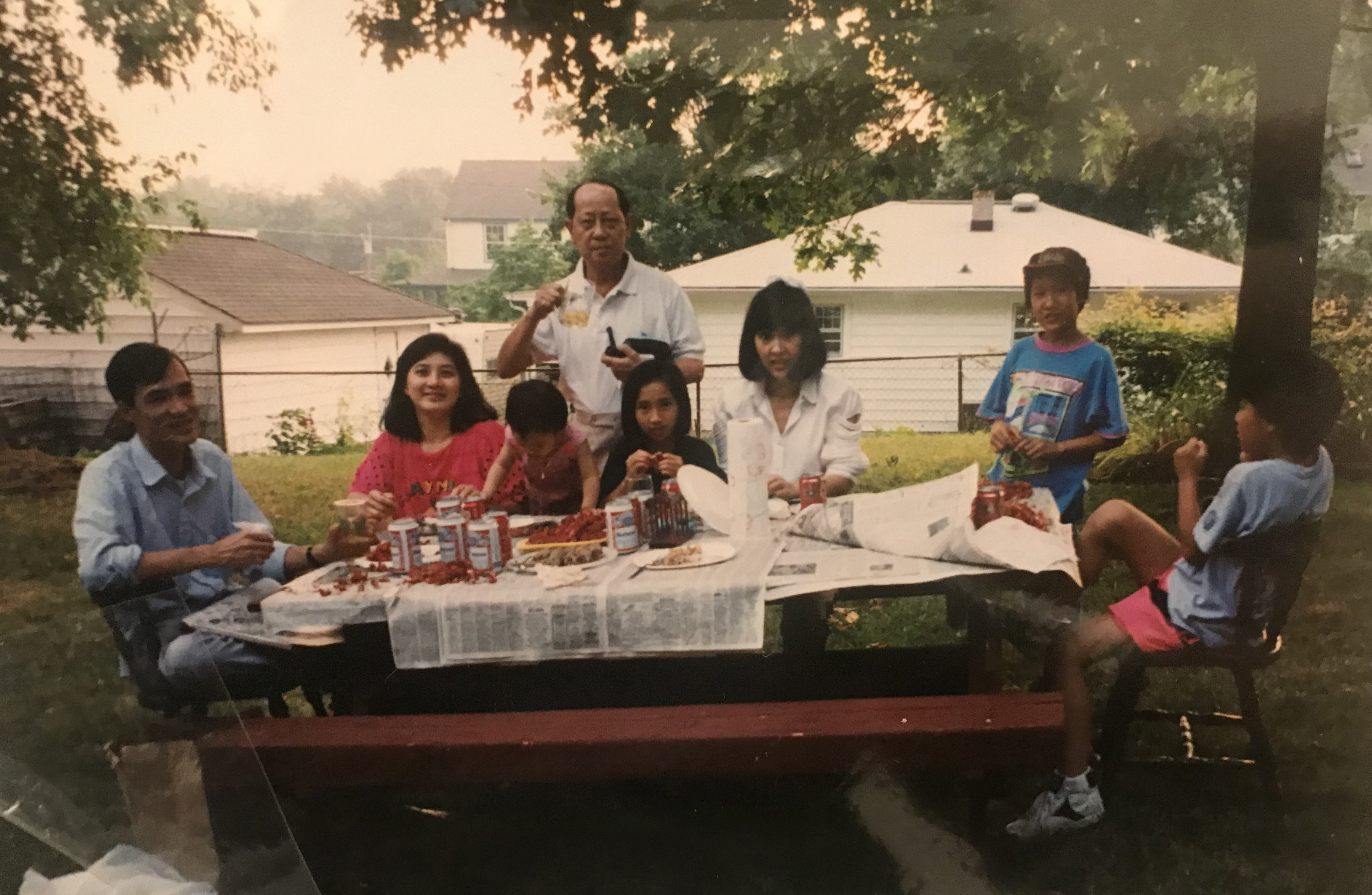 Hac thought his brother was insane. They were two of the top poker players in the world! If they moved abroad, even for a year or two, they could still bank a couple more mil.
"For us, poker was safe. Like, we knew the numbers. We knew if we were playing the game, we were winning. For us, it was another day at the office," Hac says. "But restaurants were something that we had zero experience in. So that was the risky option for us."
This time, their parents lobbied for poker—restaurants sounded like a bad bet. "He's an absent-minded person," Di's dad says about his eldest son. "A lot of times, I or my wife take his clothes to the laundry. He left a lot of money everywhere—in his pockets or on the ground. Everywhere you can find money, and he doesn't remember that he put it there. . . . I told him I bet my hat that his restaurant will fail."
The brothers, who had combined assets for years, argued about it. "We have the Midas touch," Di finally told Hac one day on the way to the gym. "Don't worry about the restaurants—everything we touch will turn into gold."
---
The Arlington location of Chasin' Tails, where the servers' tees read suck dat head, pinch dat tail, was delayed seven months. They came up with the cleverest name—Heads or Tails (HOT)—but failed to look up the trademark before spending big on marketing materials. So Chasin' Tails was born out of a public Facebook contest.
When it finally debuted in April 2012, Di found himself unclogging toilets, washing dishes, and dealing with angry customers who waited an hour for their crawfish and garlic noodles. "The only reason that this place gets one star is because Yelp does not offer a zero star option," reads one early Yelp review. "If you want subpar imitation Cajun cuisine go to Chasin Tails soon, because it won't be open in a year."
Hac moved to Vancouver to keep playing poker but would come back to help. He didn't like the idea, but he wasn't about to let the joint sink. One evening, the dishwasher walked out early, and Hac and his brother Au stayed until 2 am cleaning up. An employee had thrown all the trash in the wrong dumpster, something sure to piss off the landlord. So they climbed into the dumpster and started hucking bag after bag of stinky seafood into the correct receptacle.
"I just had a moment I was like, Man, I was making a million dollars a year playing poker just whenever I wanted, and now I'm literally in a dumpster. What happened?"
The Dang Bros had spent $1 million to open Chasin' Tails. They were still playing poker on the side, and now, to keep the restaurant afloat, they had to sink in more of their winnings. Bleeding cash, they hit the books, the way they had with cards. They started, literally, by studying up at RestaurantOwner.com. They highlighted and underlined Danny Meyer's Setting the Table, an industry bible.
Gradually, both brothers abandoned professional poker. The golden age was over—it was sharks circling sharks. They went all in on Di's plan.
In 2015, the Dangs opened the second Chasin' Tails. Then came Roll Play. (They nearly called it Cilantroll, until a focus group indicated how much some people hate cilantro.) A slew of others followed: Teas'n You bubble-tea shop, Lei'd Hawaiian Poke, Happy Endings Eatery. The raunchier names gave them publicity (though not always positive). "People laugh when they see them all put together," Di says.
Restaurants were a totally different animal psychologically. In poker, you can win only if the other guy loses. And if that's your whole life, that selfishness often permeates your outlook beyond the game. In restaurants, they were now in the position of actually helping the other guy, employees and customers. Over time, they found themselves obsessing more over Yelp reviews than any $50,000 pot. Win, win, win.
Hac, now 35, started meditating. Di, who's 36, reads 20 books a quarter—mostly about business and leadership—and got into bio-hacking. His home office is filled with gadgets to super-optimize his body and mind: a device producing (his words) "special air that makes it so your DNA is younger longer," a neuro-gamma headset that "makes you more creative," with an applicator that goes up your nose.
The brothers opened Happy Endings, their Rosslyn food hall, while doing one of their quarterly 72-hour fasts, which, according to Hac, "clears out all the dead cells and makes room so that the healthy cells can replicate." Worried that their managers weren't getting enough sleep, they bought them $300 Oura smart rings to help them monitor their REM cycles.
Last year, Di did a 30-day challenge in which he forced himself to get rejected once each day, just so he had to practice dealing with it. He came into 2020 performing at his highest level yet, with ambitions to open two or three more food halls by the end of year.
---
This would all be a simple rags-to-riches-to-restaurants story, a tale of a couple of bros who retired from the empty highs of gambling for the honest living of running a fast-casual eatery, except for one thing: a global cataclysm that suddenly made their high-roller past very useful indeed.
A pandemic hit. It was Black Friday all over again.
On March 17, before Virginia governor Ralph Northam's shutdown order, the Dangs closed their restaurants and let go all 208 of their employees. Ten days later, they reopened as Operation Delivering Happiness—a takeout venture combining menus from their restaurants (and another trial-by-fire scramble, with the owners initially doubling as delivery drivers). Shortly after reopening, Di got sick with Covid-19. He was forced to quarantine at home with a 100-degree fever, chills, and muscle aches. (He recovered; his case was relatively mild.)
Yet while fellow restaurateurs are understandably panicking, the Dangs are not. They don't do panic. They already know what it's like to lose a million dollars in a day. Hac, ever the realist, starts listing all the potential variables that could affect the restaurants. "I don't think every company will make it through. I don't even know if it's guaranteed that we make it through," he says.
Di almost seems to be pumped up by the pressure and having to make quick adjustments on the fly—"just like poker." It sounds crazy, he knows, but he'd be happy not to get any government aid. "I wanted us to have to fight this uphill battle and have our backs against the wall," he says. "It's like a competition that starts at ground zero."
Di loves the "burn your ships" strategy, Hac explains. "He always sets himself in these situations where it's like, 'If you don't do this, then you die.' "
They were golden, you know. "Some restaurants are going to survive," Di says. "The best ones."
This article appears in the August 2020 issue of Washingtonian.