People with anxiety and depression face an everyday battle. Battling the condition is tough, and not all medications work. Each person experiencing anxiety and depression is different, and what works for one person may not work for you.
Even in recent research, anxiety and depression are still in the dark. Multiple things can trigger a panic attack, and it can hinder your daily life and activities. Different types of therapies, treatment, and, most importantly, time are needed for battling these conditions.
However, many people find that conventional medicines are not as effective for them. A lot of people suffering from anxiety and depression find other alternative medicine to help deal with their condition.
CBD products have recently been growing in popularity amongst users when it comes to dealing with anxiety. The calming effects of CBD may be beneficial for anyone experiencing anxiety. Aside from its effectiveness, it is generally safe and has not been associated with major side effects.
However, if you are just starting with CBD, it can be intimidating, which might even cause more anxiety. This article will go in-depth about all the information you might need when it comes to using CBD for your anxiety or depression.
Top 5 CBD Oils for Anxiety
Fab CBD Oil – Highly Rated by Customers
Cheef Botanicals – Best Value
Joy Organics – No Trace of THC
NuLeaf Naturals – Strongest CBD Potency
CBDistillery – Varied Options
Criteria for Choosing CBD Oil for Anxiety
Not all CBD Oils are created equal and finding a high-quality brand can be challenging. However, you can follow some simple criteria when you search for the CBD Oil brand you want.
Hemp Farm: When you are buying any CBD product, you should always search for the brand's Hemp Farm. Check where they get their hemp and make sure it comes from either the United States or Europe. Hemp farms from both the United States and Europe have strict regulations to follow, ensuring your hemp extract is safe and does not contain more than 0.3% THC levels.
CBD Extraction: Depending on your preference, you may want to check the brand's CBD Extraction type as well. Full-spectrum CBD extracts contain all the necessary terpenes and other useful cannabinoids for your body. Most Full-spectrum CBD extracts contain less than 0.3% THC. Meanwhile, broad-spectrum also contains other useful cannabinoids, but it does not contain any trace of THC. And lastly, Isolates do not contain anything else aside from CBD.
Potency Levels: The CBD Product's potency level affects its effectiveness. The higher a CBD's potency level is, the more effective it is. However, people new to CBD are recommended to choose a lower potency level and adjust it. You may want to choose a CBD oil that has varying potencies so you can adjust your dosage.
Size Options: Depending on how frequently you use CBD oils, you may want varying size options. Tinctures typically come in 30ml sizes, but if you prefer a larger sized tincture, you can choose brands that offer up to 60 ml sizes.
Flavor: Not everyone likes the taste of hemp, and that is alright. Some people prefer a sweet aroma and taste, and some prefer tangy and fruity. A CBD oil's flavor and scent can make or break the experience for a person. A brand that has a lot of flavor options may be suitable for people who prefer flavored oils.
Components: Like most foods, we must consider the Components included in the CBD oil. Some oil contains additional Components that help improve the CBD's effects. Check these Components and make sure that you are not allergic to any of them.
Laboratory Testing: A quick way to make sure a product is of high-quality and premium is to make sure that they underwent independent laboratory testing to ensure no harmful chemicals or additives are on the final product.
Reputation: Other criteria to keep in mind is the brand's reputation. A brand's reputation shows how many customers are satisfied with the brand's claims and shows how effective a brand is. A loyal customer base means that most customers put their trust in that brand.
Honesty: Another important factor when it comes to the best brands is their honesty. The brand that is willing to give all the information about their products and manufacturing methods to their customers is honest and trustworthy. After all, you deserve to know everything that goes into the food you consume, so you deserve to know the product's information as well. Transparent and honest companies always provide their customers with accurate information about their CBD products.
Customer Service: If you have any inquiries or questions, most companies have customer service that can assist you. A company having dedicated customer service will help you answer any question that is bugging your mind.
Shipment and Return Policy: Brands with great refund and return policies are your go-to if you receive an incorrect or damaged order. Depending on the company's policies, you may need to return the package as soon as you receive them. Choose companies that have reasonable return and refund policies. Check which countries and states the brand delivers as well. Depending on your location, you may need to have additional shipping fees. Other brands also offer promotional discounts for veterans and people with disabilities, so be sure to check the company's policy about them.
Navigation Experience: Finding the product you want to buy does not need to be challenging and confusing. A brand's website must be comprehensive and concisely provides information about its products. It will also be useful if the brand provides the information and laboratory test results alongside the product information. Choose a brand that provides information in plain sight, where you can easily view and navigate through them, to make your shopping a pleasant experience.
Best CBD Oil for Anxiety and Depression Online
1.   Fab CBD Oil – Most Trusted by Customers
Features
Uses locally grown hemp from the United States
Offers various potency levels and flavors
Tested by third-party laboratories
It is animal cruelty-free and no GMO
It helps calm you down instantly
CBD costs about $0.08 per mg of CBD
Brand Information
This brand has been in the industry for a few years now. Many customers trust their consistency when it comes to delivering high-quality CBD products. Their CBD uses naturally grown hemp and no other additives.
Fab CBD makes their customer's satisfaction a priority. The brand is transparent, and all the information you need for the product is clearly seen. Fab CBD gives their customers consistently potent CBD products.
You are sure to find something that suits your needs because Fab CBD offers CBD products with varying potency and flavors.
Highlights
Hemp Farm: Farms in Colorado, United States
CBD Extraction: Full-spectrum cannabinoid blend
Aroma and Flavor options:
Citrus
Mint
Natural flavor
Berry
Vanilla
Components:
Colorado-grown hemp
Full-spectrum CBD extract
Organic flavoring
Nutritional terpenes
Healthy MCT
THC Levels less than 0.3%
Third-party laboratory: ProVerde Laboratory
Shipment: All orders $89 and above within the United States ships for free
Refund policy: You can get a full refund on items you are not satisfied with for a month after purchase
User Experience: Fab CBD's website is comprehensive and minimalistic. You can find all the information alongside each product and easily find the product you are looking for with no challenge.
Click here to Get the Best Deal on FAB CBD Oil from the Official Site.
Features
CBD extract with less than 0.3% THC levels
Organic components with no harmful additives
Uses Co2 extraction process
Great for handling depression
Brand Information
The founders of Cheef Botanicals have over twenty-five years of experience in the food industry. They have also been experienced hemp enthusiasts, and their popularity has since grown for providing one of the highest potency CBD oils in the market.
Cheef Botanicals is known to be one of the most honest and transparent brands because they let their customers know everything that happens with their products. You can also find information about CBD and how to use it for beginners.
Cheef Botanicals aims to provide people accurate information about CBD and change the stigma of the product. The CBD oils of Cheef Botanicals do not contain any additives and are completely vegan.
You can also find that the brand uses independent laboratories to test their final products for any hint of harmful chemicals or additives. You can find the laboratory results publicly listed on their website.
Highlights
Hemp Farm: Cheef Botanicals sources their hemp on Colorado farms in The United States
CBD Extraction: Full-spectrum blend but no THC levels
Aroma and Flavor options: Only natural hemp flavor
Components:
Carrier hemp oil
Full-spectrum CBD extract
Third-party laboratory: CannaSafe
Shipment: Any orders within the United States ships for free
Refund Policy: A month refund period after receiving the item
User Experience: Unique and comprehensive website, Cheef Botanicals has concise information about CBD and its products. You can view the laboratory results on their page as well.
Click here to Get the Best Deal on Cheef's CBD Oil from the Official Site.
Features
Varied CBD Products with no trace of THC
Joy Organics offers different CBD forms and potencies
Uses the latest technology called nanoemulsion for faster absorption
CBD costs around $0.08 per mg
Brand Information
Joy Organics is most known for selling high-grade CBD products that do not contain any THC. The products come in multiple forms like tinctures and topicals.
The founders of Joy Organics want to cater to people who would not like to consume any trace of THC in their CBD products. They use the latest manufacturing process and technology to ensure that there is absolutely no THC in your CBD Extract.
Joy Smith, who is the founder of Joy Organics, has experienced anxiety and depression, and CBD products help her through the healing process. Now she aims to provide high-grade CBD products to help other people experiencing Anxiety and Depression.
Joy Organics uses naturally grown hemp. All the farming methods are natural and do not use any harmful pesticides. Afterward, they make sure that all the THC is extracted and only CBD extracts remain, giving premium broad-spectrum CBD Products to their customers.
You can also view the laboratory results of each product on their website. The brand also puts a QR code attached to the product itself to scan and view the results anytime. Joy Organics also uses a nanoemulsion technology to help improve CBD absorption in your body.
Highlights
Hemp Farm: Local farms in Colorado, United States
CBD Extraction: Joy Organics uses broad-spectrum extracts for their CBD products
Aroma and Flavor options:
Mint flavor
Unflavored
Lemon
Orange
Components:
Organic hemp
Olive oil as a carrier oil
Hemp with additional phytocannabinoids
Mint flavoring
Olive oil as a carrier oil
Hemp with additional phytocannabinoids
Natural essential oils (Peppermint-flavored)
Lemon flavoring
Healthy medium-chain triglycerides
Hemp with additional phytocannabinoids
α-caryophyllene
β-myrcene
Caryophyllene
Natural essential oils (lemon-flavored)
Orange flavor
Healthy medium-chain triglycerides
Hemp with additional phytocannabinoids
α-caryophyllene
β-myrcene
Caryophyllene
Natural essential oils (orange-flavored)
Third-party laboratory: Each product is tested by different laboratories to ensure no bias and ensure consistency.
Botanacor Services
Cloud Laboratories
Green Scientific Laboratories
PhytaTech Metrics & Solutions
PIXIS Laboratories
Discount:  Use the code ALLCBD15 to get 15% off your purchase.
Shipment: Joy Organics offers free shipping on any order no matter what item or total price value
Refund Policy: Joy Organics has a month of satisfaction guarantee for their items
User Experience: Joy Organics has a sleek and modern website design, giving their customers all the necessary and accurate information at first glance.
Click here to Get Joy Organics' CBD Oil from the Official Site.
Features
Uses full-spectrum CBD extracts
Varying size options and CBD potency levels
Accurate dosage measurement
Brand Information
Nuleaf Naturals has been in the industry for a long time. The brand focuses on improving its CBD oil products to the highest grade. They have one of the purest and potent CBD oils on the market.
It has been about six years since the founders of Nuleaf Naturals started promoting CBD products. The founders are health-conscious advocates that believe CBD can help improve our overall health and wellbeing. The brand also encourages CBD as an excellent healthy alternative to dealing with anxiety and stress.
The CBD oils from Nuleaf Naturals are potent and pure, with no added pesticides or harmful additives. The hemp they use is organic and contains all the healthy terpenes and cannabinoids for your body.
Highlights
Hemp Farm: Local farms in Colorado, United States
CBD Extraction: Pure and potent full-spectrum CBD extract
Aroma and Flavor options: Only unflavored option
Components:
Natural hemp oil that is certified by the USDA
Pure and potent full-spectrum CBD extract
Third-party laboratory: ProVerde Laboratory
Discount: Use the code TCR20 to get 20% off your purchase
Shipment: Typical and Free shipping lasts for two to three days. The expedited option is typically one to two days.
Refund Policy: You can return any unopened products within a month of purchase. However, customers would shoulder any additional shipping costs.
User Experience: Nuleaf Naturals provides the necessary information and manufacturing processes on their products. You can also find blogs and articles about the latest information on CBD.
Click here to Check out Nuleaf Naturals CBD Oil on the Official Site.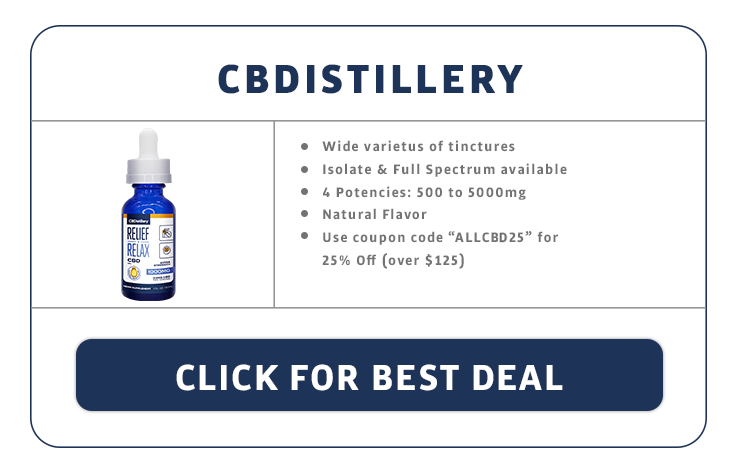 Features
CBDistillery uses industrial and organically grown hemp from Colorado
CBDistillery offers all types of CBD extraction types
Uses latest Co2 extraction methods
Affordable and gives great value
Brand Information
The founders of CBDistillery believe that all people should have access to high-grade, affordable CBD products. CBDistillery offers pure CBD Oils in different forms for different conditions.
CBDistillery has a variety of CBD products available. They are one of the brands that offer all types of CBD Extraction from full spectrum to Isolates. Some of their CBD oil tinctures also include additional ingredients like melatonin to help with other issues like sleep.
You can view all of the information about their CBD products on their website. CBDistillery also offers guides and podcasts explaining the benefits of CBD and its proper use for beginners to CBD products.
Highlights
Hemp Farm: Uses organic hemp from Colorado, United States.
CBD Extraction:
Isolate CBD extract
Full-Spectrum CBD extract
Broad-Spectrum CBD extract
Aroma and Flavor options:
Natural hemp flavored Isolates
Natural hemp flavored full-spectrum CBD.
Components:
Isolate CBD Extract
Healthy medium-chain triglycerides
CBD extracted from Aerial parts of the hemp
Full-Spectrum CBD Extract
Healthy medium-chain triglycerides
Full-spectrum CBD extracted from Aerial parts of the hemp.
Third-Party Laboratory:
CBD Isolates: Botanocor Services
CBD Full spectrum: ProVerde Lab
Discount: Use code ALLCBD25 to get 25% off any purchase over $125.
Shipment: All orders within the United States are eligible for free shipping
Refund Policy: Any first-time customer has two months of satisfaction guarantee, but customers must try out the products for at least two weeks before returning. You do not have to return the product if you would like a refund if you are not satisfied.
User Experience: CBDistillery's website has a modern and sleek look. You can find accurate information about how to use CBD, and they also have podcasts and articles explaining the benefits of CBD.
Click here to Get CBDistillery CBD Oil from the Official Site.
Factors We Considered in Choosing the Best CBD Oils for Anxiety & Depression
Most people still find difficulty in getting hold of high-grade CBD products. Some states still have strict regulations when it comes to CBD products. There are also brands that do not pass the proper THC level measurements.
Because there are no strict dosage recommendations, most people rely on experimenting with their dosages. Some of the brands offer recommended dosages for each of their products, but each individual's body is ultimately different. Some people may experience side effects that others do not, so it is important to tread with caution.
We do not want you to have a horrible experience when it comes to CBD products. We only took into account the top five products that met all of our criteria and factors. These brands pass the industry's standards and only use organic ingredients for your CBD oils.
Below are some of the steps we followed when it comes to creating this list:
We took into account the research and claims of people who have years of experience in the CBD scene. Constant research about CBD is always emerging, and we took the advice of people who are knowledgeable and experienced when it comes to CBD products.
Customer experience is another factor we considered when creating this list. Brands with satisfied customers earn a check on our list. We considered the brands that have a loyal customer base because it indicates that customers trust that brand.
We also did proper research about the recent information and scientific research about CBD and CBD brands. CBD brands that use organic and effective ingredients earns another check on our list.
Another factor we considered is the authenticity of the site. Multiple brands are not legitimate and provide products that can cause you harm. We do not want to endanger your health, so we made sure to remove any illegitimate brands.
Lastly, we made sure that the brand's claims are effective. We checked if each of the brand's claims is backed by scientific research. We also made sure that the brand uses independent laboratory testing to check for any harmful chemicals in their final products.
CBD Oil in Anxiety Management
Millions of people suffer from anxiety. In fact, 40 million adults in the United States alone suffer from anxiety. About 18.1% of the American population suffer from Anxiety, making it one of the most common mental illnesses.
Recent research finds that our endocannabinoid system is responsible for multiple functions on our body like sleep, memory, and mood. A chemical imbalance in our endocannabinoid system can cause disruption to our mood, appetite, and even our wellbeing.
Our body produces its own cannabinoids to help our body function. However, if your body is not producing endocannabinoids, you may experience side effects like sleeplessness and a change in your mood and mental wellness.
Thankfully, you can supply your body with an external source of cannabinoids. CBD products help improve the state of our endocannabinoid system. The CBD attaches to our ECS receptors and helps our body function like normal.
You might think that CBD products may cause psychoactive effects like a hallucination. However, CBD is different from THC, which causes psychoactive effects on your body. For a CBD product to be legal to sell, it must not contain more than 0.3% THC levels.
We understand that there are a lot of conventional treatments for anxiety. However, it does not work for all people. Some people experience side effects that others do not. CBD oil is a safer alternative for people who would like to manage their anxiety because it does not cause any dependency.
Consuming CBD oil can help relax your nerves and calm you down. The relaxing effects of CBD can also help induce sleep if you are experiencing disruption to your sleep schedule.
How Does CBD Oil Manage Anxiety?
For CBD oil to work, it must go through our digestive system and interact with our endocannabinoid system. The CBD product attaches to our cannabinoid receptors and indirectly affects our body's reaction to pain and other stress-related conditions.
There are different types of Anxiety, and each type may be because of different reasons:
Some people experience general anxiety attacks that come without warning. These people have General Anxiety Disorder and usually worry about different things all the time. This condition can be acute or last multiple months.
Other people have fear whenever they go into social situations. Going out to socialize or face the public, in general, can cause fear to people who have Social Anxiety.
People also experience anxiety because of specific phobias. There hundreds of phobias and experiencing the phobia or being reminded of it can cause anxiety or an attack.
Other people also experience severe panic attacks. This condition is called a Panic disorder, and the person can experience severe physical effects like nausea, vomiting, and dizziness.
People who have obsessive-compulsive disorder often feel that they need to do an illogical thing or else it may endanger them. Not doing this thing may cause fear and anxiety in them.
People who have Post-traumatic Disorder or PTSD experienced severely stressful situations in their lives. Sometimes people with PTSD may act erratic or violent whenever they are reminded of their trauma.
Why Is CBD Oil A Good Alternative?
Unlike other products that can cause dependencies and, ultimately, tolerance, CBD does not generally cause adverse side effects. CBD works indirectly by improving the status of our endocannabinoid system and managing bodily functions.
If you would like to try an alternative that does not cause psychoactive effects or dependencies, you can choose CBD oil.
What Makes CBD Different?
CBD oil does not cause dependency.
As long as you follow the right amount of dosage, you will not get addicted to CBD.
CBD Oil does not form a tolerance on your body.
CBD has low levels of THC, which prevents you from feeling any psychoactive effects.
CBD oil works indirectly by attaching to our endocannabinoid receptors instead of directly to your nervous system.
Research on CBD And Anxiety
The research we will tackle in this section only talks about CBD products and not medical marijuana because medical marijuana has different components compared to CBD.
The Difference Between CBD And Medical Marijuana:
CBD Products does not contain high levels of THC compared to medical marijuana
The high THC levels of medical marijuana can cause psychoactive effects like hallucinations.
High THC levels may worsen your Depression and Anxiety.
You cannot avail of medical marijuana unless you are supervised by a medical professional
CBD Products do not contain THC levels more than 0.3% making them legal for use even without a prescription.
Studies on CBD and Anxiety
● This study shows that CBD can help improve the quality of your sleep and manage Anxiety. People who took CBD appear to have decreased anxiety scores and show improvement in their sleep quality.
● Recent studies show that CBD shows positive results in treating different types of Anxiety, like GAD, OCD, and Social anxiety. CBD shows to have been effective in improving our endocannabinoid system.
● This study shows that CBD effectively manages anxiety types like Panic Disorder and Post-traumatic disorder without causing harmful side effects.
● Another study shows that CBD seems to be a good alternative in treating people with Anxiety. People who took CBD also show an improvement in their serotonin levels.
● This study shows evidence of CBD and how it has Anti-panic effects. CBD gives a calming effect on the person who consumes it, like a person who is experiencing a panic attack. CBD does not seem to be giving the user any adverse side effects.
How to Use CBD Oil for Anxiety
You can choose from different forms of CBD Products on how you want to consume your CBD. There are capsules and gummy forms for people who prefer a sweet taste. However, the most effective method of administering CBD oil is by a tincture.
All you have to do is drop some oil under your tongue and hold it in there for a few seconds. Digest the CBD Oil and wait for the effects to kick in.
Different CBD Forms
CBD Tinctures are most effective when it comes to administering CBD Oil. You only need to drop a few drops of CBD oil on your tongue and digest it. After a few minutes, the CBD will be digested, and you will instantly feel the effects.
People who would like accurate measurements can take capsules and gummies. Gummies may come in lower doses but are perfect for people who do not like the hemp taste. All you need is to pop a pill and drink some water to get your CBD dose.
Other people prefer to smoke their CBD oil using vapes or e-liquids. This method shows the best absorption rate for CBD. However, people who are suffering from lung disorders may need to avoid this method as it can irritate your lungs.
CBD Dosage for Anxiety
Every person is different. What works for you may not work for someone else. Just like in conventional treatments, CBD Dosage needs a lot of trial and error to get the formula right.
However, generally, people who are taking CBD for Anxiety and Depression do not need highly potent dosages. Most people would feel the calming effects of CBD with just a minimal dose. Those who are using CBD oil for pain or other issues may consider a stronger dosage.
Here are some factors you can consider when gauging how much CBD you can take for your mental wellness:
Anxiety types
Condition severity
The dosage depends on your age as well.
What is your gender?
Weight
How well do you take CBD?
What CBD form do you prefer?
What is your ECS' Chemical balance?
Even though CBD has numerous benefits, it is still not FDA-approved, and there is no strict dose on what works and what doesn't. Most people feel the effects of CBD with just 2.85 mg to 50 mg of CBD per day.
You can also check the recommended dosage charts of some brands. Some brands provide the recommended dosage charts for their products and guide how you can calculate the right dosage for you.
New to CBD, people must always begin with a lower dose and work their way up depending on how their body responds. If you have underlying medical conditions, always consult your doctor before taking CBD products to ensure it does not interfere with other medications.
Conclusion: Should You Use CBD for Anxiety?
People with anxiety and depression may require a lot of time to heal. Some conventional treatments may not work for other people experiencing these conditions. Making sure you find the absolute best CBD oil can potentially be a difference maker for anxiety and depression.
CBD products are generally safe to use, as there have been no reports of major side effects. CBD products work indirectly by affecting our endocannabinoid system instead of the nervous system, making it better to uplift your mood.
However, not all CBD brands are created equal. Finding a good, trustworthy brand may be challenging. Always do proper research on the brand and check if it is a legitimate brand. Research the components of the CBD products as well.
If you have underlying medical conditions, always consult your doctor first before using CBD products to ensure that it will not cause any adverse side effects and be hazardous to your health.