What makes a great neighborhood restaurant? In some ways, it's easier to pin down what it's not: a place with a fussy menu, a two-hour line, or really any pretense at all. We gravitate to the spots on this list for the comforting food, sure. But also for things that are easy to overlook in a fast-moving dining scene. A generous welcome. Time-tested reliability. An instant sense of belonging. Here's to more than 60 restaurants that—for some or all of those reasons—make the city a better place not just to eat but to live. And we need them now more than ever.
22855 Brambleton Plaza, Ashburn
Jason Maddens has a classic chef story: Up-and-comer spends years julienning his way up the high-end kitchen chain. Then decides he'd rather be the boss, quits, and heads back to his hometown to cook the way he really wants. For Maddens, that means an ever-changing menu that some nights features porky ramen, other nights prime rib (one constant: the aïoli-slathered burger). When it's open, the dining room feels like it's equal parts date-nighters and parents with iPad-toting kids.
3201 New Mexico Ave., NW
For two decades, Roberto Donna was Washington's most acclaimed Italian chef, the baron of downtown DC's expense-account scene. Now he's at this mod, casual trattoria, turning out pizzas and pastas for a more familial crowd in DC's Foxhall neighborhood. We gravitate to the specials menu and to his homier plates, such as a Marcella Hazan–inspired lemon chicken.
465 K St., NW; 2911 District Ave., Merrifield
The three R's of nonna-style cooking—red sauce, ricotta, and rigatoni—are in plentiful supply at Michael Schlow's comfy Mosaic-district dining room (plus a twin in Mount Vernon Triangle). The spirit is boisterous, but the kitchen is careful. Here, the Caesar is just garlicky enough, the penne alla vodka has a subtle chili streak, and the chicken parm arrives with as much cheese and sauce as you'd hope. To go with it all: big hunks of garlic bread and a cannoli for dessert.
3704 14th St., NW
Siblings Alfredo and Jessica Solis (also behind neighboring Mezcalero) opened this seafood-oriented Mexican spot in Columbia Heights just a few months before the pandemic, but it had already won over plenty of locals. The menu has been tweaked toward more takeout-friendly items—such as an octopus-topped pizza with pickled jalapeños—and early favorites, including a bountiful ceviche and a fried-oyster-stuffed taco, remain.
1609 17th St., NW
Any great neighborhood restaurant is welcoming. Annie's is that and more: a safe haven for DC's LGBTQ community for more than 72 years. The namesake Annie, sister of owner George Katinas, became a local legend after she spotted two men holding hands beneath a table and declared, "You don't need to hide that here." To this day, everything about the family-owned space feels open-armed: seasoned servers joking with regulars, breakfast through late night; whale-size martinis; and multi-page menus full of rib-sticking fare (try the steaky "bull in a pan," thick-cut wedge, and housemade pie). Annie's is now open-air, too—just look for the rainbow-hued "streetery."
514 Eighth St., SE
Restaurants from Top Chef alums can be fussy productions, but Bart Vandaele's Belgian brasserie in the residential part of Capitol Hill marries comfortable style with substance thanks to the hearty fare. Moules frites are a Belga classic for a reason, but don't overlook cheffier creations such as lobster waffles or a robust Flemish beef stew. Dining out? Alfresco greenhouses make for a lovely indoor/outdoor setting, especially for a sweet or savory waffle-filled brunch.
1700 First St., NW
Since Stu Davenport converted a rundown corner store in-to a coffee shop in 2003, Big Bear has been the North Star of Bloomingdale. Now the place—in a 120-year-old Victorian townhouse with a grape-vine-covered patio—has evolved into a bakery, bistro, farmers market, wedding venue, community meeting spot, and more. Post-pandemic, Davenport is looking to open the cellar kitchen for pizza classes and intimate chef's dinners next to the wood-fire oven.
1738 Connecticut Ave., NW
Expect familiar faces in the seats and charming brusqueness from the staff at this hopping Dupont institution. (We once asked what was on our cheese plate and got the following response: "Fromage, fromage, fromage.") No matter—you'll be coddled nicely with butter, cheese, a great bar steak, and a rickety 20-year-old room that feels like a film-set version of a bistro.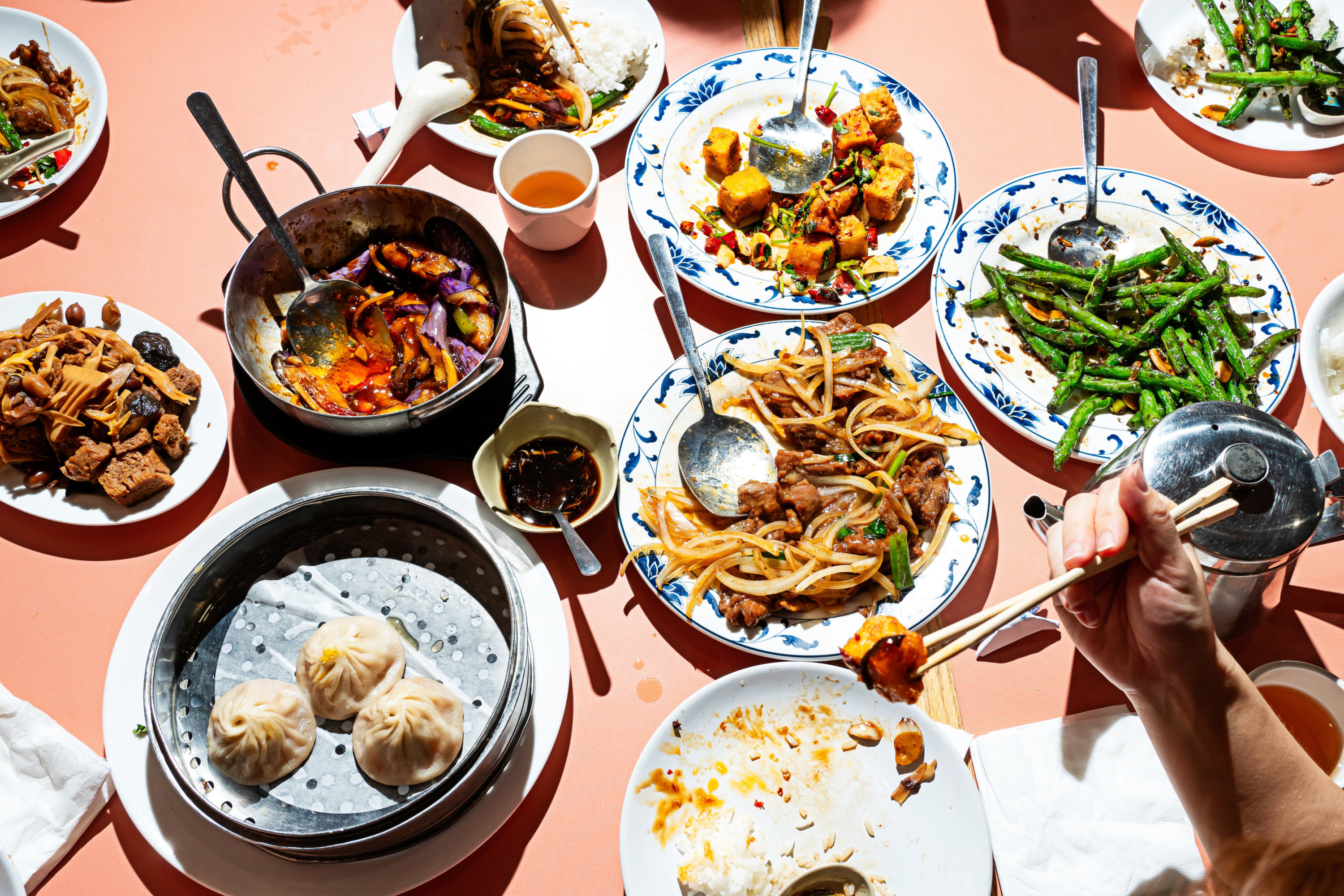 305 N. Washington St., Rockville
Xiao long bao, or soup dumplings, have become quite trendy in recent years, but this strip-mall joint remains the go-to spot for the slurping delights. Part of the appeal that made it a driving destination for many—as well as a mainstay of Rockville's Chinese community—was a kitchen window offering a front-row view of the dough-rolling and -pinching. Nowadays, you'll have to settle for peeking through the front door. But you can still order Bob's 100-plus Cantonese, Szechuan, and Taiwanese small plates—including those dumplings—for takeout.
3126 12th St., NE
Tony Tomelden just wanted a restaurant a block from his house where he could bring his three kids. The Pug owner, along with Solly's John Solomon (a rugby coach at nearby Catholic University) and chef Shannon Troncoso, ended up creating a magnet for families of all sorts. The former laundromat with a spacious patio is known for its bacon cheeseburger and kids'-menu chicken tenders. As a neighborhood priest once told Tomelden, "It's tough to say who's a bigger anchor in the neighborhood—Brookland's Finest or St. Anthony's."
Multiple area locations.
For owner Andy Shallal, Busboys and Poets has never been just a place to eat. It's a place for art, music, and conversations about race, politics, and culture. The seven locations have been hubs for activists who brunch—from Iraq War opponents to Black Lives Matter leaders. And when storefronts went dark last summer, Shallal brightened the streets by painting murals on their windows and commissioning local artists to do the same.
3300 Wisconsin Ave., NW; 1835 18th St., NW
Owners Raul Sanchez and Luis Reyes fled violence in their home countries—Cuba and El Salvador, respectively—and emigrated to DC seeking an inclusive haven. Per-haps that's why their sister Tex-Mex/pan-Latin restaurants have grown into di-verse community fixtures that are packed with families and young kids in the early evening but have served Presidents, too (Bushes and Clintons were both fans). Sure, the plates run cheesy and the swirl margs are sugary, but you won't find better freshly fried chips in town—and, one might argue, sizzling fajita platters load-ed with steak or shrimp. At peak hours, the atmosphere is less dining experience than party. At Cactus, it's the kids'-birthday kind; Lauriol is more of a youthful boozefest.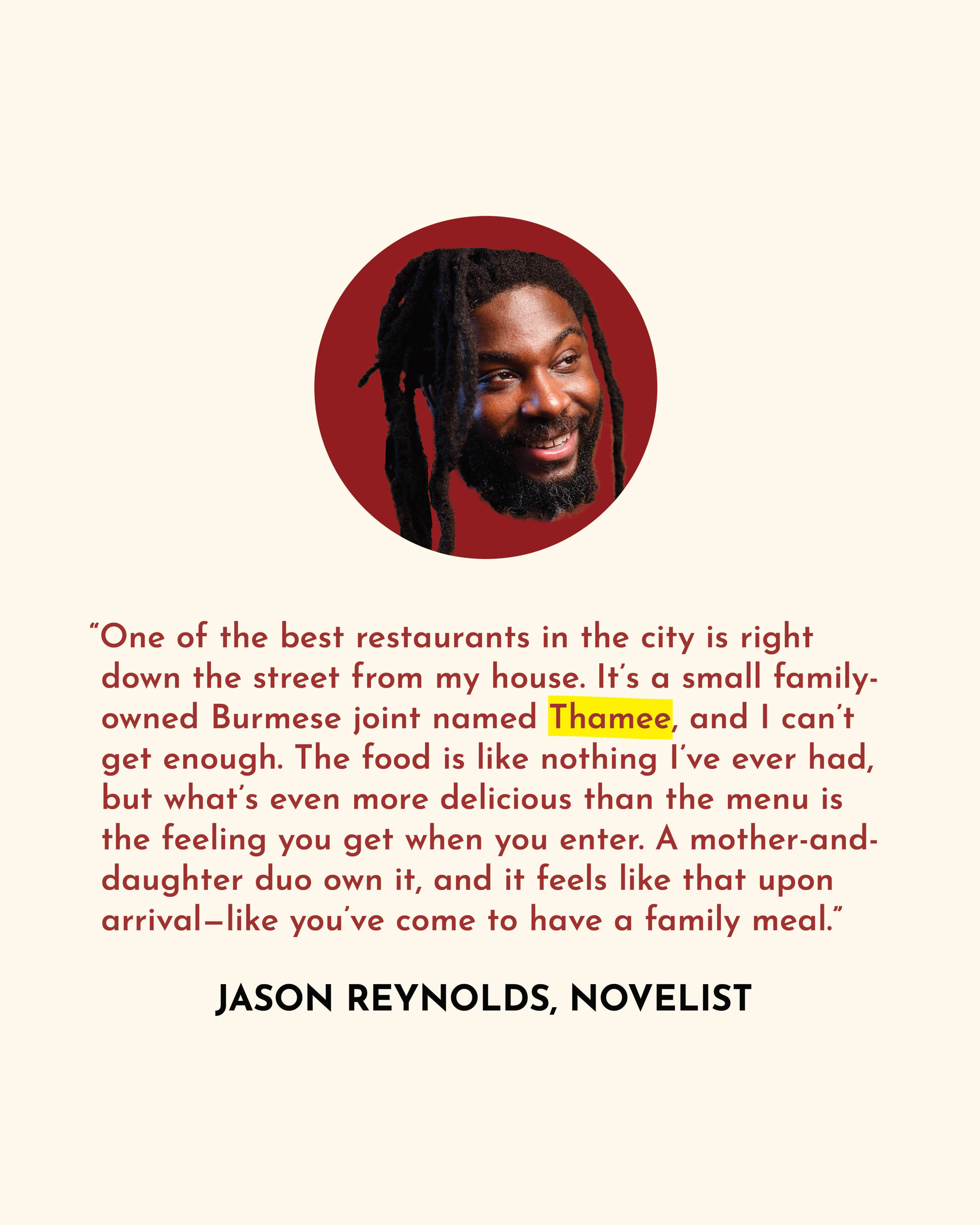 5037 Connecticut Ave., NW
What the Junior League headquarters is to Georgetown, James Alefantis's pizza shop has been to Chevy Chase DC—a central neighborhood gathering place. By day and early night, the roomy booths are typically packed with families, journalists, and artists. Later on, a punk band might set up. We hope those days return soon, but in the meantime, the spot has a well-run carryout operation. And don't come just for the pizza—you'll also find the best wings in the city.
8012 Georgia Ave., Silver Spring
Longtime Washingtonians know there are few greater Mid-Atlantic pleasures than this 75-year-old dining room's crab Norfolk paired with a juice glass of icy lager. The sauté of lump meat and butter is the menu's star, while a mix of cold lobster, shrimp, and crab travels beautifully. Still, when safety allows, you'll want to grab a seat at the horseshoe bar in the powder-blue dining room lined with antique oyster plates and faded photos of local celebs. It feels like a living time capsule.
1114–1118 U St., NW
U Street's "Little Ethiopia" has largely migrated to the suburbs since Tefera Zewdie opened his popular restaurant—then a grocery—in 1997. But you'll still find Ethiopian expats flocking to Dukem, breakfast through dinner, plus an adjoining takeout and, until recently, a live-music club. Vegetarian and/or meat combo platters let you sample widely, and you'll never go wrong with special tibs marinated in umami-packed "Dukem sauce" and sautéed with onions, tomatoes, and rosemary.
5120 MacArthur Blvd., NW
Claudio Pirollo, an alum of Michelin-starred European restaurants and embassy kitchens, has settled into a more relaxed style at his 12-year-old Palisades bistro/brunch joint, a destination for some but an easy walk for neighbors along Mac­-Arthur Boulevard. He does right by Flemish classics (moules frites, beer-laced beef stew) and lighter, brighter French-inspired plates. Not up for a table in the narrow dining room right now? Many dishes have been refashioned for family-style takeout.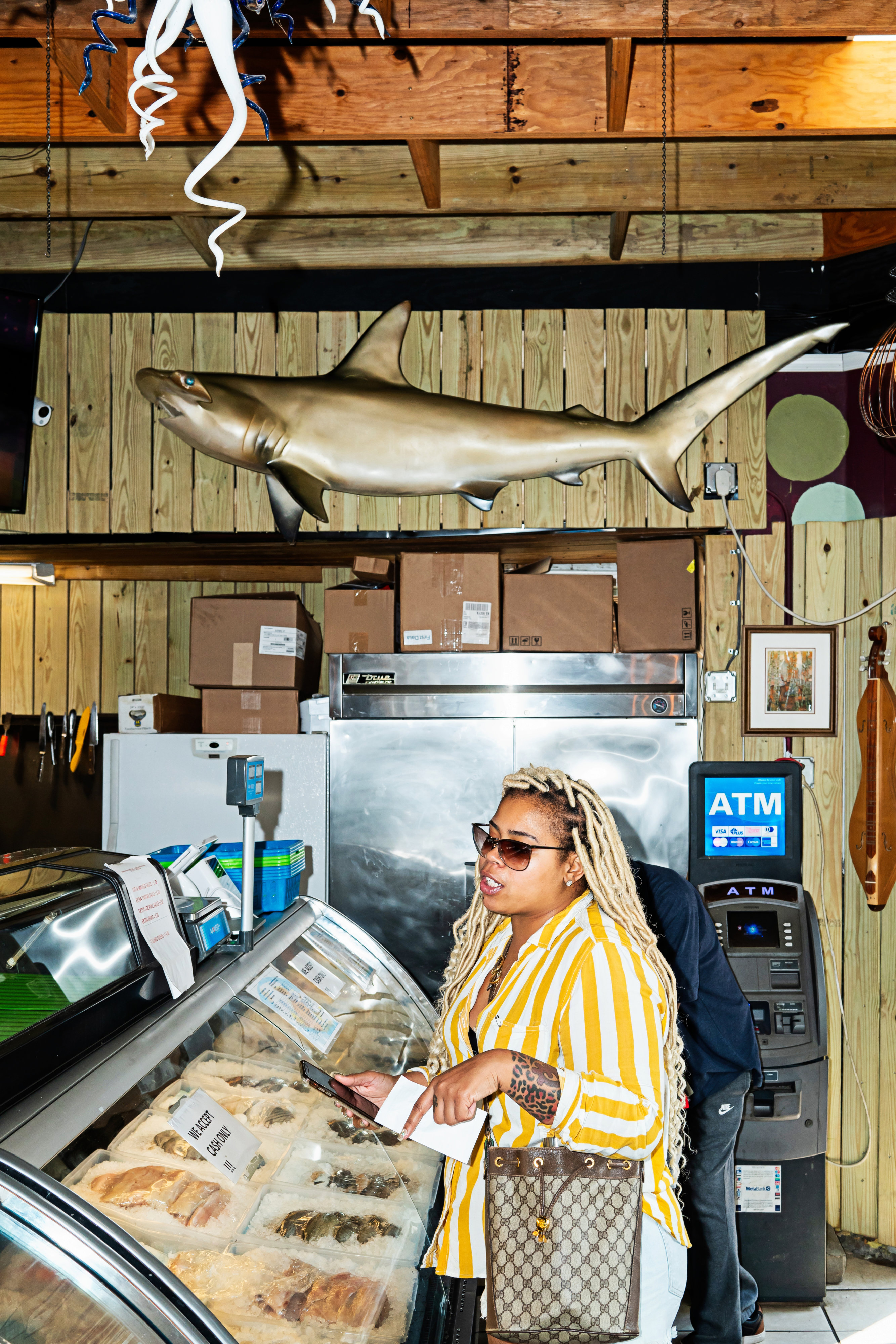 3601 Georgia Ave., NW
Georgia Avenue has morphed a lot over the past decade as gentrification has brought in beer gardens and sleek condo buildings. But thank goodness Bill White is still presiding over the fryer at this Park View seafood carryout and market. Choose from a wide variety of fish—catfish and whiting are staples—all available broiled or crisped in a cornmeal crust. Then do like the regulars and ask for extra mango sauce on the side.
1602 17th St., NW
This romantic rowhouse restaurant—along with its decadent pastas—has been a fixture for the 17th Street LGBTQ crowd and visitors alike. In the snug basement Dito's Bar, "master of ceremonies" and Democratic fundraiser Dito Sevilla pours oversize Manhattans. And, oh, look—it's Kamala Harris dropping by for takeout lasagna and to check out Sevilla's "Kamala-la-la-la" Christmas decorations.
8190 Strawberry Ln., Merrifield
This 27-year-old Vietnamese restaurant, with its leafy patio and wide-ranging menu, is still overseen by the multigenerational Lai family. When it's safe to gather, the gracious dining room is a great bet for big groups. For now, you can focus on the food, which is as good as ever, whether tender cubes of beef dipped in lime and pepper, pillowy shrimp toast, or a bright vermicelli bowl topped with grilled pork and spring rolls.
5123 Baltimore Ave., Hyattsville
This Hyattsville institution claims to be the only hybrid restaurant, microbrewery, and toy store in the world. (Add to the mix an outdoor tiki bar that opened during the pandemic.) But for owners Mike and Debra Franklin, the focus is really all things local, whether it's rotating exhibits highlighting area artists or the Maryland Roseda Farm beef in their cheese-and-beer-sauced burgers. Nowadays, even the hand sanitizer comes from a nearby gin distillery.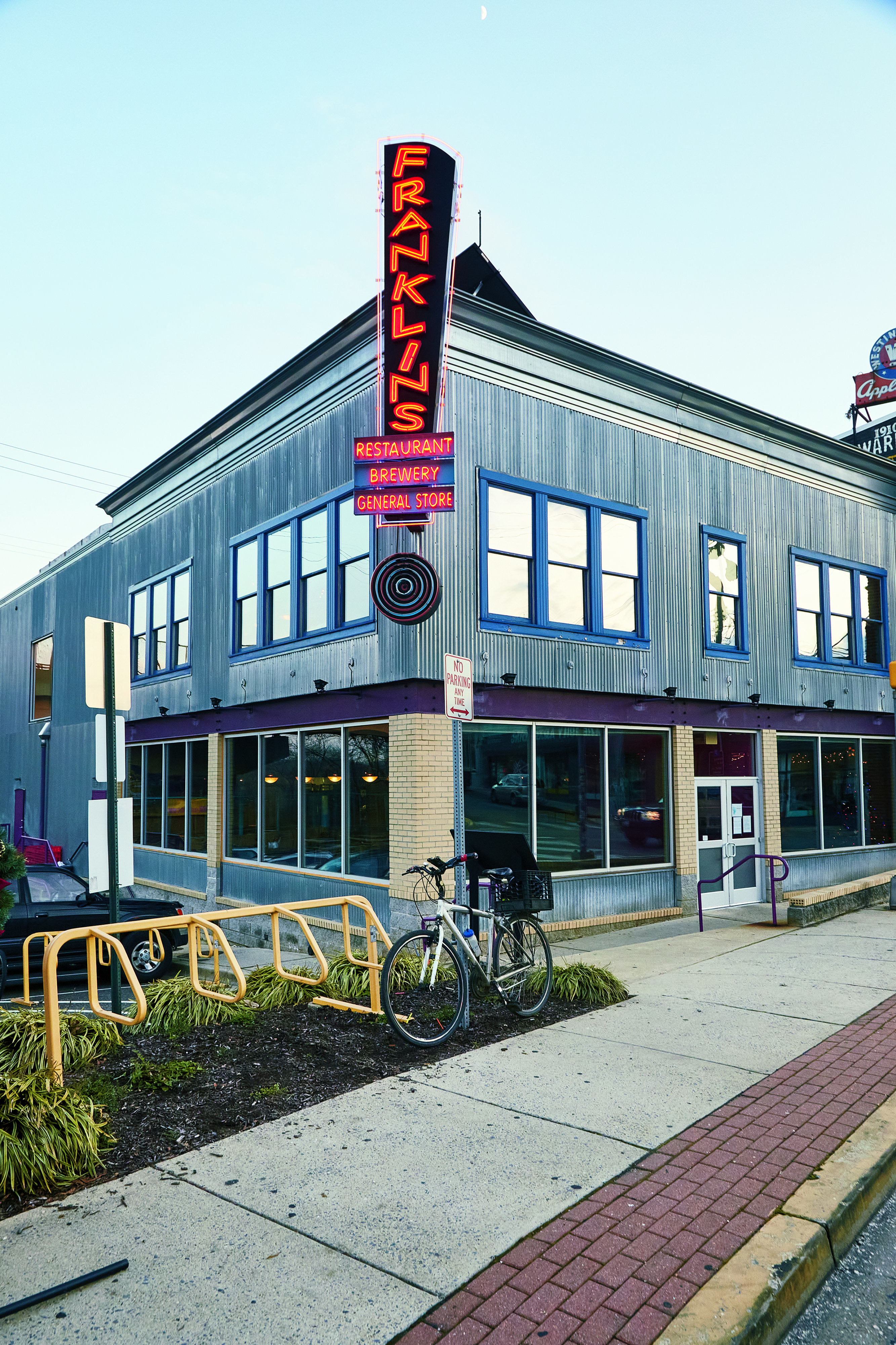 10417 Armory Ave., Kensington
The only negative thing we could say about Frank Linn's wood-fired-pizza place is that it's so popular, it can be hell to get a table. For now, it's carryout only, but you still have to get your order in early. One bite of the Hot Mess—a white pie with house-cured bacon, pickled jalapeños, and Gruyère—and you'll see why. You can get it only a couple days of the week, but Linn's basic pepperoni pizza is pretty stellar, too.
2411 18th St., NW
This subterranean Adams Morgan pub isn't just a great sports bar—it's an even better Filipino restaurant. Owner Jo-Jo Valenzuela, who grew up in the Philippines, spent 20-plus years bartending around DC before opening his own place. So naturally, it's a bartender's bar with an industry following. Think friendliness, ample booze, and plates you'll crave while drinking, such as sisig, pork belly, and pancit noodles.
2646 University Blvd., Wheaton
In another time, families packed around banquet tables at this all-day Cantonese dim sum parlor and summoned roving trolleys arranged with rice-noodle rolls, dumplings, taro cakes, and pork buns. You can still revel in the variety on a lengthy takeout-and-delivery menu, where 40-odd dim sum dishes share space with sides such as beef chow fun.
1025 N. Fillmore St., Arlington
Tracy O'Grady—former chef/owner of the late Willow in Ballston—now leads the kitchen at this folksy Clarendon spot. She's brought a few of her tried-and-true recipes with her, including smoked-pork-shoulder-filled ravioli, but hasn't pushed aside longtime hits like Buffalo-style pork ribs or the bacon-heavy burger. One of the best ways to sample the place: takeout lunch, which includes a box holding a picnic-like spread of deviled eggs, potato salad, and a biscuit, among other things.
1624 Q St., NW; 701 Wharf St., SW; 1026 King St., Alexandria
The lobster roll here is the city's best, but there's a lot more to Jamie Leeds's trio of urban seafood houses than that dish. We gravitate to tasty fish sandwiches and tacos; inventive, often wonderful cocktails; and of course, oysters. Choose raw varieties from the blackboard or get them fried and stuffed into a po' boy roll.
200 Upshur St., NW
Al and Adrienne Carter founded this Petworth restaurant more than 50 years ago, but current owner Barry Dindyal has kept the Southern food and hospitality going for the past nine (while adding some flavors from his native Guyana). Loyal regulars, including WAMU radio host Kojo Nnamdi, keep coming back for the fried chicken, crabcake sandwiches, and wraparound porch. It turns out the Carters haven't ventured far, either—they live upstairs.
15209 Frederick Rd., Rockville
The dining room is set with white tablecloths and tented napkins, but that's about as stuffy as it gets at Enzo Livia's long-running regional Italian restaurant. Welcoming service, a rarely changing menu, and simple but well-executed roasts and antipasti keep lots of Rockvillians coming back, even for pandemic takeout. The housemade pastas, including mushroom ravioli with pistachio cream sauce, are reason enough to return.
243 K St., NE
This graffiti-scrawled NoMa mainstay was set up nicely for the pandemic. Its carryout business has always been booming, and the Indian comfort dishes (paneer in tomato cream sauce, fragrant lamb biryani) hold up well. Just as important: Its tiny interior has always played second to the patio, which has long been a kid-friendly neighborhood hangout with plenty of heat lamps.
15211 Major Lansdale Blvd., Bowie
In the homegrown-dish hall of fame, the crab bomb from Jerry's deserves a spot. It's a super-sized, filler-free crabcake—and a meal in itself. You can always get the "baby" version, though, and make your way through the menu's other pleasures, which include crab in other forms (dip, imperial) plus fry-ups of shrimp and catfish.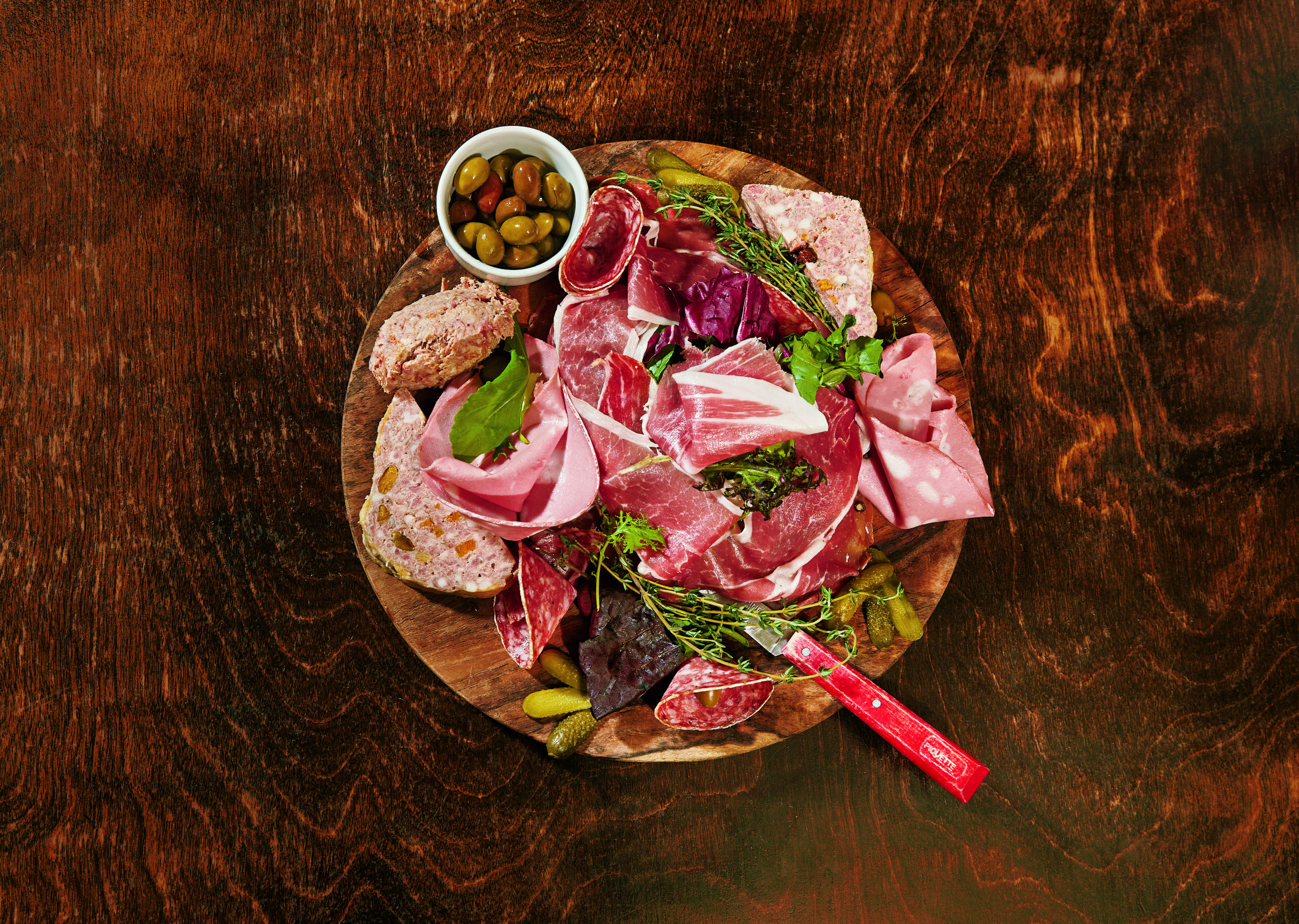 2813 M St., NW
The world of pike quenelles and lunchtime cheese soufflés feels increasingly far away, but for a time, canonical French cooking ruled DC. This 44-year-old restaurant, a clubhouse for old-guard Georgetowners, is one of the last survivors. One reason it's hung on so long: its confidence. Nothing changes—not the agrarian-themed stucco room or the salmon en croûte or the famous cassoulet—not ever. Well, until this year: Now you can get it all packaged to go.
3714 Macomb St., NW
Like 2 Amys, the pizza restaurant across the street, this cramped Cathedral Heights bistro has been a place where you'd likely bump into a chef or two on their off-time. Take their cue and dive into hearty, straightforward classics like cassoulet and coq au vin. (Both survive a takeout trip well.) Plus, you can guzzle French rosé by the liter.
Multiple area locations
It's easy to look at the Taverna and think "chain"—there are 13 restaurants and fast-casual spinoffs, plus an airport kiosk. But the food still tastes like it's coming from the Abi-Najm family's first Arlington kitchen in 1979. Juicy kebabs, oven-warm pitas, and lush hummus and dips are crowd-pleasers, while homesick expats seek out comforts such as mujadarra (lentils and rice with crispy onions) or lamb-and-artichoke stew.
513 23rd St., S., Arlington; 241 S. Van Dorn St., Alexandria; 2615 Mount Vernon Ave., Alexandria; 201 Harrison St., SE, Leesburg
Are these the most authentic Tex-Mex/Salvadorean restaurants in Northern Virginia? Maybe not, but neighbors love them. Dining rooms are big—cue the many families and rollicking groups—and the drinks even bigger (do like a regular and order the off-menu "Baja," a margarita with a mini Corona beer tipped inside). The offerings are huge and happy-making, too, whether you're in the mood for fajitas or a Salvadorean breakfast plate with eggs, plantains, beans, and housemade tortillas.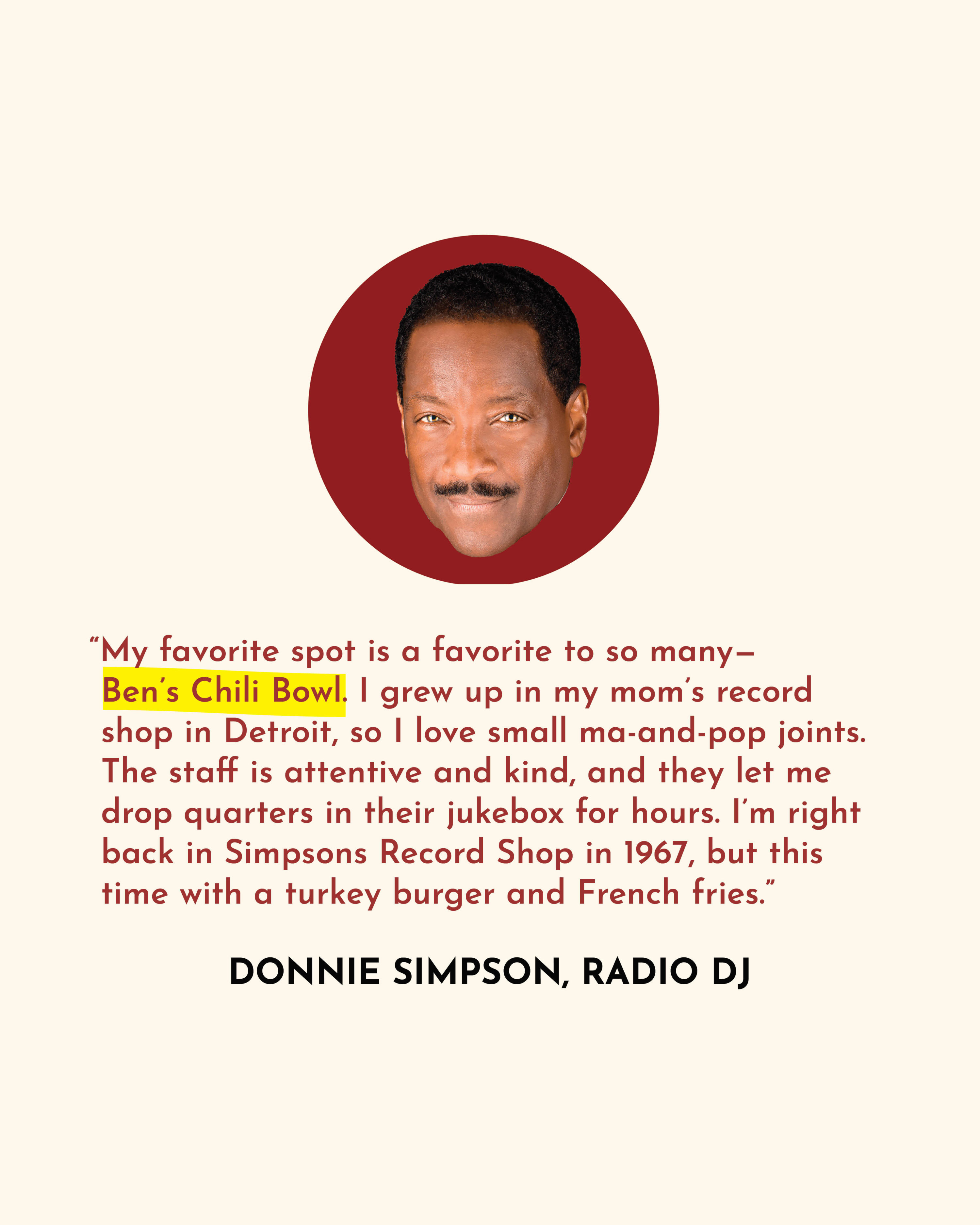 225 Seventh St., SE
Long before food halls were a thing, this 43-year-old diner stall in Eastern Market drew lines of Congress members, construction workers, and plain old neighbors for Saturday-morning "blues"—griddled blueberry pancakes, still queue-worthy today. Owner Tommy Glasgow started working in the market as a kid at his dad's Southern Maryland Seafood stall across the way. So platters heaped with crabcakes, fried whiting, or oysters shine at lunch—or even better, at breakfast, when the seafood is accompanied by local eggs, creamy grits, and housemade rolls.
1264 Wisconsin Ave., NW
When's the last time you saw Welsh rarebit on a menu? Probably the last time you visited this cozy octogenarian Georgetown tavern—a neighborhood restaurant for JFK when he lived in Georgetown, and for many less famous locals, too. If there was ever a time for a dish of melty cheddar with toast points, it's now—and the nostalgic American food doesn't stop there. There's also pot roast and a cheesy, bacony Kentucky hot brown—possibly the most decadent sandwich on the planet.
213 Muddy Branch Rd., Gaithersburg
The Filipino families that flock to Raymond Domingo's unassuming Gaithersburg restaurant are a good sign you're in for a genuine taste of the chef's native Philippines. It's easy to fill up on appetizers—lumpia (spring rolls), crispy wings—but then you'd miss the main show. Homestyle plates of sisig, pancit noodles, and a showstopper pork pata—all tender meat and crunchy skin—are worth the drive, short or long.
1321 Chain Bridge Rd., McLean
It feels like nothing changes at "MFR," the Kapetanakis-family-owned diner that's been dishing up all-day breakfast platters and Greek-American specialties to McLeanians since 1969. A young Pete Sampras grins from a poster (his father was an original partner), seemingly ageless servers greet diners in oversize booths, and towering club sandwiches are the go-to order (other favorites: chocolate-chip pancakes and Greek salads). So what's new? Curbside takeout and a pandemic-friendly dining tent in the parking lot.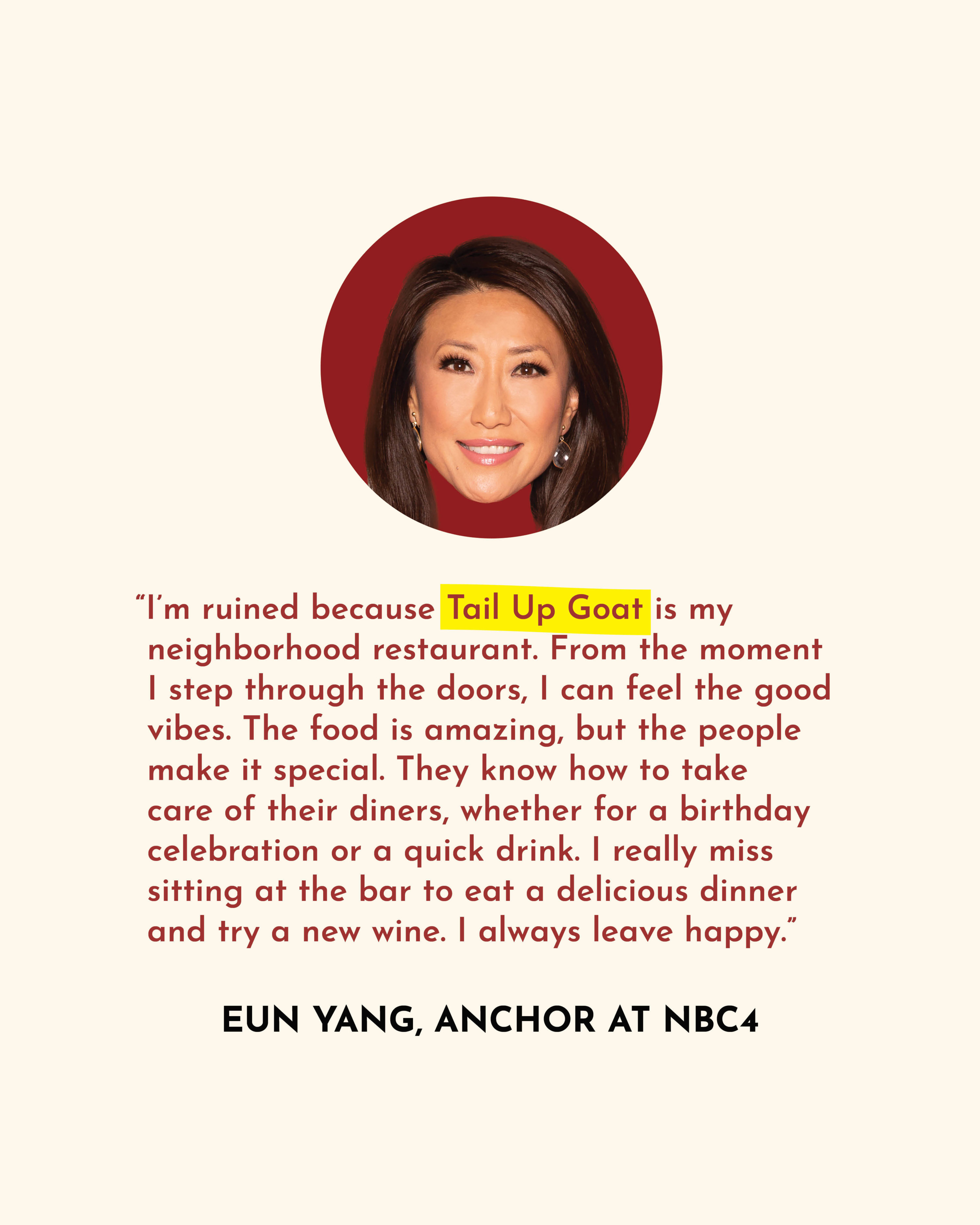 3601 N. Fairfax Dr., Arlington; 4904 Fairmont Ave., Bethesda; 3500 Connecticut Ave., NW
Vegetarians, be warned: The only things on the menu here are crimson slices of coulotte steak served with skin-on fries, bread, a salad, and a creamy, umami-rich secret sauce that's worth the hype. Owner Mark Bucher has been one of the patron saints of the pandemic—since mid-March, he's delivered thousands of free dinners to seniors and first responders.
4866 Massachusetts Ave., NW
If Cheers had been set in a neighborhood filled with $3-million houses, it would have looked like this nautically decorated Spring Valley hangout. In normal times, its dining room and expansive patio teem with ice-cream-mustached kids, prep-school-grad parents, and senior citizens. The food—a likable New England–meets-Mexican menu of tacos, lobster rolls, and can't-miss queso—is a draw, as are the cocktails. But the fact that it feels like a country club without a five-figure entrance fee is what keeps many regulars coming back.
1127 N. Hudson St., Arlington
This Vietnamese mainstay was founded in 1986 by Nguyen Van Thoi, a former interpreter for the US Army, and his wife, Ngoc Thi Tran. Since Nguyen passed away in 2005, his son Richard has helped continue his legacy of crispy spring rolls and annual dinners for fellow prisoners of war (including the late John McCain). Richard has also started his own traditions, such as bringing meals—including "pad Thoi," named after his father—to hospital workers and first responders every Christmas Eve.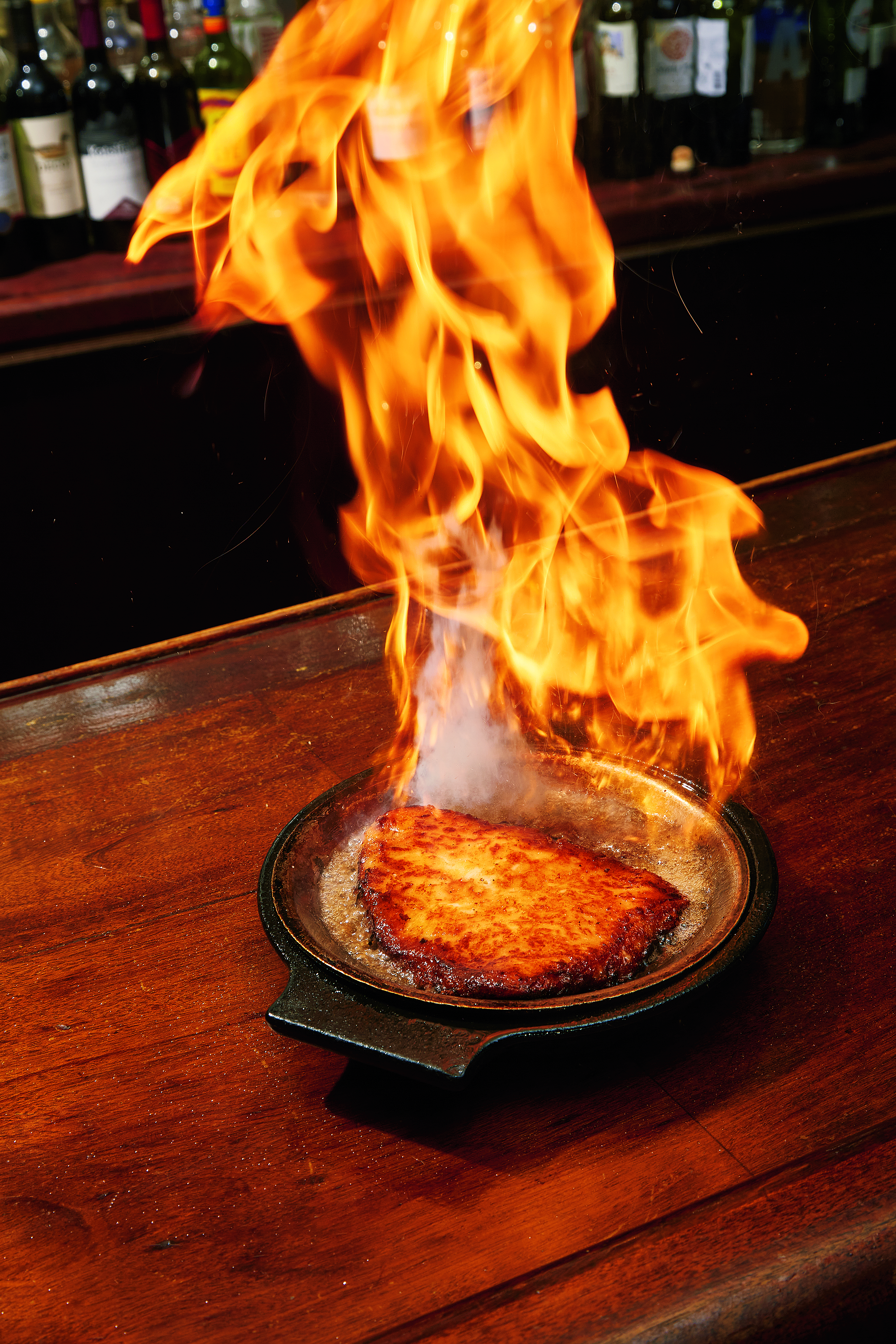 1005 U St., NW; 5933 Georgia Ave., NW
This soul-food spot has been a staple of U Street since 2003 and has dug new roots in Brightwood with a larger sit-down location adjoining Walmart. Chef and native Washingtonian Oji Abbott serves up hefty portions of American classics, from Cajun grilled shrimp and grits to meatloaf with gravy.
1025 Seneca Rd., Great Falls; 2985 District Ave., Merrifield
Eugenia Hobson, who has worked in several area Greek restaurant kitchens, finally has places of her own, thanks to her two sons, who opened the snug Great Falls original in 2016 and its airier Mosaic-district sibling last year. Both share Hobson's homey cooking, including peppery tirokafteri spread, tomato-simmered gigante beans, and a lovely milk-custard phyllo pie.
5510 Connecticut Ave., NW
At Chevy Chase DC's timeless Greek restaurant and lounge, everyone seems to know your name and order—in our case, an oversize martini and calamari à la Ginzburg (named for another regular with an affinity for fried squid). Neighbors chat between tables arrayed with delicious dips, grilled lamb chops, or a whole branzino swimming in lemon, Greek olive oil, and oregano. Veteran servers flambé saganiki cheese tableside. And, thankfully for many, not even the specials change.
6029 Leesburg Pike, Falls Church
Washington doesn't claim many old-school culinary clubs. But you get that vibe walking into Eddie Tsui's Peking-duck restaurant, where servers in bow ties have rolled trolleys laden with crackling-skinned birds around the carpeted dining room since 1978. Celebrity photo walls boasts generations of Bushes alongside newer VIPs (Psy, Ovechkin). The place was so popular in the '80s that the Tsuis opened a Virginia farm to grow the 1,600-odd pounds of spring onions consumed with ducks each week. So, no, this isn't your neighborhood Chinese takeout, but in the pandemic you can get the duck to go.
4918 Cordell Ave., Bethesda
Red-sauce cuisine is having a moment, but there's nothing mod about Marco Troiano's Southern Italian restaurant—a Bethesda fixture for more than five decades. Generations have grown up on the garlicky white pizza, tender meatballs, bang-up parms, and creamy rum cake. Not everything on the vast menu wows, but this is throwback cooking: abundant and as unassuming as the red-checkered tablecloths in the dining room.
5104 Wilson Blvd. Arlington; 1801 18th St., NW; 1621 S. Walter Reed St., Arlington; 1821 Wiehle Ave., Reston
The food-truck craze has come and gone. A lasting success story: Anastasiya Laufenberg and Enzo Algarme's Neapolitan pizza business—once a roving cart, then a neighborhood fixture in Arlington, and now a chainlet with locations in Dupont, Ballston, and Reston. Each space exudes warmth—credit the chefs in jaunty fedoras turning out crisp-edged red and white pies, the families lining up for gelato, and the dates hanging over well-priced wines.
8401 Georgia Ave., Silver Spring
Silver Spring's cherished dive has been through it all. Since 1917, iterations of the dimly lit tavern have survived Prohibition, two world wars, a fire, a flood, and most recently, the pandemic (behold: Quarry 7.0, a beer garden and takeout joint from modern-day owners Jackie Greenbaum and Gordon Banks). What keeps the Quarry—and its fleet of longtime customers—coming back is an unflappable spirit and offerings that range from cheap beers and no-frills booze to high-flying whiskeys, hefty burgers, and a jukebox that, like its surroundings, never seems to quit.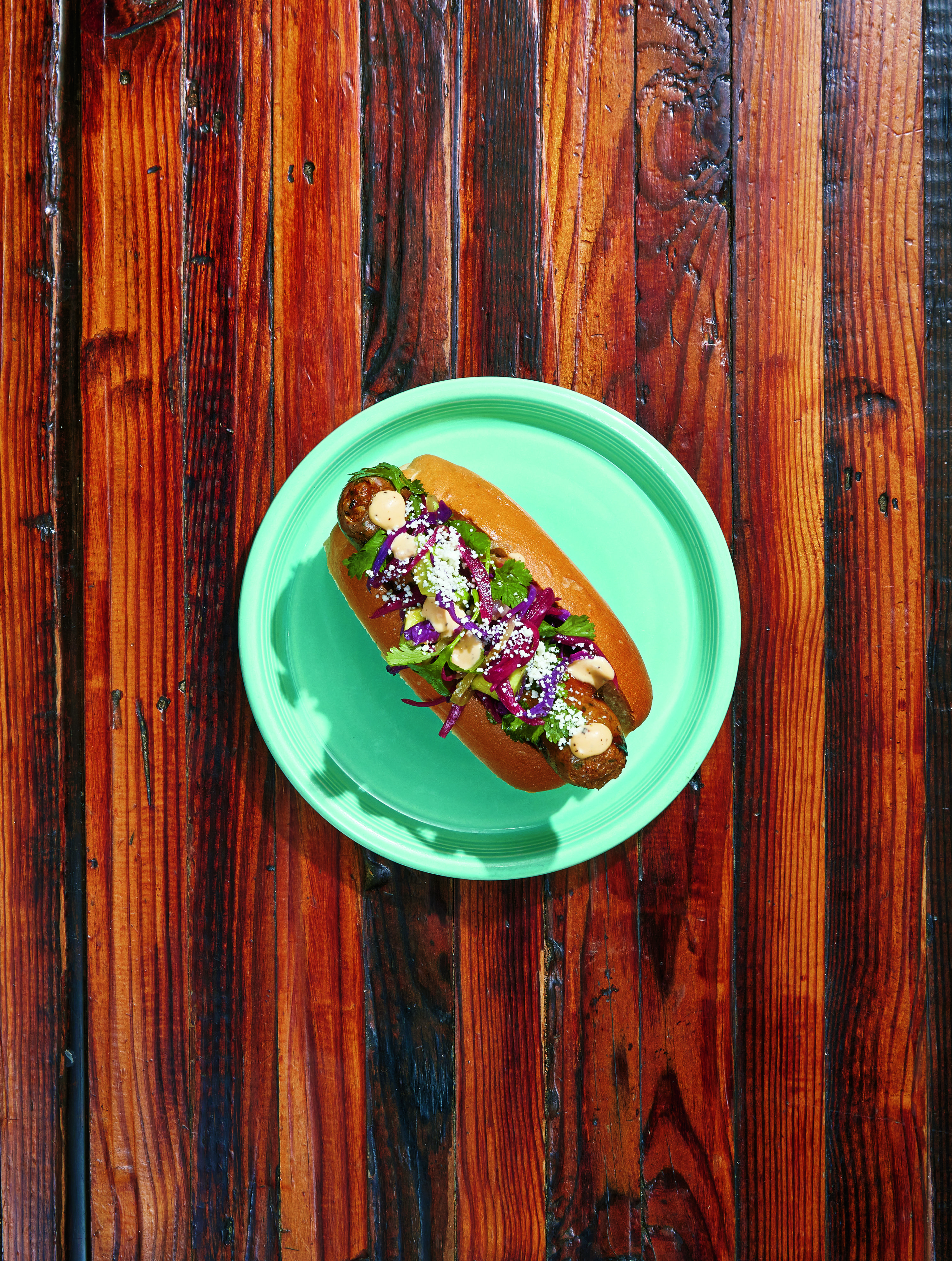 7240 Woodmont Ave., Bethesda, 3312 Wisconsin Ave., NW (Raku); 1900 Q St., NW (Rakuya)
If you're a fan of sushi rolls done up with colorful bouffants of ingredients, these are your places. Take the purple-tinted black snake roll, stuffed with spicy tuna and topped with avocado, fried leeks, pickled jalapeños, and truffle oil. (It works, we swear.) Adding to the fun: Japanese bar snacks, ramen, and one of the best happy hours in the area.
501 Florida Ave., NW
This Colombian-accented LeDroit Park cafe nails so many things. Let's start with breakfast, where warm arepas come stuffed with avocado and a runny egg, and lattes are up-leveled with spiced honey—or whiskey. Later in the day brings a strapping, slaw-topped burger, more of those great arepas, and a terrific cocktail list with—even now—a generous happy hour.
631 University Blvd. E., Silver Spring
The jammed parking lot is a good sign at this sunny pan-Latin restaurant. Some look sideways at big, multi-cuisine menus, but here you can hop confidently among Mexico (bright ceviches, smoky carne asada), El Salvador (pupusas with kicky cortido are a must-order), Spanish-style plates such as garlicky shrimp, and Cuban specialties like citrus-marinated pork. These days, everything—including potent margaritas—can travel, too.
1433 P St., NW; 2101 L St., NW
The Logan Circle bar has been around 52 years—it was originally located closer to downtown—and really, it looks like any old bar, with looming TVs, high-top tables, and tap lines running with Bud Light. In the District's fast-paced dining scene, though, that ordinariness is itself a rarity, and it ex-plains why Stoney's has become a treasure in a neighborhood otherwise filled with of-the-moment eateries. The menu is low on surprises but heavy on satisfaction, with a buttery, onion-and-tomato-stuffed grilled cheese, giant onion rings, and tasty happy-hour wings. A slicker West End sibling caters more to a lunch crowd.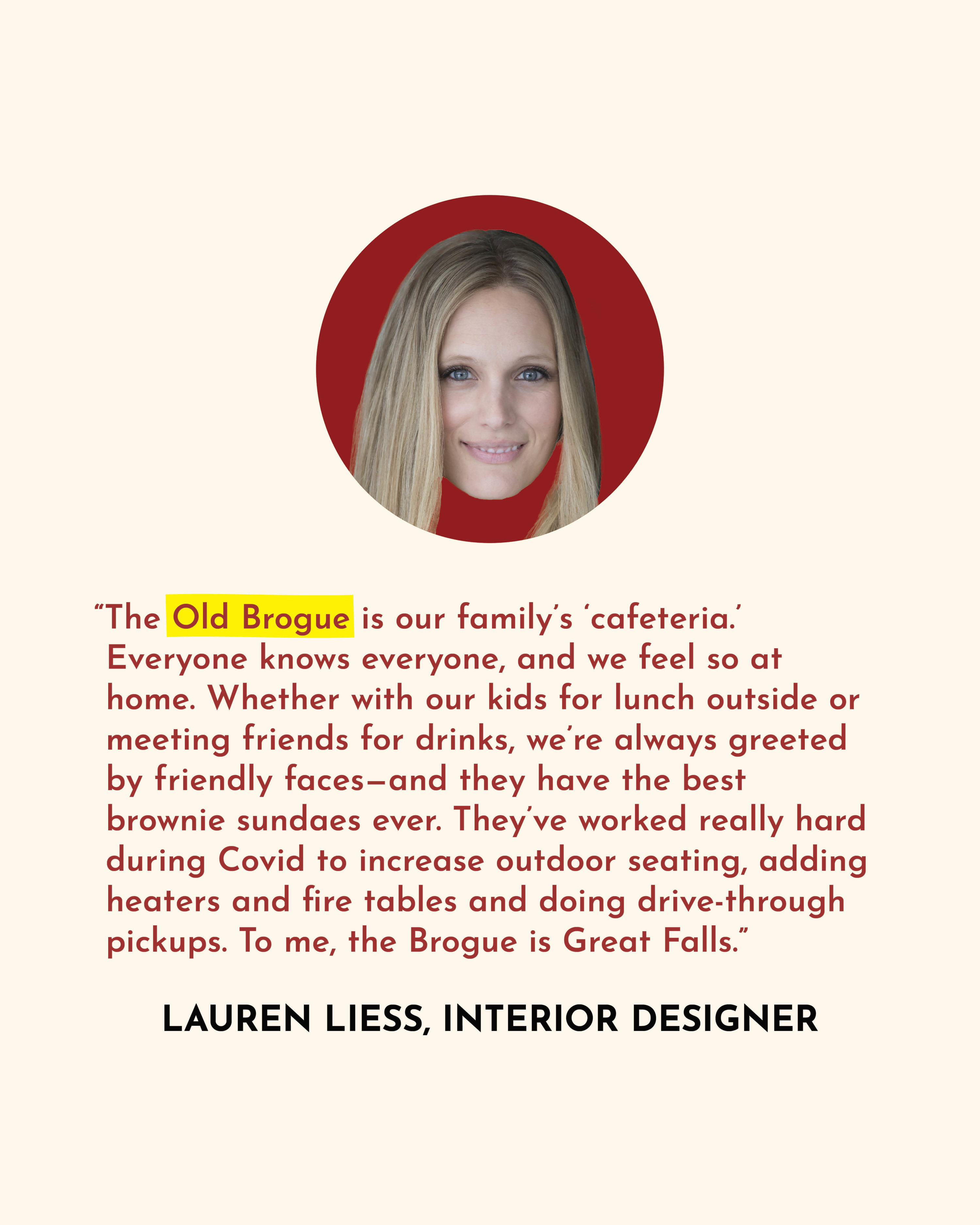 735 Eighth St., SE
Restaurateur Steve Yoon is behind Arlington's Sushi Rock, where rolls are tarted up with things like strawberries and sometimes thrown into the deep fryer. And yet his other dining spot, Barracks Row's Sushi Hachi, is a much more serene place that bows to tradition. Order takeout—pads of rice laden with tuna belly and scallion, say, or yellowtail maki—and a tiny bottle of the house soy sauce is tucked into the bag. One way to keep warm on the patio: thin strips of beef cooked atop a searing hot stone.
10800 Rhode Island Ave., Beltsville; 1990 M St., NW
Owner Kevin Onyona didn't know much about operating restaurants when he opened the first location of this Kenyan restaurant in 2009. What he did know was that he missed the flavors of his native country and couldn't find a good substitute in the area. Relocated to Beltsville in 2016, Swahili Village now draws African expats and locals alike for goat stews and deep-fried whole tilapia in coconut sauce (a staple of Lake Victoria, where Onyona grew up). A downtown DC location, aimed at office workers and African diplomats, opened last year.
6715 Lowell Ave., McLean
The sushi chefs' chorused welcome—irasshaimase!—feels like a home-coming at this Japanese mainstay. The modest dining room set with large tables isn't as trendy as the izakayas that have become popular in recent years, but chef/owner Eiji Yahashi's menu stands out for its authenticity and freshness. There are jewel-like boxes of sushi and sashimi (with daily seasonal fish specials), satisfying noodle soups, and bento boxes that are destination-worthy.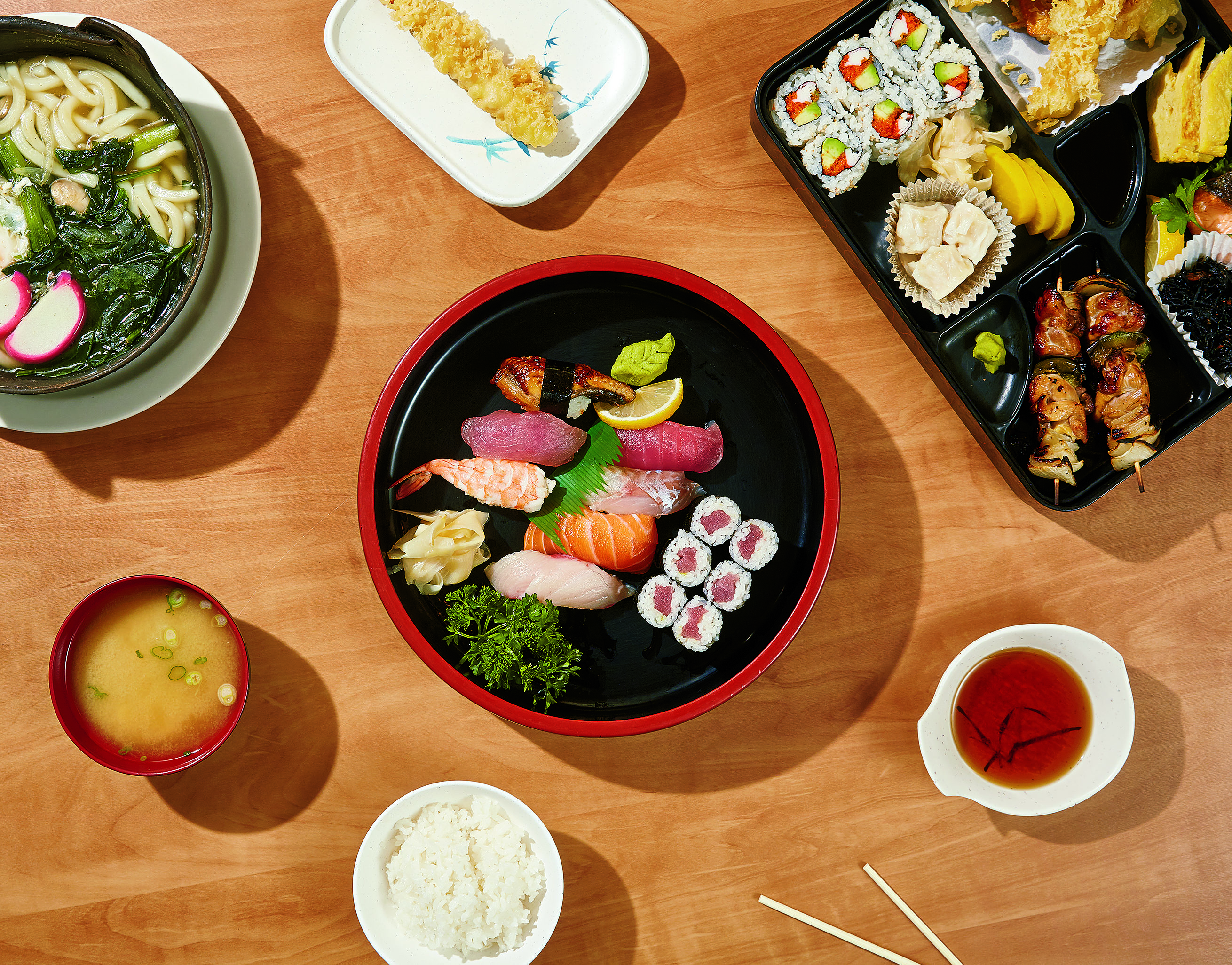 3710 14th St., NW; 8145 Baltimore Ave., College Park
Owners Dio Montero and Mirna Alvarado—who immigrated from Mexico more than two decades ago and at one point worked for José Andrés—cook for neighbors as they might for family. That means handmade corn tortillas for carnitas or octopus-stuffed tacos and homey specialties from their native Puebla, such as the popular chicken mole. It also means generous margaritas, including spicy mezcal and blood-orange varieties.
5020 Edmonston Rd., Hyattsville
The mariachi-band figures on the roof set the tone: Welcome to the fiesta. Weekends always felt like a party at this Hyattsville taqueria, with families crowded among colorful folk art. Pandemic-era gatherings might not be the same, but the tacos are still worth celebrating. Especially delightful are those stuffed with porky bits such as ears and skin, then double-wrapped in corn tortillas and served simply with onions, cilantro, and lime.
705 Center Point Way, Gaithersburg
When the Hristopoulos family closed their Greek restaurant after 15 years to move to a larger space nearby, their fans followed. Greek celebrity chef and friend Yiannis Luca­cos was brought on to redesign the menu—a modern lineup befitting the Aegean-chic dining room and its fire-pit patio. Thankfully, a few things remain: tasty spreads with warm pita, spicy calamari, and smoky seafood and meats from the wood-burning grill.
4121 Hummer Rd., Annandale
Until recently, this Korean barbecue house in the heart of Northern Virginia's Korean community operated 24-7, serving heaping portions of bulgogi and mandu to large families and post-karaoke revelers alike. While groups and public singing seem like relics right now, this 24-year-old restaurant is still stuffing bellies with plentiful banchan, hearty stews (including a kimchee pork jjigae) and one of the biggest seafood pancakes we've seen.
CORRECTION: This story incorrectly stated that Brookland's Finest owner Tony Tomelden has three daughters. He has two daughters and a son.
This article appears in the February 2021 issue of Washingtonian.