In her first three months on the job, White House press secretary Jen Psaki has yet to be caught in an unhinged lie or spontaneous infomercial, and she does not refer to the reporters who sit before her in the briefing room each day as "the enemy of the people." The bar set by the Trump White House might be on the floor but, hey, so far she's cleared it.
Still, it would be a disservice to compare her solely to her predecessors (in order of appearance: Sean Spicer, Sarah Huckabee Sanders, Stephanie Grisham, Kayleigh McEnany), both to Psaki, who is "one of the most well-qualified press secretaries we've ever had," says ABC News chief Washington correspondent Jon Karl, and to the rest of us, who deserve to expect more from our public servants than "well, it could be worse," and who—perhaps—are too easily wooed by what one could describe as little more than competence porn.
"She takes questions from everybody," says Karl, who has covered four Presidents and more than a dozen press secretaries. "She doesn't get rattled. She doesn't lose her cool."
I was a little surprised that she wanted to do the job at this point. But it's hard to see who he could have chosen that would be more well prepared than Jen Psaki.
"She's a pro, you know?" says Peter Baker, chief White House correspondent for the New York Times, who has covered the Oval Office since Bill Clinton occupied it. "She's unflappable."
Even Fox News's Peter Doocy, whose occasionally tense exchanges with Psaki have generated a bit of media attention—in one back-and-forth, Doocy asked if Biden's goal of pursuing unity was at odds with a "potentially divisive Senate impeachment trial" against the former President. Psaki's reply: "Just like the American people can, the Senate can also multitask"—is impressed with Psaki's tenor. "It is a very low-blood-pressure briefing room," Doocy says.
"She's like any other competent, professional, pleasant, lovely press person from any other era," says another White House reporter. "The fact that people are losing their minds is an overcorrection from Trump."
While Trumpites gleefully performed belligerence on camera, Psaki's tone is measured and warm; if you're a reporter hoping for any insight from her, she'll ask after your kids or your spouse and then politely decline to help you with whatever story you've got in the works. "She's firm and sunny, and she can generally make people feel good about their interactions," the White House reporter explains. "And she's never going to be super-helpful, and that's frustrating, but that's kind of her job. It's one of those weird things where you leave the process feeling good about it even though, when you hang up the phone, you realize: F—, she said nothing helpful."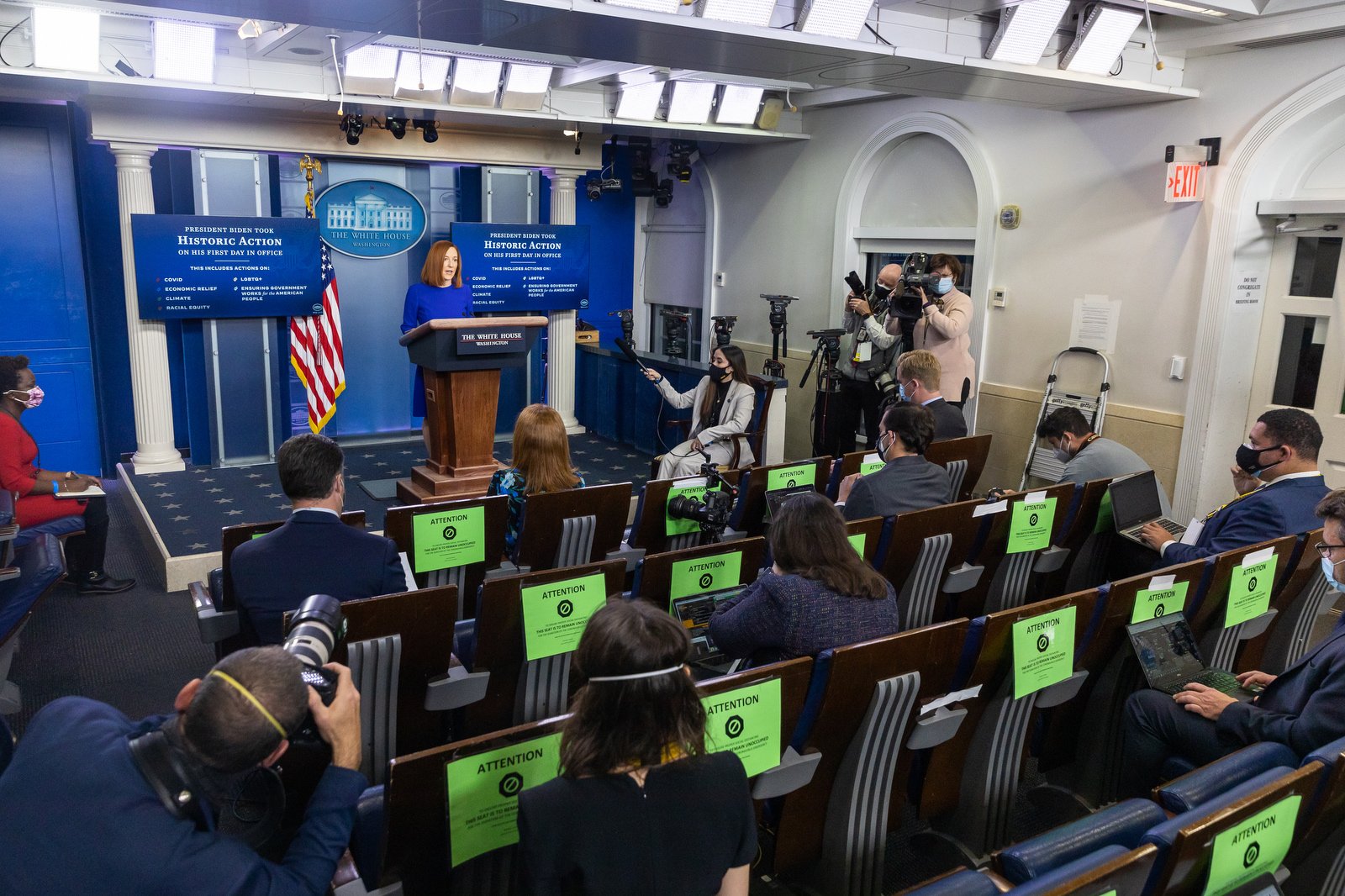 Psaki, who is 42 and grew up in Greenwich, Connecticut, has been working in politics basically since she graduated from the College of William & Mary—first for the Iowa Democratic Party, then for John Kerry's presidential campaign (for a time, she was spokesperson for the adult children of both Kerry and his running mate, John Edwards), then in New York for Congressman Joseph Crowley (a.k.a. the guy who lost his seat to AOC in 2018), then at the DCCC (where she met Gregory Mecher, whom she married in 2010 and with whom she has two children), then with Barack Obama's first presidential campaign, where she started as deputy press secretary and, after the election, rose to White House deputy communications director. She left the White House in 2011 for the PR firm Global Strategy Group—stories about her departure are littered with adjectives like "genial" and epithets like "team player"; Obama reportedly implored her to stay—but she returned for his 2012 campaign. In 2013, her old boss John Kerry installed her as State Department press secretary, a notoriously harder gig than the White House one, due to being heavier on the substance, lighter on the made-for-TV quips.
When Psaki started at State, she convened a murder board to do some mock briefings. Mike McCurry, the only other person to have held both the State and White House press-sec jobs (under President Clinton), was part of that training. "I just instantly saw that she had a good manner at the podium," McCurry says. "She knew how to brush questions off. She knew how to answer questions in detail when that was required. She had a personality that exudes from the podium, which can be hard to do."
Psaki stayed with the administration until the end of its run, then headed to WestExec Advisors, a consulting firm founded by several Obamaites that, post–2020 election, Politico christened "Biden's cabinet in waiting." (Psaki also appeared as a political commentator on CNN.) She didn't join the Biden-Harris operation until the transition was under way, yet she was one of several Obama alums to score a plum job over others who'd actually worked on the campaign, including Symone Sanders (now Vice President Harris's chief spokesperson) and Karine Jean-Pierre (a deputy of Psaki's).
"Anytime that happens, there's a certain degree of sourness that's possible," says Baker. "I think there were probably some people who were disappointed who wanted that job who didn't get it. It's natural to say, 'How come someone who didn't come through the Fires of Mordor with us suddenly gets such a prominent job?' "
Psaki had reportedly put her name in for press secretary twice under Obama but was passed over both times. "I was a little surprised that she wanted to do the job at this point," says Karl. "These jobs are brutally demanding on your life. . . . But I think there was a logic for Biden to pick her. If Biden was just looking strictly at who is the most well prepared for this job, it's hard to see who he could have chosen that would be more well prepared than Jen Psaki."
Her preparation did not save her from at least one rookie mistake: Less than three weeks after the inauguration, a 2020 tweet in which she referred to Lindsey Graham as "#LadyG" resurfaced. Critics pointed out that a homophobic tweet isn't exactly a great look from an administration trumpeting its historic commitment to inclusivity. The tweet is still up, though indignation about it seems to have abated. More than one person who spoke with Washingtonian favorably compared Psaki's old tweets to the contentious and ultimately disqualifying archive of fallen OMB nominee Neera Tanden, suggesting that if Psaki had deleted any offensive missives, she may have only made things worse. ("It is a lesson for all of us," says Karl. "Think more and tweet less.")
For the most part, though, Psaki "has clearly kept both sides of that adversarial relationship satisfied," says McCurry. "I know for a fact she gets high marks from her colleagues at the White House."
---
Psaki succeeds by arguably doing the impossible: Her face and voice beam out of our screens on a regular basis, and she rarely draws attention to herself. She's the highest-visibility yet lowest-profile member of the administration. If the measure of modern cultural penetration is how much someone has been memed, all Psaki has is her oft-repeated promise to "circle back" being made into some supercuts. (The thing is, she does circle back. "If it's not her, it's somebody from the staff," says Doocy. "We will hear within a couple of hours.")
Even her ability to shut down questions she doesn't want to answer has been affectionately hashtagged, as a #Psakibomb—a fandom that feels misplaced and even dangerous, considering it isn't in the public's best interest for the White House's most prominent spokesperson to be good at deflecting queries. It's like a hangover from the Trump era we're struggling to shake, a legacy that defines both Psaki's job and the feelings she engenders in a general public that ought to know better.
The White House didn't make her available to speak for this story, and the person offered in her stead spoke of Psaki in such a bland, anodyne manner—Jen is so good at multitasking; she's calm, cool, and collected; etc.—it was as if they were trying not to be quoted at all, which, well, they won't be.
"White House administrations are always trying to figure out a way to game [the briefings] out to their advantage," says Maxwell Tani, a media reporter for the Daily Beast. "The Trump administration obviously saw that it was to their advantage, when they did do press briefings, to make a spectacle of beating up on the media. To me, it seems like Jen wants to do the opposite, which is to increase the frequency of these things but also to just be as boring as possible."
To some civilians, this basically qualifies as fan service. Plenty have found comfort in the vision of Biden's administration as a reset—a supposed return to a Washington run by experts and professionals. But reporters remember the team under Trump's immediate predecessor a little differently.
"A lot of those people in the Obama administration were assholes," says the White House reporter. "There's a myth that the press liked the Obama administration. Those Obama guys—just listen to Pod Save America. Imagine that smugness and smirking, on steroids, with people who are empowered to manage stories and are called upon to yell at you when they don't like a story. They were f—ing awful."
But multiple sources say Psaki was an exception. "There were people in the Obama White House who were aggressive and obnoxious and thought it was okay for them to berate and bully reporters, and she was never one of them," says Baker. "She may have an issue with a story, but if she raises it with you, it's in a civil and professional way, and then you'll deal with it. It's not going to boil down to some sort of shouting match. I've never heard her use four-letter language with reporters, and that was regular from some of her colleagues with Obama."
The Biden administration seems to be making an effort to evolve past that culture—though at times it has struggled to follow through on its promises, as with the delayed removal of TJ Ducklo, a deputy press secretary who threatened and harassed Politico's Tara Palmeri. Palmeri had been working on a story about Ducklo's romantic relationship with Alexi McCammond, a journalist who was covering the Biden campaign for Axios when the two began dating. Outraged that Politico was going to out the couple publicly, Ducklo lit into Palmeri, telling her, "I will ruin you on Twitter," warning that he could dig up "skeletons" in her closet, and accusing her of being "jealous" of McCammond. When the brouhaha surfaced, the White House merely suspended Ducklo for one week, unpaid.
The next day, though, amid backlash to that soft sentence, Ducklo resigned. (If there are any divisions among Biden's staff of "team players," it's between Psaki's people and communications director Kate Bedingfield's. According to multiple political reporters, Ducklo was one of Bedingfield's.)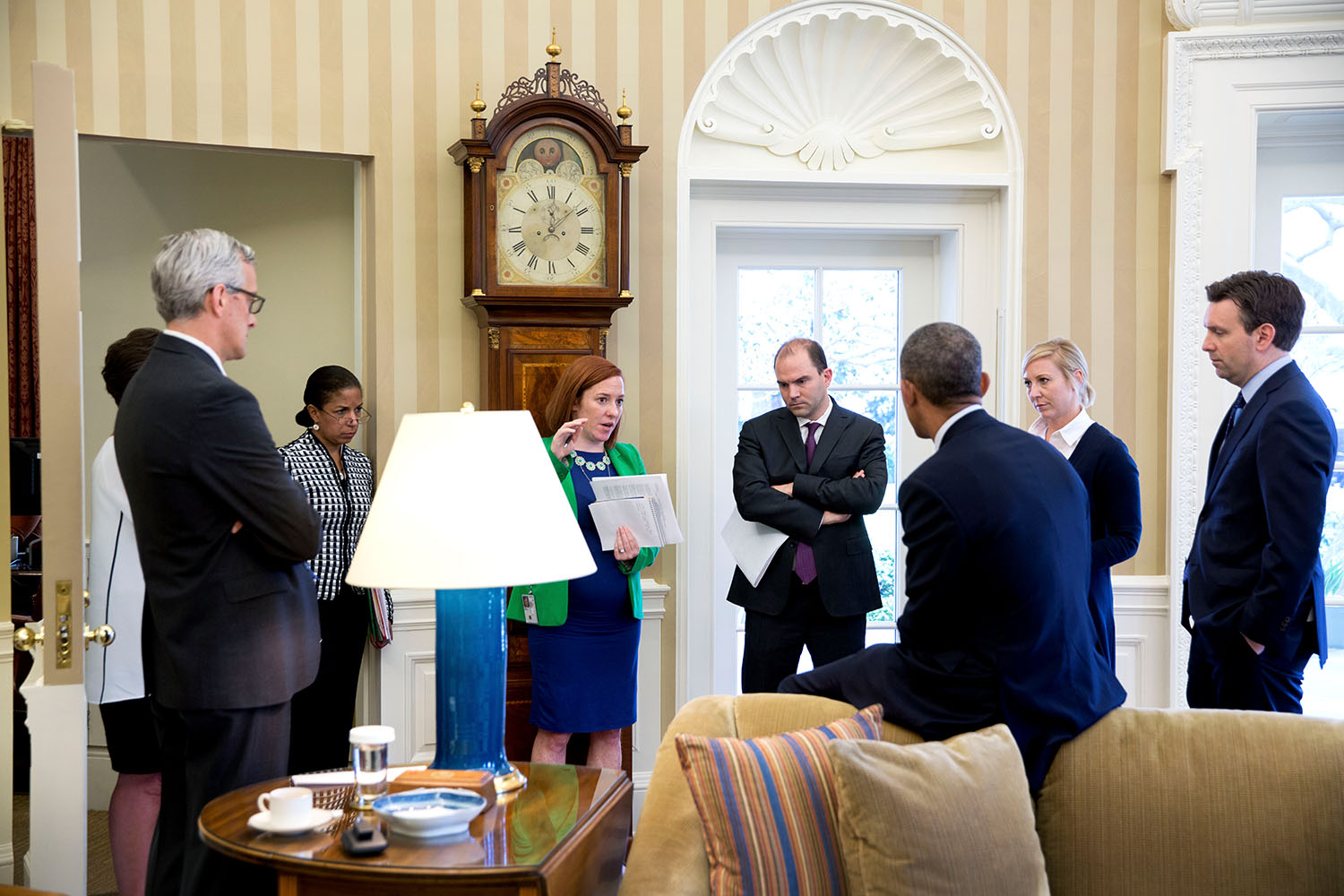 So what is a Biden press shop going to be like? It doesn't yet appear to be some bastion of transparency—the President didn't hold a full-blown press conference until two months into the job, something that became a cause on behalf of some critics. (The Washington Post devoted an editorial to criticizing it.) As spring hit and the border crisis was exacerbated by record arrivals of children, the administration repeatedly refused to allow reporters access to detention facilities, or even use the word "crisis" to describe the debacle.
And while the revival of the daily press briefing certainly looks nice, especially to certain citizens consuming snippets on the evening news, Psaki's work may do more for the performance of transparency than actual transparency. The briefing room has historically functioned as more of a democratic symbol than as a place where big, substantive news breaks.
Off camera, meanwhile, says the Times' Baker, "This White House likes to litigate the small things in the 15th paragraph of a story that's on [page] A27."
As one female political reporter puts it, "Biden's people complain about every single little thing." She adds, "They kind of play mean-girls games. They can make people feel really isolated, and that's just part of their way of controlling the press. There's reporters on the inside and reporters on the outside, but they do it in more subtle, sophisticated, almost WASPy ways. Whereas the Trump people, half the time, would just be complaining about working for Trump."
Another thing to keep an eye on: Per Covid protocols, there's a rotation of White House press in the briefing room, meaning that only 14 reporters can be in there at one time. Psaki makes it a point to call on every single one. Doocy was especially struck by this practice: "First and last impression: She calls on everybody."
The female political reporter is less sold: "What happens when there's 60 [people]? No one notices when you don't call on that one reporter. . . . I know what it's like to be iced out. I know what happens when you tangle with the White House press secretary."
Will Psaki be the promised pivot away from Trump-era anarchy and the Obama's team's fratty cruelty? Will she still be taking questions from every reporter in the room when it's standing room only? We'll have to circle back.
This article appears in the May 2021 issue.