The "Cocktail": 1806
Cocktails were a staple of US politics before we ever had a name for them. Campaigning politicians going back to George Washington plied would-be constituents with free drinks, and Election Day "was almost like a contest between political parties of who could throw the best party," says Jim Hewes, a cocktail historian and longtime bartender at the Willard hotel's Round Robin Bar. "As the quote goes, 'It's not the Democratic Party or the Republican Party. . . . The most important party in Washington, DC, is the cocktail party.' " But "cocktail" wasn't defined in print until May 13, 1806, after Harry Croswell, editor of a New York newspaper, satirically tallied up a candidate's gains and losses from a local election. Gains were "nothing," and losses listed what drinks the politician had bought to woo voters, including rum grogs, gin slings, and "cock tails." After a reader asked what the last one was, Croswell (above) defined the term as spirit, sugar, water, and bitters: "A person having swallowed a glass of it, is ready to swallow anything else."
---
Back to Top
Tip and Ty: 1840
William Henry Harrison was the first President to campaign as the guy you'd want to share a beer with—only in his case it was cider, the Bud Light of its day. (Never mind that he came from a wealthy, aristocratic family.) A lauded general turned pol, Harrison played up his folksy Old Tippecanoe nickname, earned after fighting Native Americans in the Battle of Tippecanoe and memorialized in the campaign slogan he used with running mate John Tyler: "Tippecanoe and Tyler too." After an opposing newspaper tried to mock the former Ohio senator as an old-timer backwoodsman—saying that if you gave Harrison a barrel of hard cider and a pension, he'd spend the rest of his days in a log cabin—he flipped the narrative. His campaign built log cabins and served hard cider around the country, plastering the imagery on everything from plates to coat buttons. Naturally, the electioneering gave birth to the Tip and Ty, a mix of cider, sugar, lemon peel, and nutmeg, sometimes stiffened with a shot of booze. Prior to this point, American presidential candidates hadn't stumped on their own behalf in front of mass audiences. But Harrison played up his populist image—and people drank in the cider-sipping character.
---
Back to Top
The Rickey: 1883
DC's most famous homegrown cocktail, as one telling of the story goes, was a hangover drink for a famous Democratic lobbyist, "Colonel" Joe Rickey. In December 1883, he had the inside track that Kentucky congressman John Carlisle would be elected the new Democratic speaker of the House—and wagered on the race. "Everybody thinks that he's crazy," recalls the Round Robin's Jim Hewes. "Well out of the smoke-filled room, guess what—John Carlisle wins. Rickey wins the equivalent of about $40,000 on this bet. He takes all the boys out. They wine and dine, they drink, they're out on the town."
The next morning, head splitting, Colonel Joe stumbled over to Shoomaker's, a dusty dive around 13th and Pennsylvania favored by power players. He instructed bartender George Williamson to gently squeeze a lime into a glass, fill it with crushed ice, pour in his finest bourbon, and top it with soda water. "Let us christen it the 'Rickey,' " the lobbyist said, according to a 1911 Washington Post article, "as it may be the one thing by which I shall be made immortal." The drink, which also became popular with gin, went viral for its time, then had a renaissance in modern Washington. "At one point, it was one of the most popular drinks in the US," says Derek Brown, owner of the craft-cocktail haven Columbia Room in Shaw, who helped get it designated by the DC Council as the city's "official cocktail" in 2011. "There's no drink that came out of DC that is quite as popular."
---
Back to Top
McKinley's Delight: 1896
Plenty of cocktails have been named after politicians and political causes over the years, but there's a reason you've never heard of the Free Silver Fizz or the Fiscal Agent. "You drink it to demonstrate allegiance or to bust on the powers that be," cocktail historian David Wondrich explains. "They might be okay drinks, but it's hard for them to outlast the issues that they're tied to." One of the few that Wondrich has found to be still worth sipping is McKinley's Delight, named after the 25th President. The mix of rye and Italian sweet vermouth with cherry liqueur and a dash of absinthe was created in 1896 at the legendary bar in the old Waldorf-Astoria in New York, a Republican stronghold. The drink lives on in bartending blogs—"one of the finest presidential cocktails," in Wondrich's opinion.
---
Back to Top
The Scofflaw: 1924
The 18th Amendment inspired quite a few adult beverages. One of the most famous originated in 1924 when a wealthy Boston banker and Prohibitionist held a $200 national competition to coin a term for law-breaking drinkers. The winner: "scofflaw," which within a week was a whiskey drink on the menu at an American expat bar in Paris. The rum-and-brandy-based Three Mile Limit, meanwhile, was a wink at the territorial boundary traversed to get from the US shoreline to "Rum Row," a fleet of ships that sold booze to bootlegging speedboat owners after nightfall. "Many of the bootleggers sold fake products," says Garrett Peck, a historian who wrote a book about DC under Prohibition. But one who sold "the real deal" was a smuggling sea captain named Bill McCoy (hence, one possible origin story for the term "the real McCoy"). In 1923, after the US signed a treaty with Britain to extend its enforcement boundary and rounded up McCoy (above) and other rumrunners, speakeasies served up a sequel cocktail with the addition of rye whiskey—the 12 Mile Limit.
---
Back to Top
The Nixon: 1969
With broadcast media and the golden age of television, you no longer needed to liquor up voters to reach them. So the few political drinks from the postwar era tended to last about as long as a bad hangover. One of the long-forgotten: the Nixon. In 1969, famed London bartender Joe Gilmore created the $1.20 concoction of bourbon, gin, and peach bitters to mark Richard Nixon's visit to Britain. "A Dick-ari?" quipped one US newspaper. Maybe Gilmore didn't know that Tricky Dick favored Johnnie Walker Scotch and had once reportedly threatened to nuke North Korea after overindulging. A more apt way to commemorate the boozer in chief, perhaps, was imagined by a New Orleans saloon in 1973: "Water with a bug in it!"
---
Back to Top
The Clinton Martini: 1996
Restaurateur Alan Popovsky doesn't remember which came first—the Clinton staffers or the Clinton martini. Either way, his former Adams Morgan hot spot, Felix, served the $3 Absolut vodka special to a young White House crew who spilled in every Wednesday night for the live Sinatra covers. "It was always a little dirty," Popovsky says—of the martinis. Clintonites Peter Mirijanian and Erick Mullen, who have gone on to run their own local lobbying firms, were among the regulars at these so-called "soirees." And yes, Monica Lewinsky came in at least once, according to Popovsky, though he isn't sure if she ever sneaked a sip of the Clinton cocktail. Popovsky sold Felix in 2005, but he has since gone all in on the POTUS shtick. He now runs Lincoln and Teddy & The Bully Bar, the downtown restaurants whose entire cocktail menus are centered around the 16th and 26th Presidents.
---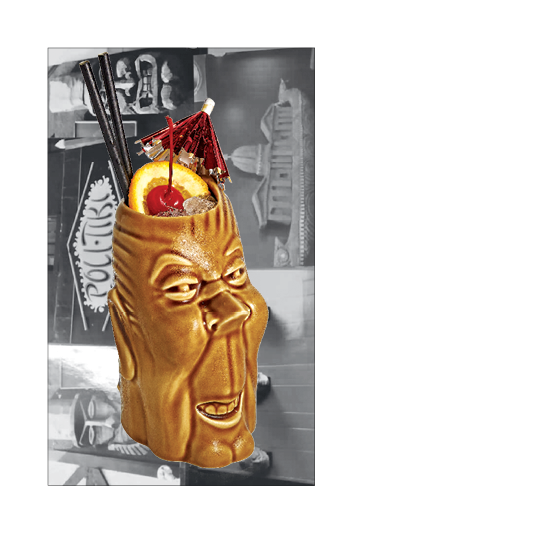 Back to Top
Politiki: 1998
The late Joe Englert was well known for concocting wacky bars. His safari-inspired Big Hunt put patrons inside the rib cage of a giant beast, and 15 Minutes imagined WWII fought against aliens. Englert's Clinton-era idea to create a Capitol Hill tiki bar fused with politics was relatively tame by comparison. Yet there had never been anything so politically kitschy as Politiki, and the Hill happy-hour crowd poured in. Tribal masks and seven-foot-tall tiki heads of Abraham Lincoln and Franklin Roosevelt set the scene, while the faux-wood busts of boldface names sometimes got used as political punching bags. "I only had to replace Hillary once, and Clinton a couple times," remembers Lee Wheeler, the designer behind the decor. Wheeler also devised custom mugs with presidential caricatures for specific cocktails: the Zombie for the Reagan vessel, Plantation Punch for Carter, and the Applejack for Lincoln, who famously ate apples for lunch. Politiki turned into the Pittsburgh sports bar Pour House in the early George W. Bush years (and later Barrel), but the owners revived Politiki as a pop-up during the Trump administration—with Steve Bannon mugs for "Suffering Bannons."
---
Back to Top
Off the Record: 2002
The basement bar in the Hay-Adams hotel, a standby for journos and administration types, feels like the kind of Washington institution that's been around forever. In fact, Off the Record didn't have a political focus until a big renovation around the start of the Bush administration. The hotel featured caricatures of DC newsmakers on the walls and later commissioned prominent cartoonists to design drink coasters, too, beginning with Hillary Clinton, Nancy Pelosi, and Merlot die-hard John Boehner holding a big ol' glass of red wine. Next came cocktails, such as the Bern Baby Bern, for Bernie Sanders and his 2016 run. (The burn came from a housemade ginger syrup.) The ploy was political but never partisan. Like most Washington bars of the modern era, Off the Record straddled the aisle to win a wide set of fans. Today the coasters come in nearly 40 designs and have become hot collectibles. "We'll get phone calls saying, 'I can't find my Obama-Bush coaster—do you happen to have another one you can send me?' " says Sarah Deam, the hotel's director of sales and marketing. "People have kept them and framed them and put them up in their office or in their home."
---
Back to Top
Obamatinis: 2008
Ask bartenders about specials from the George W. Bush years and the memories are fuzzy—Pink Elephants and Bushwackers made a resurgence, briefly. But the Obamas happened to arrive in Washington, along with the Obama-rita and Barack's Fizz, just as the city was undergoing a massive restaurant-and-bar boom. Bartenders, ahem, now mixologists, were coming up with all sorts of wild new concoctions and eager for gimmicks to distinguish them. "Ever since the cocktail movement started in DC, writers wanted to write about [political drinks], so PR people started telling bartenders, 'You need to do this for the writers,' " says Tiki TNT owner Todd Thrasher, a pioneer in the scene from his days at the Alexandria "speakeasy" PX. "And that's what they did."
Some drinks played up the new POTUS's roots (hello, Blue Hawaiians). Others poked fun at his rivals: Tonic restaurant in Mount Pleasant offered a Doggone It cocktail using three spirits from three countries that Sarah Palin never visited. "It seemed that literally the whole city was Obamatinis," remembers Derek Brown, whose Columbia Room was one of the new it-bars. "The political naming came back with a vengeance."
---
Back to Top
The F— Trump! Punch: 2016
Trump's arrival in Washington definitively pushed politi-cocktails from hagiography into social commentary—with each new drink practically vying to match the outlandishness of each new headline. One of the most memorable: Chris Hassan Francke's F— Trump! Punch, a riff on his popular F— ISIS! Punch. Francke, who has Iraqi roots, was still a consultant for the World Bank when he mixed the latter for a series of pop-ups beginning in 2014. For the Trump special, the recipe remained the same (rum and Vimto, a fruity soft drink popular in the Middle East), except that Francke added mezcal and Mexican rum—well, you know why. The drink became a staple at the Green Zone bar in Adams Morgan and a harbinger of the new era. Bartenders used to consider bothsidesism a matter of customer relations—but not anymore. After the NRA's digital director visited the bar and tweeted, "Their menu was full of [email protected] garbage. I refused to even drink the water," Francke reshared it and sicced his social-media fans on the hater. "Hundreds of Green Zone followers just completely tore this guy down," he says. "Our following on Twitter basically doubled."
Over Trump's inauguration weekend, the Capitol Hill whiskey bar Barrel adopted a Russian-Trump theme and added a "Last Supper"–esque painting with Labor Secretary nominee Andrew Puzder feeding a naked Chris Christie a cheeseburger and Steve Bannon licking Mike Pence's face. Later, one Shaw restaurant offered happy-hour specials every time Trump fired someone, beginning with Anthony Scaramucci. The deal morphed into a $5 Moscow Mueller whenever anyone in the President's orbit was indicted. A handful of bars started opening early for must-watch C-SPAN hearings, some drawing lines down the block. Political drinking had officially become a "This Town" sport.
Come Trump 2020, the cider bar Anxo was selling bottled drinks such as Giuliani Juice with a label picturing the Borat scene in which the President's lawyer reaches down his pants. The storming of the Capitol inspired a "Treason All-Stars" series, including an apple-and-gin take on Congresswoman Marjorie Taylor Greene. The drinks continued to rotate in and out as frequently as the news cycle. Mere hours after Texas senator Ted Cruz was caught ditching the sprawling blackouts and frigid cold in his home state for Mexico, the tropical "Cruz in Cancun" was already being marketed on Instagram.
---
Back to Top
The Fauci Pouchy: 2020
If the pandemic had an official cocktail, it would no doubt be the Fauci Pouchy. When restaurants shut down last spring, Rohit Malhotra, beverage director at Capo Deli, a U Street sub shop with a backroom "speakeasy," had a lot of leftover lemons and a tight budget. He bought some Capri Sun–like pouches and literally turned lemons into (boozy) lemonade, "which is kind of cheesy but it's also what happened," he says. The place wasn't getting a lot of foot traffic, so Malhotra needed a zeitgeisty name to attract attention. The pick was obvious: pandemic celeb Anthony Fauci, whose image in a white lab coat graced the label.
Washington's favorite infectious-disease doc hasn't said whether he has indulged, but no matter—according to Malhotra, the drink helped keep the business afloat. One of the newer iterations: the Fauci (p)Ouchy, with a QR code linking to DC's vaccine registration site.
---
Back to Top
The Biden Shot: 2021
When Joe Biden's inauguration rolled around, indoor dining was still banned and many hangouts near the White House and Capitol were shuttered due to security concerns. You could find a Trump chaser or two—"Executive Order #1: Can We Just Undo Everything That Asshole Did?" was one—but for the most part, Washington was wallowing in a post–January 6 pandemic-winter hangover. What will the Biden era bring? Jim Hewes, at the Round Robin Bar, has created cocktails to represent every US President over the years. But a 46-themed drink isn't at the top of Hewes's to-do list. He notes that Biden's drinking habits aren't as well known as daiquiri-loving JFK's or martini-sipping FDR's. Plus, the new President just doesn't provide quite the same fodder for sippable satire as his predecessor. So for now, the only Biden shot is the shot in your arm, which, come to think of it, would make a pretty good cocktail name.
This article appears in the July 2021 issue of Washingtonian.
Cocktails styled by Jim Hews at Round Robin Bar/Willard InterContinental.
Photograph of Croswell and all other background photos courtesy of Library of Congress; Photograph of Nixon by Shutterstock; Photograph of Clinton courtesy of Library of Congress; Photograph of coasters courtesy of Hay-Adams hotel; Photograph of Obama by Pete Souza/Official White House Photo; Photograph of Fauci by Tia Dufour/Official White House Photo; Photograph of Biden courtesy of White House/@JoeBiden Instagram.