From the outside, it's not much of a stretch to envision the previous life of Park & Ford, a recently opened luxury apartment development in Alexandria. Though balconies have been added and the pair of concrete towers have been painted from brownish-­beige to a more pleasant gray, they maintain the unmistakable, Brutalist-lite ambiance of a 1980s government office complex.
Yet there's plenty to admire about the ingenuity on display: Former parking-garage entrances have been zhuzhed up with wood paneling, outdoor TVs, and patio furniture to become "cabanas." What used to be surface parking has been fenced and synthetic-turfed into a huge, residents-only dog park. Original built-in planters, once barren, are thoughtfully landscaped. The whole scene is like one of those upcycled chandeliers made from plastic bottles—beautiful, in a slightly post­apocalyptic kind of way.
"There really hasn't been a time like right now, where office is on the decline to the point that an empty building is basically the same value as just the land."
And, in fact, the last couple years have verged on something close to the end of the world for the region's office market. Even before Covid, more efficient office layouts, the rise of coworking, and a growing supply of new trophy space were making older buildings an ever-harder sell. Then the pandemic shot Washington's already high vacancy rates out of the stratosphere, and now it's more apparent by the day that legions of white-collar employees will never return to an office full-time—if at all. The result has been an economic gut punch not only for the owners of obsolete buildings but also for the surrounding neighborhoods that counted on the tax revenue and vibrancy they used to generate.
"There really hasn't been a time like right now, where office is on the decline to the point that [an empty building] is basically the same value as just the land," says Lindsay Stroud, a structured-finance broker with the commercial real-estate firm Savills.
One possible solution: more office-to-residential conversions like Park & Ford, which was designed by Bonstra | Haresign Architects.*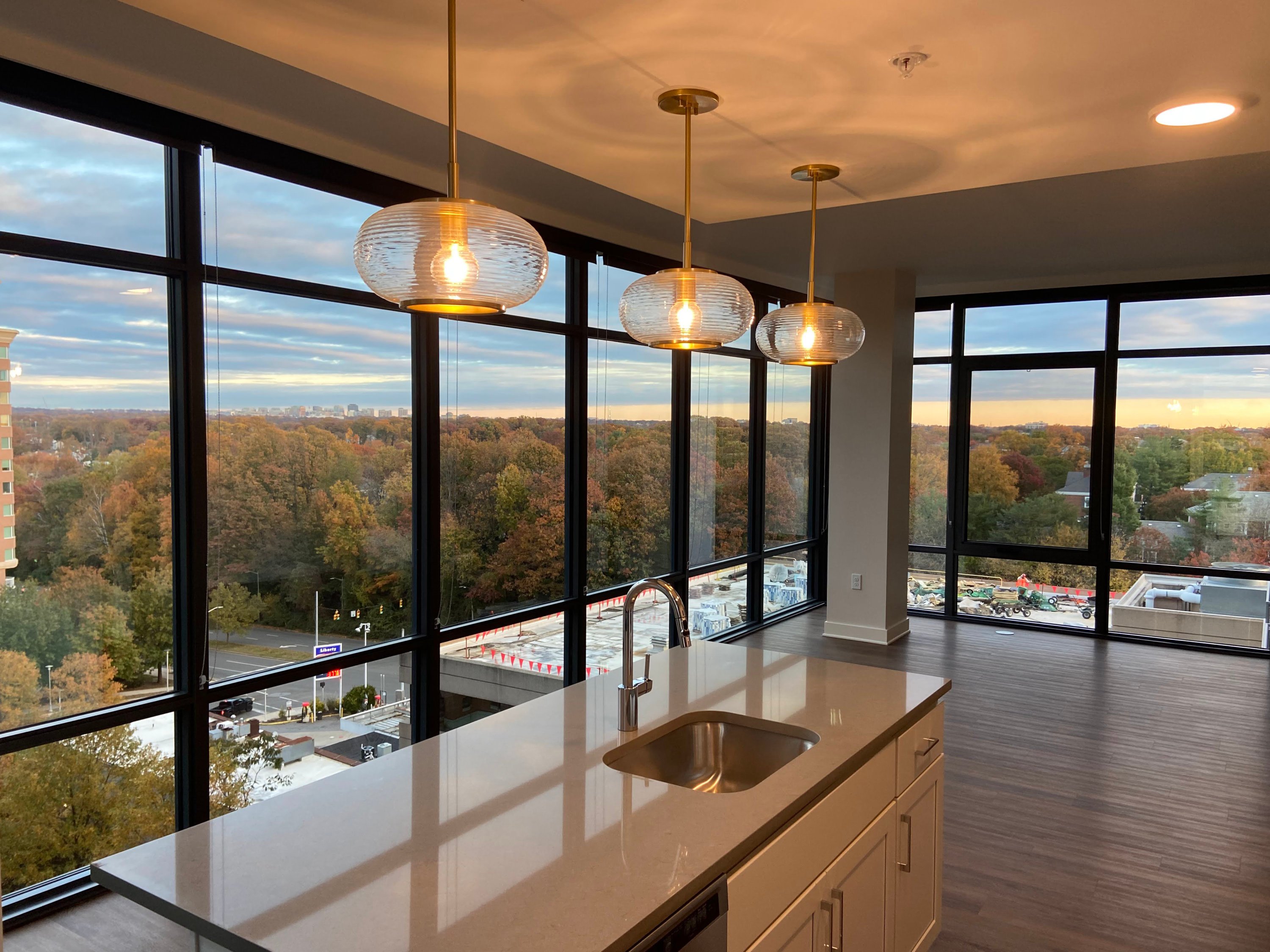 Landlords, developers, and government officials are trying hard to make them happen. Nearly 4 million square feet of outdated office space in downtown DC is already being converted or is under evaluation for potential transformation, and the District has been soliciting input from builders on ways it can incentivize more such projects. Suburbs such as Alexandria and Reston are also increasingly catching the attention of developers interested in capitalizing on the potentially lucrative convergence of bargain-priced office buildings and the enormous regional demand for more housing.
Logical as it all sounds, turning a corporate floor plan into someplace livable is a lot more complicated than just replacing cubicles with bedrooms. "It is not for the faint of heart," says Paul Dougherty, president of PRP Real Estate Investment, which was ahead of the curve when it converted a West End building into condos in 2018. "It is a very tough thing to pull off."
---
Take a look at most downtown buildings and some problems are obvious. Many are smooshed between their neighbors, meaning they lack windows on at least two sides. They're also typically much deeper and wider than standard residential construction—making the core of each floor cavernous, with no direct natural light. Then consider the complexity of adding hundreds of bathrooms and kitchens (not to mention the accompanying venting and plumbing), turning rooftops into amenity spaces, and rerouting elevators.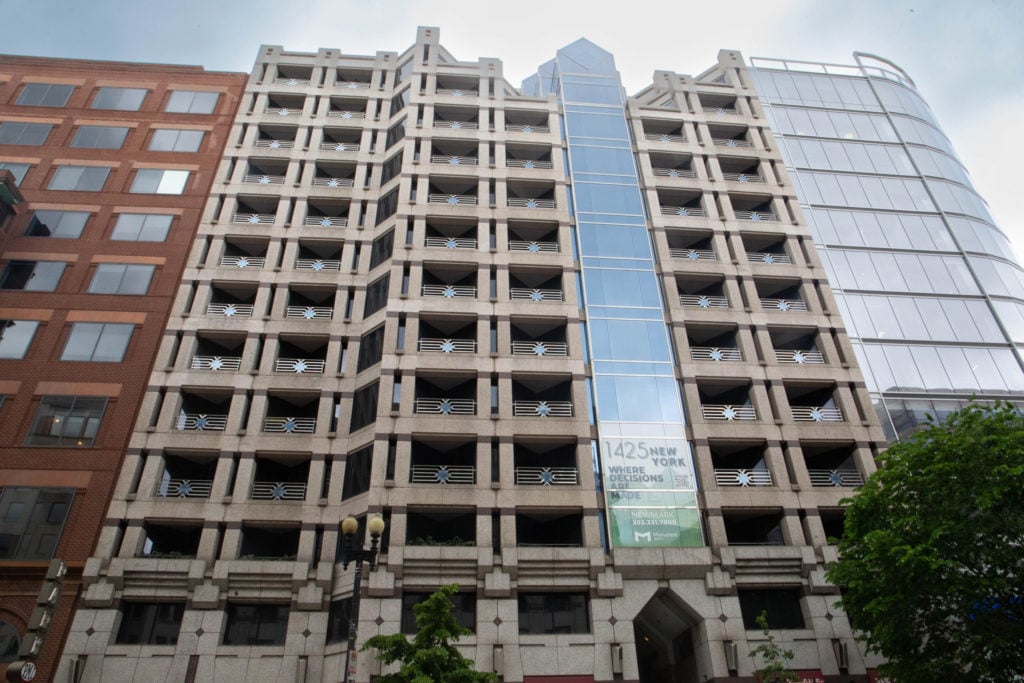 Developers, though, haven't been deterred. Michael Abrams, managing director of Foulger-Pratt, says the pandemic spurred his company to focus on office conversions as a whole new strategy. In December, it closed on 1425 New York Avenue, a 1989 building about a block from the White House that was previously occupied by the Department of Justice. Abrams says Foulger-Pratt also has another building under contract near Dupont Circle to convert into 185 units (though he can't disclose additional details because the deal isn't final). Not that it's been simple to find the right candidates­—he says his company has evaluated about a half dozen others that weren't workable.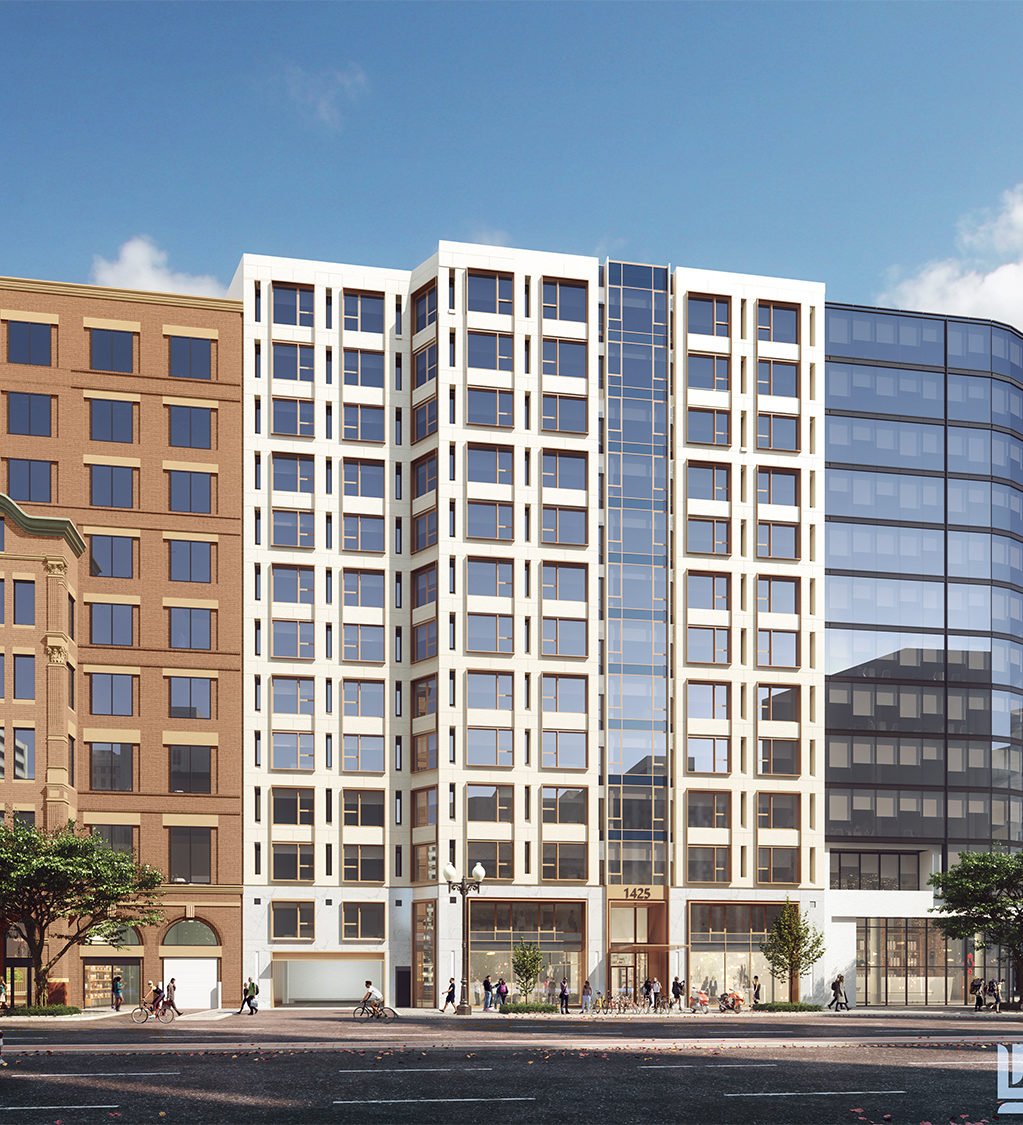 What distinguished 1425 New York, he says, was that it already had a central atrium: "So we're able to just enlarge that existing opening and take the roof off it to create the courtyard that's necessary to provide light and air to the internal units." Foulger-Pratt hopes to start construction before the end of this year. The 255 apartments will be so close to the White House, says Abrams, that the roof deck will look onto the President's lawn.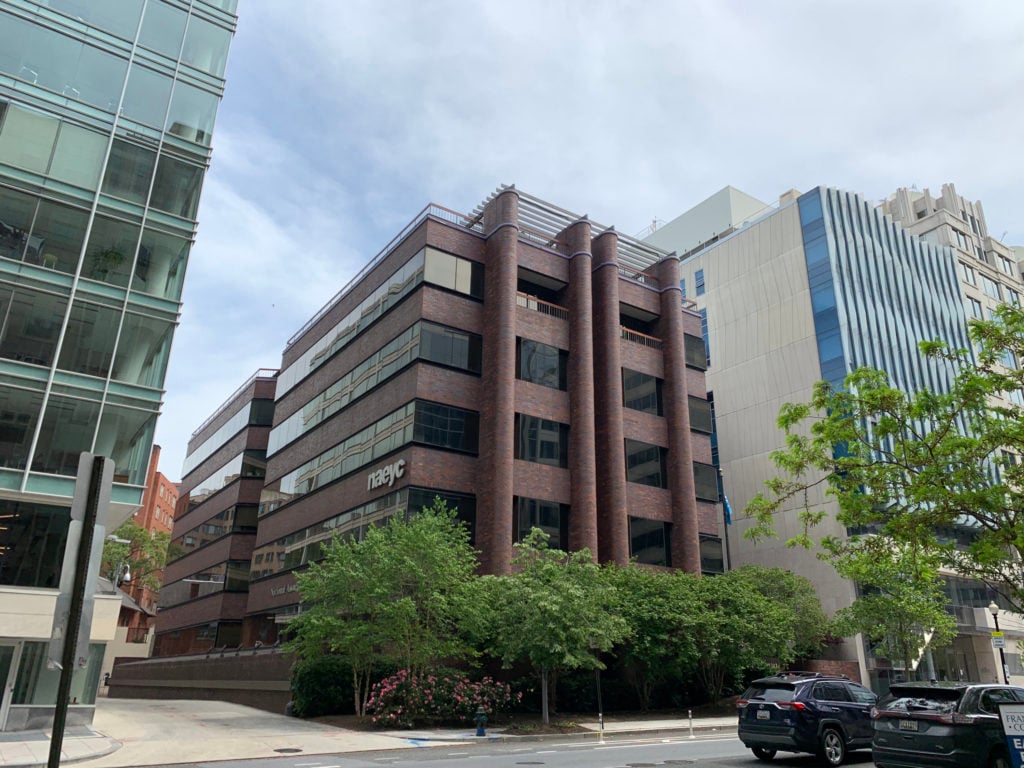 Lincoln Property Co. is also working on two downtown conversions, at 1313 L Street and 1125 15th Street. Architect Laurence Caudle and one of his colleagues at the firm Hickok Cole designed them. He explains that on L Street, space for a courtyard was cut into the center of the original footprint. Ceiling heights were lowered to allow for additional floors—which in turn will allow for more rent-generating units, necessary for the project to make financial sense. Over at 1125 15th Street, the building already had glass on all sides, making that conversion a slightly easier lift.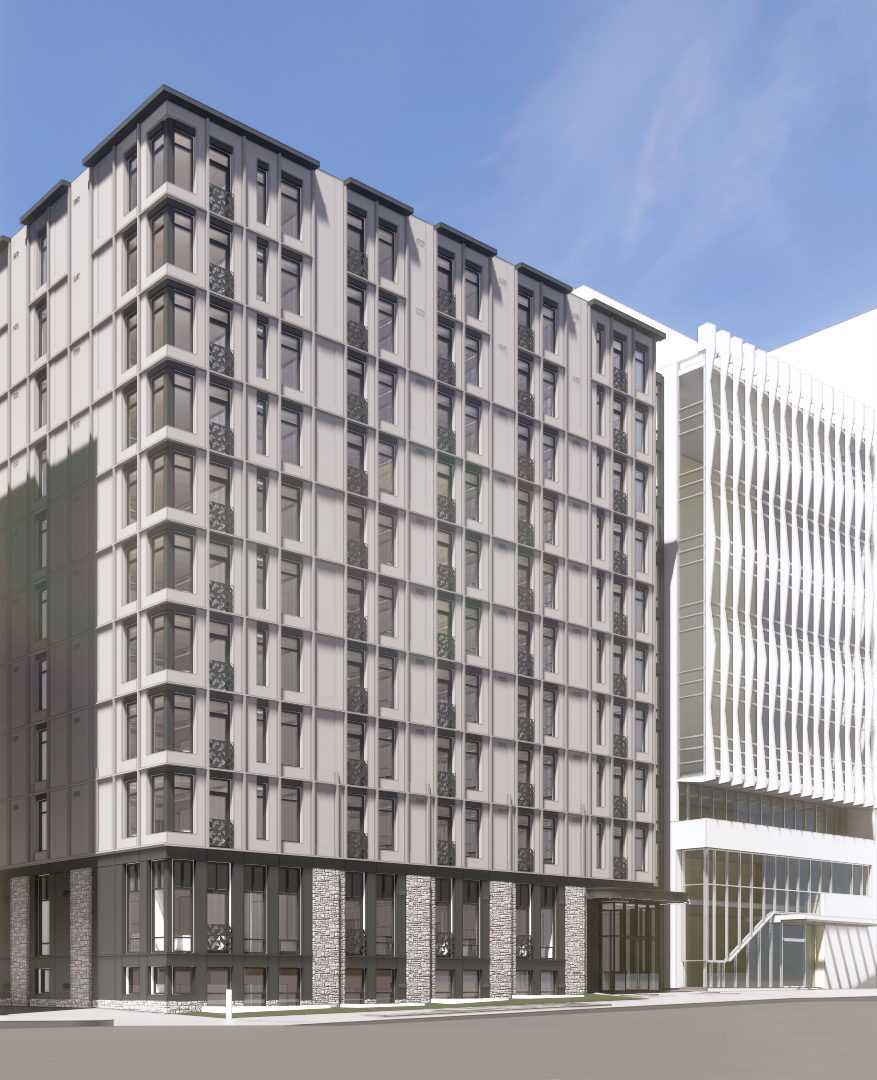 A few blocks over, the former Peace Corps headquarters at 1111 20th Street was empty well before the pandemic. "We were out there for several months really trying to land a tenant, either to take the whole building or even half the building," says Gary Cohen, whose family has owned it since it was erected in the 1960s. "Then, of course, Covid hit. Vacancy in the office market went the highest it's ever been." Suddenly, he says, "the path of least resistance" became a residential conversion.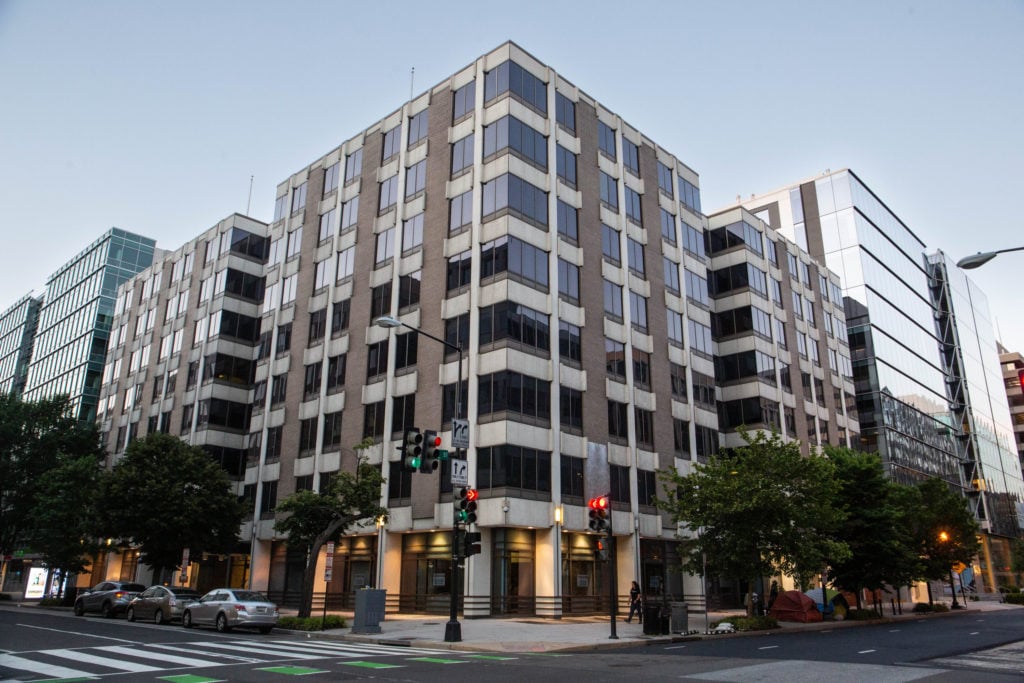 The building was relatively well suited for the job. It's on a corner and fully detached on all sides. The location, near Foggy Bottom and the West End, is also more obviously residential than parts of downtown farther east. "This is one of the reasons we did it," says Cohen. "This is digestible." He expects construction to start this fall. When finished, the property will have 163 apartments, 8,000 square feet of retail, a dog park, and a rooftop pool.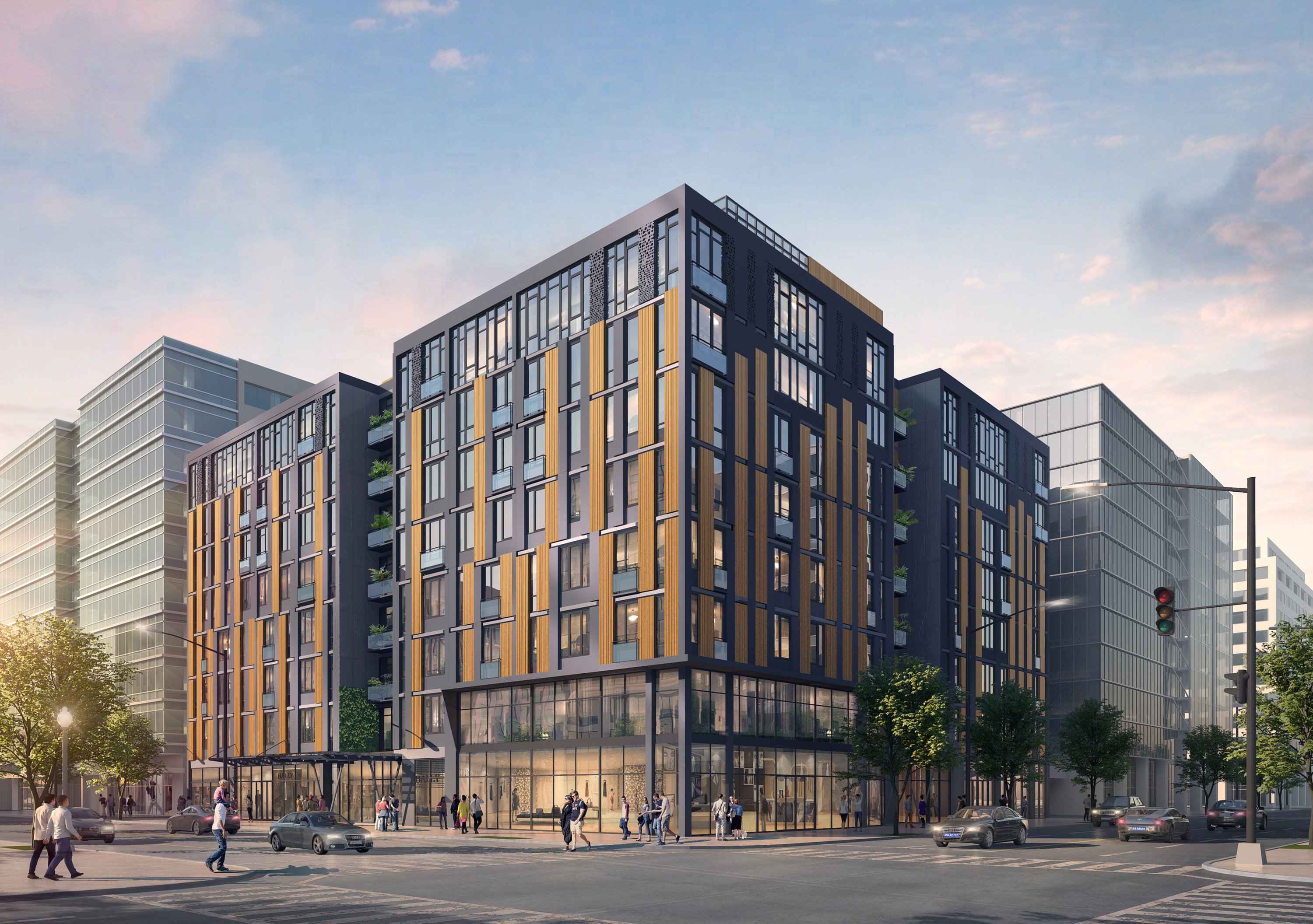 Still, for every building that moves forward, dozens more strike out. Sean Pichon of PGN Architects designed Cohen's project and has another conversion underway nearby at 21st and K streets. But in total, he estimates that he has studied roughly 30 buildings around DC in just the past two years for clients interested in turning them into residences. At least for now, most aren't proceeding because of one complication or another.
Offices in the burbs are often easier targets. Brookfield Residential snapped up a pair of 1986 buildings near Old Town Alexandria last year, previously leased by government contractors. They're surrounded by open space and more modestly sized than downtown buildings, at four levels each. Brookfield is turning them into 81 luxury condos, priced from the $400,000s to $2.5 million. Gregg Hughes, a senior vice president at the company, says they should be done in the fall and that 20 of the homes are already under contract.
The two towers at Alexandria's Park & Ford—one of which was an outpost of the Department of Agriculture—are similarly surrounded by the kind of space and light you'd be hard-pressed to find downtown. Lowe, a national developer, bought the property and launched its redesign before the pandemic—lucky timing, as it turned out. Because of all the windows, the buildings' deeper floor plates weren't terribly problematic and actually led to larger apartments, many with dens ideal for working from home. By the time the development opened last November, the units were just what many renters were looking for. More than 40 percent of the 435 apartments have been leased.
Mark Rivers, an executive vice president at Lowe, says the company would like to replicate that success elsewhere in the area, but the competition for good conversion candidates has gotten tougher: "The secret's out."
---
Like so many things, the shift from traditional office buildings was accelerated by the pandemic but certainly not caused by it. Modern spaces in reimagined neighborhoods like Navy Yard were giving the blocky 1980s structures downtown a run for their money long before Covid. Even typically conservative tenants such as law firms had started to branch out. Take Williams & Connolly, which announced in 2018 that it would ditch its Metro Center headquarters for a trophy building at the Wharf. (At least one developer has studied the firm's former digs as a possible conversion candidate, only to determine it wasn't feasible.)
"A lot of the areas that are doing really well right now are areas that have a lot of retail, a lot of residential," says Austen Holderness, chief development officer at Carr Properties. "Putting an office building in an environment like that, it taps into the energy that in the central business district is somewhat lacking."
"The reason downtown needs more housing is to keep up with these newer neighborhoods—to create that 24-7 feel."
This is why, all the way back in 2017, Carr decided to build its latest office project, Signal House, in the Union Market district, Holderness explains. The building opened last year during the doldrums of the worst market in history—and yet 70 percent of its 227,000 square feet is already leased. Its largest tenant, TikTok, took three and a half floors.
City officials are watching closely. "The reason downtown needs more housing is to keep up with these newer neighborhoods—to create that 24-7 feel," says John Falcicchio, DC's deputy mayor for planning and economic development. Thus, last December, he put out a request to property owners for input on how the city can help encourage more office-to-residential conversions. Then, in her 2023 budget proposal released in March, Mayor Muriel Bowser pitched a 20-year tax abatement for building owners in parts of downtown who undertake such conversions, so long as at least 8 percent of the units are affordable.
As Falcicchio sees it, even if only a modest percentage of DC's vacant office buildings become housing, it will still help create the vibrancy necessary to attract tenants to take over the remaining space for other purposes: "We need to do it to save downtown. The only way to do that is to have a better mix of uses."
This article appears in the July 2022 issue of Washingtonian. *The story has been updated to add the name of the architecture firm that designed Park & Ford.