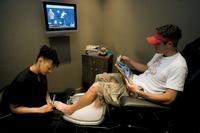 This article is from 2006's Cool Spa Treatments package. The information may be out-of-date, so please call locations listed for new information.
To see our 2008 Great Day Spas package, click here.
Washington men are known for being smart and sometimes powerful. But well groomed? Some may treat themselves to a massage when things get tense, but a facial?
The tide seems to be turning as more men realize that spa treatments don't have to mean smelling—or feeling—like a flower.
Men now account for nearly a third of all spagoers, says the International Spa Association. The key is finding a spa that treats men the way they want to be treated.
Some spas tout men's treatments, but in reality these treatments are virtually identical to the ones they give women. We searched salons and day spas for treatments made for men who aren't the pampering type. Here are five choices for guys:
The Grooming Lounge The Grooming Lounge, in DC and now Tysons Corner, is known for its boys-club atmosphere and hot-lather shaves. Guys are greeted by flat-screen TVs, mahogany walls, and a martini or beer while they wait. The menu of services is extensive and unique. Getting a back wax? The process includes a shot of Jack Daniel's.
Before my $110 custom facial at the DC branch, my esthetician, Karen, led me to a private room where she explained the treatment so I could close my eyes and relax. After each step, a steaming towel was placed on my face. While a vitamin-C mask dried, she massaged my upper body. Her extractions were virtually painless, and Karen ended my facial with a swipe of minty balm on my lips. After, you can splash on some cologne or enjoy another drink before paying.
The Grooming Lounge, 1745 L St. NW, 202-466-8900; Tysons Galleria, 703-288-0355; groominglounge.com.
Ritz-Carlton
Hotel spas can be good choices for men, who can walk into the lobby like they are checking in or using the gym and come out polished. The Ritz-Carlton in Georgetown tucked its spa next to the fitness center, and spa guests are welcome to work out before or after treatments. The $140 Gentlemen's Rescue Facial, designed to counteract skin irritation from shaving, uses MD Skincare products. Similar services are offered at the Tysons Ritz. At the Ritz in DC's Foggy Bottom, the Sports Club/LA's Splash spa offers a men's lounge. If you book two or more services, you get free use of the gym.
Ritz-Carlton, 3100 South St., Georgetown, 202-912-4100; 1700 Tysons Blvd., McLean, 703-744-3924; ritzcarlton.com; Sports Club/LA at the Ritz-Carlton, 1170 22nd St., NW, 202-974-6600; thesportsclubla.com.
Gentlemen's Quarters
The Gentlemen's Quarters, a men-only establishment next to Alexandria's Windsor Salon & Day Spa, has the feel of an upscale barbershop. Outfitted with leather club chairs, hardwood floors, and top-shelf liquor, the Quarters calls its manicures "nail treatments." The $20 in-chair massages and $5 shoeshines ensure you'll look and feel good head to toe.
The Gentlemen's Quarters, 105 S. Union St., Alexandria; 703-836-7330; thegentlemensquarters.com.
Robert Andrew
If your girlfriend or wife wants a couple's spa day, head to Robert Andrew in Gambrills, Maryland (east of Laurel). The 22,000-square-foot spa has private suites and packages for couples. If you're looking for solo sprucing up, check out the MenZone. The no-women-allowed area has a steam room, 300 channels on the TVs, and a barber chair for guys who want a dye job while taking in a game on ESPN. The Color Camo, a ten-minute hair treatment to remove gray, is popular. Many of the men's packages are reasonably priced and include gratuity, taking the challenge out of tipping.
Robert Andrew, the Salon & Spa, 1328 Main Chapel Way, Gambrills; 301-261-3844; robertandrew.com.
NuYu Salon and Spa
Most day spas in Washington now offer some men's treatments. Just know that there will likely be ladies around and you could get a seat by a window, in full view of passersby. But if you're man enough to get a pedicure next to a woman in foil-wrapped highlights, one place to check out is NuYu Salon and Spa in Alexandria, which offers a men's menu with decent prices, like its $20 sport manicure and a $70 one-hour facial using Art of Shaving products.
NuYu Salon and Spa, 4907 Brenman Park Dr., Alexandria; 703-212-6752; nuyu.biz.