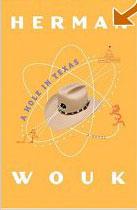 At a Hollywood banquet, physicist Guy Carpenter murmurs to his wife, Penny, "I feel as though I'm leaping off a ski jump at night, into a black void!" Penny tells him to "enjoy the soaring sensation, while it lasts." This is Wouk sneaking his voice in to let us know that while the science in this story may be burdensome, stick with it and enjoy the adventure.
The novel's driving force is the Chinese government's detection of the Higgs boson—a tiny, nearly invisible particle. Carpenter and his colleagues were on the cusp of finding it when Congress killed their funding. In terms of scientific advancements, the Higgs is the modern equivalent of the splitting of the atom that led to the atomic bomb. With the Higgs announcement, a national furor begins over the potential of the Chinese military to build a boson bomb. Leading the charge is actress-turned-senator Myra Kadane—a member of the Senate's Science Committee and Carpenter's gateway to Hollywood when he's enlisted as a consultant on a disaster film.
Under the guidance of Michael Crichton or Tom Clancy, this material might have been the next blockbuster. However, Wouk's focus—while it's apparent he did his homework—is on the main characters. The 88-year-old Wouk—author of The Caine Mutiny, The Winds of War, and others—wrestles with the ups and downs of Carpenter's intimate relationships, never oversimplifying a situation. In movie terms, he's more Sofia Coppola than Frank Capra.
A media frenzy follows Carpenter when his correspondence with his former college love and the Higgs discoverer, Wen Mei Lei, is uncovered by a Washington Post reporter. Carpenter, labeled by the media the Deep Throat Physicist, is hardly a mysterious, dark character. Rather, he has a sexual energy that draws women into his arms and to his analytical mind. However, egghead that he is, he bumbles his way through the novel playing the innocent pawn in Wouk's satire of Washington politics.
Carpenter never sees all the angles to the craze over the Higgs boson, which is okay, because numerous experts such as the colorful Jules Berkovits—a long-haired, jeans-wearing superlawyer—come to his aid and help him run the Washington gantlet. It's these peripheral characters—from Berkovits to the McCarthyesque Illinois senator Conway Hurtle—that Wouk enjoys poking fun at, making A Hole in Texas delightful reading about a heavy scientific discovery.
Author:
Herman Wouk
Publisher:
Little, Brown
Price:
$25