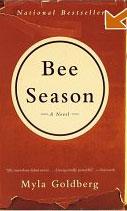 Eliza Naumann, age nine, doesn't seem to belong in her family of intellectual heavyweights. Her father is a cantor who studies Jewish mysticism; her mother, a lawyer, is her alma mater's "most brilliant" graduate; and her older brother, Aaron, seems on his way to rabbinical greatness. But as Eliza discovers a talent for spelling that eventually catapults her to the national spelling bee, her family begins to splinter. Aaron, for one, forsakes Judaism for Hare Krishna.
Bee Season's opening chapters aren't indicative of Goldberg's sensitivity and inventiveness. Those who keep reading will be rewarded—the novel recalls J.D. Salinger's Franny and Zooey, another story of precocious yet troubled Jewish kids diving into mysticism. Eliza's world is full of imaginative possibilities, suggesting hidden longings. While she's participating in bees, the world becomes "one vibrant text spelling itself before her"—a contrast to the family dramas she can't puzzle out. Her talent becomes a mystical obsession as she chants letters and sounds, hoping to spell her way to transcendence.
Goldberg, who grew up in Laurel, does a good job with such diverse topics as the kabbalah and spelling bees, but her research skills don't extend to popular culture. We learn, for example, that when the book takes place, Ghostbusters (1984) has been out for a while, but at Aaron's bar mitzvah—which would have been three years earlier—Duran Duran and the Eurythmics are at the height of their popularity. It's a minor point but distracting, especially because the pop-culture references add nothing to an otherwise terrific debut.
Author:
Myla Goldberg
Publisher:
Doubleday
Price:
$22.95