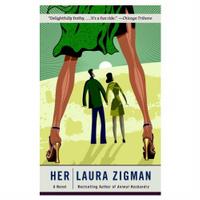 After Laura Zigman's popular debut, Animal Husbandry, you would have though she'd lay off the man-hating. She did—now she's moved on to woman-hating.
Elise, the protagonist of Zigman's locally set third novel, Her, gets engaged to a man she loves, Donald, and then finds out that his gorgeous ex-fiancée, Adrienne, is moving to Washington, possibly to win him back. Elise worries how to keep Adrienne—the ultimate "her"—at bay, dreaming up scheme after scheme and using surveillance skills a cop would envy.
Here she is planning a stakeout: "I would proceed directly to Adrienne's house for a quick middle-of-the-day Sunday drive-by. Seconds later, there I was, slumping down in the driver's seat behind the wheel; lowering the visor and angling it against the window to obscure half my face; whizzing past her house. . . ." She drives by several more times, then goes home to her fiancé, who isn't there, so she checks his cell-phone messages—an art she mastered after moving in with him.
Despite such antics, there isn't as much action in the book as there is attention to detail. Zigman describes the geographic terrain to the point that you practically know where to take a left to get to Elise's Cleveland Park apartment.
Although Her is funny in parts and well written, Zigman seems to expect everyone to find Elise's quirkiness and narcissistic banter endearing, as if all women are as neurotic as she is.
Readers will feel good in one sense: As jealous as they may have been in the past, at least they never went that far.
Author:
Laura Zigman
Publisher:
Knopf
Price:
$22