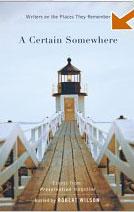 Preservation, the National Trust for Historic Preservation's magazine, launched a column in 1996, the year Robert Wilson became editor. (He recently moved on.) "Place" features writers' thoughts on personally significant sites, and 30 of those essays are compiled here. Local contributors include current Preservation editor James Conaway; Washington Post Book World writer and editor Michael Dirda; and DC novelist Kate Lehrer.
Each author reflects not only on the locale—Robert Frost's Vermont farmhouse (poet and novelist Jay Parini), the twisted streets of Cairo (travel writer Jan Morris)—but also on his or her relationship with it. Novelist Thomas Mallon describes the New York Public Library's Main Reading Room, revitalized by a $15-million renovation. It was a sanctuary for Mallon as a graduate student; later, he used the setting for a love scene in a novel. Initially wary of the modernization, Mallon is surprised that his "paradise"—accessible through a doorway under poet John Milton's words ("A good booke is the precious life-blood of a master spirit . . .")—is still familiar.
The Paris subway's art-nouveau entries delight short-story writer Edith Pearlman: "Not the stuff, you'd think, that would attract a middle-aged husband and wife returning to Paris for an idle look at the Watteaus in the Louvre and perhaps a single brave ride on the grand Ferris wheel at the Place de la Concorde."
Each story is distinctive, but all are tender and honest, many infused with nostalgia—yet, as Wilson writes, "not touched by sorrow so much as by joy, often an exuberant joy." It's clear that the authors' memories—a sandlot where children played ball, a fish-shaped weathervane above an Indiana courthouse, a remote park in Maine graced with gorgeous views and ferocious weather—gave as much pleasure in the writing as they do in the reading.
Author:
Robert Wilson
Publisher:
Random House
Price:
$24.95