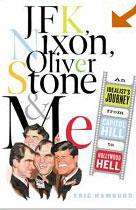 As a law-school graduate working for Senator John Kerry and Representative Lee Hamilton, Eric Hamburg saw a future dedicated to changing the world. One of his accomplishments was persuading Hamilton to introduce a bill releasing House files on John F. Kennedy's assassination. A chance meeting with director Oliver Stone at the JFK premiere lured Hamburg west. While helping to produce movies including Stone's Nixon, he became immersed in a culture of power-obsession and greed.
Hamburg's book is meant to be humorous. But his storytelling is often clumsy, and characters like Danny the Weasel, an agent, are more disturbing than funny. The book's value is its anthropology: Hollywood machinations from a nice guy's perspective.
At its heart is Stone, mercurial power-monger and near-Shakespearean tragic figure. Their unsteady relationship provides the narrative arc. "Oliver would . . . get a demented look when he was about to explode (which was often)," Hamburg writes. "His eyes would glaze over and I would actually get the feeling that I could see smoke coming out of his ears." When Stone dismisses Hamburg from his company and later is arrested on drug charges, the party's over.
Hamburg portrays himself as an Everyman carried by extraordinary circumstance from the Hill to Hollywood, but it's hard to believe he simply fell into his adventures. A careful reader can compile an impressive résumé for his father, David Hamburg—former head of the Carnegie Corporation, Presidential Medal of Freedom recipient, and friend of UN Secretary-General Kofi Annan and historian Arthur Schlesinger Jr. Throughout the book is an implicit greasing of the wheels in the author's favor.
Still, the book is interesting for its behind-the-scenes look at moviemaking. Hamburg is no Hemingway, but his decency makes him an appealing character among the scoundrels, of whom Stone is king.
Author:
Eric Hamburg
Publisher:
PublicAffairs
Price:
$26