September 2006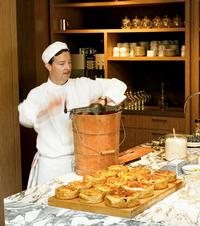 I don't think it's going too far to say that whether you love the new Blue Duck Tavern or merely like it depends on how you feel about scooping roasted, softened marrow out of a laterally cut cow's femur.
Not everything on the menu at the restaurant in DC's Park Hyatt is so primal–imagine slathering the richest, beefiest butter atop slices of grilled bread–but all the flavors are strong, deep, and intended to bring you close to the source.
So go ahead and conduct business over lunch or go through the motions of a first date at dinner, but be forewarned: At some point, those sorts of pleasantries will be exposed as an inadequate means of expression for the sensual pleasure of eating here. I heard more moaning and saw more passing of plates in my four visits than I've ever experienced in any serious restaurant in this city.
Which isn't to say that Blue Duck Tavern is one of those gastronomic temples where each dish is a feat of architecture and your server extols the contents in excruciating detail.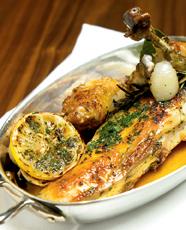 The kitchen doesn't really bother with "plating." It sends the food out in silver-plated casserole dishes along with a pair of tongs and a spoon. If you're looking for new and exotic ingredients or convention-defying combinations of flavors, look elsewhere. Even sauces are scarce–unless you count the pan juices that pool around the slow-roasted meats.
The chief attraction of the open kitchen is the gleaming Molteni range, a contraption so big and tricked-out that it makes the average stove look like a Coleman portable. There's a basket immersed in rendered duck fat just to cook the fabulous steak fries.
Arrayed about the kitchen are workstations–one for preparing pastry, one for slicing up the many cured meats and terrines–plus heaping baskets of perfect-looking onions and tomatoes and freshly baked torpedoes of bread.
Amid the marketlike abundance–which makes the case for the glories of American regionalism a lot better than the hanging quilts and Shaker-style tables and chairs–it's easy to lose sight of the chef, Brian McBride. Which is fine by McBride, who in conversation by phone deflects attention toward chef de cuisine Mark Hellyar, the man who handles day-to-day operations, and heaps praise on the Molteni. "Isn't it fun?" he asks.
The Park Hyatt shut down the underrated Melrose last winter and gave McBride, who had been cooking at the hotel for almost two decades, what amounted to a sabbatical. McBride seized the opportunity to travel, seeing what and how people were eating. He returned with a boatload of new and old ideas, but mostly he returned refreshed. One moment he's beaming like a kid with a new toy as he slices up a galantine of duck and mushrooms in his fire-engine red slicer; the next he's chatting with friends in the dining room. Even during a midweek lunch in July, the place buzzes in a way that Melrose, for all its charms, never did.
In an age of small plates and shifting notions as to what constitutes a meal, the menu McBride has crafted feels reassuringly familiar. It's divided into three parts–starters, meats and fishes, starches and vegetables–with the provenance of the key ingredient in each dish listed.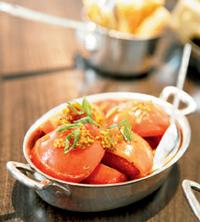 A lot of chefs talk about their love of foraging for ingredients. But McBride has built a restaurant around his insistence that good cooking begins and very nearly ends with great raw materials. Sourcing from local and regional farms is a priority, but he's not fixated on staying local; he's fixated on what's great. So he finds Hog Island oysters from a small purveyor in Washington state; heads to Alaska for his halibut; and resists the temptation to go offshore for his crabmeat and instead patronizes a producer in Louisiana.
One of the advantages of this approach is that you can have a meal of steak and potatoes (or steak and grits–they're lushly creamy and even elegant) without being made to feel your palate isn't adventurous enough.
Even better than the steak is the roasted pork rib chop, a thickly crusted, 1-inch-thick slab that reminds you of what pork tasted like before a PR campaign turned it into "the other white meat." The accompanying halved peaches, glazed with bourbon and slowly roasted, are better than what passes for dessert at many restaurants.
The chicken, a black-feather bird from a small farm in upstate New York, arrives bearing a crisped cap of golden-brown skin. If it doesn't sound like high praise to say that it tastes like chicken, then you haven't eaten a lot of restaurant chicken. A sometime-special of rack of lamb delivers this same jolt of recognition, the meat thick and rosy in the center, seasoned only with coarse salt, black pepper, and a sprig of rosemary.
Roasting meats over a gentle, wood-burning fire to concentrate their natural flavors is about as no-tricks as cooking gets–and about as satisfying, too.
The shame, if there is one, is that the emphasis on slow roasting can make you forget that there is great delicacy at work here too. The house-made braised bratwurst is as ethereally light as a good boudin blanc. The links are browned to a turn and set down beside excellent house-made sauerkraut braised in Riesling and dark beer.
The pea soup is of a green seldom seen in nature, and its weight and depth are startling for a soup not larded with cream; a poached egg in the center awaits the prick of a fork to release a brilliant slick of yellow.
If tuna tartare in warm weather has become as ubiquitous on upscale menus as foie gras in cold months, you seldom see it partnered with anything approaching the potato puffs the kitchen sends out here; air might be lighter, but nothing tastes more of potato. Marinated sardines arrive in a pressed, potato-sheet package that makes them clean and easy to share while sacrificing none of the oily depths of the fish.
A lot of chefs who subscribe to the market-based approach seem to think all they have to do is present the bounties of the harvest on the plate. But careful foraging doesn't release a chef from the obligation to make something already delicious even better. The paradox is that it takes work to make something simple taste the way it should. Here's another paradox: McBride and his kitchen put in the work without having it come across as work.
No tomato fresh from the farm tastes as good as the tomatoes here, pickled with jalapeño and cumin and so burstingly sweet and acidic I couldn't help ordering them on two of my four visits. The quality of the asparagus is unimpeachable, but then the stalks are shorn of their barnacles, seasoned with salt and pepper, and poached in a rich, creamy butter until they're as succulent as any of the meats.
The downside to this kind of simplicity, and the reason a lot of chefs don't embrace the approach, is that a slip in timing or too heavy a hand in seasoning can kill the dish. McBride and his team don't err often, but they do err.
An excess of butter spoiled the charms in a dish of morels and peas. If the crab cake at Melrose was the glory of that restaurant, and one of the glories of eating in the area–a well-formed patty of sweet jumbo lump with a superbly eggy rémoulade–the version here, made from Louisiana crab, is merely fine, a contender and not the king; it fell apart a bit too easily the two times I ordered it.
By a small margin I prefer the soft-shell crab, in which a sweet, meaty critter from the Eastern Shore, cut in two for ease of cooking and eating, is sheathed in a greaseless, golden-brown crust that lets you see every last claw and flipper.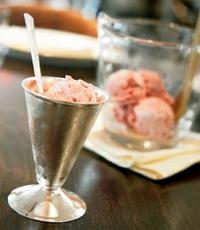 Crabs and oysters aside, much of the fish suffers in comparison with the meats. The halibut, fresh as it is, needs more help than its cloak of red-pepper sauce. The whole sea bream, roasted with salt, pepper, lemon juice, and thyme, is better but hardly memorable–and hardly up to the standards of the chops. Only the Shenandoah trout, presented with its tail tucked between its teeth and boasting a marvelous smoky taste amplified by a stuffing of sage, pears, and bacon, won't have you pining for the depths of the meats.
I've been tempted to round out my meals with a tray of cold, well-shucked oysters, but then I watch the staff deposit a bucket of ice cream with a wooden spoon at a table next to mine. The ice cream is churned in-house, and although it's sometimes served too cold, it delivers on the promise of its countrified presentation: The strawberry ice cream is so good, it could serve as a baseline for all other future versions. It tastes exactly like great, ripe strawberries topped with great, fresh cream. The pecan is nearly as good.
And if you want to test the boundaries of gastronomic excess, you can't do much better than the chocolate cake flambéd tableside with bourbon, a dessert as light–its texture a cross between a soufflé and a warm pot of crème–as it is rich.
A low moan escaped the lips of a woman sitting to my right, out on what looked to be a proper first date, as she took her first bite. Her companion gave no sign of having heard her, which she must have been relieved to discover from the way she began dabbing at her lips.
I silently saluted her response as the mark of an eater, a fellow traveler in gastronomic adventure, even as I speculated that there probably would not be a second date. As she got up to leave, we shared a conspiratorial smile, and I hope she caught the sheen of bone marrow on my fingers.