From June 2006 Cheap Eats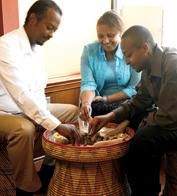 Ethiopian restaurants aren't all dimly lit dens or smoky bars filled with cabbies kicking back after work. This narrow warren, with its gleaming wood floors and dangling lights and candy-colored cosmos, is as cool and contemporary as any Modern American bistro. The cooking has as much substance as the room has style. Of the recent restaurants to crop up in DC's Little Ethiopia, Etete is the most accomplished.
The name means "mama," and what passes through the doors of Tiwaltengus Shenegelgn's kitchen is the sort of home-style cooking that is rare these days. There are snares for the timid or unaware–a plate of beef with peppers and onions looks for all the world like fajitas. Avoid these halfhearted efforts and pay attention instead to the wonderful sambusas, spicy, tangy lentils stuffed into folded pastry; to the intricately spiced lamb stews, slow-cooked to lusciousness and spooned at the table from a little black iron pot; and to the array of vegetable dishes, including the terrific azifa–green lentils brought alive by a dash of Ethiopian mustard and a dice of green chilies. Don't miss a long-simmered stew of potatoes, carrots, and tomatoes and the excellent gomen, good enough to make a Southerner forget collards.
Etete's coffee, a dark-roasted brew, is a good end to a meal in which you will be encouraged to linger and treated to a little pampering.