January 2006 100 Very Best Restaurants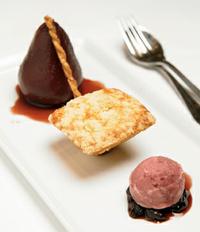 THE SCENE. Real and would-be Capitol Hill power brokers fill the tables and crowd the bar at this stylish bistro in the St. George Hotel, one of the best places to experience the Hill during off-hours, when much of the real work gets done.

WHAT YOU'LL LOVE. The well-prepared bistro classics offer simple satisfactions; one of the best cheese carts in town and a slate of terrific desserts will have you going away floating–mentally, at least. And Bis is one of the few restaurants at its level open for breakfast, ideal for squeezing in a strategy session before work.
WHAT YOU WON'T. The noise and the occasional feeling that everyone around you is more in the loop than you. Meals are strongest at the beginning and at the end–a caveat for diners who aren't inclined to linger.
BEST DISHES. A classic frisée salad with bacon lardons and a poached egg; plump, juicy steamed mussels with fennel and a spicy rouille; meltingly tender duck confit with white beans and duck sausage; pan-roasted veal sweetbreads; steak frites with tarragon hollandaise and crisp fries; a rich but delicate goat-cheese cake; wine-poached pear with cream.