From January 2006 100 Very Best Restaurants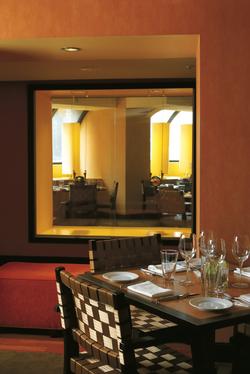 THE SCENE. The most unassuming of all the Adamstein & Demetriou designed places in town, this modest hotel restaurant in the West End manages to feel cozy, sleek, and vibrant, thanks in part to the brilliant, hearthlike orange of the walls. It sometimes seems more popular with out-of-towners (many of them visiting faculty at nearby George Washington University, which owns the restaurant, or parents checking up on their investments) than with locals.
WHAT YOU'LL LOVE. The simplicity and directness of chef Brendan Cox's French bistro menu. Theatergoers, take note: This is one of the few spots in town where you can eat romantically, and well, for around $100 for two.
WHAT YOU WON'T. The size of the menu, which has shrunk since Cox began and become more calculatedly crowd-pleasing. It's a boon, perhaps, to management but a disservice to a young, ambitious chef. And unless you're intent on getting some work done at your table, you're likely to find yourself craving some ambience on quiet, sparsely populated weeknights.
BEST DISHES. Frisée salad with lardon and sautéed mushrooms; a warm, melt-in-your-mouth leek-and-goat-cheese tart; juicy roast chicken full of smoky, bacony flavor; tangy beef tartare; apple Charlotte so rich and buttery the crust will put you in mind of shortbread.