September 2006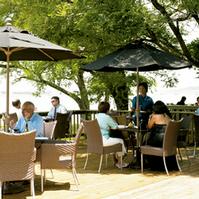 At Indigo Landing, Going South for Lowcountry Flavor
On a steamy summer's eve, you could almost confuse Indigo Landing's deck on the Potomac River with the banks of the Seine in Renoir's "Luncheon of the Boating Party."
Tech moguls crack stone-crab claws from a tower of seafood while an after-work office crowd nibbles hush puppies studded with nuggets of foie gras. An ash-blonde matron fingers her pearls as she sips a mint julep. A young immigrant couple sits close, sharing a half bottle of wine, taking in the DC skyline and sailboats skimming by.
Renoir's gathering was all about "liberté, egalité, fraternité." The revelers at this restaurant on a spit of land known as Daingerfield Island in Alexandria cross lines of class, color, and sensibility. And like Renoir's boaters, they're there to indulge in riparian and culinary entertainments.
It wasn't always so. Potowmack Landing, as the place used to be called, was a restaurant with little to recommend it except the view. The new owners, the Star Restaurant Group (Red Sage, Zola) and Guest Services, remade the space with stylish lighting, Armaniesque taupes and tweeds, snug lounges, roomy dining rooms, and a striking deck. They also rethought the food.
Chef Bryan Moscatello's Lowcountry cooking is just what the place needs to sidestep those negative restaurant-with-a-view clichés.
Tapped by Food & Wine magazine in 2003 as one of the nation's ten best chefs for his work at Denver's Adega Restaurant & Wine Bar, Moscatello spent months in Charleston kitchens, cooking, tasting, and taking in this slow-simmered cuisine. He's made Lowcountry his own, though most of the dishes are recognizable and better for it.
Oyster pie is really more of a stew or pan roast. Brimming with plump sweet oysters and redolent of their likker, it is utterly familiar, yet peppery watercress and wild mushrooms give it an earthy boost.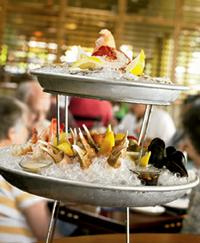 Pepper-cured pork belly tastes like refined barbecue, a tender, smoky caramelized wedge; pickled sticks of watermelon rind make for that tart riff Carolinians are so fond of, and it's a near perfect dish but for the chunks of fresh watermelon, soggy from the heat of the meat.
Even a simple salad has appeal, with crisp seeded Benne wafers, a holdover from the Old South, and a vinaigrette energized by pickled onions.
Though it won't win any beauty contests–it's the color of Lowcountry mud–a dish called Duck Bog, with bits of foie gras, duck-leg confit, and Carolina red rice, has depth that goes beyond most stews. Shrimp and grits is a bowl of many flavors, sage jus moistening creamy grits, and bacon, leeks, and oyster mushrooms taking it beyond the cliché. Beyond the stews are a fine crisp-skinned black bass with a delicious succotash of corn, limas, crab, and bacon, and pecan-crusted pork loin with creamy spoonbread and crunchy okra.
There are times, though, when the kitchen seems to be on autopilot. Skate wing disappears in its breading; a roast chicken comes out with scorched skin. And some dishes overcomplicate things, like a grouper with a strangely tasteless barbecued-mussel jus or a hanger steak fashioned into small mignons, which takes all the chewy fun out of the meat. In putting his stamp on a distinctive regional cuisine, Moscatello sometimes seems to try too hard.
Little of this is evident in the desserts.The pecan tart is an engaging nod to tradition, all lightness and crunchy sweetness. Just as good is a tangy, silken wedge of Southern-style buttermilk pie.
If there are weak moments in the dining room, the lounge/deck menu is rife with problems. The Lowcountry Dirty Burger, a hefty round studded with chicken livers, is not so much dirty as flavorless. A ramekin of pimento cheese, with its odd shredded texture, is flat. And though service can be sluggish in the dining rooms, it verges on inept in the lounge and on the deck.
Youthful growing pains? Perhaps. Restaurant-with-a-view arrogance? Maybe. One thing's for sure: Indigo Landing can do better.