From January 2006 100 Very Best Restaurants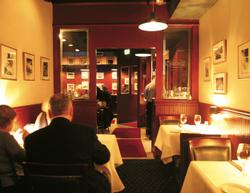 THE SCENE. To wander into this corner steakhouse, just across the bridge from Annapolis in Eastport, is to step back in time to the kind of restaurant that dotted the land before big-box chains, a colorful, convivial gathering spot with black-and-white pictures on the walls, lots of small-town charm, and neighborhood characters both waggish and welcoming.
WHAT YOU'LL LOVE. Lovable as the atmosphere may be, you come here for the agreeably priced steaks–wet-aged slabs of prime, Midwestern beef seasoned with salt, garlic salt, and white pepper, thrust beneath an 1,800-degree broiler just until they develop a nice black char, and topped with a generous spoonful of clarified butter. A good, red-heavy wine list, including several pages of reserve selections, lets you drink as well as you eat. The amiable waitstaff goes out of its way to make you feel like a regular.
WHAT YOU WON'T. Venture beyond the meats and potatoes and you may come away disappointed.