August 2006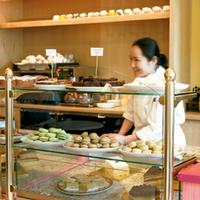 It sounds like a bakery. And with pistachio macaroons and framboisettes stacked in the glass case, it has the look of one. But tucked away on the second floor of this airy storefront is an honest-to-goodness French bistro. The kind where duck confit is bundled in a crisp layer of fat. Where chicken pot pie gets a jaunty round of burnished pastry. Where the foil-wrapped pats of butter are Plugra, the Euro import loved by serious bakers.
The owners–Patrick Musel and Susan Limb, acolytes of former White House pastry chef Roland Mesnier–and chef Jean-Pierre Petit, formerly of Bistro Francais, care about details, and it shows.
Praline would be a find in any neighborhood. But in this quiet enclave between Bethesda and Glen Echo, it's like stumbling upon black truffles in Brighton.
An intimate yellow-walled dining room gives way to an umbrella-littered patio lively with couples, families, and conversation. It's an engaging perch for sipping a glass of sparkling rosé and watching the sun set.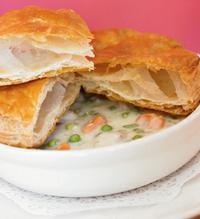 When hunger calls, consider the deftly dressed frisée with bits of lardon and a poached egg; down the egg whole or break it so it gently coats the greens. Or share a plate of charcuterie–from earthy saucisson to sweet, pale pink jambon, with good house-made pâté in between.
Chilled shrimp amid cubelets of lime aspic are a reminder that perfectly cooked seafood is a rarity. And a vibrant gazpacho with a fine dice of red pepper and cucumber recasts a summer standby. Quiche Lorraine is done right, too, with wonderful smoky bacon and ham.
Many main courses show a similar finesse. That luscious duck confit sidles up to a crisp potato galette. Chicken pot pie, a rich, creamy brew of chicken and vegetables, pools on the plate beneath a puff of pastry. Seafood fricassee brims with light-as-air quenelles and shellfish, though here the cream base has an undercurrent of fishy stock. A buttery wedge of cod is gorgeously crusted yet moist within. Steak au poivre, studded with peppercorns, snaps when you take a bite, and the bronzed potato gratin alongside is a marvel–thin layers bound with dabs of cream.
It's surprising then that steamed mussels, the quintessential bistro dish, are flavorless and the fries wan. Salmon is cooked past dewy, and white beans are chewy.
Service tends more toward Comedie Française than Charles Aznavour. One server laments the lack of ketchup. A minute later, another brings it to the table. And long lags between courses are not uncommon.
It's easier to forgive minor lapses when you can dig into a very refined walnut dacquoise with nutty crumbs or an inspired wedge of frozen honey-nougat cream. And watch the moon rise.