Subcontinental Drift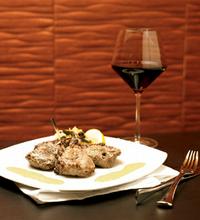 The high-minded Rasika makes a bold if not always convincing case for the unity of opposites: Indian food and French wine, Eastern spicing and Western presentation, style and substance.
If you're the sort of person who winces at restaurants that give an upscale gloss to otherwise cheap ethnic food, then either you've been doing a lot of wincing or you haven't visited a restaurant in a while. To eat out these days is, increasingly, to enter the world of Ethnic Chic, as a city once dominated by French restaurants has been taken over in the last five years by high-minded restaurants that transmute the cuisines of other cultures into slick packages.
How much you like these places depends on how much slack you're willing to grant the kitchen to nudge a dish from its roots, how inclined you are to believe that a stylish, candy-colored setting and better cuts of meat qualify as new and improved. Order feijoada at Ceiba or chicken mole at Oyamel or shrimp curry at TenPenh or beef in vin santo sauce at Zaytinya or tandoori lamb at IndeBleu and you are getting anything but an authentic experience. You are getting a gentle, upscale interpretation of the original that purports to retain the authority of tradition while buffing out most of the challenging things that give it that authority.
In these lushly appointed dining rooms, with their smiling, English-speaking servers and menus studded with earthy-sounding dishes given a Westernized twist, the diner never has to meet a cuisine or culture on its own terms–as when, sitting down to dinner at a French restaurant, you are always made to acknowledge that you are on another culture's turf. With Ethnic Chic, you can travel to the far corners of the globe without ever having to leave your own country. Exoticism made easy. Is it any wonder these places are always so slammed?
The latest to debut is the two-month-old Indian restaurant Rasika, the initial foray into Ethnic Chic for Ashok Bajaj, who launched the elegant Bombay Club and followed that up with his bookend hotspots, Bardeo and Ardeo, and has finally figured out that he should merge the two approaches. All the earmarks of Ethnic Chic are on display in the orange-hued, softly lit space: The sweet, swiggable cocktails meant to rope in a happy-hour or postgame crowd. A space that incorporates a lounge, a dining room, and a small bar in the back with a glimpse into the kitchen. The small plates for grazing that every new restaurant seems commanded to turn out. The well-coiffed, well-connected crowds that convey the feel of a sprawling cocktail party.
Instead of big, heaping platters served family-style, you get bold, self-conscious plating: tiny masala crab cakes poised atop dramatic zigzags of chili-balsamic sauce; small, curry-rubbed filets of tilapia displayed against a green banana leaf; scallops set off by an orange-color ginger sauce so sweet and clotted it could be used as a conserve. There must be a "trio" of something in here, and there is: Trio of Chicken Tikka, served in discrete bites on a white rectangular plate. Elsewhere, dishes are framed by parallel slicks of mint yogurt. You're not sure whether you're supposed to dig in or break out a Razr phone to snap pictures.
All the while, the spiky-haired sommelier, Sebastian Zutant, makes the rounds, urging a glass of Beaujolais as a respite from the heat in a bone-in chicken tandoori. You could make the case that a cold Kingfisher will do the trick just as nicely. But that's almost beside the point. Because as much as Zutant is selling wines, he's stumping on behalf of the restaurant's larger message, that French wines are meant to meet up with Indian cooking as surely as East is meant to meet up with West, style with substance.
Rasika is not as beautiful as Indique, which looks like a curry joint that's been reinterpreted by the crew of Trading Spaces, and it's not as audacious as IndeBleu, which blends French and Indian cooking in a loungelike setting swarmed by blue-jean-wearing servers trained to impress the folks from Michelin. But even more than its forerunners, it understands how to deliver the shock of the new while reassuring its audience that nothing all that shocking is going on.
The chef, Vikram Sunderam, comes from the renowned Bombay Brasserie in London. Rewiring a cuisine driven by its spices and complex, layered gravies for an upscale Western audience is so ingrained in him that he seldom seems to be forcing things.
Lamb galouti turns out to be a kind of juicy, open-faced lamb miniburger sitting atop a puffed cracker–a twist on the miniburger craze that doesn't sacrifice deliciousness at the altar of cleverness. Lamb kebabs look like thin hot dogs but have a spongier texture and more pungent spicing; swiping them in pale-green mint sauce as if you were coating a dog in mustard reinforces the connection between the classic snack foods of East and West. Another Indian street-food staple, called poori, arrives in three iterations, including small, crunchy rice biscuits topped with cubed potatoes tossed with yogurt and given a drizzle of sweet, tangy tamarind; Sunderam sets them out on a frosted plate, six to an order, as if they were cocktail-party crudités. Indian spinach dishes are often hearty and heavy. Sunderam's is all lightness and whimsy: He fries leaves of baby spinach until they're crunchy and almost feathery, then dabs them with a sweet and tangy one-two of tamarind chutney and yogurt.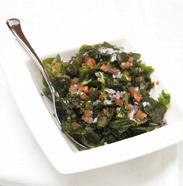 There's something so seductive about these dishes that it's almost tempting to believe that cooking like this has the power to unite worlds, erase boundaries. It's too bad Sunderam can't sustain that energy. The more you work your way through the menu, the more the promise of being shown something new–a new cuisine, a third way–begins to fade. And the more Rasika begins to resemble every other Ethnic Chic place in town. Lamb rogan josh shows up not as a chunky stew but as that darling of the trendy bistro, a lamb shank, moored in a pool of red gravy, its bone jutting out of its sleek white bowl like a pestle out of a mortar. This foregrounding of the protein to the point that every other element of the dish recedes into the shadows is one of the guiding principles of Ethnic Chic. Only when scooped up with a few spoonfuls of rice did the gravy begin to reveal itself, a lush, sweetly aromatic mixture with hits of clove and fennel. And, as tender as the lamb was, I missed the alchemy that comes from long, slow simmering–the meat giving up its juices to flavor the gravy, the gravy in turn infusing the meat.
Other trendy meats turn up. Black cod is roasted to a luscious translucency and cloaked in a creamy dill gravy. Its simple elegance is at odds with a plate of sliced and shingled breast of duck, which shows up submerged in a sauce of long-cooked onions, cashews, and chilies, the whole thing tasting less like a heady union of East and West than a wan synthesis.
Tandoori trout, deboned at a nearby table, arrives soft and pink and fleshy, if tame; you may find yourself pining for what might have been–the palate-tingling excitement that tandoor can provide.
Not every dish aims to interpret tradition. Chicken green masala is an unapologetic scorcher, more fiery than even the lamb kebabs. And a number of sides would be right at home on a conventional Indian menu, including a dish of split okra that avoids gluiness, a chunky dal makhani, and a soothing bowl of aloo that sets soft cubes of tomato-coated potato against crunchy mustard seeds. There are also a couple of nods to Kerala, the coconut-rich region in the south whose dishes brim with the tartness, fragrance, and pungency you'd expect to turn up farther east. But the rich, creamy stews on offer here–the one teeming with soft hunks of halibut, the other floating a lobster conveniently prized from its shell–are far less than the sum of their spices (chilies, curry leaves, mustard seeds, ginger, and fenugreek) would lead you to expect.
They taste dialed down, as though the kitchen were conscious of the fact that faithfully re-creating the gutsy, often exhilarating original would get in the way of the diner's ability to focus on not just the seafood but everything else, too–the drinks, the crowd, the whole pulsating, candy-colored world of Ethnic Chic.