June 2006 Cheap Eats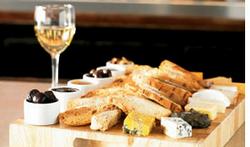 You can almost feel the collective loosening of J. Press ties at this Hill wine bar. Weekday lunch is usually jammed–it's one of the only walking-distance options for BlackBerry addicts seeking to escape the Senate cafeteria or a steakhouse. Weekend nights draw a different breed: urbanites who want to linger through the tasting-friendly wine list and chef Drew Trautmann's menu of simple pleasures.
The small plates, abundant cheeses, and affordable tasting pours of wine–there are 50 by the glass–are made for grazing over and passing around. The charcuterie board is heaped with prosciutto, soppresatta, and bresaola paired with pickled ramps and wine-steeped figs. The cheese board might include cuts of Pleasant Ridge, Humboldt Fog, and Old Chatham Camembert.
Linguine alla Vongole, with a balance of hot chilies, tiny, sweet clams, and house-cured bacon, is billed as an appetizer but is perfectly sized for a main course. The opposite goes for an entrée of grilled, rosemary-speared prawns with chickpea purée. The pizzas tend to be flimsy and overdressed, but the Wagyu burger topped with grilled onions and Taleggio you'll want to keep for yourself.
Cheese and charcuterie boards $7 to $39, small plates $7 to $17.