Meatless Wonder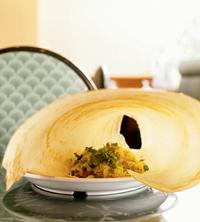 Every age gets the cuisine it deserves. In the early 1970s, as Watergate and Vietnam wracked Washington, the city seemed to find refuge in French restaurants, attracted as much by the refinement of the cooking as by the order and stability that classic cuisine seemed to provide. Jean-Louis Palladin, combining a brash flamboyance with peerless technique, exemplified the helter-skelter times.
By the late '80s, Italian cooking had supplanted French cooking as the city's dominant cuisine, as a more casual generation of baby boomers came to power. In the '90s, the rise of chef Roberto Donna seemed to parallel the rise of Bill Clinton—gregarious, ambitious charmers who eventually eclipsed their own brilliance through overreaching.
The turn of the century saw an explosion of cooking styles—Japanese, Thai, Indian—all vying for the public's affection in a multicultural age.
Is it too soon to pronounce this immigrant-driven epoch the Age of Indian? No charismatic figure has emerged to lead the charge, and none likely will. The dominance is best captured by the variety and quality of the restaurants. From Indian-French-fusion hot spots where rock stars go to party to curry shops and humble buffets, from Indian small-plates parlors to elegant dining rooms where the saucing is as refined as any French restaurant's, Indian cooking has never been better here.
The latest enterprise to bow is Saravana Palace, a two-month-old restaurant tucked away in a Fairfax County strip mall that gives no outward indication of the excitement of the cooking. Inside, the dining room is simple, all white walls and tile floors with a smattering of primitively painted rural scenes. The teal-colored, sea-shell-patterned booths, tables, and chairs look as if they were pilfered from a banquet hall. Other than a soundtrack that alternates between Indian ragas and Western classical music and jazz and the shrill ringing of the cordless house phone, the room is quiet, even austere. The team of waiters is so unobtrusive and graceful, you hardly notice them.
Pry open the thick booklet that's set in front of you and the place comes to life. If you were to combine the menus of Udupi Palace and Woodlands—two excellent and inexpensive southern-Indian vegetarian restaurants—you would still not approach the breadth of what's on offer at Saravana Palace.
I'm not referring just to the more than 160 dishes but also to the range of those dishes, the seemingly inexhaustible variations on a handful of themes. On my second visit, as my five friends eagerly spooned out the entrées that had just hit the table, I sat back to take it all in. The array of colors, of textures, of aromatic smells filling our nostrils! No two dishes seemed the same, even though a good many of them went by the name "curry." I remember thinking: If I could eat cooking this varied, interesting, and delicious all the time, I could almost entertain the idea of becoming a vegetarian.
Fans of Indian food are familiar with Butter Chicken—otherwise known as chicken tikka masala . But tuck into Saravana's paneer masala, or butter cheese. The gravy clinging to the cubes of house-made cheese is so full of tomatoey tang, and so lush and warming, that you won't miss the chicken.
And although dosas —those crispy rice crepes that are folded into golden-brown half moons and stuffed with potatoes or vegetables—are an indispensable part of a vegetarian Indian meal, a half dozen or so varieties typically suffice. Here the menu lists 18. The Jaipuri paneer dosa is tucked and wrapped until it resembles a square package with creased corners that would be the envy of an Army grunt. Inside, it's an explosion of color and flavor, a mix of house-made cheese, firm peas, diced onions and tomatoes, and fresh coriander leaves. The spring vegetable dosa comes rolled, like a giant burrito, with a crunchy mix of finely diced onions, carrots, and peas spilling from the center.
As with any good sandwich, it's the wrapper that makes it special. The batter is fermented longer than you'd typically find, giving an extra sourness to each bite.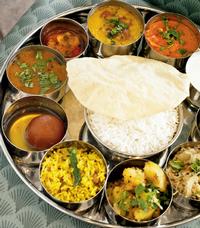 That same wonderful sourness distinguishes the idli —the pale steamed rice cakes typically eaten at the start of a meal; they're far and away the best in the area. They disappeared from our table in minutes, as did the masala vada —crunchy, deep-fried gram-flour patties studded with chopped onions and spices. As did a seldom-seen dish called medhu vada, lightly spiced lentil-batter doughnuts. If Dunkin' Donuts ever got a load of these, it could extend its daytime hours and double its take.
In vegetarian Indian restaurants I often limit the fried dishes I order, leery of being weighed down by too much heaviness and grease. There's no need for that here. The frying is uniformly excellent and clean. You see it in the samosas, which are kept to a manageable size. Potato bonda, in which a thick potato curry is dipped in gram-flour batter and deep fried, comes to the table tasting like perfect jacked-up hush puppies. Channa batura
brings a fry bread as big as a hat brim along with a thick, rus­ticky chickpea mixture that has all the complexity of a great curry; the wonder is that it tastes good even after the bread has cooled.
Street food is trendy in Indian restaurants, especially at the chichi spots where it's de rigueur to mix high-concept visuals and junk food, but you're not going to find a better version of poori bhaji, a sort of Indian Sloppy Joe. The halves of bread are thickly buttered and grilled, and the chickpea-and-potato curry is rich and cinnamony; a spritz of lemon and a scattering of chopped onion and the dish is made memorable.
The chutneys accompanying these snacks are sharper, more concentrated than at other places. The sambar is so good, I found myself digging in with my spoon and eating it up like soup. Lemon pickle is both puckeringly acidic and full of peppery, smoky bite.
The liberating thing about vegetarian Indian cooking—or maybe the confusing thing—is that there's really no such thing as a main course. You can fill up quite nicely without ordering a curry.
One of the very best offerings here is a dish of rice—perfectly fluffy grains tossed with thick curls of fresh coconut, toasted mustard seeds, curry leaves, red chilies, and peanuts, the whole thing so aromatic and smoky that you find yourself eating as much for the sheer pleasure of it as to try to unravel its secrets.
The yellow, peanut-loaded lemon rice isn't as good, but I wouldn't steer you away from it. Just as I wouldn't dissuade you from ordering the sweeter-than-usual nut-studded Malai Kofta, so long as you also got the Gutthi Vankaya, its blistered eggplants set off against a velvety, concentrated gravy the color of a setting sun. The more familiar black dal is tasty; the yellow dal, made from yellow split peas and sprinkled with black mustard seeds, curry leaves, and a dice of red chilies, is revelatory.
At Saravana Palace, the good dishes are so good that they make the pretty good suffer in comparison.
So stick to the handful of favorites you're most comfortable with if you must, but there are rewards to be had by digging deep into the menu. I was thrilled to discover a half dozen Indo-Chinese dishes—the kind of Chinese food that Indians eat in India. It's a beguiling hybrid of a cuisine, neither recognizably Chinese nor recognizably Indian, bringing together the cooking of a culture devoted to quick frying and of one devoted to long, slow simmering. I make a point of ordering Gobi Manchurian wherever I see it. At its most basic, it's a dish of pakora-battered cauliflower florets submerged in a fiery chili sauce. The dumplings themselves here are more chewy than crunchy, but the sauce—shot through with cilantro, onion, ginger, and garlic and giving off an insistent heat—is so good I hardly minded.
There's no beer or alcohol at Saravana Palace—a concession, a waiter explained, to a portion of the restaurant's intended audience. Looking over a section of the menu that bears the odd header, no onion no garlic curry, I began to understand: Jains—members of an ancient Indian religion—don't eat garlic or onions, to say nothing of drinking beer.
I didn't miss it, and the restaurant is smart to have provided a long list of alternative drinks, many of which would make fitting desserts. The actual desserts are a weakness, although a dish of carrot halwa —a vivid mound of shredded carrots cooked down in a light rosewater syrup—rivals the best Indian desserts in the area.
The cost for all this pleasure? Aside from the thalis, or complete-meal platters, no dish on the menu tops $9.
Someone will have to go a ways to surpass Saravana Palace in presenting vegetarian Indian cooking in all its depth and glory. Then again, in this emerging Age of Indian, anything's possible.