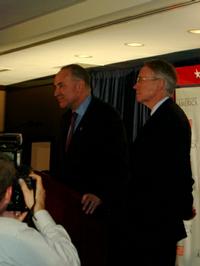 What: DCCC and DSCC Election Night Party
Where: The Hyatt Regency on Capitol Hill
When: November 7 to the morning of November 8
Who: The big-wigs of the Democratic party, a smattering of 20-something hill staffers and interns, scads of reporters, and a huge contingent of election-night party crashers. House Democrats Steny Hoyer, Jim Clyburn, Rahm Emanuel, and new House Majority Leader Nancy Pelosi celebrated the taking-back of the House while, upstairs, Chuck Schumer and Harry Reid rallied the troops for a long night of close Senate races.
Scene: This mid-term blowout was packed with all of the bravado, energy and entertainment you'd expect from a minority party resolved to take back a sizable chunk of power from the GOP. The Boss didn't play, but a Bruce Springsteen cover band rocked out to "Glory Days" and other fist-pumping, emblematic anthems. Partiers moved back and forth between ballrooms to catch glimpses of politicians and to curtail liquor shortages. As the numbers rolled in on big screens across the hotel, waves of excitement broke across the sea of blue.
How to crash a political party: This one proved that when victory's in the air and champagne's flowing, hotel bouncers let their guard down. By night's end, the dance floor in the Senate ballroom was packed with stragglers grinding to Joan Jett and Outkast. Next election, find the party with the momentum, dress up senatorially, wait a couple hours, and give it a go. What do you have to lose?
Food: Your standard hors d'ouerves. Chicken on a stick and hummus were big hits.
Drinks: Most of the spirit was in the crowd, not the drinks, but they were helped along by lots of Killian's Irish Red, chardonnay and champagne.
Ratings:
Bold Face Guests: 4 (out of 5)
Swankiness: 3 (out of 5)
Food/Drinks: 3 (out of 5)
Overall Exclusivity: 2 (out of 5)

Total score: 12 (out of 20)