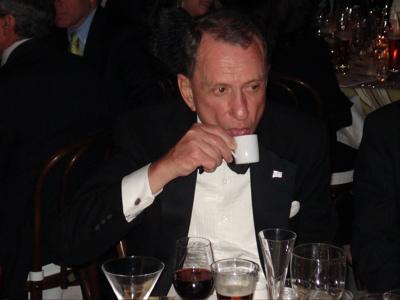 What: Friends of Cancer Research 10th Anniversary Benefit
Where: Four Seasons Hotel
When: 6:30 p.m. until around 11
Who: A mix of Hollywood and Washington, including evening honoree Senator Arlen Specter, Reps. Deborah Pryce and John Dingell (with wife Debbie), and Dr. Andrew von Eschenbach, the acting commissioner of the FDA. Also present were ABC newsman and emcee Sam Donaldson, NewsHour correspondent Susan Dentzer, Lisa Paulson, and production super couples Janet & Jerry Zucker (First Knight, Airplane!, The Naked Gun, Ghost, and My Best Friend's Wedding) and Lucy Fisher & Doug Wick (Gladiator, Stuart Little, Girl Interrupted, and Memoirs of a Geisha). Other notable's were Pfizer VP Peter Brandt, FOCR founder Ellen Sigal and FOCR President Marlene Malek.
Food: Live piano music provided the backdrop as guests mingled around candle-lit tables, nibbling on hors d' oeuvres like chicken on sugarcane with pineapple chutney, olive and tomato crostini, curried chicken salad, potato bellini with apple sauce, spinach in philo dough, and asparagus in a pastry crust.
The meal's highlight was a tasting of three soups: a cream-less golden beet with cider vinaigrette and miniature cheese biscuit, cream-less butternut squash with miniature corn muffin, and roasted parsnip and white truffle with cheese straw. Next was a roasted, sambal marinated prawn salad on vegetables and seaweed.
Drinks: Gin and tonics and vodka tonics were popular during the reception, which boasted four open bars. During dinner, each course came with an accompanying drink, including Bass English Ale, Gekkeikan Sake, Chianti Coltibuono Classico, and Canella Brut Rose.
Scene: Music by Enya set a tone of elegance as guests found their assigned tables in the marble-floored ballroom, which was decorated in white and earth tones with centerpieces like palm leaves and white lilies floating in glass bowls. The delightfully eccentric Donaldson formally began the evening, noting that he joined the cancer-survivors club "melanoma division" in 1995. The pace seemed to drag on at times; soup was long gone before the salad and dessert was similarly elusive, leaving plenty of time to get acquainted with one's table-mates as waiters struggled to navigate the labyrinth of chairs and purse straps stashed beneath them. Senator Specter received a lifetime achievement award between soup and salad, and called for a million-person march on the National Mall and stressed the need to inflate the NIH stem cell research budget, a sentiment oft opined throughout the night.
Evening Highlight: On the sentimental side, it was touching to see so many people in such strong support of Ellen Sigal and her cause. On the hilarious side, the almost Larry David-esque Jerry Zucker–clearly in the entertainment industry– somehow still managed to be funny at a Cancer benefit, opening his speech by saying: "It's a thrill for me to meet Sam Donaldson's hair. I hear he's donating it to the Smithsonian."
Gift Bag: A three disc edition of Gladiator and Ghost on DVD, a Four Seasons chocolate heart on a stick, a Friends of Cancer reading light, and two tickets to the opening night of Legends: A Comedy About Big Stars and Bigger Egos, starring Joan Collins and Linda Evans.