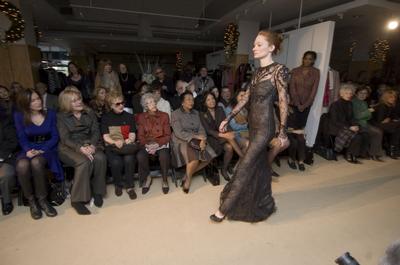 What: Badgley Mischka Spring 2007 Fashion Show and brunch
Where: Saks Jandel
When: Sunday, December 10, 11 a.m.-1 p.m.
Who: Designers Mark Badgley and James Mischka, made famous by their impeccable tailoring and mega-watt star clientele (including Halle Berry, Kate Winslet, and Eva Longoria), were on-hand for a special runway show to benefit the Research and Discovery Fund at the Children's National Medical Center. D.C.'s first lady-to-be Michelle Fenty arrived with BET President Debra Lee just in time to take her front row seat—perhaps to pick out a gown for the inaugural ball? Philanthropist socialites Cindy Jones and Ardis Eby co-chaired the event, which former Bolivian first lady Ximena Sanchez de Lozada also attended with Pamela Aparicio, the wife of the former ambassador.
Drink of Choice: Guests fashionably guzzled mimosas and champagne.
Food: A gourmet spread of brunch fare.
Scene: The best way to lure guests in on time is to serve alcohol; most arrived for the "cocktail" half hour promptly at 11 a.m. Saks Jandel owner Peter Marx stayed busy schmoozing friends and potential customers. Like any good fashion show, this one did not start on time. Models hit the runway around 11:45 and didn't stop tromping to the eclectic beats until 12:15 p.m. Nearly 35 looks made their D.C. debut, after which the pieces were available for try-ons and purchases. The four and five-digit price tags were no deterrent to this crowd. Maybe it was the 10% contribution of the proceeds to the Research and Discovery Fund that got the women so excited. Or maybe it was the delicate, yet opulent beaded necklines that did them in.

Fur Love: PETA must have decided to take the day off. Otherwise, they would have had a few words for the designers and their customers. Fur came in all styles and colors. From full-length coats and wraps to boots and fur-trimmed suits, fur was on proud display. The beautiful and oh-so-soft gray and black fox fur jacket was a definite show stopper.
Words from the Designers: "We love the women in Washington," said Mischka, the blond half of the duo. Badgley said that despite being considered a town conservative in dress, D.C. is "very social. Women love to dress up. We just love that."
More photos from the runway below.