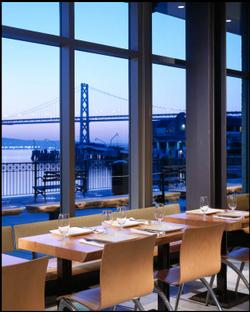 San Francisco is constantly touted as one of the nation's leading food cities. So needless to say I was thrilled to be invited on a trip to the Golden Gate with my boyfriend's food-loving family (they're from New Orleans, after all). Although pretty much every bite of the trip was memorable, these were the major culinary highlights.
Neighborhood Spot That I Wish Were on my Corner: Zuni Cafe
Judy Rodgers's 28-year-old cafe was the perfect spot for a laid-back late dinner on our first night in town. The glass-walled corner space is cozy, with a handsome copper-topped bar and loft. A long day of traveling was remedied with a slightly sweet Meyer lemon drop cocktail. Zuni's signature roast chicken—portioned for two over a bread salad—is crisp and juicy, but all DC-pride aside, the bird I had a couple of weeks ago at Palena was better (though that bread salad, strewn with pine nuts and raisins, is addictive). Other standouts were a simply grilled, clean-flavored branzino and a few feather-light ricotta gnocchi with sage.
Zuni Cafe, 1658 Market St., San Francisco; 415-522-2522.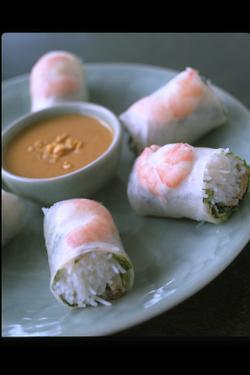 Place to See and Be Seen: The Slanted Door
Located in the Ferry building—a foodie paradise across from the Embarcadero with specialty shops and a farmers market—the sleek Slanted Door bears no resemblance to many homey, no-frills Vietnamese restaurants in Northern Virginia. Though the people watching is first-rate —plenty of stick-thin women sipping trendy cocktails with well-dressed older men—so is much of the food. The bubbling chicken caramel pot was soulful and rich, and the shaking beef came sizzling and spicy. Here I tasted one of the best tofu dishes I've ever had—light, fluffy squares in a flavorful stir-fry with chili, lemongrass, onions and mushrooms.

The Slanted Door, 1 Ferry Building, San Francisco; 415-861-8032; Slanteddoor.com.
Stop for Crescent City-Style Comfort Food: Town Hall
New Orleans-style barbeque shrimp, andouille jambalaya, and fried chicken in a trendy restored warehouse in Northern California? I wasn't sure how this would fare with the Louisiana natives I was traveling with. But Town Hall proved deserving of all the accolades it's received since opening in 2004. Those shrimp come shelled, unlike the authentic preparation, but are sinfully delicious sitting on top of a Worcestershire-soaked slice of rustic bread, with a generous pool of rich sauce. The fried chicken is crisp and greaseless, served with a mound of buttery brussels sprouts. Sure enough, chef/co-owner Mitch Rosenthal once worked under Paul Prudhomme at K-Paul's in the Big Easy.

Town Hall, 342 Howard St., San Francisco; 415-908-3900; Townhallsf.com.
Culinary Epiphany That's Worth the Steep Bill: Gary Danko
"You can really have as many as you wish—the record is 14 courses," our server told us, as we struggled to choose whether to have three, four, or five dishes from a menu on which every choice sounded irresistable. Gary Danko's two small dining rooms, tucked away on a residential street near the Fisherman's Wharf, are elegant and sleek. Modern art adorns the walls, but what comes out on the plate can be even more stunning.
Danko does wonderful things with game. A guinea hen arrived with the roasted breast alongside a confit made from the legs, and we couldn't decide which was better. Each accompaniment—chopped quince, cornbread "pudding", and a single melt-in-the-mouth brussel sprout—gave a new layer of flavor to the dish. My mushroom-stuffed quail entree turned out to be two crisp-skinned, petite birds set side-by-side on a mound of deep purple braised cabbage with a spoonful of velvety, orange butternut squash. We also loved the roasted Maine lobster, luscious over tarragon mashed potatoes studded with edamame.
The cheese cart, presented tableside, is manned by knowledgeable servers who will steer you to winning choices. But there's no way I'd pass up the signature chocolate souffle. The cake is subtly sweet and so cloudlike that it could almost pass for "light", until a server pours rich dark chocolate and creme anglaise sauces into its steaming center. It's a decadent dessert I won't soon forget.

Gary Danko, 800 N. Point St., San Francisco; 415-749-2060; Garydanko.com.
California Classic: In-N-Out Burger
Somewhere in the midst of all of this gourmet feasting, we managed to squeeze in two trips to In-N-Out Burger. The LA-based chain has several outposts up north, although it has yet to expand further than Arizona and Nevada. Having gathered recommendations from West Coast friends, he ordered his burger "Double-Double, Animal Style," meaning double patties, double cheese, grilled onions, tomato, pickles, special sauce and well-done fries. We loved every bite just as much as we swooned over each course at Gary Danko.

In-N-Out Burger, various area locations, In-n-out.com.