No. 74: Johnny's Half Shell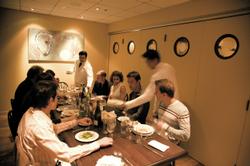 When it moved from Dupont Circle to the Fox News building on Capitol Hill this fall, Johnny's didn't just change its address—it altered its identity. What was once a neighborhoody seafood bar beloved by regulars is now a banquet-hall-size dining room for the get-down-to-business crowd. It was a little like watching a laid-back friend suddenly ditch the faded jeans for tailored suits.
If you're lucky enough to snag a seat at the marble bar, you can almost convince yourself that nothing about Ann Cashion and Johnny Fulchino's original vision is any different. The beer is cold, the Kumamotos are fresh and beautifully shucked, and the jumping big-band soundtrack takes you back. The staid offshoot dining rooms are another story.
Save for some terrific new desserts, courtesy of Majestic Cafe veteran Valerie Hill (her marvelous coconut cake rivals what you'd find in the South), the menu is gratifyingly familiar. The kitchen still turns out robust gumbo, crisply fried oysters, and glistening, tequila-cured gravlax. And the guilty pleasures—a bleu-cheese-and-onion-topped hot dog, a trio of footlong po' boys, a simple dish of butter-pecan ice cream—are often great. Change, it turns out, doesn't have to be unpalatable.