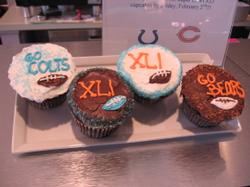 Throwing a Superbowl party this Sunday? Here are ideas for noshes that'll please Chicago and Indianapolis fans alike.
We searched far and wide for Chicago-style hot dogs, but came up empty (know of any places that serve them–chartreuse relish and all? Let us know in the comment section.). A worthy alternative, though, is stuffed pizza–squat slices layered and layered with cheese, tomato sauce, and toppings like spinach or pepperoni. We like the pies at Alberto's Pizza, just off Dupont Circle.
Alberto's Pizzeria, 2010 P St., NW; 202-986-2121; Albertospizzeria.com.
Chips and dip are pretty much a necessity at a Superbowl party, and Chicago chef Rick Bayless puts out a fine line of bottled Frontera Grill salsas, in flavors like habanero-roasted tomato and (our favorite) jalepeno-cilantro. They're available at most Whole Foods.
Breaded pork tenderloin sandwiches–with meat pounded thin, fried, and loaded with mayo, lettuce, and tomato– are the nosh of choice for Indy fans. In these parts, you'll find them at Corkie's Grille.
Corkie's Grille, 6238 Old Dominion Dr., McLean; 703-533-5880.
Chili is big in Indiana, and the most popular way to get it there is loaded with noodles. Hard Times Cafe offers the Chili Mac–any of their four varieties of chili piled onto spaghetti.
Hard Times Cafe, Several locations in Maryland and Virginia; Hardtimes.com.
Pay homage to the vast corn fields of the midwest with a few bags of Dale & Thomas's popcorn, made from Indiana corn. The stuff comes in a bunch of gooey, sugary flavors, but our favorite is the Hall of Fame Kettle corn, a relatively subdued mix of sea salt and cane sugar. It's sold at Marvelous Market.
Buzz pastry chef Lisa Scruggs adds some sparkle (in the form of glittery sugar) to the big game with adorable football-themed chocolate and vanilla cupcakes.
Buzz Bakery, 901 Slaters Ln., Alexandria; 703-600-BUZZ; Buzzonslaters.com.
And a couple team-neutral offerings:
Chicken wings are the quintessential football-watching snack. The ones at Wegmans supermarkets are pretty tasty, and they come on crowd-pleasing 50-piece trays. They're prepared to order in several flavors: buffalo, "X-Hot" buffalo, sweet and spicy, and BBQ. Pick up a few tubs of Point Reyes blue cheese dip from the cheese counter, and you'll be good to go.
Wegmans, locations in Fairfax and Sterling; Wegmans.com.
For something a little different, try fish n' chips instead of fried chicken. At Eamonn's in Old Town, the cod is greaseless, crispy, and easy to take home (it's served in brown paper bags). Pick up several orders and a sampling of chef Cathal Armstrong's housemade dipping sauces, including tartar, hot chili, and curry. And don't forget the stellar chips.
Eamonn's: A Dublin Chipper, 728 King Street, Alexandria; 703-299-8384; Eamonnsdublinchipper.com.