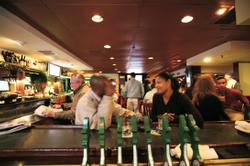 At a corner table in the Dogfish Head Alehouse, a burly guy in a flannel work shirt downs the last of his pint. "How was your burger?" the waitress asks.
"It was great!" he says. "But come on—I can't finish it."
Generosity is the hallmark of this Gaithersburg-by-way-of-Rehoboth-Beach pub, the first offshoot of Delaware's Dogfish Head Brewing & Eats (another opens in Falls Church this spring).
Heaping appetizer salads, Buffalo wings by the pound, a towering platter of pale-ale-battered seafood and fish—Dogfish Head isn't for dainty appetites. You probably won't polish off every last bite—except maybe of the burger or the excellent fried grouper. The arugula salads are sopped with a sugary-sweet honey vinaigrette. A three-cheese crab dip is light on the shredded bits of meat and heavy on mascarpone. And the stout that marinates a thin rib eye gives it a funky tang that masks any traces of smokiness from the wood grill.
But hey—it's an alehouse. Look around the dining room's packed tables and you'll see not only pint glasses but snifters and goblets, too. A separate beer menu offers 17 of Dogfish's quirky brews, which the bartenders explain and pair with the reverence of a sommelier. The autumnal Punkin' is a rich, coppery ale scented with the spices of a Thanksgiving pie. The raspberry-infused Fort, a December release that's sipped in a brandy snifter, might seem very girlie until you catch the alcohol content: Most beers on the list range from 3- to 9-percent alcohol; Fort is a blazing 18.
So what's best with the burger—which is made from Delaware-bred beef raised on brewing grains? It might not be the most exciting choice, but we like the Dogfish's first beer, the nutty Shelter pale ale.