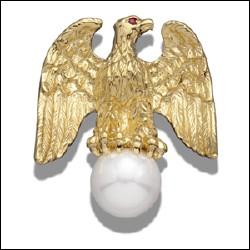 Ann Hand's jewelry has adorned the wrists and necks of many politicians, such as long-time customer Senator Hillary Clinton. According to Hand, Clinton first started wearing Hand's jewelry when she was First Lady back in the early 1990s.
Hand, who has two stores located in Washington, was a guest at Georgetown restaurant Nathans "Q&A Cafe," a weekly chat held by owner Carol Joynt, featuring prominent Washington figures. Hand has been providing jewelry for diplomats, Senators and politicians for many years. Hand advises candidates running for president to wear "something that is elegant and refined. Something that reflects our nation's history."
"She's like any other woman. She's fun," Hand said of Senator Clinton.
Hand started out making newspaper earrings using the Washington Post and working out of her home in the late 1980s. Although Hand specializes in telling America's story with her jewelry, using items like her trademark Liberty Eagle pin, Hand also does scarves and leather handbags and is considering doing umbrellas. Hand's eagle pins are one of the most popular jewelry items sold on her website. She personalizes each pin by individually choosing a pearl, tucked underneath the eagle, for each pin buyer. As for Hand's future eagles, Hand would only reveal that they would be something patriotic.
She was eager to share stories about unique customers who have requested her services, such as the gentleman who wanted her to design a power pin not long after the 9/11 attacks. After he explained that he wanted Hand to design a pin with an eagle carrying a bomb, Hand quickly responded, "We don't do bombs."