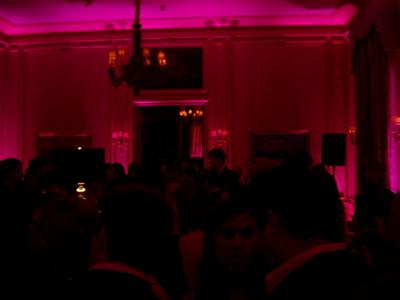 What: Washington Life's "The Young and the Guest List" party.
Where: Meridian House near Meridian Hill Park, followed by a late-night after-party at the swanky new Napoleon bar in Adams Morgan.
When: Thursday night, 8 p.m. to 11ish for the event, until 2:30 for the after-party.
Who: Hundreds of young Washington socialites, honored by being on the DC society bible of record's annual list of the top movers and shakers on the "scene." Attendees ranged from event planners and PR folks to young debuntants, White House aides, tech entrepreneurs, media darlings, as well as folks like society maven Juleanna Glover-Weiss, Phillippe Cousteau, and the usual host of local social chroniclers. It includes at least one Prince.
Scene: Meridian House—a venue where the space alone rents for upwards of $10,000—hosts numerous events each year, including its own ball and countless weddings, but it almost never looks as good as it did last night. In one room, a band got people moving, while in other candle- and stage-lit rooms bathed in light purple, party-goers in fancy cocktail attire thronged the bars, mingled, shouted over the DJs music, and took in each other's pleasurably intoxicated behavior. On the minds of many: How does Washington Life afford such an over-the-top gala? The event was a huge step up from last year's party at the Dumbarton House and easily established itself in the ranks of the city's fanciest events of the year.
Food: Mini-snacks like sandwiches, chili dogs, crab cake burgers, chocolate-dipped fruit, cakes, and cookies.
Drink of Choice: Plentiful shots of Patron silver tequila. Much of the rest of the alcohol situation seemed to be scattershot. The numerous bars suffered from lengthy lines and scant resources at times, leaving party-goers little choice but to do more shots.
Gift Bag: Impressive—perhaps, in fact, setting a new record for heft in a city not known for L.A.-like swag spoils. Lots of cosmetics (La Mer, AmorePacific, Clé de peau, Cibu), jewelry, Teaism tea, a checkerboard set from the Container Store, and a candle, as well as gift certificates to Agraria, Urbana, Lima, and Tourneau watches. And, of course, mini-bottles of Patron.
Ratings:
Bold Face Guests: 2.5 (out of 5)
Swankiness: 4 (out of 5)
Food/Drinks: 3 (out of 5)
Overall Exclusivity: 4 (out of 5)
Total Score: 13.5 (out of 20)
Below are more photos from the event.