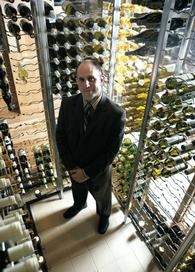 Late this winter Brian Zipin, assistant sommelier at Citronelle, left the restaurant to become general manager of Michel Richard's new bistro, Central. Reinvention is nothing new to the multitalented Zipin, who has appeared on Broadway, played guitar at the famed Manhattan haunt CBGB, and cut several records with various bands, including a tune for the movie The Crush, starring Alicia Silverstone.
The leopard-print hair of his youth is gone, replaced by a suit and tie. But he still keeps his prized '64 Fender Jaguar at his bedside.
On his early acting career: I did a number of original plays. I did a bunch of Broadway, Off-Broadway. I was the understudy for Biloxi Blues—I played Arnold, the Jewish guy. The lead was whats­hisname, the guy who was on Northern Exposure—Morrow, Rob Morrow. I did soap operas. I was even in a Frankie Valli video, "Streetfighter." I did stunts. It was out of sheer stupidity, not training.
On his decision to abandon the career he'd been pursuing since he was 16: It was fun. There were frustrating times, though. You get called back three or four times for a film, then Jon Cryer gets it.
On getting the most out of a sommelier: If you know what you want, you have a better chance of getting it. If you sit down and say, "I love Burgundy, and I love the more delicate styles," then you've given me a great window. Just that little bit is a big, big help. Or to simply say, "I'm in your hands—surprise me." I wish more people would say that.
On why German Rieslings, which are among his favorite wines, will never become trendy: The problem is, people don't wait for the acidity. They taste the sweetness and go, "Ah, too sweet."
On the boundless creativity of Michel Richard: Not to blow smoke up his ass, but coming from New York, I saw a lot of things—and those chefs up there, they got nothing on Michel.
On why a Michel Richard restaurant carries Budweiser: When you're talking about basically serving comfort food, which is what a bistro does, then I don't think you want to alienate people. I drink Bud. I like Bud. I'm not saying it's the greatest beer in the world, but why not give people the option of ordering it if they want?
On management's commitment to the French pronunciation of the new restaurant—not Central but Centrahl: If people ask, we will tell them the pronunciation is Centrahl. There are ways of correcting people without correcting them. Every day I hear someone ask for "Michael Richards." Or: "Is Michael in? Tell him a friend of his is here."