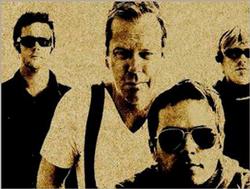 He plays a hardcore antiterror expert on the TV show 24. But actor Kiefer Sutherland is also a documentary filmmaker and music lover at heart. And on Sunday, March 11, he's coming to the closing night of the DC Independent Film Festival to show his rock­umentary, "I Trust You To Kill Me."
Produced with Manu Boyer and Pliny Porter, the film chronicles the trials and tribulations, during a worldwide tour, of the band Rocco DeLuca and The Burden (say that three times fast) and their road manager–who just happens to be Sutherland. Seriously, what can't the man do? Rocco DeLuca and the Burden also will be on hand to give a live performance.
The closing shebang takes place at the DC Moving Image Center at the University of the District of Columbia (UDC), 4200 Connecticut Avenue, in Auditorium 46. It starts at 7 pm—the pre-reception is at 6—and tickets are $25. Tickets are available online here.