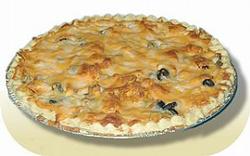 You gotta love a pie with a crust made with crushed tortilla chips. Pie Gourmet's Mexican Pot Pie delivers a layer of crunch atop a filling of black bean-and-beef chili, green onions, olives, cheddar, and a swirl of sour cream.
I keep at least two in my freezer at all times. In a pinch they make a great dinner when there's nothing but jars of pickled things in the fridge (pig snout anyone?). A dash of hot sauce and dollop of sour cream add of bit of zip, and a salad of ripe avocados and endive tossed with lemony vinaigrette make it a snazzy weeknight meal. The pie also works as an impromptu brunch dish or a pot luck offering that's more interesting than seven-layer-dip. And it only takes 20 minutes to bake out of the fridge (at 375 degrees), 45 minutes out of the freezer.
Available at Pie Gourmet, 507 Maple Avenue West, Vienna, 703-281-7437, Piegourmet.com in three sizes: an 8-incher serving four to six ($16.95), a 10-incher serving 8 to 10 ($22.95), and 3-inch individual pies ($24.95 a dozen). You can order by phone or online for pick-up or delivery (extra charge), or even send one to a friend.