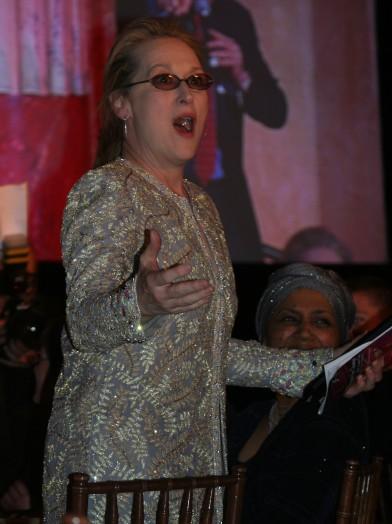 What: Champions for Change, the International Center for Research on Women's Awards Gala
Where: Union Station
When: March 7, 2007 from 6:30-10:30 pm
Who: A laundry list of ambassadors, activists, and businesspeople, and, of course, the ever-theatrical Meryl Streep.
Ticket Price: Individual tickets started at $250
Food: While the food was certainly no year-end youth soccer banquet fare—the finger food and three-course dinner, including the medjool dates and goat cheese, the exotic pairing from the air and sea (a duet of chicken and red snapper) and the melty-in-the-middle chocolate soufflé with toasted coconut ice cream, were delicious all around—the kitchen seemed less prepared than one could have hoped. Our table never got the promised "five-grain bread," and one of the guests never got her vegetarian option.
Drink: Red and white wine.
Scene: The marble-columned arch-ceilinged East Hall of Union Station was bathed in red for the occasion, and the tables featured elaborate floral centerpieces of pink and orange (some of which later sold at auction for more than $500). The wall behind the podium was draped in a pattern of Indian cloth, befitting the recipients of the first award, ICICI bank, India's "fastest growing bank." The event's train station setting made for a few interesting moments, as speeding trains below shook the tables and even caused Streep to exclaim that "the earth moved!" from her remarks.
Auction: In probably the most exciting portion of the night, Human Genome Project Director Eric Lander traded his microscope for a microphone to serve as auctioneer, and an amusing one at that. Among the items on the block were a week in a Tuscan villa ("Who doesn't want to go to Tuscany? If so, you should have yourself examined."), a week in a private beach club in Baja California for $900 a night ("On a snowy day in Washington, what would be better?"), a tour of his own laboratory for $5,000, and, the big ticket item, unlisted on the program, a lunch with Meryl Streep, who mouthed "I want you" into the cameras and piped up "It's my own homemade egg salads!" to drive the price up to a cool $20,000.
Most Moving Moment: Despite the laughs, it was hard to forget that the event was for a serious cause. The stories relayed by ICRW president Geeta Rao Gupta were both heartbreaking and uplifting, but, for my part, most sobering—despite the freely-poured wine—were the remarks of Reverend Johannes Heath of Anerela +, a group of African religious leaders who are living with or are personally affected by HIV/AIDS. His most poignant statement, I thought, was his denial of the idea that HIV is just another chronic illness: "People don't get stoned to death for having high blood pressure," he said.
Ratings:
Bold Face Names: 3 (out of 5)
Food/Drink: 4 (out of 5)
Swankiness: 4 (out of 5)
Exclusivity: 3 (out of 5)
Total Score: 14 (out of 20)
More photos below.