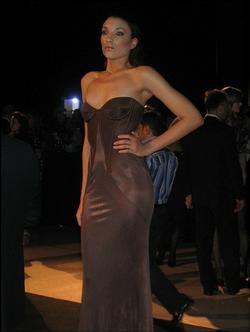 Famed Italian design house Versace's 2007 spring and summer line was featured in an invitation-only fashion show at the Italian embassy last Thursday night. Area models—including Omar Popal, part-time model and owner of Napoleon, the new spot in Adams Morgan, and Café Bonaparte—strutted down the embassy's makeshift catwalk to Madonna and Prince while a well-dressed crowd looked on. A few attendees even paid the designer the compliment of wearing Versace to the event.
Audience members, many sporting the latest in high-end couture, included fashion students, embassy employees, and even mothers of several younger models—some young enough to look like they could have come to the runway straight from a driver's ed class. Conversation filtered through the loud music and low light as champagne and white wine were circulated. Occasionally a plate of bite-sized scallop bruschetta appeared—and was quickly devoured.
A long brown evening dress (at right) seemed to be the biggest hit of the evening. Several people commented that its popularity might have been due to the fact that it was the most "wearable" in DC—these fashionistas believed Washington wasn't always a good fit for the showy, sometimes over-the-top designs. One twenty-something woman who didn't want to be identified, perhaps because she hoped to break into fashion, said she already had one piece from the line, a sultry white dress, though she confessed that she sometimes found Versace a little "too much" for her taste. Still, she said, she enjoyed the show.
For lots more photos of the event, click on over here for a Flickr gallery.