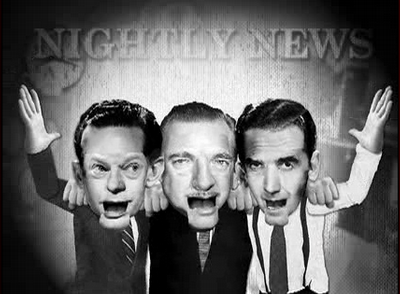 Fox News bureau chief Brian Wilson, the head of the Radio/TV Correspondents Association, promised that last night's 63rd Annual Radio/TV Correspondents Dinner would be remembered for years to come—and thanks to some rapping by Karl Rove, he might just be right. It is certainly the only time that a President of the United States has ever uttered the phrase "sleek hairless pecs," this time in reference to Barack Obama's recent run-in with paparazzi in Hawaii.
When two of the improv comedians from "Whose Line is It Anyway?" took the stage last night, the night took a dramatic turn. After a skit that forced Brian Williams to make accompanying sound effects, guess who ended up getting plucked from the audience "randomly"? None other than Karl Rove, who identified himself as "Peter Fitzgerald," before correcting himself: "I mean Patrick." Rove provided the centerpiece of a rap skit where the comics made fun of his self-professed hobbies of stamp collecting and ripping the heads off small animals while Rove danced, shouted "I'm M.C. Rove" and NBC's David Gregory provided the most awkward back-up dancing ever seen.
The night's most moving moment came as the David Bloom Award was presented. Named after an NBC correspondent who died while covering the invasion of Baghdad in 2003, the award has become an annual reminder of the toll of the conflict in the Middle East on journalism—last year's award went to Bob Woodruff, who was still in the hospital recovering after narrowly escaping death on a Baghdad patrol when a bomb ripped through his vehicle. This year Woodruff was present to present the Bloom Award to Fox News' Steve Centanni and his cameraman Olaf Wiig, who were kidnapped in Gaza and held for nearly two tense weeks. Given the way people have earned the Bloom Award since its inception, let's hope that no one does anything this year that warrants receiving it next year.
President Bush also managed to get a moving moment in amid jokes about Dick Cheney shooting someone. The room warmly responded to his prayers for White House Press Secretary Tony Snow, who was diagnosed with cancer this week and whose customary seat at the head table was filled by a radiant-looking Dana Perino. As President Bush said, "Tony, we're all looking forward to the day you come back to the White House."
Our full report is below.
What: The 62nd Radio/Television Correspondents Association Dinner
Where: The Washington Hilton
When: Wednesday, March 28, 2007, 6:30 p.m. to 10:30 p.m.
Who: The nearly 2,100 black-tie elite of the television and radio news world, along with the senior leaders of much of the government, from President Bush, Rove, Josh Bolten, to cabinet officials like Michael Chertoff and Carlos Gutierrez to Congressional leaders like Nancy Pelosi, Jim Clyburn, Patrick Leahy, Sam Brownback, and Jim Webb to military leaders like General Peter Pace.
Food: Spinach salad, beef tenderloin and Mississippi mud pie.
Drink: Stone Cellars Chardonnay and Cabernet Sauvignon, as well as top shelf open bar at the pre-parties and post-parties.
Scene: Any evening that begins with "Hail to the Chief" by the President's Own Marine Band and the presentation of colors complete with campaign ribbons by an Joint Armed Forces Color Guard is sure to be a special one. The dinner also saw a new Jibjab.com cartoon premiere that mocked TV news for its reliance on the not newsworthy. In the other award presented last night, Lisa Myers of NBC won the Joan Barone Award for her investigative work.
President Bush took the stage for the ritual self-mocking portion towards the end of the dinner. It was his first appearance at the dinner since 2004, when a presidential slideshow showing Bush's search for WMD around the White House went over like a lead balloon. In the last two years, Dick Cheney filled in. Last night, Bush explained that he knew he'd screwed up the U.S. attorney firings: "You know you've botched it when people sympathize with lawyers." He joked about the "good ole days" last year when his approval ratings were in the 30s and the vice president had just shot a man. Then he joked, "Speaking of subpoenas," and he welcomed Nancy Pelosi and sighed impishly, "Not a day goes by that I don't get scrutineered." His best quip? President Bush's opening line was "I want to thank the Radio/TV Correspondents Association for inviting me and Senator Webb for providing security."
Outside the dinner itself, while Fox won the pre-party scene with its poolside cocktail reception, CNN cleaned up the post-party scene with its velvet-roped Russia House bash complete with vodka ice sculpture bar.
Ratings:
Bold Face Names: 5 (out of 5)
Swankiness: 5 (out of 5)
Food/Drink: 4 (out of 5)
Exclusivity: 4 (out of 5)
Total Score: 18 (out of 20)