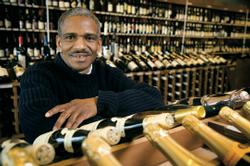 Savvy consumers spend hours researching doctors and auto mechanics. But then they spend lots of money on wine after consulting nothing more than a 90-point score in a wine buyer's guide. A better approach? Make friends with a good wine retailer.
There are so many wines on the market that no one except a professional can keep up with everything, and no consumer's guide can tell you what's available here now.
With hundreds of area stores selling wine, where do you turn? You could start with these four pros. More than salesmen, they're experts who drink the wines they sell, and in a few visits they'll know which wines are right for your palate and budget. In years of visiting their stores, I've discovered lots of gems I never would have known about otherwise.
I asked them to recommend four wines available at their stores for $20 or less.
In 1987 Shemsedin Hassen arrived penniless from Ethiopia. Two years later he was stocking wines for Doug Rosen at DC's Morris Miller Wine & Liquors, where he eventually became co-owner. In 2004 he became a partner with Rosen at Arrowine in Arlington. Hassen recommends these wines "for their elegance, precision, purity" as well as their value.
2005 Domaine Aubert La Chapelle, Jasnières ($18). From the obscure Loire Valley appellation of Jasnières, this Chenin Blanc has highly mineral and honeyed lime zest on the nose and palate, plus excellent acidity, and benefits from being decanted. Serve it with broiled sole in a beurre blanc sauce.
2006 Domaine De Mirail, Colombard ($11). This Colombard from Haut-Armagnac (between Toulouse and Bordeaux) is grown on a rocky limestone plateau and harvested at night—a delicate white with scents of flowers and dried fruits, and though it uses no oak, it has a touch of brioche in the finish, a result of its being aged on its lees.
2004 Domaine du Grand Arc, Cuvée des Quarante, Corbières ($17). A Carignan grown at high elevation in a mix of clay, limestone, and silex soils, this Corbières intertwines rich black and red fruits, spicy "garrigue," and complex minerality and comes across as fresh and pure.
2005 Les Foulards Rouges, La Soif du Mal, Côtes du Roussillon ($20). A blend of 70 percent Syrah and 30 percent Grenache, grown on 15 hectares of vineyards, fermented and aged in upright wooden barrels, this wine has an elegant palate of cherry and blackberry fruit with black-pepper spice.
For the past 12 years Joe Riley has managed Ace Beverage, DC's oldest wine-and-spirits shop. He chooses two whites and two reds that reflect his sensibilities, wines "from conscientious growers—wines that have something to say about the place where they were grown."
Pierre-Yves Tijou (Domaine de la Soucherie) Anjou Blanc 2005 ($16). A 100-percent Chenin Blanc from the Loire Valley, this dry white has scents of hazelnuts and cherries from its chalky soil, and its healthy acidity lends itself to a broad range of foods.
Domaine Schoffit, Chasselas "Vieilles Vignes" 2004 ($20). Chasselas, a white varietal, may be the world's oldest cultivated grape, and this old-vines version from Alsace is ripe and rich, with good acidity, complex aromas of flowers and charcoal, and a nutty finish braced by a touch of Alsatian minerality.
Antica Cantina S. Amico, Lacrima di Morro d'Alba 2005 (Marche) ($20). Lacrima ("tears") is a grape from Italy's Marche region, which in this case makes a medium-bodied wine with a riot of fruit and hints of sage and rosemary.
Khalkhal-Pamiès Minervois "Plaisir des Lys" 2003 ($12). This Languedoc adds the traditional Rhône Valley grapes of Syrah and Grenache to the more typical Carignan and Cinsault. It is balanced and rich, with jellied black fruits, spice, plum, and some notes of ginger and pepper.
Mike Tilch has been co-owner of Silesia Liquors in Fort Washington since 1975. He has traveled to every major wine-producing region. "It's too easy to select good white wines under $20," he says, "so I'm selecting one under $10, too."
2006 Domaine de la Chanade "Les Rials" Vin de Pays du Gaillac ($9). This white grape—called Loin de L'Oeil, or "far from the eye"—is grown in the traditionally red-wine region of southwest France and gives the wine a fresh snap of citrus fruits with a touch of herb in the finish.
2005 Clay Station Viognier ($11). Produced in Lodi, California, this aromatic wine is waxy and fat with a rich, mouth-coating quality, ripe peach tones, and a slightly off-dry finish, making it a good match with summer shellfish.
2005 Joseph Voillot Bourgogne Rouge Vieilles Vignes ($20). Voillot bottles world-class red Burgundies from the villages of Volnay and Pommard, and the barrels that don't quite make the cut are added to this Bourgogne rouge that he produces from a vineyard just outside the legal boundary of Volnay.
2003 Truth "Lindsey's Cuvee" Napa Valley ($20). Gus Kalaris of Constantine Wines makes three wines: Axios ($100-plus), Worthy ($30), and now Truth, which carries a generic California designation but is made from 100-percent-declassified Napa Valley grapes in very small quantities.
Cecile Giannangeli is head of Finewine.com, which has stores in Gaithersburg and McLean and was founded as Cecile's Wine Cellar in 1989. She was one of the original co-owners of Arrowine.
2004 Domaine Philippe Plantevin Côtes du Rhône Blanc ($10). A blend of 40 percent Viognier, 30 percent Grenache Blanc, and 30 percent Marsanne, this white has exotic scents of pineapple, mango, passion fruit, and Bosc pears, with a balanced, off-dry finish—a great bargain for $10.
2004 Domaine Jean-Michel Guillon Bourgogne Rouge ($17). Made from declassified Gevrey-Chambertin, this Burgundy has the flavor and complexity of some $30 reds, with aromas of cherries, spice, well-balanced oak, and light earthy tones that give way to fresh fruit flavors and a balanced finish.
2004 Faunus Cesanese del Piglio, Latium, Italy ($10). The little-known Cesanese di Affile grape accounts for 80 percent of the blend in this wine, which is fermented with its grapeskins and matured in barrique, resulting in a nose of spicy fruits and woodland aromas followed by a full-bodied finish that works well with grilled meats and even pizza.
2005 Joel Gott Cabernet Sauvignon Blend 815, California ($18). A classic California Cabernet at a great price, this wine, blended from the grapes of several different vineyards, has aromas of blueberry, cassis, and mocha, jammy flavors, good structure, and sweet, balanced tannins in the finish.
Don Rockwell is the host and moderator of donrockwell.com, a forum for food and wine lovers in the DC area.