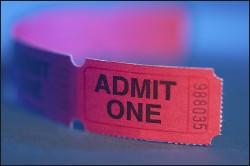 NEW: Just got a notice that Bloc Party are playing DAR Constitution Hall on June 3, and tickets are on sale. Treat yourself—this British group's pop punk is even more electrifying and catchy live. Tickets are $34.
Masters of atmospheric electronica, the dreamy French duo Air comes to the 9:30 Club on May 9. Tickets cost $40 and are on sale here.
One of my favorite bluegrass-country acts, Alison Krauss & Union Station, are at DAR Constitution Hall on May 16. For an evening of melodic country, you can't do better than Krauss. She'll be there with Tony Rice and Jerry Douglas. Tickets are still available (but no doubt not for long) over here for $44.50.
They may be curiously named, but there's nothing curious about !!!'s raucous rock. (And as for how to say the name, it's approximately chk, chk, chk.) They're at the 9:30 Club May 14, and tickets ($18) are on sale now.
R&B and pop star Brian McKnight will be coming to DAR on May 18. Tickets cost a pretty penny—$70.75—and go on sale this Thursday at 10 am.
Finally! Journalistic integrity comes to Washington in the form of The Onion. It celebrates its launch here on May 3 with a show at the Black Cat that mixes comedy with local music. Comedians Neil Hamburger and Zach Galifianakis will perform, as will DC's own Georgie James and (The Sounds of) Kaleidoscope. Just $6. Tickets available now.